Is Mobile, Alabama dog-friendly? Should you take your dog to Mobile, Alabama? Perk up your ears now!
Posted 2/12/22
WOOF, it's time to bark about the Deep South! OK, I may be a West Coast boy by birth and an East Coast boy at heart, but I've got lots of love and sniffs for the Deep South. ARF-ter countless times of snoring on the couch to Sweet Home Alabama (who doesn't love Reese?), I finally convinced my humans to take me to "The Heart of the Dixie" during our most recent trip to New Orleans. AWOOOO, what's there not to like about being a Southern Yorkie gentleman? As the TOP DOG and ultimate pack leader, I've always been quite the "ladies man," in the words of my human. And, not to bark, my little BIG Yorkie tummy always makes room for a good ol' Southern meal (mmmm étouffée, anyone?).
ARF-ter sweeping the dirty streets of the French Quarter for two whole weeks (for the second time), I growled and barked endlessly at my humans until they conceded to my demands of changing the scenery. WOOF, they bowed down to their pack leader, and off to Alabama, we go! A quick less than 2-hour-drive on I-10E from The Big Easy got us through the Mississippi and Alabama borders. And as my human continued to step on the gas a little longer, we quickly hit Mobile – just a little over 2 hours and roughly 144 miles away from New Orleans.
First things first, Mobile is pronounced: "mo-BEEL." My humans were debating between "mo-bul" (as in the American pronunciation) vs. "mo-BI-ul" (as in the British pronunciation) before finally putting it to rest by asking a local. Situated on Alabama's mesmerizing gulf coast, Mobile is a vibrant port city (arf, only the 13th busiest in the country) known for having the oldest organized Mardi Gras, which occurred during the French colonial period! Even though Mobile is not exactly an international destination, it boasts an ultra-rich history dating back 300 years by being the oldest city in Alabama. ARRRF, that in itself is worthy of a sniff or two. But perhaps the biggest draw for a good sniff of Mobile is its proximity and access to beaches; arf-ter all, Mobile is considered the gateway to the Gulf.
Now, is Mobile, Alabama dog-friendly? With an upright tail, I'm barking WOOF, HECK YESSS! This up-and-coming city can be a real pawty. Sniff out 7 things you MUST do with your dog in Mobile:
#1 Visit USS Alabama Battleship Memorial Park
ARF-my-DOG! Visiting This memorial park was, PAWS DOWN, the highlight of my trip to Mobile. This collection of World War II-era battleships and aircraft is simply head-tiltin' ARF-mazing to look at, even if you're not a history buff. So, are dogs allowed at the USS Alabama Battleship Memorial Park? WOOF, you betcha – dogs are, indeed, welcome in the park and on the grounds. Adorned with gigantic, colorful eye-catchin' warcraft, the grassy field is massive to bark the least. ARF, I had a field day hoppin' all over from ship to plane and then from plane to ship. Not only does this tourist attraction allow dogs on-site, but they also encourage our presence! Heck, I sniffed out four good-sized kennels on the park grounds, which I didn't use personally, but it could certainly come in handy if your dog needs a break or if you'd like to go to the indoor museum, which is limited to service dogs only.
Put a furry paw on PLAY to sniff out my exploration of the USS Alabama Battleship Memorial Park below:
#2 Devour a Southern meal
When it comes to some homey Southern food, Louisiana may get all the fame, BUT that doesn't mean Sweet Home Alabama falls short of chops-lickin' goodies. OK, the truth is that NOLA folks were not waggin' their tails to hear that I was leaving "the city" for Mississippi and Alabama; they felt that I was leaving all the culture, music, and food! However, I must bark that I was pleasantly surprised by the food in Mobile. As Southern food is homey and comforting, I can bark with an upright tail that I sure felt like home. From po'boys to gumbo to jambalaya, I wagged my stylish undocked rat tail and dropped my jaw to an open-mouth smiley face as I slurped such hearty Southern treats. Surely, Mobile has more to offer than people give credit – yep, without the hype and all the tourists. And, the good news is that you won't have any pawblem finding quality restaurants with outdoor seating – just pawfect for a meal with your dog.
#3 Explore the funky streets of Downtown
OK, I get that it's no New Orleans, but Mobile has an undeniable unique appeal like no other (or shall I bark, smell?). Even without omnipresent skyscrapers, Mobile has a cool, fun city vibe – with a small-town charm. I may be a BIG CITY boy, but I quickly fell in love with Mobile at first sniff. At a glance, I only counted two noticeably tall buildings here with my claws – the 35-story RSA Battle House Tower (tallest building in the state) and the 34-story RSA Trustmark Building. However, a quick Google search corrected my first impression – surprisingly, there are 15 buildings taller than 100 feet in Downtown Mobile (but perhaps after living in Manhattan, I might just be used to seeing significantly taller buildings). Anyhow, Mobile has bragging rights to the most skyscrapers in the state besides Birmingham, which is 3.5 hours to the north (that's where my Yorkie pal George W. lives).
What's pawsome about Downtown Mobile? Pretty much everything you can find in any downtown! Neighborhood parks, lively brunch spots, casual to-go joints, upscale restaurants, local bars, museums, and art galleries – most of which you can visit with your dog! Over the weekends and in the events, Downtown turns it up a notch with diverse festivals, live music, community events, and open-air markets. Arf-my-DOG!
#4 Hit up the beach
One of the best activities you'll find in dog-friendly Mobile, Alabama – WOOF, it's time to get those furry paws sandy! Unlike my little BIG Weimaraner cousin Sonny, I don't like to swim or get my fur wet. HOWEVER, I do love to sunbathe and dig for gold on the beach any day. ARRRFFF, are dogs allowed on the beach in Mobile? OK, let's get the facts straight first. Although the city technically doesn't have any beaches of its own, Mobile is considered the gateway to beaches on the Gulf. And, YIPPEEE – there is a dog-friendly beach nearby Mobile! A barrier island connected to the mainland by a bridge, Dauphin Island is the closest beach to Mobile – just only a little over 30 minutes away by car (not paw). Despite its paw-pularity, this beach is rarely crowded, which makes it fun and stress-free for your dog. And yet, Dauphin Island is the only public pet-friendly beach in all of Alabama. That's when I growl, "GRRRR," but I have to bark "WOOF-HOO" for at least one dog-welcoming beach. One is better than none! As a 7-lb athlete, I'm always in TOP shape with my beach body. Time for a furry beach pawty, escapaders!
#5 Mark up Bienville Square Park
After chomping on some hearty po'boys, I made my way to Bienville Square Park to rake my feet, leave a few alpha marks, and as my human would say, burn some calories. Bordered by the streets of Dauphin, Saint Joseph, Saint Francis, and North Conception, Bienville Square Park is my go-to spot to MARK IT UP in Mobile. Named after the city's founder, Jean-Baptiste Le Moyne a.k.a. Sieur de Bienville from France, this tiny historical park was built in 1850, taking up an entire city block. PAWS DOWN, the square's most striking feature is the cast-iron fountain with an acanthus-leaf motif (which my human tried to snap a few pics, but I refused to stay put and strike a pose. Nonetheless, she did get a pic of me with the gigantic granite cross). Although I protested the pictures, I wagged my stylish tail to sniff that President Theodore Roosevelt had left his mark here back in 1905 with a speech on the important relationship between the Panama Canal and the Port of Mobile. Don't forget to sniff out the cutesy murals sprinkled throughout the square!
#6 Snap pics at Cathedral Square
Once a Catholic cemetery back in the 18th century, Cathedral Square is now a paw-pular hangout for locals and visitors alike. Like Bienville Square Park, Cathedral Square occupies an entire city block with plenty of greenery. ARF course, the real reason people pass through this square is to get pics of the awe-inspiring Cathedral Basilica of the Immaculate Conception, which holds the seat of the Archbishop of the Roman Catholic Archdiocese of Mobile. As a dog who has spent more than several years traveling throughout Europe, I can bark that this Greek Revival brick cathedral with stunning columns is a real masterpiece. Although the cathedral interior is paws-off for dogs, this enchanting square is, indeed, dog-friendly. WOOF, I can roam around and sniff out the doggy guestbook while my humans snap endless photos of me.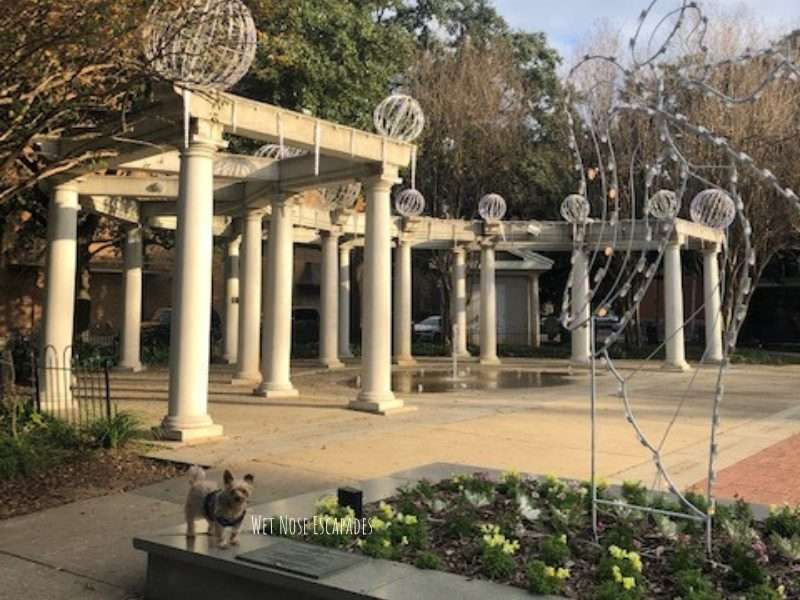 #7 Admire enthralling city street art
AWOOOO, you heard my howl – Mobile sure has a dynamic culture and its street art barks for itself. As an up-and-coming city, Mobile is hip, funky, and trendy. Yep, I would bark – TOP DOG cool. It's so much fun to explore the city's rich culture through its many murals – from the paw-pular "Heart of Mobile" (9 South Joachim Street) to the "Delta Bike Project" (N. Warren St. and St. Frances St.) to spectacular murals dedicated to icons like Muhammad Ali, John Lennon, and 2Pac (one of my humans' favorite rappers). To bark the least, this city has an ARF-mazing art scene worthy of a good sniff. Just walk your furry paws down on Dauphin Street, and you'll surely be amused! Since the murals are ubiquitous throughout Downtown, I sniffed them out effortlessly.
That's all I got, escapaders! WOOF, hope you like visiting dog-friendly Mobile, Alabama! Feel free to share your trip to the Deep South with me. Arf, ARF – BARK AT ME!
Markin' it up,
Roger Wellington a.k.a. The Doob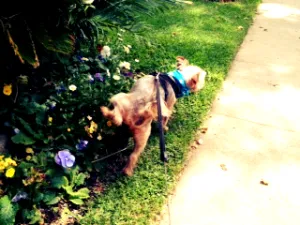 —
Like my post on "Dog-Friendly Mobile, Alabama: 7 Things You MUST do with Your Dog"? CLICK TO PIN!