WOOF, is Napa Valley dog-friendly? Heck YES! Sniff out this paw-bulous dog-friendly Napa Valley guide as barked by Miss Penny Rose.
–Markin' it up,
Roger Wellington a.k.a. The Doob
Posted 11/04/21
Arf, I'm Penny Rose, but most humans call me Penny Gurl! For those of you who don't know me, I'm Roger Wellington's new little sister. OK, I have to admit that my tail is down and in between my skinny legs right now as I'm a bit nervous to bark out my very first travel post, but the Yorkie Boss keeps telling me that I've got this. Ruff, here it goes…
I may be a City girl, but I like to escape to Napa Valley every chance I get! Even though it's the pawfect getaway for a girls' weekend, Napa can be enjoyed equally by couples and small or large groups. Just an hour north of San Francisco and southwest of Sacramento, Napa Valley is a world-class destination known for having some of the best wineries in the world. This region is so famous that I think it's safe to bark that Napa needs no introduction. Whether you're opting for a quick day trip or weekend getaway in Napa Valley, taking your pooch along is never a pawblem. Ah-woooo, the howl on the street is that Napa is, indeed, very dog-friendly!
Sniff out my guide to visiting dog-friendly Napa Valley:
First things first, be sure to MAKE RESERVATIONS at least a day before you visit any winery in Napa Valley! Since the pandemic, many wineries no longer take walk-ins (and if they do, they're often packed unless you get there super early).
Coming from the City by the Bay, I like to go all the way north to Calistoga first before slowly making my way back down to Napa. Famous for mud baths, hot springs, and renowned wineries, Calistoga is a quaint small town in wine country around 27 miles north of Napa (city).
First stop – Solbar, the Arf-so-contemporary and trendy restaurant at Solage Resort & Spa (755 Silverado Trail N, Calistoga). Their upscale outdoor dog-friendly dining area is situated next to their lush pool area (not dog-friendly, btw). Immediately, our server brought out a huge water bowl for me before my human had a chance to request it – EXTRA points (and tip). The atmosphere is classy yet relaxed and unpretentious.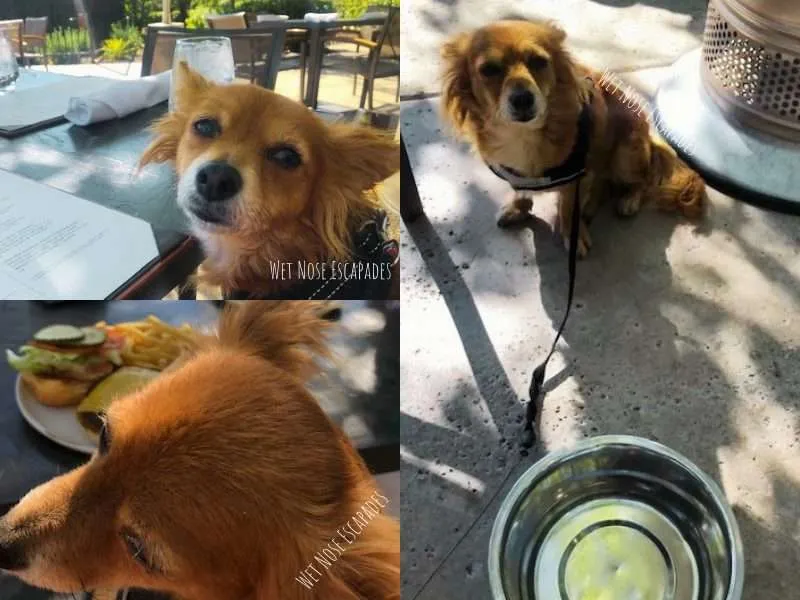 Taking advantage of the comfortable and mild weather in Napa Valley, I sunbathed my long slender body by the table. It's such a nice break compared to foggy, overcast San Francisco! My auntie went for their legendary fish tacos while my human grubbed on their juicy Impossible Burger. I got a little bit of cheese from her burger and lots of treats throughout the meal – it was a WIN-WIN. We then celebrated my auntie's birthday with a mouthwatering dessert – the Caramelized Apple Tarte Fine (Fuji apple, cinnamon-verjuice syrup, and vanilla bean ice cream). Just a bark – unlike other places, they don't comp birthday desserts. :/
I should also bark that there's so much more to the luxurious Solage Resort than their restaurant Solbar! Ruff, there's the award-winning 20,000-square-feet spa, hiking & biking trails, earth-friendly hotel, and even a to-beg-for wedding venue. I tilted my head in awe as I witnessed the bride and groom's "first look" photoshoot after my lunch. Although dogs are not allowed in the spa or pool area, they're welcome to stay in one of Solage's luxurious rooms for an additional pet fee of $150 per room (two dogs maximum). No weight or breed limits. Dogs are even provided a bed, bowls, treats, and a personalized welcome card. Bark about dog-friendly!
After such a delightful dog-friendly lunch in Calistoga, my auntie, human, and I wiped our pretty lips and strode gracefully back to the car. We walked around the historic Downtown Calistoga, where I sniffed out cute boutiques and art galleries on Lincoln Avenue.
And then, off to St. Helena we go!
Just less than 9 miles south of Calistoga lies another sniff-worthy charming small town in paw-tastic wine country – it is none other than my favorite, St. Helena! This tiny town with a paw-pulation of nearly 6,000 humans is the epicenter of the American Viticultural Area with over 400 vineyards covering 6,800 acres. Wow!
Downtown St. Helena is an ARF-mazing place for both dogs and humans to wander around as foot traffic on Main Street hardly reaches a stressful level for dogs. Their cute downtown has bountiful dog-friendly coffee shops, bakeries, pubs, and farm-to-table restaurants along with shops and galleries.
My two go-to dog-friendly wineries in St. Helena are:
Hall Wines (401 St. Helena Hwy. South) – Pawpular among humans and their furry wine enthusiasts, this relatively new vineyard features over 500 acres of Bordeaux varietals (with their specialty being red wine), intriguing contemporary artwork (look for their iconic silver Bunny on the side of the road), and inviting dog-friendly grounds. Needless to bark, the wines here are simply impeccable. From Bergeld Winery to The Great Lawn to the Ocean View Terrace, Hall Wines offers a plethora of sleek, stylish open spaces that welcome your four-legged companion with open paws.
I love sniffing around their Ocean View Terrace, which, btw, has no real ocean – in case you're confused. Instead, it has a pretty cool rectangular fountain with an "ocean" of vineyards. From the tasting room to the picnic area and patio, dogs are welcome to join their humans pretty much everywhere except the winery tour. Put your furry paw for their map HERE.
Just a howl that dogs are only allowed at their St. Helena location, not Rutherford location.
Raymond Vineyards (849 Zinfandel Lane St. Helena, CA 94574) – On the beautiful grounds of Raymond Vineyards, Frenchie Winery is their famous dog-friendly winery. Living up to its name, Frenchie Winery is, as you would have guessed, Frenchie-themed. Besides a portrait of an aristocratic white cat, the Frenchies really rule this place! From "Frencherson" to "Frenchington," I cracked an open-mouth smiley face as I sniffed out all their comical historical Frenchie-themed portraits.
Sadly, dogs are not allowed inside the tasting room; however, they are provided with wine barrel dog beds and monitored through a doggie cam while their humans enjoy a wine tasting or two. At their gorgeous Theater of Nature, I was so fascinated by the goats on the farm that my human had to hold me back from poking my little wet nose through the fence! If you don't feel comfortable leaving your dog inside the wine barrel temporarily, you can find vast dog-friendly exterior grounds to explore with your dog.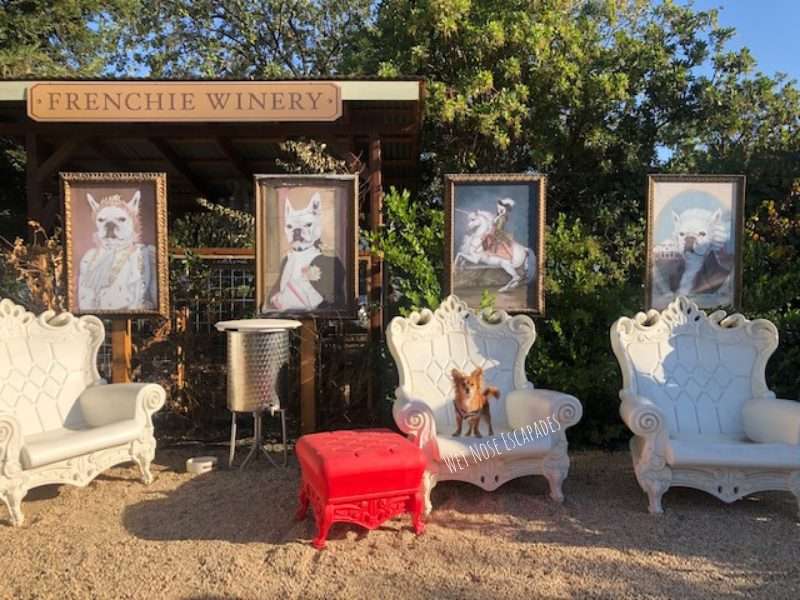 Just a howl that dogs are only allowed at their St. Helena location, not Rutherford location.
After hitting up wineries in St. Helena, we finally made our way down to Napa, the heart of Napa Valley! Although there are many dog-friendly wineries in Napa to explore, I prefer to meander through their endearing downtown, which is bustling with a pawsome riverfront walkway with lots of dog-friendly establishments – trendy eateries, hip bars, boutiques, cool shops, and a dynamic art scene (gotta sniff out the dog-friendly Napa Art Walk). In addition, Downtown Napa is renowned for its centuries-old architecture dating back to the late 1800s and 1900s. For first-time visitors (whether dog or human), the lively 1st Street is a must-sniff!
Located on 1st Street, JaM Cellars is one laid-back winery with ample outdoor dog-friendly sidewalk seating. Unlike the fancy vineyards, JaM Cellars offers a no-frills tasting for only $25-$45 (as of October 2021). My human tried the California tasting, which included a sparkling toast, chardonnay, cabernet sauvignon, and sweet white wine. To my human and auntie's delight, they were jammin' cool 90s Hip Hop, which made my little paws tickle for a Papshund dance!
JaM Cellars – 1460 1st St. Napa
Paw-bulous Dog-Friendly Restaurants:
Eiko's Napa (1300 1st St. #385 Napa) – Sushi, anyone? Eiko's is my go-to spot in Napa! With an abundance of outdoor tables on two sides, Eiko's Napa has turned into one of my favorite dog-friendly restaurants in Downtown Napa. Even though I didn't make it to their daily happy hour 4-6 pm, I wagged my tail to their friendly, dog-lovin' staff, colorful sushi rolls (I'd die for a lick of the Spicy Trio again), red comfy cushioned chairs, and upbeat vibe. My human checked in on Yelp for some free edamame, which I slurped up with immense satisfaction. Not to bark, they also gave us delicious free mochi for my auntie's birthday!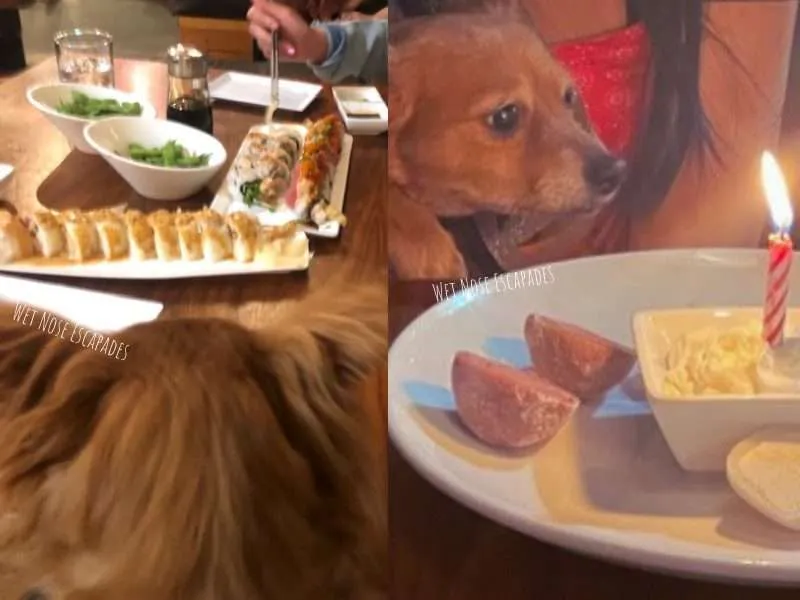 Tarla Mediterranean Bar + Grill (1480 1st St. Napa) – Despite limited outdoor dog-friendly seating in front, Tarla is still worth barking about. This family-run joint is all about locally sourcing their culinary dishes, including a myriad of vegetarian and vegan options – from homemade hummus to caramelized onion-red pepper stuffed eggplant. Mmm. Yummy! Since their food is Top Dog quality (as Roger W. would bark) with good-sized portions, I can pack on a little more weight (as suggested by my veterinarian). Arf, I just love their cute, warm ambiance – even though I could only sniff it from the outside.
Looking for a place to rest those furry paws at night? Here are a handful of dog-friendly hotels in Napa Valley where dogs are oftentimes pampered or at the very least, welcomed:
Bardessono Hotel and Spa (6526 Yount St. Yountville, CA 94599)
5-star hotel
Pet Fee: $200 cleaning fee per stay per room
No weight limit
Solage Resort & Spa (755 Silverado Trail N Calistoga, CA 94515)
4-star hotel
Pet Fee: $150 per room
No weight limit
Napa Winery Inn (1998 Trower Ave Napa, CA 94558)
3-star hotel
Pet Fee: 50.00 per accommodation, per stay, plus a deposit of USD 50.00 per stay 2 per room
Maximum weight: up to 45 lbs
Embassy Suites by Hilton Napa Valley (1075 California Blvd. Napa, CA 94559)
3-star hotel
Pet Fee: $150 non-refundable deposit
Maximum weight: 50 pounds
El Bonita Motel (195 Main Street St. Helena, CA 94574)
2-star hotel
Pet Fee: $30 per night per pet
No weight limit
Ruff, how did you like visiting dog-friendly Napa Valley? How did your dog enjoy it? Share your barks and howls with me!
Don't forget to subscribe to the Wet Nose Escapades YouTube Channel for upcoming videos of Roger W. and me. A Yorkie joined by a Papshund can only mean FUN! Rescues rock!
Rollin' it out,
Miss Penny Rose a.k.a. Penny Gurl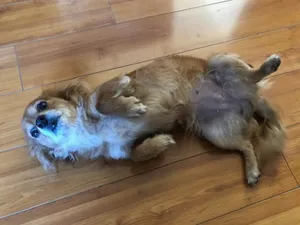 —
Like my post on "Dog-Friendly Napa Valley: A Papshund's Guide to Visiting Wine Country with Your Dog"?