WOOF, visiting Oakland with your dog? Keep on sniffing the best dog-friendly Oakland spots!
Posted 3/26/22
There's a saying that San Franciscans tend to live in the San Francisco bubble, never stepping their furry paws out of the 7X7 sq miles. Crossing the Bay Bridge to the East Bay is unthinkable to many city folks like myself unless we absolutely MUST. Although San Francisco's edgy sister Oakland historically gets a bad rep for violent crimes and looting, it sure has lots to offer – from warmer weather to (slightly) more affordable housing to funky, eclectic vibes. Due to continuous gentrification, the demographics have been changing for the last 10+ years with a declining African American pawpulation, unfortunately.
Yet this is directly due to rising housing prices that have forced out long-time or native Oaklanders while the techies and other young working professionals swoop into the 510 to escape SF's high rental market. Oakland has transformed into hipster central to cater to these new transplants with a buzzin' nightlife, ultra-cool Downtown and Uptown, and pawsome eateries. Whether this is truly good or bad, it's subject to a barking debate. Nonetheless, I can only bark about how dog-friendly Oakland has become. Although not as walkable as my hometown San Francisco, Oakland can be one ARF-mazing playground for dogs – if you know the right places to go. Sniff out my guide to dog-friendly Oakland below NOW!
8 Things to do with Your Dog in Oakland:
#1 Stroll along Piedmont Avenue
Located in North Oakland, Piedmont Avenue is in a class of its own. This bustlin' street known for trendy restaurants and boutiques is, PAWS DOWN, one of my favorite areas in Oakland to sniff out some high-class furry Oaklanders. Piedmont Avenue is a pawpular area for locals to walk their dogs and get their paws on some bottomless mimosas, grab a sandwich, or get fancy for dinner. The original 1894-founded Fenton's Creamery (4226 Piedmont Ave) is an ARF-so-cutesy vintage ice cream parlor that offers ample dog-friendly outdoor seating. Don't forget to snap a photo of your pooch in front of Piedmont Theatre, Oakland's oldest continuously operating movie theatre which opened way back in 1917. From the Colombian eatery Mägo (3762 Piedmont Ave) to the French-California brasserie The Wolf (AWOOOO, 3853 Piedmont Ave), Piedmont Avenue has ample dog-friendly establishments to sniff out.
#2 Explore the city's waterfront at Jack London Square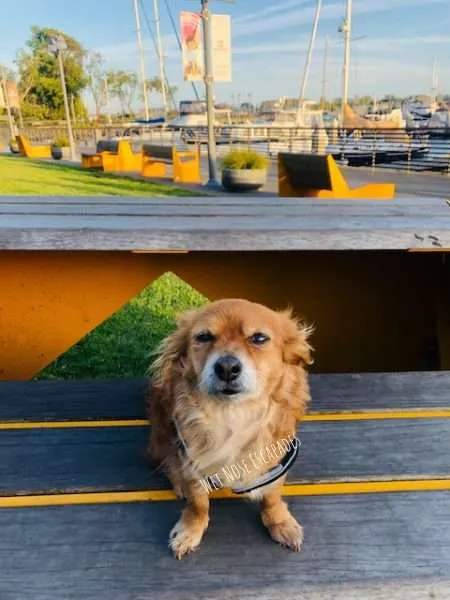 ARF, whenever I'm back in the YAY, I must set my furry paws close to the water where my little robust wet nose can get a sniff of the fresh ocean breeze. I love walking along the water and tilting my head to pretty white boats (especially ARF-ter a big chops-lickin' meal to burn some Yorkie calories). Although Jack London Square used to be pretty dead, it has now been revived to one happenin' center with lively restaurants and hip bars surrounding the marvelous waterfront. Owned by the Port of Oakland, JLS is home to many outdoor events throughout the year that often welcome dogs, including Easter and Earth Day celebrations.
Farmhouse Kitchen Thai Cuisine, one of my go-to Thai joints with my sidekick Penny, has an inviting dog-friendly patio overlooking the beautiful marina. One of the coolest dog-friendly spots at JLS is none other than Plank (98 Broadway), which boasts 50,000 square feet of indoor/outdoor space, including a paw-bulous beer garden where dogs are welcome with open paws.
#3 Make a lap around Lake Merritt
ARF, just east of Downtown Oakland lies Lake Merritt, the 140-acre lake with a dog-friendly path pawpular with both visitors and locals alike. Named after the 13th mayor of Oakland, Samuel Merritt (who also has a hospital and nursing school named in his honor) for his donation of the land, Lake Merritt is one of Oakland's treasures!
Even though dogs are technically NOT allowed inside the park (by Children's Fairyland) or lake, leashed dogs are welcome to walk alongside their humans on the perimeter of this 3.2-mile loop. 
#4 Look for murals and Art Deco buildings in Uptown
Like Jack London Square, Uptown was once dilapidated until being revived in recent years. As I mark up Uptown these days, my tail wags as I sniff out a pawtastic restaurant and bar scene and trendy lofts and condos. Although you may have to practice some street smarts and pay attention to your surroundings, you shouldn't experience too much pawblem walking the streets of Uptown with your dog. The best part about exploring this dynamic neighborhood on four paws is appreciating its artistic culture through colorful murals and Art Deco buildings.
Here is a pawful of MUST-SNIFFS:
The Paramount Theater (2025 Broadway) – A 3,040 concert hall built in 1931, which used to be the largest multi-purpose theater on the West Coast. Current home of the Oakland East Bay Symphony and Oakland Ballet.
Fox Theater (1807 Telegraph Ave) – A 3,800-seat former Art Deco theater part of the National Register of Historic Places, reopened after renovation in 2009.
Lilies mural (2001 Broadway) – Created in 2016 by Jet Martinez of Athen B Gallery on the back of I. Magnin Building.
Beacon: Frequency Reader (1700 Broadway) – Created in 2017 by Joshua Mays of Athen B Gallery.
I am human through the reflection of your humanity back at me (2123 Franklin St.) – Created in 2016 by Ricky Lee Gordon of Athen B Gallery.
Watch me and Penny cross the Bay Bridge to OakTOWN:
#5 Hit up Oakland's Urban Wine Trail
Oakland is no wine country, but it is only within an hour drive to the world-renowned Napa Valley. ARF, such proximity can only mean that The Town's wineries are still quite sniff-worthy and unique. Their pawsome Urban Wine Trail spans a 10-mile radius, boasting wineries with tasting rooms and wine bars in ultra-hip converted warehouses and art studios. WOOF, I wouldn't expect anything less from hip Oakland! From dog-friendly wine gardens and outdoor patios to dog-friendly tasting rooms, Urban Wine Trail is an ARF-mazing way to spend a day with your dog in Oakland.
A few dog-friendly wineries:
Brooklyn West Winery at Jack London Square (200 2nd St.) – Dogs are welcome in their tasting room. Super dog-lovin' staff!
Rosenblum Cellars at Jack London Square (10 Clay St.) – Dogs are welcome on their outdoor patio. Scenic waterfront views.
Côte West (2102 Dennison St Suite A.) – Dogs are welcome in their small but stylish tasting room.
#6 Shop in Grand Lake
Near Lake Merritt lies the Grand Lake neighborhood, which has bragging rights to the opulent movie palace Grand Lake Theatre, which opened in 1926 on 3200 Grand Avenue and is pawfect for a quick exterior doggie photoshoot (or selfie). Although I have to dodge human runners who make this area part of their Lake Merritt run, I enjoy marching along Grand Avenue and Lakeshore Avenue with an upright tail and sniffing out the cutest gift shops, vintage clothing boutiques, and indie bookstores. As nomads, my humans and I aren't big shoppers of material goods. However, something is very intriguing about these unique shops at Grand Lake. ARF-ter investigating with my Sherlock nose, I can fill up my little BIG Yorkie tummy with a hearty Reuben or succulent scallop risotto at Grand Lake Kitchen, one of the neighborhood's BEST dog-friendly restaurants.
#7 Hang the hipsters in Temescal
Like other gentrified neighborhoods in Oakland, Temescal is ever-changing with an emerging distinctive, eclectic culture. Historically one of the oldest neighborhoods in Oakland, Temescal has undergone demographic changes with new residential and commercial developments in the last ten years, from renovated duplexes and bungalows to upscale shopping and dining. In addition to Temescal's rich ethnic diversity with a significant Ethiopian and Eritrean presence, the main street Telegraph (between 40th and 51st) has become hipster central!
You'll find its fair share of facial hair, plaid shirts, skinny jeans, thick-framed glasses, and beanies floating around pretending to be "foodies" of an untouchable, elite class. ARF, eating is NOT a skill BTW, and I don't know any healthy human or dog who is NOT interested in chomping on delicious food. Anyhow, I like to get my paws greasy at Aunt Mary's Cafe (4640 Telegraph Ave.) and the SF-original Burma Superstar (4721 Telegraph Ave.), both of which offer dog-friendly outdoor seating (and lots of hipsters – BE WARNED).
#8 Mingle with Cal grads in ritzy Rockridge
WOOF, setting my furry paws on College Avenue in Rockridge means experiencing one of Oakland's finest, ritziest neighborhoods. And, not to bark, VERY dog-friendly. Just south of Berkeley and west of Oakland Hills, Rockridge is known for artistic and intellectual individuals, mostly Cal grads who stayed in the East Bay post-graduation and made Oakland their home. From dog-friendly indie bookstores to fancy boutiques to wine bars to coffee shops to posh eateries (with outdoor seating), College Avenue is bounded by 51st Street on the southern end and Elmwood district (Berkeley) on the northern end. PAWS DOWN, College Avenue is one of the nicest and safest commercial streets to visit in Oakland with your dog – without the pretentious feel. It is also BART-accessible with its Rockridge Station, making it supaw easy to get to. Be sure to sniff out these dog-friendly hot spots: The Golden Squirrel (5940 College Ave.), Kitchen Story (5422 College Ave.), Millenium (5912 College Ave.), and Tannery on telegraph (6369 Telegraph Ave.).
Pawpular Dog-Friendly Parks in Oakland
Time to hit the ground running and mingle with those furry Oaklanders!
Joaquin Miller Park (3300 Joaquin Miller Rd) – Oakland Hills
Leona Canyon Regional Open Space Preserve (Campus Drive and Keller Ave, Leona Trail) – South of Merritt College
Roberts Regional Recreation Area (10570 Skyline Blvd) – Oakland Hills
Redwood Regional Park (7867 Redwood Rd) – Oakland Hills
Shepherd Canyon (6000 Shepherd Canyon Rd.) – Montclair/Oakland Hills
Frog Park (5500 Claremont Ave.) – Rockridge-Temescal Greenbelt
Dog-Friendly Public Transportation in Oakland
BART (Bay Area Rapid Transit): Dogs ride for FREE, but must travel inside a carrier. All non-service dogs must travel in a secure, enclosed carrier specifically manufactured for transporting pets. No maximum dimensions provided.
AC Transit: Small dogs like myself ride for FREE on the bus if they travel in a carrier and are small enough to fit on their human's lap. Your dog must be well-behaved and not disturb other passengers.
Dog-Friendly Hotels in Oakland
Kissel Uptown
4-star hotel
2455 Broadway
Dogs stay FREE! 2 dogs maximum per room (maximum weight of 75 pounds per dog)
Food and water bowls are available
Waterfront Hotel
10 Washington St.
3-star hotel
2 dogs maximum per room (combined weight of 75 pounds maximum)
Homewood Suites by Hilton Oakland-Waterfront
1103 Embarcadero
3-star hotel
$75 non-refundable deposit
Ramada by Wyndham Oakland Downtown City Center
371 13th St.
2-star hotel
30 lb. weight limit, fees apply (call the hotel for info)
WOOF, hope you enjoy dog-friendly Oakland! How was your trip to the TOWN with your dog? BARK AT ME!
Subscribe to my YouTube Channel: Wet Nose Escapades by Roger Wellington for fun dog videos!
Markin' it up,
Roger Wellington a.k.a. The Doob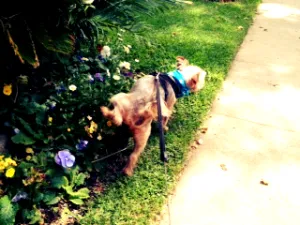 —
Like my post on "Dog-Friendly Oakland, CA: What to do when visiting the TOWN with your DOG"? CLICK TO PIN!