The capital of Canada, Ottawa is a dynamic city situated on the south bank of the Ottawa River in the southeastern part of the Ontario province. Home to many prestigious universities, fantastic museums, and culturally rich historic sites, Ottawa is one lively destination worthy of some tail wagging and sniffing. And, yes – it's certainly one that welcomes dogs with open arms. To tell us more about dog-friendly Ottawa, I've invited my 4 lb. Yorkie pal Jake and his compassionate rescue advocate humans Emily and Sinclair to share some barks about their pawsome hometown.
Tell us a little bit about Jake! (e.g. background, personality, whatever you'd like to share)
We rescued Jake when he was only 7 weeks old. He was so tiny – only 700 grams and could fit in the palm of your hand. Jake was from a puppy mill – it was an older couple trying to make money by breeding all kinds of dogs, providing them to pet stores, and selling them online. Jake was very sick and lethargic when we found him – not only did he have worms, but he was also malnourished and extremely dehydrated. However, that changed after we got him all fixed up. It took two weeks of syringe feeding for him to bounce back and become a normal puppy. We call him our little gremlin because he has endless energy and can be a handful. He definitely has a sense of humor and will continue to do something if it makes us laugh. He's often getting into trouble, but we wouldn't change him for the world.
What do you love most about him?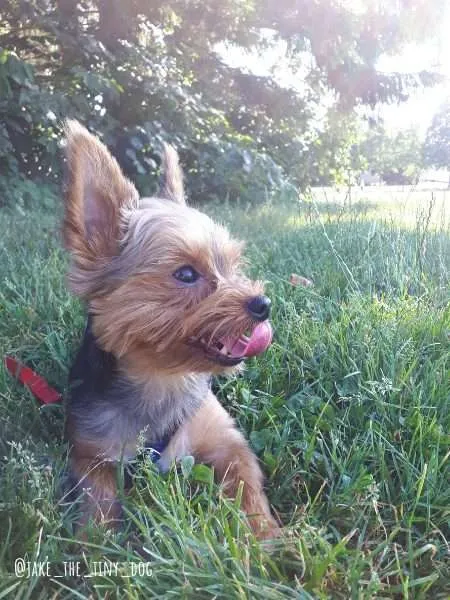 We love how perfect his personality is! He came into our life at just the right time and has been a perfect fit ever since. He's very funny and sweet.
About a year before I (Emily) found Jake, I had lost Buddy, my best friend (dog) of 20 years. He was mostly Corgi mixed with Jack Russell and Staffordshire. I was a mess. I didn't know what to do with myself. Buddy was my first dog ever – I had him through all of my childhood and teen years. He saw me through so much that I was really lost without him. Then we found Jake. Jake has a lot of the same quirks as Buddy did and even smells the same hehe. Life got better again after finding Jake. They say you don't get the dog you want, but you get the one you need. I did NOT want a Yorkie in any way but Jake was exactly what I needed. I was actually looking at Mastiff/Great Danes before getting Jake lol – it's a huge size difference.
What are his favorite things to do in the world?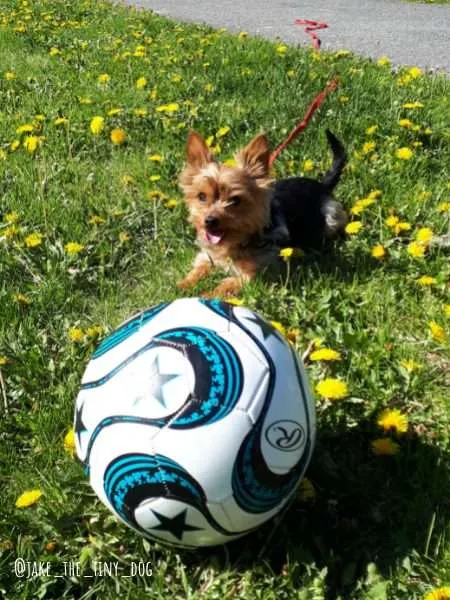 Some of Jake's favourite things are soccer, food (especially fresh veggies), and his brother Ben (a rescue senior Maltichon)!
What does he hate the most?
Jake hates loud things like the vacuum, blender, and buses. And, of course, he despises baths.
What are his favorite foods? Least favorite?
Jake's favourite food is fresh veggies! As soon as we start chopping for dinner, he comes running. Peppers and carrots are some of his top choices. His least favourite would be bananas.
What is the most expensive item you've purchased for him?
Treat puzzles and winter wear! He needs some extra warm clothes to help insulate him during the winter weather and a good pair of boots to protect his feet.
What's the best part about having a dog in Ontario?
Ontario is very dog friendly with many places to take them and have fun! Almost all of our neighbors have dogs so Jake has lots of friends.
What are some of your favorite dog-friendly parks in Ottawa? (please provide specific parks)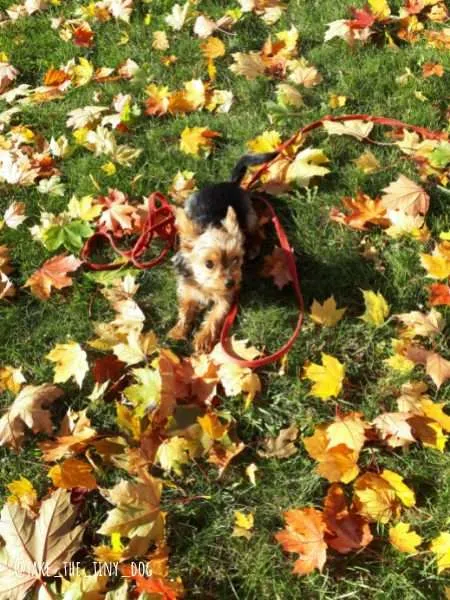 Honestly, we avoid dog parks because of Jake's small size. However, there are many dog-friendly parks in Ottawa that people love. Conroy Pit and Bruce Pit are both very popular.
What are some of your favorite dog-friendly restaurants in Ottawa? Are dogs only allowed to dine outside? Or do some places make an exception for indoor dining? If so, where?
Downtown Ottawa has many restaurants that allow dogs on outdoor patios and even offer dog-friendly menu items! Starbucks also offers pupachinos and Timmies always offers a timbit.
What are some dog-friendly tourist attractions in Ontario (if any)? Any other local dog-friendly places that you'd like to share (e.g. shops, cafes, bars, etc.)?
We have many dog-friendly places here – parks, the Gatineau Hills, and even cafes specifically for pet owners! Numerous shops in Downtown Ottawa also allow you to bring your dog inside while you shop. Our favourite place to take our dogs is Indigo.
Overall, how would you describe the local people's attitudes towards dogs?
Overall, I would say dogs are very popular and well-liked here. People always smile or stop to pet Jake when we are out.
What are some of your favorite trips you've had with Jake (e.g. road trips, domestic air travel, international, etc. – if any)? How well does Jake travel?
We sadly don't travel very much, but Jake loves car rides and would be up for a trip one day for sure! The farthest Jake has been to is Quebec to visit his grandpawrents.
Are dogs allowed on buses, subways, rideshares, taxis, etc.? If you have any specific experience regarding taking Jake onboard, please feel free to share!
Pets are not allowed on buses or the trains here, but some taxis and rideshares allow dogs. We have had to take two taxis and one rideshare with Jake, and it was very easy every time. You just need to let the operator know you have a dog with you, and they'll send a pet-friendly vehicle/driver!
What is the biggest challenge of having a dog in Ontario?
The biggest challenge about having a dog in Ontario would be finding an affordable vet, in which the pricing is very high (in my opinion). Also, the winters here can be very cold, which means it can be hard for dogs to get enough exercise during the cold season. Jake finds it particularly difficult as he's so small and easily chilled.
Based on your personal knowledge, would you say that people tend to buy or adopt/rescue dogs in Ontario? Do pet stores exist (where dogs and cats are sold)?
Yes, I think many people adopt and rescue dogs here. I am part of many rescue groups on Facebook and follow local rescues on Instagram. All of my own dogs have been rescues – I like to support them when I can. We have one pet store that still carries puppies and kittens, but it is very controversial. Most pet stores here like Petsmart, Pet Value, and Rens have rescue cats for adoption! We also have the local humane society that helps rescue animals.
How close is the nearest veterinarian from your house? (e.g. in miles and driving time)
Our vet is very close by, only 3 minutes by car. We have many vets right in our area, within walking distance or a very short car ride away.
Approximately how much is a standard examination/office visit at the local veterinarian?
As mentioned, I find the vets here very expensive. We took our other dog Benji to the vet for an exam recently, and it was $150 just to be checked over. Most vet trips for us are around $150-$300 for basic vet needs. We have had a few surgeries done on our dogs, and they were very costly. Jake ate a toy earlier this year, which set us back a couple of thousand dollars.
How would you rate/describe the quality of veterinary care in your area?
We tried out many vets before finding the right one for us. We have had our fair share of bad experiences with doctors or clinics, but I think that's the case anywhere you live. Overall, I would give Ottawa a 6/10 for vets.
What is one thing you'd like to share with us about a dog's life in Ontario?
Ontario is great for dogs and dog owners! So many dog lovers live here that you're sure to make many friends through pets and meet lots of nice people who want to pet your pup. Dogs benefit from all of the dog lovers because it means more love and treats for them. Pre-Covid, we even had a pet expo where hundreds of people flocked to with dogs of all sizes.
Why is Ottawa, Ontario worth a visit? 🙂
Ontario is a beautiful place for tourism. With Ottawa as the capital, we have lots to offer. I feel like it would be fairly easy to travel here with your dog and take in all the beautiful sights.
Thank you to Jake, Emily, & Sinclair for this interview and sharing their pawsome life with us! I can't wait to sniff out Ontario for myself. Can't get enough of Jake? Be sure to follow his marvelous life in Ottawa on Instagram!
How to Travel to Canada from the U.S. with a Dog
WOOF, are you ready to take your dog to Ottawa? Luckily, the dog import pawcess from the U.S. to Canada is easy peasy. For dogs traveling with their humans (regardless of age), proof of rabies vaccination (or rabies vaccination certificate) is the ONLY requirement for your dog to enter Canada.
For dogs under 8 months NOT traveling with their owner, a health certificate must be completed by a licensed veterinarian in the U.S. within 72 hours of arrival in Canada. However, unlike dog travel to Europe, the certificate does not need to be endorsed by APHIS. Since air travel can be stressful for dogs, I'm barking with an upright tail that I do NOT recommend air travel for dogs under a year old, even when traveling with their humans.
Flying with a senior dog? Sniff out my expert tips NOW.
Markin' it up,
Roger Wellington a.k.a. The Doob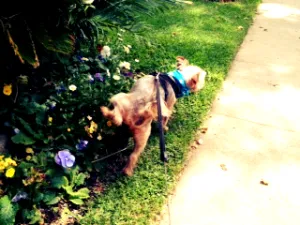 —
Like my post on "Dog-Friendly Ottawa: An Interview with Jake the Canadian Yorkie"? CLICK TO PIN!