WOOF, wanna take your dog to Philadelphia from NYC? Is Philadelphia dog-friendly? Keep scrolling down with a furry paw!
Posted 3/12/21
Roughly 90 miles southwest of NYC, Philadelphia is a marvelous dog-friendly weekend trip (or even day trip) for New Yorkers and East Coast visitors. Although not nearly as stimulating as the nearby Big Apple, Philly has a historical charm unlike anywhere else in the States. ARF, it's hard to bark about Philly WITHOUT barking about history! Think Liberty Bell, Independence Hall, City Tavern, and Graff House – and yet this list of significant American historical sites in Philly barks on. After all, it is the birthplace of my dear America! Philadelphia was not only a meeting place for our Founding Fathers during the American Revolution, but it also served as the capital of the United States for 10 years before D.C. was crowned.
OK, that's enough history for now. So, what's in it for dogs in this renowned historic American city? ARF, LOTS of sniff-worthy places! A plethora of dog-friendly green spaces, historical grounds, restaurants, neighborhoods, and an overall dog-lovin' atmosphere paws down make Philly one of the most dog-friendly destinations on the East Coast. Plus, this city boasts a high walkable score, which means A LOT of marking for alpha dogs like me. And, because it's not as crazy or overwhelming as the Big Apple, your dog will have a more pleasant time exploring the City of Brotherly Love!
How a Yorkie traveled to Dog-Friendly Philadelphia from NYC:
Since my humans and I don't have a car in NYC, we resorted to taking Amtrak, which was roughly a 1-hour 20-minute ride. We took the Northeast Regional Train to Philly and then the Pennsylvanian Train back to NYC. With both trains taking about the same time, it boiled down to cost and availability. A one-way train ticket price ranges anywhere from $31 to $80 per person depending on whether you book in advance or last minute. With a travel date approaching, you're likely to pay a higher fee to meet the demand. As we secured tickets in advance, we got our paws on the cheapest fare – $62 round-trip per person. SCORE! However, that's only for my humans! Dogs (and cats) up to 20 pounds (total weight including the carrier) are welcome onboard. And yet, pet fees are an additional $26 one-way/$52 round-trip (or 800 Amtrak Guest Rewards Points one-way). GRRR. And, there is a limit of 5 pets per train so it's imperative to reserve in advance. Also, bear in mind that the policy is one pet per passenger.
As if the pet fee isn't enough, you'll also have to sign the Pet Release and Indemnification Agreement for each travel segment. Essentially, you're certifying that your dog hasn't harmed anyone or shown aggression and is healthy (e.g. up to date with vaccinations). Most importantly, you hold Amtrak harmless of any claims or injury arising from your dog. Since this paperwork must be signed off by an Amtrak personnel, you should arrive at the station around 30 minutes before departure.
Whether soft or hard, your dog's carrier must not exceed the following dimensions: 19" long x 14" wide x 10.5" high. Again, the combined weight of your dog and carrier must be no more than 20 pounds. For your dog's sake, he or she must be able to sit, lie down, and remain entirely inside without touching the sides of the carrier. Unfortunately, your dog's carrier counts as one piece of carry-on baggage. BOOO! 🙁
My fabulous green carrier has been in more countries than most humans on Earth! Get yours HERE!
I arrived at the Moynihan Train Hall (421 8th Avenue in Chelsea, Manhattan) in the morning about 25 minutes before my departure time at 9:30. Typically, the gate isn't announced until 10 minutes or less before the departure time. With a few minutes to spare, I quickly walked and marked around the exterior grounds upon arrival.
Since the train hall opened recently on January 1, 2021 (yes, you sniffed it right – 2021), it is spankin' new, sparklin' clean, airy, spacious, and well-lit. Well, technically it's an expansion of the Pennsylvania Station into NYC's former post office.
On both journeys, I got out of my carrier for a breather without any issues. As a top dog, I like to be on the lookout for some sniff-worthy Jersey sights! Despite the extra fees and paperwork, I am giving my Amtrak Philly experience a bark of approval. PAWS UP from Roger Wellington!
A quick hour and 20 minutes later (about 10 minutes before 11 am), my tiny furry paws landed in Philadelphia Amtrak 30th Street Station (2955 Market Street), which is just west of the city center. You can also stop in North Philadelphia (2900 North Broad Street).
Fun Activities in Dog-Friendly Philadelphia: Sniff out how I made my mark in the city!
Take Pictures with the Eagles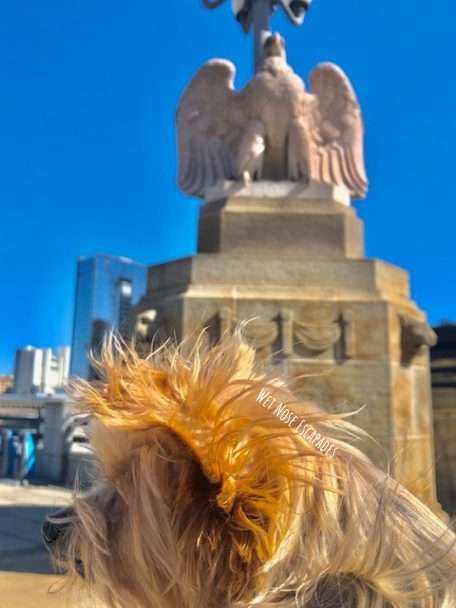 WOOF, off I go! Right off the train station, I growled at the eagles along the Schuylkill River. Why growl at them? I don't know! But, as the 7 lb. pack leader, I just didn't trust them. They smelled a bit suspicious. Symbolizing freedom, strength, and majesty, the bald eagle became a symbol of Philly (and America) when Congress chose it as a national emblem in 1782. Despite my suspicion, my humans had to snap a quick picture of me with an eagle. Don't worry, I made sure she paid me with some goodies! GRR, what happens when two eagle eyes meet? The staredown begins until one finally looks away!
Walk along the River(s)
The 135-mile Schuylkill River runs northwest to southeast in the state, but the main river of Philly is The Delaware to the east, which is over 300 miles long. In the city center, Penn's Landing is the scenic waterfront area consisting of parks, restaurants, and attractions that run flawlessly along The Delaware. It's a HOT SPOT to take a stroll with your dog, do some meet and greet (or butt sniffing), and take in the exuberant Philly scene.
Marvel at the Philadelphia City Hall
I made my mark at the City Hall and stopped to tilt my head to the ARF-mazing architecture. Concepted in the late 1800s, this 548-ft intricate masterpiece was constructed with limestone, granite, and marble. ARF, here's a fun fact – at the time, the Philadelphia City Hall (1400 John F Kennedy Blvd) was designed to be the TALLEST building in the world! Although it quickly lost the title during construction, it was still the tallest habitable building in the world for quite some time with 700 rooms. Today, it's the largest municipal building in the country with a jaw-droppin' 14.5 acres of floor space. Although dogs aren't allowed inside the City Hall (except for the observation deck), I love their stylish yellow-themed outdoor patio with umbrellas and tables which makes the pawfect setting for paw-lickin' meals on the go.
Roam around the Independence National Historical Park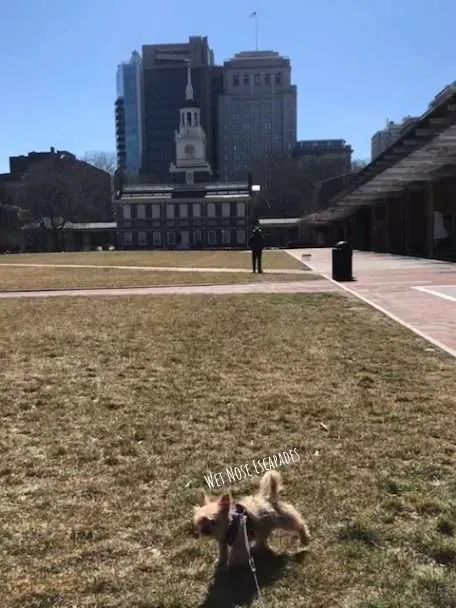 The Philadelphia Independence Historic Area is a MUST visit with your dog! ARF-my-God, I love roaming around the Independence National Historical Park, which spans over 55 acres. The heart of the park is the Independence Hall where both the Declaration of Independence and The Constitution originated. Even though the Liberty Bell Center isn't dog-friendly, I happily gazed through the glass window for a peek at the powerful symbol of American freedom. Other significant historical sites at the park include City Tavern, the First Bank of the U.S., and Franklin Court among many others. With more than several blocks of historical buildings and large grassy fields with wooden benches, Independence National Historical Park is one of the most dog-friendly places to explore in Philly. And, of course, please remember to clean up after your dog.
Dogs may not be permitted inside these historical buildings, but they're still welcome on the exterior grounds at the park. Nevertheless, if you plan on visiting the INTERIOR of these historical sites, then you'd have to leave your dog back at the hotel or take turns with your human travel companion. ARF yea, in case you're wondering – both the Independence Hall and Liberty Bell Center do NOT require tickets.
Eat Philly Cheesesteak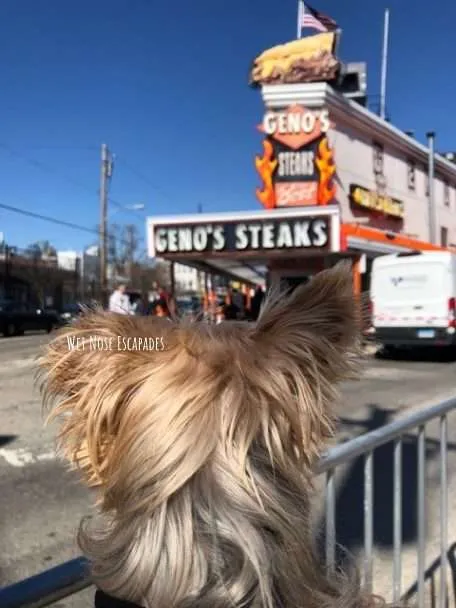 Whether you wanna buy into the hyped-up battle between Geno's or Pat's OR go off the beaten path for a non-touristy cheesesteak joint, grabbing a classic cheesesteak is one pawsome activity in Philly that will get your dog's tail wagging instantaneously. Like numerous steak joints in Philly, both Geno's and Pat's have window counters for easy ordering and abundant covered outdoor seating for your dog. Unless you're willing to share, be sure to pack dog-safe goodies and treats so your dog has something to enjoy as well! And, don't forget a water bowl + bottled water.
ARF, what is a Philly Cheesesteak?
It's a hot sandwich with thin pieces of sautéed beefsteak (ribeye) and melted cheese (traditionally with Cheez Whiz, but could be served with American cheese or provolone) on a long, crusty hoagie roll. Mmm, I love my veggies, but is it time to go back to my wolf instincts? And, lucky for me, Cheez Whiz is safe for dogs – if given in moderation. My tongue started lickin' the whiz like I hadn't eaten for days!
Geno's vs. Pat's
Located right next to each other, these two legendary family-run steak shops both claim to have the BEST cheesesteak in Philly. Established in 1930, Pat's is credited as the first place in the U.S. to ever sell a steak sandwich. On the other hand, Geno's opened in 1966 and quickly rose as a rival as they claim to have mastered the sandwich. GRR, it sure sounds like two alpha dogs are kicking their hind legs and going at it!
Currently, these two top dogs are open 24/7 and only accept cash. Be sure to come prepared to pay around $12 for one very filling cheesesteak! My humans and I scrambled to find an ATM after realizing their payment method, and fortunately found one just a few blocks away.
ARF yeah, don't forget to order "wit" onions!
What's the difference between Geno's and Pat's? Who's the ultimate winner of the best cheesesteak in Philly? You be the judge! The only difference between these two famous cheesesteaks is that Geno's beefsteaks are sliced (NOT chopped) while Pat's are chopped.
Veggie Options?
WOOF, for my veggie lovers – don't fret as virtually most cheesesteak joints have vegetarian options with grilled mushroom substitutes. Vegan options are not as plentiful, but still relatively easy to find if you put in some work online (try Blackbird's award-winning vegan cheesesteaks). As of now, Geno's and Pat's do not have vegan options, but hopefully, that will change in the future as our planet continues to go green!
Geno's Steaks: 1219 S 9th Street
Pat's King of Steaks: 1237 E Passyunk Avenue
Blackbird (Vegan): 614 N 2nd St
Explore the Philadelphia Museum of Art
WOOF, this place is ARF-mazing! OK, just because dogs aren't allowed inside museums doesn't mean that I can't sniff out the grounds. I'm not a museum-type of dog traveler anyway, but I sure love the gorgeous space around the Philadelphia Museum of Art (2600 Benjamin Franklin Pkwy). This is where your dog can climb the 72-stoned Rocky Steps for a spectacular view of the city. Rose to popularity from the Sylvester Stallone movie Rocky, these steps leading up to the museum entrance symbolize the victory of an underdog. And, don't forget to snap a picture of the fictional Rocky Balboa statue on the side, just right below the steps.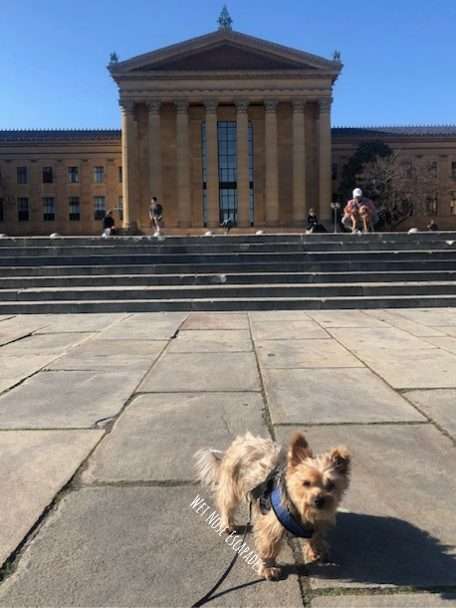 Besides the famed Rocky Steps, this delightful area boasts large open green spaces that make an eventful outing with your dog. As you and your dog meander north, you'll realize how massive the green fields stretch out along the Schuylkill River, crossing many parks, recreational areas, gardens, monuments, and even mansions. From the Italian replica Fountain of the Sea Horses to the Lincoln Monument to the East Park Reservoir, you and your dog can easily spend a whole day marveling at these incredible dog-friendly attractions.
Hope you enjoy visiting dog-friendly Philadelphia with your dog traveler! Feel free to share your visit with me – BARK AT ME!
Markin' it up,
Roger Wellington a.k.a. The Doob