WOOF, let's bark about dogs in the Philippines! Is the Philippines dog-friendly? While this gorgeous Southeast Asian country consisting of over a whoppin' 7,000 islands is rarely barked about in the world of dog travel, there is a growing number of responsible dog pawrents in the Philippines who love and care for their doggies just like real family members. Despite a notable stray pawpulation and the fact that many dogs are primarily used as guard dogs, the Philippines has an up-and-coming dog-friendly culture that's totally bark-worthy.
Due to a rather lengthy process required for animal import, international dog travel to this friendly nation filled with ARF-mazing, stunning dog-friendly beaches (not to bark, mouthwatering fresh fruit – mango, anyone?) is not always recommended unless you're considering a long-term move. And, since the Philippines is considered high-risk for rabies, your dog's return to the U.S. can pose challenges as well. Even though I haven't set my furry paws there to sniff it out for myself (due to such complications), my stylish rat tail is waggin' to hear from my local furry friends on dog-friendly Philippines. Perk up your ears and listen to the barks and howls of the two beautiful furry sisters Pacha & Sierra, and their sweet mommy Candy!
Tell us a little bit about Pacha & Sierra! (e.g. background, age, weight, personality, who do they live with, etc. – whatever you'd like to share)
Pacha is a 5-year-old Chocolate Labrador who loves being outdoors, swimming, car rides, and of course, eating anything. We got Sierra, a Border Collie, during the pandemic, and she is turning two in March. She loves running, catching frisbees, sticking her head out of the car window, and is just excited about anything and everything. They are both very sweet dogs who love being with us. We are a family of four (just me, (Candy), my husband JP, and our two dogs). We bring the two girls everywhere we go, and sometimes (or most times), they get recognized before we do.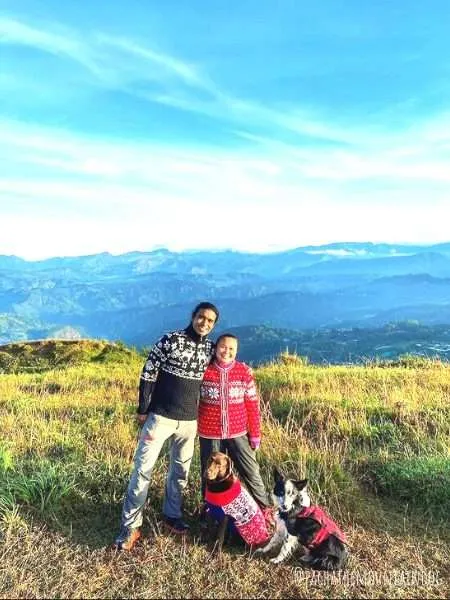 What do you love most about them? What are their favorite things to do in the world?
We just love being with them – they really bring so much joy into our life as a couple. We all love to hike together – you can tell that there is an extra spring in their step when we are outdoors – it really is our happy place!
What do they hate the most?
I think they probably hate being left alone the most. Pacha also really hates loud sounds and is terrified by them, but Sierra seems to be okay with it so far.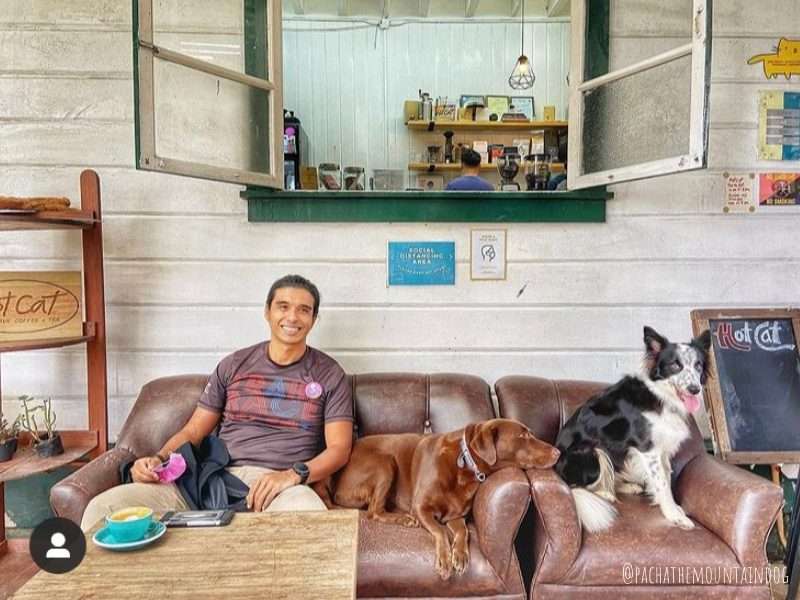 What are their favorite foods? Least favorite?
I'm not exaggerating when I say that Pacha will eat absolutely anything! Sierra is a little pickier, but they are both big meat lovers. (My husband and I eat mostly plant-based at home, so all the meat in the freezer is theirs).
Complete this sentence: "Pacha and Sierra are so spoiled that:
"They each have a bed in every room in the house
"
What's the best part about having a dog in the Philippines? Biggest challenge?
We have so many beautiful beaches in the Philippines, and we love being able to take the dogs there. Although there are a lot of dogs here, they are still mostly seen as guard dogs or left outside the house. It is still not as easy to find dog-friendly places to stay and dine in, or public transport that allows dogs. There are a lot of places that do not allow dogs, or would only allow dogs of a certain size (those that can be carried) or require diapers. Although there's been a boom in the pet industry in the Philippines recently, just in the last 2-3 years, there is still a long way to go in terms of educating people on how to responsibly care for their dogs.
Did you grow up with dogs? If not, how/when did you become a dog lover?
I did grow up with dogs, but in the "old way" where they stayed outside the house and were meant to be guard dogs, mostly being cared for by household help – I was always scared of them. I got my first real pet (Luc, a Lhasa Apso) when I was already in my 30s, and that's really when it all started for me. I took him on hikes, beach trips, and he slept in my room. When Luc passed after almost 10 years, I was devastated and could not think of having another dog again. Then my husband and I went on a hiking trip to Patagonia, and on one of our hikes, there was a dog that just came along with us. We thought that she would just go back home eventually, but Snowy (we just decided to name her that) not only stayed with us for three days, but guided us on the trail.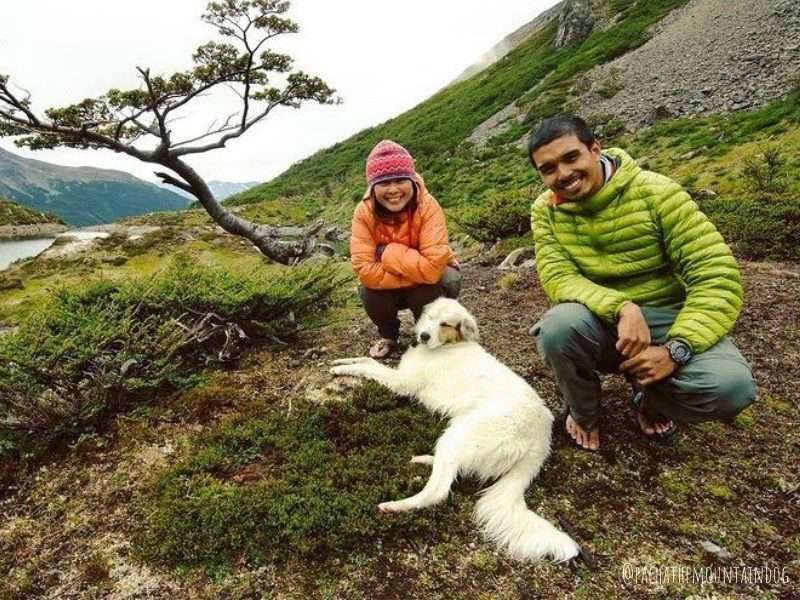 We let her sleep in our tent's vestibule because it got cold and even snowed one night, and she never rummaged through our things or tried to eat our food. She hiked all the way back with us, even led us to good camping spots, and helped us navigate along the trail. When we got back to the town, she just turned to one corner and went home. I couldn't bear to look. After that, we were convinced we wanted to get a dog who we can take along on our adventures with us – and that was when we decided to get a dog, and we named her Pacha (short for Pachamama, which is Quechan for Mother Earth) to remind us of that trip.
What are some of your favorite dog-friendly parks in your region/city? (please provide specific parks)
We take our dogs regularly to Camp John Hay – there are forest trails, picnic grounds, dog-friendly restaurants/cafes, and a dog-friendly outdoor shop. Wright Park is another favorite for quick walks (and socializing with other dogs). (We live in Baguio City, about 250km away from Manila).
What are some of your favorite dog-friendly restaurants, if any (please provide specific restaurants)? Are dogs only allowed to dine outside? Or do some places make an exception for indoor dining? If so, where?
In our city, most places that have outdoor dining allow dogs. Our favorites include Hill Station Bistro, Hatch Coffee, Yes Pho, and Hot Cat Coffee. There is probably only one place that allows indoor dining here – it's a pet-friendly B+B called Ozark.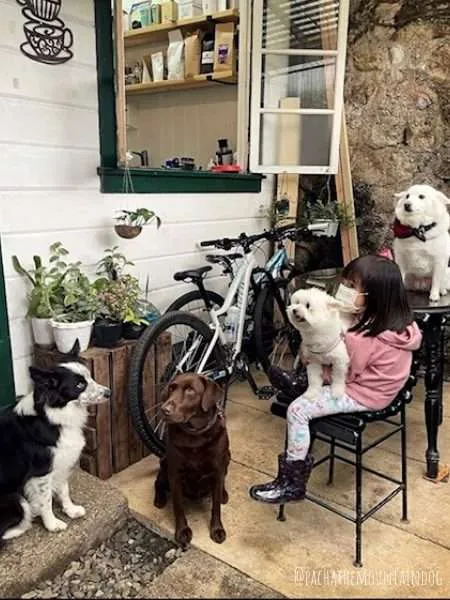 What are some dog-friendly tourist attractions in the Philippines (if any)? Any other local dog-friendly places that you'd like to share (e.g. beaches, trails, resorts, etc.)?
I think the places that dogs would enjoy the most here are the mountains and the beaches!
For hiking/mountains, I would recommend Baguio/Benguet (Camp John Hay, Wright Park, Mt Yangbew, Mt Ulap – you can stay in Lazydog Homestay, North Pine Bed and Breakfast, Ozark BnB, among others); Ifugao for the Rice Terraces (Native Village Inn in Banaue), Maligcong Rice Terraces in Bontoc (Suzette's Homestay), Sagada (St Joseph's Resthouse, Sagada Cellar Door).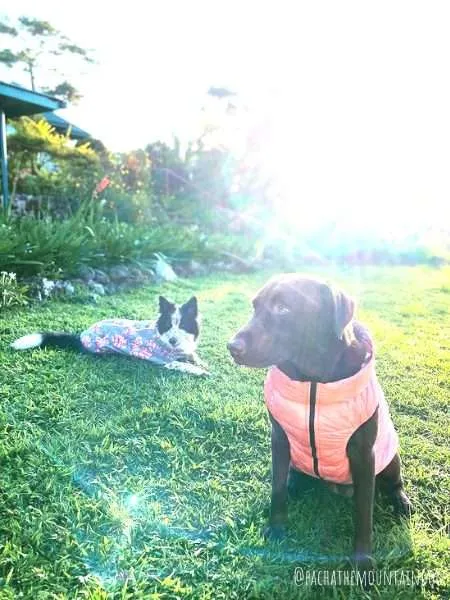 For beaches, Acuaverde Resort in Batangas, and Urbizgarden Bed and Breakfast in San Juan, La Union. Ilocos Norte for a little bit of both.
If a visitor were to ask you for your TOP things to do with a dog in the Philippines, what would you say?
1. Go to a beach or an island!
2. Walk along the rice terraces.
3. Go on a road trip.
4. Go hiking (climb mountains, see waterfalls, etc.)
Sorry, we are outdoor people so these would be our top things to do!
Overall, how would you describe the local people's attitudes towards dogs?
Everyone here has probably had a dog or had encountered dogs, but the attitude towards dogs still has a wide range – from treating them as guard dogs only to keeping them tied up or caged outdoors to allowing them to walk around the streets freely to caring for them as family members. We still need a lot of educating.
How would you describe the overall stray situation in where you live (e.g. is it a problem or is it nonexistent)? Have Pacha & Sierra ever come across stray dogs? If so, what was the interaction like?
There aren't a lot of strays here, though there are a lot of dogs walking around freely – most of them have owners and go home at the end of the day (this is still a common thing around the Philippines). Actually, Pacha is really good with other dogs mostly because we took her to places with a lot of "strays" walking around when she was a puppy. She used to be scared of them, but eventually got so used to them. We just walk past them. Sierra is a bit more curious and always wants to "meet" them.
What are some of your favorite trips you've had with them (e.g. road trips, air travel – if any)? How well do they travel?
We do road trips with them a lot – our first one during the pandemic was to Ilocos Norte (about a 6-hour drive away). Because there were still strict protocols back then, everything had to be pre-arranged (which is not usually the way we travel as we like to kind of decide as we go along). But we were very pleased that they prepared a dog-friendly trip for us, which included a nice resort to stay in Curimao, a pet-friendly van to take us around (they found us yummy restos we could bring our dogs to), several dog-friendly sites – an old lighthouse turned museum, a salt-making village, a natural rock formation by the coast, windmills by the sea, sand dunes, white sand beaches and even a hike to the waterfalls! When Sierra got into an accident, they even took us to the vet who was already waiting for us when we got there (she was fine thankfully).
Are dogs allowed on buses, subways, rideshares, taxis, etc.? If you have any memorable experience regarding taking them onboard, please feel free to share!
Generally, dogs here are not allowed on public transportation though there are some rideshares, taxis, and jeepneys that do allow if the driver is okay with it. Some provincial buses are now allowing dogs, but with a size limit.
Based on your personal knowledge, would you say that people tend to buy or adopt/rescue dogs in the Philippines? Do pet stores exist (where dogs and cats are sold)? Do you know how breeders are regulated?
I think most people still buy, but there is already a growing interest in adopting/rescuing dogs. There are a lot more shelters/adoption places now than just a few years ago. And, yes, there are still pet stores that exist. I am not aware if breeders here are regulated – I know there is a national canine association, but I'm not familiar with how they function.
How close is the nearest veterinarian from your house? (e.g. in miles/km and driving time)
Oh, we live very close to several veterinarians (and a university animal hospital), all about 1-3 kilometers away.
Approximately how much is a standard examination/office visit at the local veterinarian?
It depends on which vet you go to but it would probably range between (350-500 pesos, which is like 7-10USD, very cheap compared to the U.S.!).
How would you rate/describe the quality of veterinary care in your area?
We are happy with our local vet – as they have good facilities, have complete equipment, are open 24 hours, and have a good number of really nice handlers and vets. Although there are a lot of vet clinics here, not all can offer the same quality.
How difficult is it to find dog-friendly housing in your area? Do you have to pay extra money?
I think housing is not that difficult to find and does not require extra payment.
Are there any changes you'd like to see in the way people treat dogs in the Philippines?
Definitely. There are still a lot of abandoned and abused dogs here. Although there is already a growing number of responsible dog owners here, we still have a long way to go in terms of educating people on how to treat animals with respect, how to train their dogs, and how having a dog is a lifelong commitment.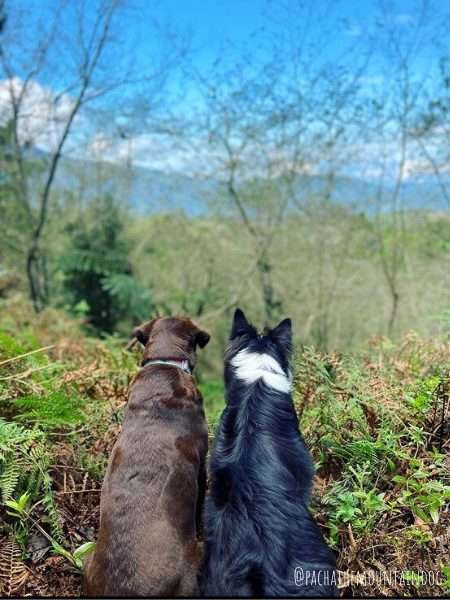 Why is the Philippines worth a visit?
We have some of the best beaches in the world – and the best mangoes too! And you may never find people who are more hospitable than Filipinos 🙂
Would you recommend that dog parents visit the Philippines with their dogs?
To be honest, probably not 🙁 It is still a bit difficult to travel around with a dog unless you have your own car. But maybe in a few years, it will be easier!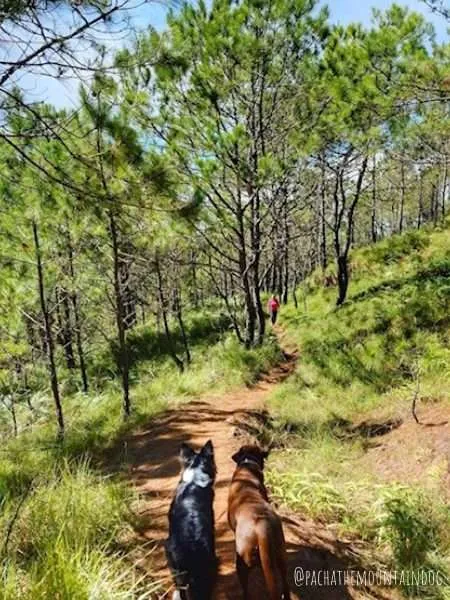 Thank you to Pacha, Sierra, & Candy for this wonderful interview and sharing their pawsome dog-friendly Filipino life with us! Can't get enough of Pacha & Sierra? Sniff out & follow their escapades on Instagram!
WOOF, hope you enjoy learning all about dog-friendly Philippines! Don't forget to subscribe to my YouTube Channel: Wet Nose Escapades by Roger Wellington for fun dog travel videos!
Markin' it up,
Roger Wellington a.k.a. The Doob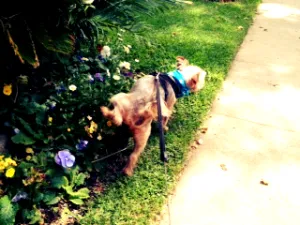 —
Like my post on "Is the Philippines Dog-Friendly? With Pacha & Sierra"? CLICK TO PIN!