Is Bruges, Belgium dog-friendly? ARF-solutely! Whether you're traveling to Bruges with your dog or just curious about my wet nose escapade in Belgium, keep sniffing me out for my list of dog-friendly places in Bruges, Belgium!
*Please note that this post contains
affiliate links
, and at no obligation or additional cost to you, my humans and I earn a small commission if you make a purchase. If you love the work that we do, you can show your support by making a purchase through an affiliate link. Proceeds will go towards
feeding homeless dogs (and cats) along with improving the lives of the neglected and abused
.
Dog-Friendly Places in Bruges, Belgium:
Old Bruges 
Old Bruges IS a fairytale land! And, ARF- dogs can be part of happily ever after. Every single day, I set my tiny alpha paws on the cobbled streets of Old Bruges and roamed around this medieval town as a brave Yorkie knight until I tired myself out. 
Koning Albert I Park
WOOF, this is my spot to MARK it up. Constructed after World War II, this gorgeous dog-friendly park is a popular hangout spot for both tourists and locals. Since I resided within walking distance, I became a regular hind leg kicker here. Historical monuments, spectacular gardens, and free-roaming swans make this urban park one very serene place for you and your dog. 
Flying with a Yorkie: 10+1 Tips on How to Travel with a Yorkie or Small Dog
The Markt
Grote Markt is my favorite place in the city for people and dog-watching. The intriguing colorful architecture, the magnificent energy, and of course, the famous medieval Belfry tower are enough to keep my humans entertained for hours while I chase and sniff any dog who comes my way. My robust wet nose even led me to some synergizing evening festivals at this pawsome public square.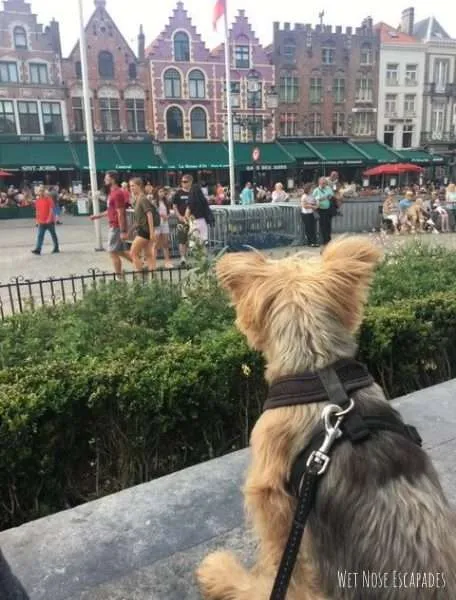 Belgian Trains 
Yippee, trains are dog-friendly places in Bruges (and throughout Belgium). I rode on trains throughout the country FREE OF CHARGE! A day trip to the capital city Brussels is only an hour away, which makes it a super easy trip to the city. Whether you want to travel with your dog to Ghent or Brussels from Bruges, Belgian trains got your dog's back! For more info, scroll down to my "Transportation" section below.
ARRRF! I've traveled in this carrier for 4 years now – Get yours HERE!
Canals
As Bruges is called "Venice of the North" (well, along with other cities in Northern Europe), the canals are perhaps the most sniffworthy part about the city. After a long walk, I love relaxing with my humans (and watching the swans do swan things) on one of Bruges' many canals. I frequently led my human pack to Rozenhoedkaai Canal, which has arguably the most captivating views in the city.
Restaurants
I am happy to bark out that Bruges offers numerous dog-friendly restaurants and bars. From Belgian waffles to Thai food, I was always welcomed indoors as the tiny furry diner with a LARGE appetite. Luckily, no restaurant ever rejected me, whether I chose to dine indoor or outdoor. However, in case indoor dining doesn't work out, most restaurants also offer terraces and outdoor seating. Be sure to bring your dog plenty of chops-lickin' treats while you chomp on those Belgian waffles, mussels, and fries. Mmm mmm.
Here are some of my favorite dog-friendly restaurants in Bruges:
Le Pain Quotidien (Simon Stevinplein 15, 8000)
In The Mood ('t Zand 24, 8000)
Stoepa (Oostmeers 124, 8000) 
Minnewaterpark
As the gatehouse of a demolished castle, Minnewaterpark offers me plenty of cool areas to sniff out. The wondrous green space surrounds the Minnewater a.k.a. Lake of Love, creating a peaceful atmosphere for a morning walk or evening stroll with your dog. With extra magic added by the Lovers Bridge, I made sure my humans live in the moment instead of snapping pictures for my fabulous Instagram. 
Churches
A visit to Bruges is not complete without visiting a church or two! Although dogs are not allowed inside churches, I took my time (respectfully) investigating the historical exterior grounds. From the Church of our Lady to Basilica of the Holy Blood, the architectural beauty is indisputably breathtaking. Look at me sniffing out Saint Magdalena Church!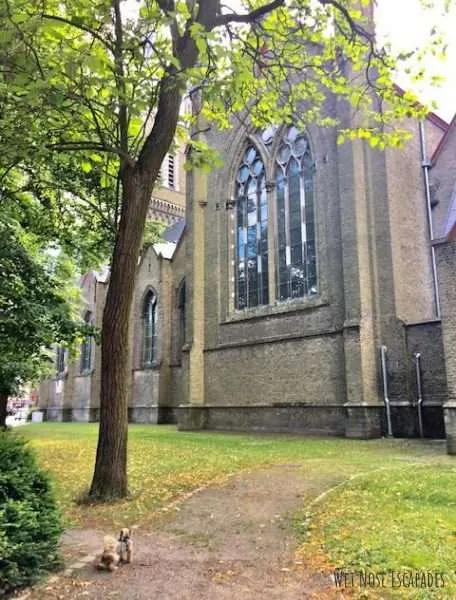 Essentials for Dog Travel: What to pack for your dog (Part II)
Dog-Friendly Places in Bruges – Logistics:
Transportation to Bruges:
I traveled by train from Amsterdam (Netherlands) to Bruges, which took about 3 hours. I slept inside my carrier most of the time, but came out occasionally for a break and some lovely scenery!
Transportation within Bruges (and Belgium):
Dogs are welcome on Belgian trains! As a small dog traveling in a carrier, I didn't have to pay extra for any of my train rides. Here's some information from the Belgian Train's official website:
€ 3 per single trip for an animal on a lead

a small pet in a basket, cage or box, which is no larger than the dimensions on the picture (30x55x30cm) doesn't have to pay a ticket

a dog for the blind or an assistance dog doesn't have to pay a Pet Supplement 

A muzzle is not mandatory but is recommended for dogs, the conductor may insist that you put a muzzle on your dog.

your pet may not sit on the seats or tables 
*Be sure to check their website for any pet policy changes or updates before booking.
Accommodations in Bruges:
Dog-friendly accommodations are easy to find although you are likely to pay an extra fee for your dog's stay. We stayed at a dog-friendly hotel in Old Bruges, which made it convenient to explore the town.
Parks in Bruges:
YEP! Dog-friendly parks in Bruges are plentiful and easy to find.
People in Bruges:
The residents of Bruges are generally dog-friendly. A BIG Yorkie bark to the wonderful humans and dogs I met here. 
Other sniff-worthy experience:
Perhaps I have something against horses or people exploiting horses for carriage rides. I couldn't help but chase, bark, and growl at the horses. My humans think that I may be speaking up for the horses and protesting against horse-drawn carriages, which are considered inherently cruel by animal rights advocates. While you're visiting Bruges with your dog, I do hope you will stay away from those horse-drawn carriages. :/ Find out other ways to help animals while traveling.
Hope you and your dog enjoy these dog-friendly places in Bruges! Be sure to share your experience with me – BARK AT ME! Sniff out where else I've conquered with my alpha paws.
Oh yea, don't forget to subscribe to my YouTube Channel: Wet Nose Escapades by Roger Wellington.
Markin', it up,
Roger Wellington a.k.a. The Doob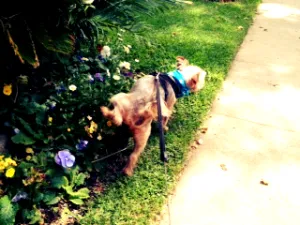 Like my post on "Dog-Friendly Places in Bruges, Belgium"? SHARE IT!