Is Budapest dog-friendly? Are you looking for dog-friendly places in Budapest, Hungary to take your dog? Sniff out my guide NOW!
First Posted 10/1/17, Last Updated 5/3/23
WOOF, it's time to sniff out the coolest dog-friendly places in Budapest (pronounced "BOO-DA-PESHT"). As Hungary's capital, Budapest is a dynamic city with a long history of occupations, from the Celtics to the Romans to the Mongols (yes, even Mongols) to the Ottoman. Hence, you can only expect a rich, diverse culture in modern day history – totally worthy of some good ol' wet nose sniffing.
My stylish rat tail is wagging as I bark out one of my all-time favorite dog-friendly cities in Central Europe. I was fortunate to call "Pest" my home away from home for over a month not once, but twice in the last few years. From one scorching hot summer to one snowy winter, I've seen it all and know the city like the back of my paw. Now, I'm ready to bark out my exclusive list of the COOLEST Dog-Friendly Places in Budapest:
#1 Danube River
The second longest river in Europe, the Danube flows through Hungary and many countries, including Austria, Bosnia-Herzegovina, Bulgaria, the Czech Republic, and Germany (where it originates). With its significance dating back to the Roman Empire, the Danube River is an important (I mean, imPAWtant) river connecting a whoppin' 10 European countries, either flowing through or serving as a border.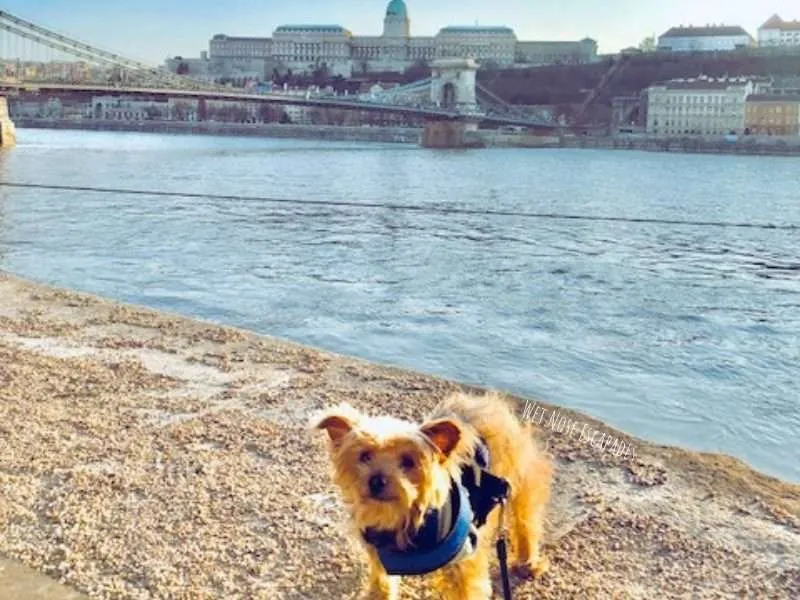 Although Hungary is a landlocked country, the city is divided into two halves by the Danube River – Buda and Pest (hence, the name Budapest). Whether on the Buda or Pest side, I love strolling along the river and sniffing out furry Hungarian chicks along the way. On the other paw, my human can admire the city's ARF-so-stunning architecture across the river, including Baroque Revival, Neoclassical, Romanesque, Renaissance, and Gothic styles.
#2 Pótkulcs
Location: Csengery u. 65b, 1067
This is a unique dog-friendly spot (I mean sPAWt) for nightlife, branching away from your typical Budapest bar scene. If you hail from the Bay Area like me and miss the Berkeley-type vibe, this is right up your alley. While I'm far from being a hippie Yorkie, I love sniffing out hidden gems and local spots. And yet, Pótkulcs is an untainted, marvelous nook sweetly tucked away. You can relax in its laid-back outdoor patio, mingle with the down-to-earth locals and students, or hold hands and dance to soothing live music in the nook.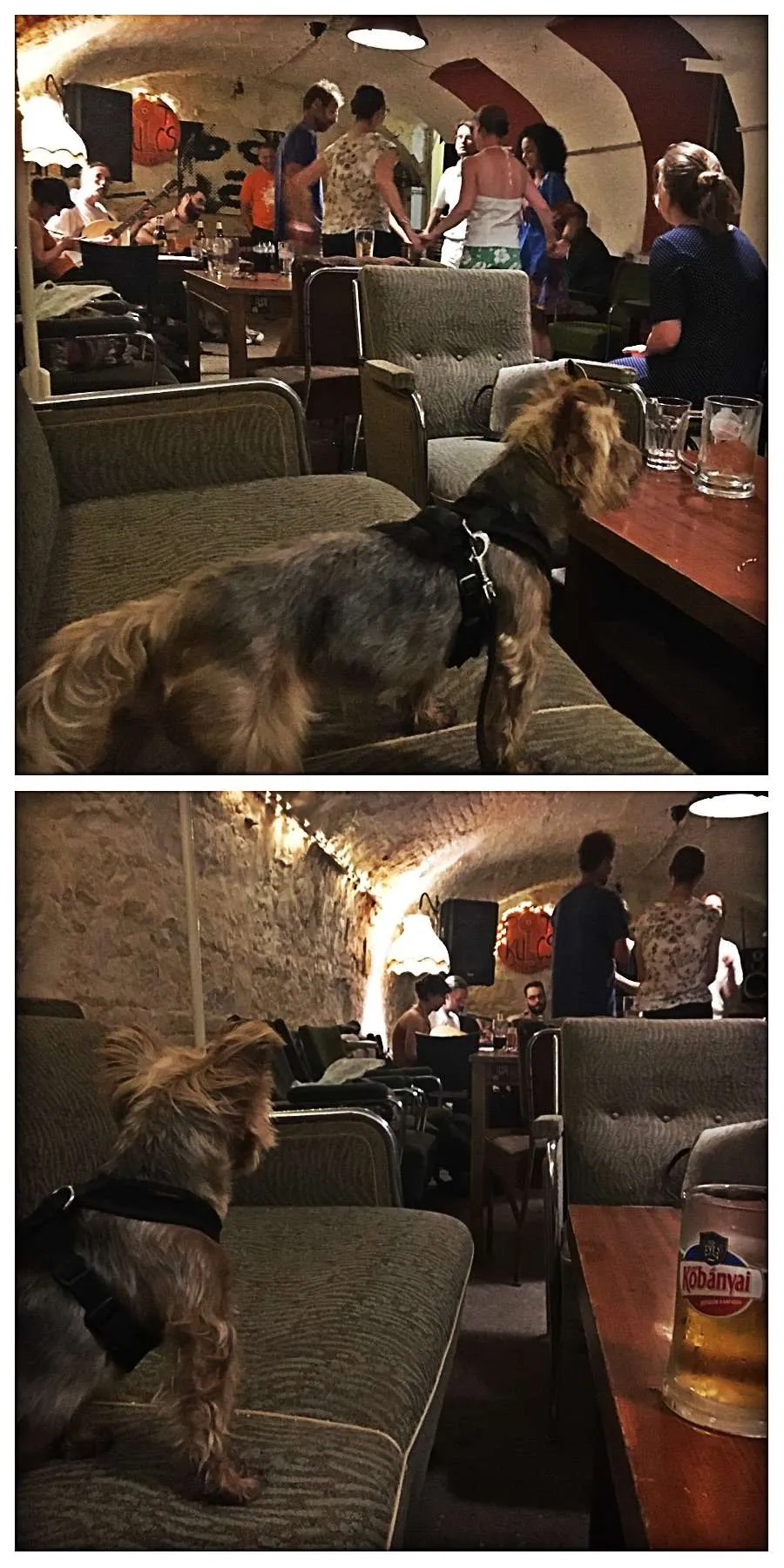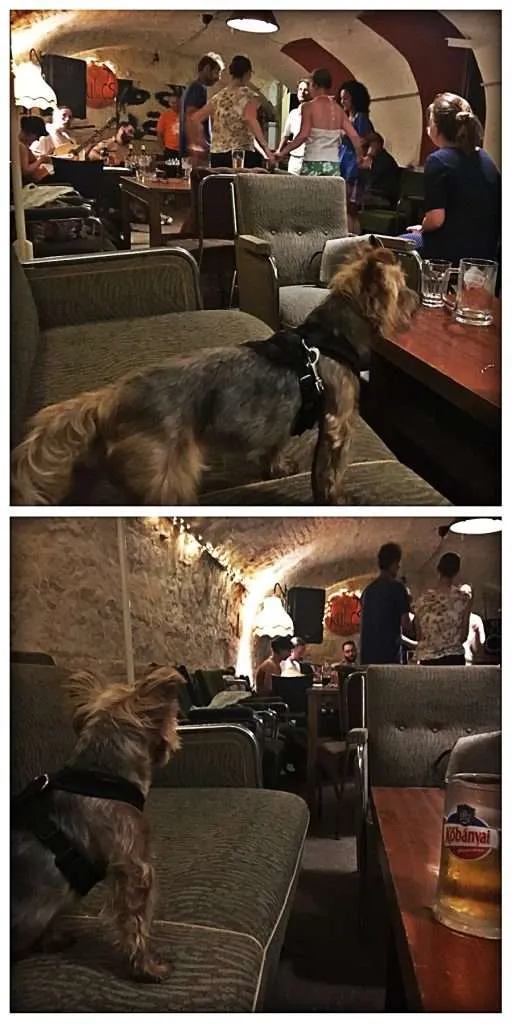 The only problem (or PAWblem) you may have is finding the place; if you happen to come across a building covered with ivy and no apparent entrance, you have found the place. Just walk through the hidden door and savor the unforgettable experience. My stylish undocked tail WAGS to tasty drinks + wonderful music + earthy people = ONE AWESOME (and a little strange, but in a good way) NIGHT.
#3 Heroes' Square (Hősök tere)
Bustling dog-friendly public squares are found all over Europe, and Budapest doesn't fall short of them. Established to celebrate the Millenium of Hungary, Heroes' Square is Budapest's largest and most pawpular square. With a golden Archangel Gabriel standing on a 36m-high pillar, the 118-feet white column (Millennium Monument), and 14 statues (including Seven Chieftains of the Magyars and other prominent Hungarian leaders), the massive Heroes' Square is indisputably a TOP DOG square. As expected, this square is not only an ideal meeting place, but also a prime spot (sPAWt) for some human and dog-watching. After a long day of exploration, I like to stop here for a water break and rest my alpha paws – until it's time to chase some furry buttocks!
#4 The Original Most Kortárs Bistro
Location: Zichy Jeno utca 17
In Budapest, dining out with your dog is a MUST – whether you like high-end eateries or mom-and-pop shops. Unlike the U.S. where dogs are not allowed inside restaurants (unless they're service dogs), restaurants in Budapest generally welcome dogs indoors and outdoors with open paws. My favorite spot to fill up my Yorkie belly is Most Kortárs, a neighborhood joint recommended by my host. They offer an amazingly diversified menu, from traditional Hungarian meals to Indian dishes to East Asian goodies.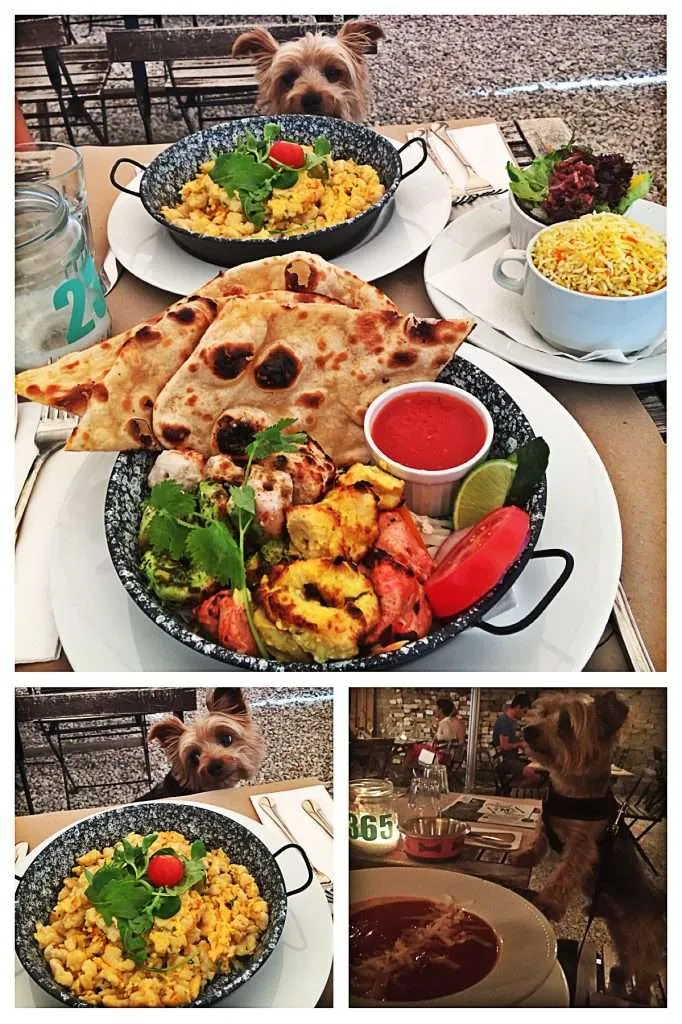 The food here looks and smells like pure bliss, and by that, I mean – I'd stare it down, lick my chops repeatedly, and slowly (but surely) WILL IT to my mouth. Yes, all that intensity for one tasty bite of anything on the menu that I'll slurp down in a second. A bark of CAUTION: Come with a good appetite because you'll get some OVERsized Yorkie portions.
I love their pawsome dog-friendly patio in a lovely rustic setting. During hot summer days, this patio is a pretty safe bet. It is nicely covered with large umbrellas, wooden and brick walls, and rocks on the ground to create a somewhat rustic feel. My undocked tail WAGS to Egg Noodles (with vitamin salad) and Tandoori Chicken Mix.
Location: Budapest, Jánoshegyi út 105039
Located in Buda Hills, Normafa Park is a MUST-sniff, MUST-mark dog-friendly park in Budapest. Famous for head-tiltin' 360-degree views of the city, Normafa Park is a PAWpular place for both visitors and locals alike. The park offers short to long dog-friendly hiking trails and walks through the meadows. There's lots to explore here, including the Elizabeth Lookout Tower on János Hill, approximately a 30 minute trek up. FUN BARK: This park got its name from the "Norma" tree, supposedly planted by King Matthias Corvinus in the 15th century. Even if you and your dog aren't hikers, you can still enjoy the panoramic views and dine at one of the restaurants and food stands sprinkled throughout the park.
#6 Széchenyi Chain Bridge
WOOF, it's time to walk those paws across the chain bridge! PAWS DOWN, the short <1 mile Széchenyi Chain Bridge is one of the coolest dog-friendly places in Budapest. As barked earlier, the city is divided by the Danube into Buda and Pest. To get to Buda from Pest and vice versa, you can cross the Széchenyi Chain Bridge.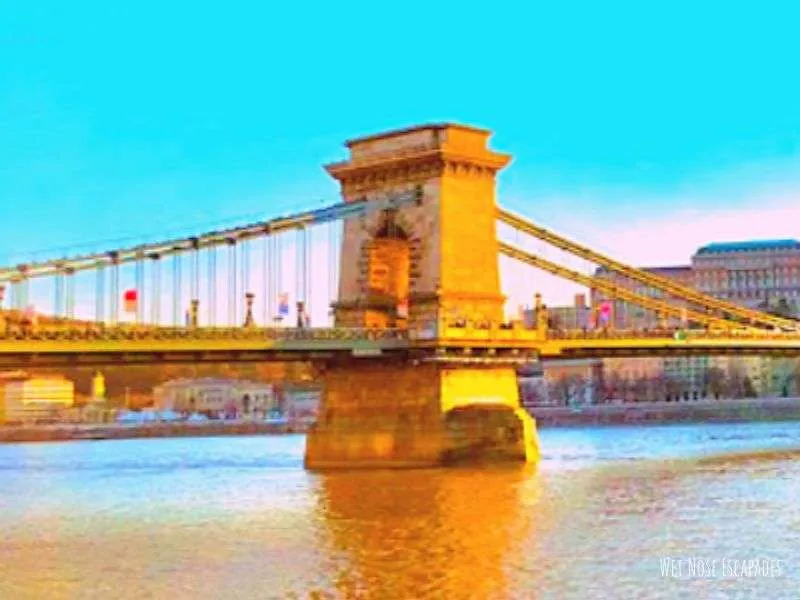 Designed by English engineer William Tierney Clark and built by Scottish engineer Adam Clark (that's right, it's Clark & Clark), the Széchenyi Chain Bridge is an iconic structure that symbolizes the city. Spanning over the Danube, this wrought iron and stone chain suspension bridge totals 1230 ft long and 49 ft wide. QUICK BARK: Despite being named after a big supporter of the bridge Istvan Széchenyi, most people call it the "Chain Bridge."
#7 Liberty Square (Szabadsag ter)
Located in the city center neighborhood of Lipótváros only three blocks from the Danube, Liberty Square is another exuberant public square in Budapest worthy of some wet nose sniffing and people and dog-watching. This gigantic rectangular-shaped square is home to monuments dedicated to the Soviet soldiers who helped liberate Hungary from German occupation. In 2020, the square added a life-sized statue of President George H. W. Bush. Besides setting my four paws on their shaded walkways, I marched into their many dog-friendly cafes and restaurants surrounding the square with an upright tail.
#8 Gozsdu Udvar
ARF, Gozsdu Udar is known as "Where Happy People Meet." And, because it's dog-friendly, I am barking with an upright tail that it's probably (or PAWbably) where "happy dogs" sniff! Open 24/7, Gozsdu Udvar is a PAWstastic hip food market with trendy restaurants and eateries offering all types of international treats, from handmade Chinese noodles to authentic Italian pizzas to freshly baked Portuguese custard tarts.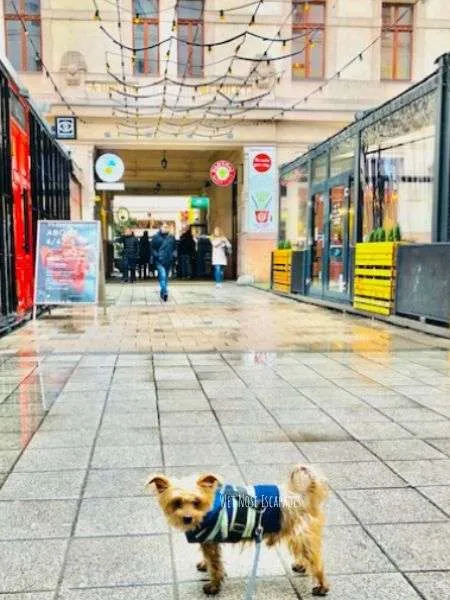 Whether you want to experience this bustling food court during the day or at night, your dog is welcome to tag along. If you can't decide where to eat, be like my humans and follow your dog's lead until he stops his four paws at a SPAWT.
#9 Kőleves kert
Location: Kazinczy u. 37, 1075
On hot summer nights in Budapest, I like to drink generous pints of cold beer at this effervescent, colorful beer garden. OK, maybe not me but my humans – I'll take some cold water. Kőleves kert sets off a laid-back, yet lively vibe. This dog-friendly ruin pub is no joke – it's the REAL deal. Featuring a variety of beers, including regional brews, efficient bartenders don't mess around as they quickly fill your glass up to the brim.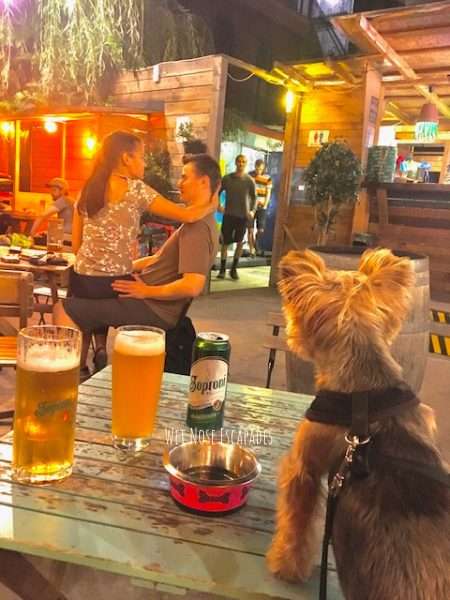 Hungarians don't joke around with their beers! Next time you're in Budapest, avoid the overhyped, congested Szimpla Kert (which does NOT allow dogs, at least when I attempted to enter. GRR) and order a few pints at this relaxing venue while spending the night dog-watching.
#10 St. Stephen's Basilica
Like the rest of Europe, places of worship are ubiquitous in Hungary. The best part about visiting Roman Catholic churches, cathedrals, and basilicas in Budapest is none other than their mesmerizing architecture, from neoclassical to Baroque to Gothic – among various captivating styles. My favorite is the neoclassical St. Stephen's Basilica, the most famous church building in Budapest. Completed in 1905, it is one of the tallest buildings in the city, with a height of over 314 feet. The facade features two large bell towers that sandwich a remarkable dome.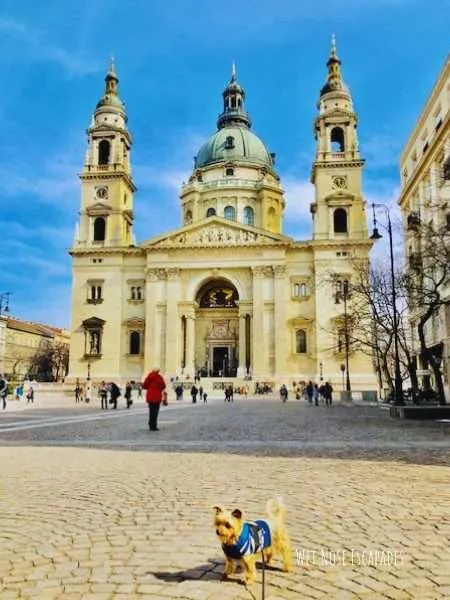 AWOOO, perk up your ear to my howl: Like anywhere in Europe, dogs are NOT allowed inside places of worship but can explore the exterior grounds with their humans and pose for pictures.
#11 Menza
Location: Liszt Ferenc tér 2
WOOF, Menza is one of my favorite dog-friendly restaurants in Budapest! After all, they serve some ARF-MAZING traditional Hungarian food here that I just couldn't wait to get my paws on. With a retro yet stylish colorful interior, Menza is such a fun place to wine and dine with your traveling pooch. You can also sit outside (like I did) on their inviting, spacious patio. I must get a lick of Hungarian egg noodles a.k.a. nokedli or spätzle AND traditional beef goulash!
Watch me take a bite:
#12 Columbo Statue
Location: Falk Miksa u., 1055 – on the eastern side of the Danube
While Budapest has two main dog statues, Columbo holds dearest to my little BIG Yorkie heart. Why? Because it's based on the classic American detective TV show of the same name. This life sized-bronze statue depicting the main actor Peter Falk scratching his head while his loyal Basset hound looks up at him is utterly comical. It melted my Yorkie heart to know that Columbo's Basset hound (who was never given a real name except for "Dog") was actually a rescue in real life – just like on the show. WOOF-HOO!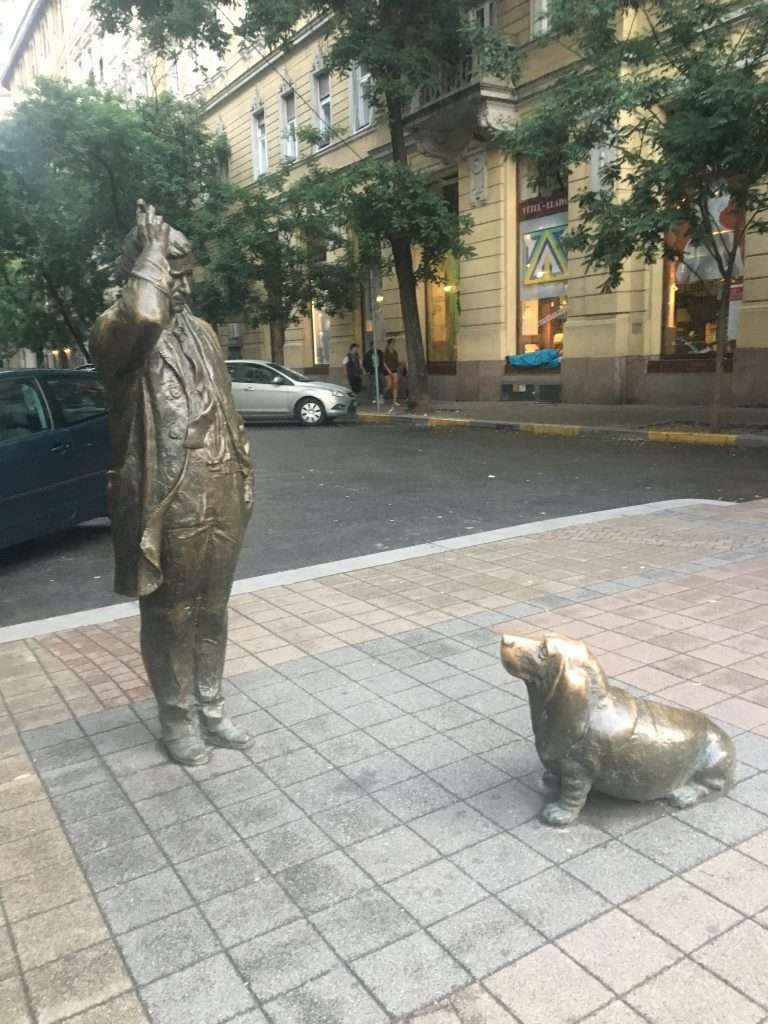 #13 Váci Street (Váci utca)
As the most famous street in Budapest, Váci Street is one of the most happening places to take your dog in Budapest. Despite being suPAW touristy, this street is worthy of a stroll with your dog. Váci Street boasts a variety of luxurious retailers, fancy boutiques, restaurants, and cafes. My humans and I aren't shoppers (as we prefer experience over material goods), but it's nice to meander on this main thoroughfare where dogs are allowed in most shops and food and drink establishments. It's imPAWtant to note that it can get a bit busy here with heavy pedestrian traffic, so be sure to avoid peak hours for a safer and reduced-stress outing for your dog.
#14 Café Vian
Location: 1061 Liszt Ferenc tér 9 & 1075 Király utca 13 / C
Cafe Vian is my go-to SPAWT for homey food. They've been in the biz for only 23 years with two locations in the city. ARF, I just love sitting my furry buttocks on their comfy plush red chairs. This red-themed place kinda feels like a high-end movie theater. ARF, it's so cozy yet classy, but far from pretentious with supaw friendly staff. AWOOOO, Cafe Vian boasts a variety of traditional Hungarian dishes that are worth digging up dirt for and burying away for a rainy day.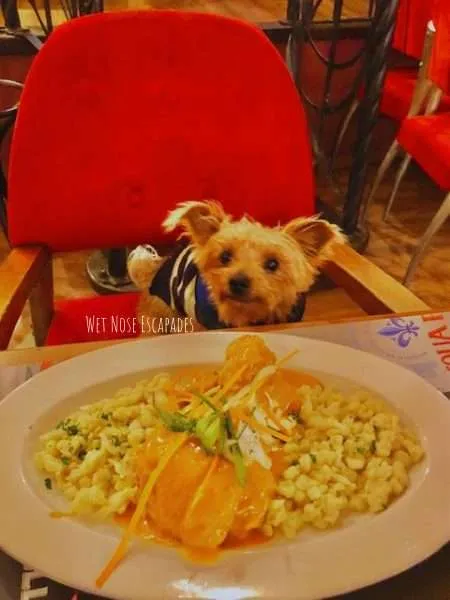 They use only the freshest ingredients to make the most chops-lickin' Hungarian cuisine, from soft homemade Hungarian noodles to succulent chicken paprika. This dog-friendly spot is so cool that it even has a California sandwich (grilled chicken breast with caesar dressing)! Try the juicy Chicken Paprika, Beef Goulash, and traditional Hungarian Egg Noodles.
Covering over 300 acres, Városliget is the proclaimed "Central Park" of Budapest! From Sunday flea markets to green lakes to tree-lined walkways, this beloved public city park has numerous dog-friendly places to explore. Plus, it's home to the splendid 19th-century Vajdahunyard Castle and a PAWpular beer garden.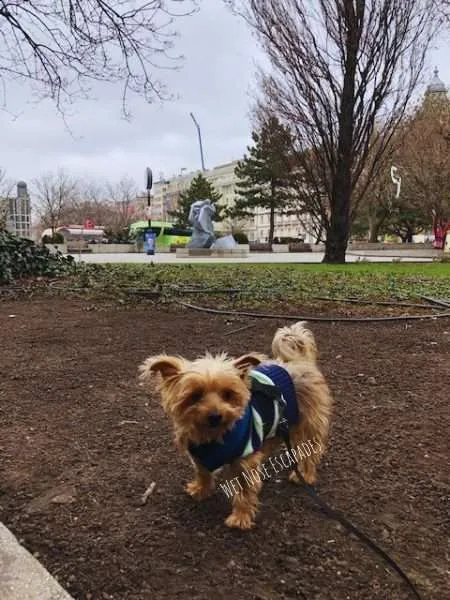 ARF, there's just so much going on at this park that I can easily spend the whole afternoon here sniffing out pee-mail from furry Hungarians, raking my hind legs on green spaces, and leaving my alpha marks behind for those wannabe alphas – until my Yorkie tummy starts growling. Good thing there's the PAWbulous beer garden Nyereg Itató here where my humans can drink up while I stuff my little mouth with some succulent goulash.
#16 Monastery Boutique Hotel
One of the best parts about Budapest is being able to stretch out your U.S. dollar way more than you would in Western Europe. With the extra cash, you should treat your dog to a luxurious stay at a dog-friendly hotel like the Monastery Boutique Hotel. Resting on the Buda side, the 4-floor, 47-room Monastery Boutique Hotel is a former monastery with a whoppin' 300-year history dating back to the 17th century.
And yes, they welcome dogs with open paws for a moderate fee of 20 euros per dog per night (which is very reasonable compared to those hefty hotel pet fees in the U.S.). They also offer a dog-friendly a la carte restaurant on site, dog bowls, and a free tasty treat. Not to bark, there's also a nearby veterinarian in case of any emergencies. Dogs are not only allowed inside the room but also in the lobby and bar area (which many hotels prohibit dogs). WOOF, Gotta wag my tail to that!
#17 Stifler Bar
Location: Erzsébet krt. 19, 1073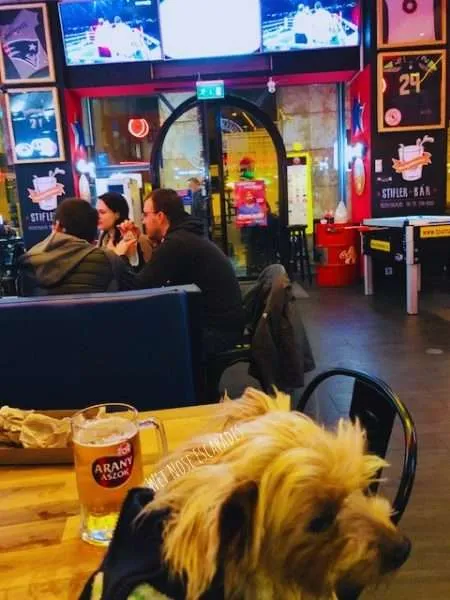 ARF-my-DOG! This colorful sports bar is a TOP DOG place to take your dog to get your furry paws on a few iced cold Dreher Baks and watch a few football games while you're at it. The ambiance is usually chill and laid-back (not suPAW noisy), just PAWfect for a fun outing with your dog. Like other bars in Budapest, dogs are welcome to wine and dine inside (ARF-course, go for an anaconda lick of those juicy burgers and greasy fries). Beers, beers, and beers plus mouthwatering bar food GALORE!
#18 Hummus Bar
Location: Hollan Erno utca 6 (local chain with many locations)
Founded on a small street in Budapest in 2005, Hummus Bar represents the hip new age of Middle Eastern restaurants in Europe. They offer quick, efficient over-the-counter service with fresh, healthy food that makes you feel ARF-so-GOOD. A light, simple atmosphere that makes you feel at ease while licking hummus off your plate.
You will get a dynamic mix of hummus and olive oil in practically every single dish, hence its name to fame. They have a wide array of healthy vegetarian treats that will make any dog (big or small) growl, hover, and protect his goods. Be sure to take a bite of my all-time favorite treats – the Hummus Chicken Breast and Green Shaksuka!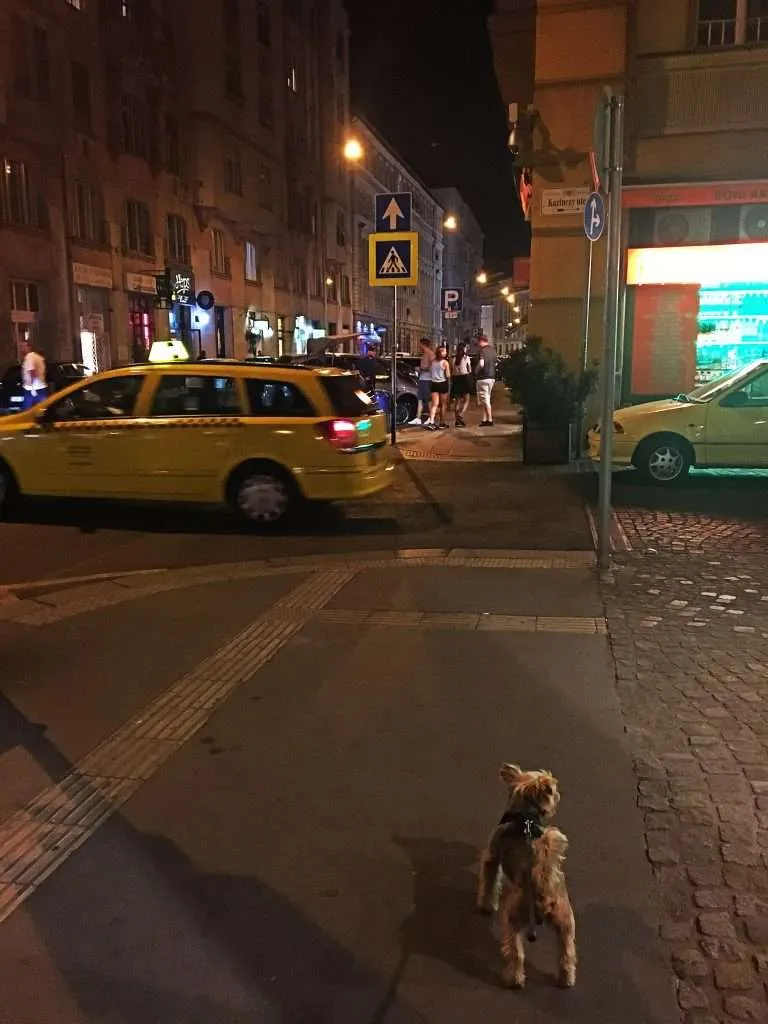 ARF, hope you enjoy my list of 18 Coolest Dog-Friendly Places in Budapest. Get your paws movin', but stay cool with the coolest dog-friendly places in Budapest! Don't forget to sniff out my pal Ryan's post on why Budapest is his hidden treasure.
Markin' it up,
Roger Wellington a.k.a. The Doob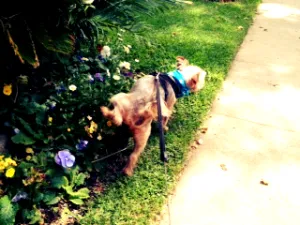 —
Like my post "Dog-Friendly Budapest: 18 COOLEST Dog-Friendly Places in Budapest"? PIN IT!