ARRRFF, is Playa Vista dog-friendly? What's there to do with a dog in Playa Vista, California? This California Yorkie has sniffed it all out for you!
Posted 7/13/22
On the Westside of Los Angeles lies the ultra-hip neighborhood of Playa Vista, an up-and-coming area that started developing in 2002 as a planned residential, commercial, and retail community. Playa Vista is one of the few areas in Los Angeles where homelessness is practically nonexistent. WOOF, yet it makes pawfect sense – as in the words of my human's friend who just bought property here, Playa Vista feels like "a gated community without any gates." Just minutes from the beach and LAX, this neighborhood with roughly 10,000 residents and 3,400 homes may feel like a separate entity from the city of Los Angeles; however, it is actually part of the city with its own zip code.
For San Franciscans or Bay Area folks like me, this new hood is right up our alley. ARF-ter all, it's often called "Silicon Beach" or "where Silicon Valley meets Southern California" since Facebook, Microsoft, YouTube, Electronic Arts, and other NorCal tech companies have found offices here. Now, what's in store for dogs in Playa Vista? AWOOOO, too much to bark in a single bark!
Keep sniffin' my buttocks for my guide to visiting dog-friendly Playa Vista:
When visiting Playa Vista with your dog, you should NOT have any pawblems finding green spaces or places to walk your dog. That's right, it's supaw dog-friendly here!
Right off the bat, I dropped my little jaws open to make an open-mouth smiley face as I sniffed out incredibly attractive condominiums on both sides of Pacific Promenade.
The first few parks my wet nose spotted were ultra clean and meticulously maintained. Not the bark, there were lots of furry residents for me to sniff butts. I made sure I blessed this community with more than a few alpha marks. Playa Vista is all about open green spaces GALORE! With a whoppin' 29 parks in the area, I felt like an annoying toddler at Disneyland – wherever my wet nose turned, I hopped on all fours and wagged my tail for a better sniff.
The neighborhood's claim to fame is you can walk to a park within 2 to 5 minutes of every home. As a matter of bark, 70% of the original community design was devoted to open space with an impressive 47 acres of parks! ARF-my-DOG! Bark about convenience. And yet, these aren't just any urban parks – they are TOP parks that are always clean, regularly maintained, and safe. Poop bag stations are found at virtually every corner. Hence, there's no excuse to not pick up after your dog. 🙂
Where I've left my alpha marks:
Dog-friendly Parks in Playa Vista
Crescent Park (Between Lincoln Blvd and Playa Vista Drive) – This large rectangular green space intersects several other parks: Spyglass Park, Vista Park, and Sunset Park.
Spyglass Park (Off Pacific Promenade Overlooking Lincoln Blvd)
Ballona Discovery Park (13110 Bluff Creek Drive) – 1.7 acres of "museum without walls" near the Ballona Wetlands with numerous plants, wildlife, and birds. Leashed dogs are allowed to walk their furry paws on the public trail.
Concert Park (Concert Park Drive) – As barked in the name, this park is the home of many live music events in the neighborhood.
Common Grounds (12650 Millennium Drive) – The best spot to rest my furry paws and enjoy a water break near the fountain under the shade.
Off-Leash Dog Parks in Playa Vista
Oberrieder Dog Park (Bluff Creek Drive) – This is my go-to park! Near Ballona Discovery Park, it has both big and small dog zones.
Bluff Creek Dog Park (12604 Bluff Creek Drive) – Another mark-worthy park with big and small dog zones on grassy hills.
Longwood Dog Park (13077 Villosa Place) – This dog park also has two separate dog zones. Since it's hardly crowded, it has a more secluded feel.
Sniff out all 29 dog-friendly parks HERE.
As barked on their official website, Playa Vista was specifically designed with walkability in mind! Wide sidewalks, open spaces, and dog fountains – WOOF, it's really a dog's haven here!
As you would expect, there are a myriad of dog-friendly trails to complement these dog-friendly parks. A pawpular one is the Bluff Creek Trail, a roughly 2-mile predominantly flat trail with some pawsome bluff views. Dogs must be on-leash throughout the entire trail.
Even if you don't go on a dog-friendly hike or hang out at a dog-friendly park, one of my favorite activities in Playa Vista is simply wander around the community! It's hard to get lost in this part of town (and even if I do, I have my robust wet nose to find my way home). The streets are safe, clean, and well-maintained, making it an ARF-mazing exploration no matter where my wet nose takes me.
Runway Playa Vista (12775 Millennium Drive) is a large outdoor shopping center with trendy eateries, retail shops, a Cinemark movie theater, and a Whole Foods Market. It's never a dull moment at Runway since they host events regularly, from jazz music to Monday meetups. From cute boutiques like Banter & Bliss Candle Co. to commercial stores like CVS, Runway Playa Vista is your one-stop shop to a fun afternoon! And, yippee – Runway does, indeed, welcome dogs to explore (ARF, I mean sniff), shop, and dine alongside their humans.
As a furry international foodie, I lick my chops in approval of their dog-friendly dining options, which are ubiquitous! Like in the rest of California, dogs are not allowed inside food establishments in Playa Vista except for service animals. AWOOO, there is no need to lower your tail because there are ample restaurants with dog-friendly patios. Due to the mild weather, sitting outside is quite a Southern Californian thing to do anyway.
With an upright tail, I marched my alpha paws into Urban Plates (12746-3 W Jefferson Blvd), the ARF-so-hip American chain eatery serving fresh, organic plates and salads along with a wide array of options – from vegan to pescetarian to carnivore. My human enjoys their sides the most; she likes to orders three luscious sides as a combo! She gets roasted rosemary potatoes, sesame broccolini, and cauliflower & vegetable rice. Besides the delicious yet healthy food, they have a large, covered patio that welcomes furry diners to chomp on these organic treats with their humans. For chilly nights, they also have heat lamps and fire pits to keep you and your furry companion warm and comfortable.
Other sniff-worthy dog-friendly restaurants in Playa Vista include:
Joliet Restaurant and Bar (12751 Millennium Dr 5 -165) – Also at Runway, Joliet is the pawfect joint for a pumpkin spiced latte, espresso martini, and mezze platter (the best combo, right?)! They have an inviting dog-friendly patio with yellow umbrellas.
Gulp Restaurant & Brew Co (13020 Pacific Promenade #1) – This exuberant, lively brewpub is THE SPOT for craft beers and happy hour specials! Their dog-friendly outdoor seating is pawstatic and the staff is always happy to bring out a fresh water bowl.
SOL Mexican Cocina (12775 Millennium Dr. Ste 160) – A SoCal trip is never complete without some mouthwatering Mexican food! Mmmm. Whether I'm in the mood to fill up my Yorkie tummy with shrimp tacos or cheesy quesadillas, this "cocina" or kitchen has me covered. Their outdoor seating is supaw spacious and equipped with heat lamps.
WOOF, hope you enjoy visiting dog-friendly Playa Vista! Feel free to share your experience with me. BARK AT ME!
Markin' it up,
Roger Wellington a.k.a. The Doob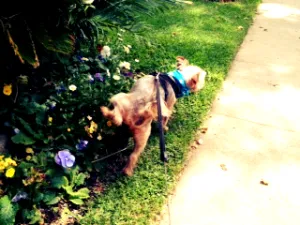 –
Like my post on "A Yorkie's Guide to Visiting Dog-Friendly Playa Vista, CA"? CLICK TO PIN!