WOOF, sniffing for the best dog-friendly restaurants in Sacramento? Follow my buttocks to find out where I like to fill up my Yorkie belly in the California State Capital!
Posted 2/1/23
*Please note that this post contains affiliate links, and at no obligation or additional cost to you, my humans and I earn a small commission if you make a purchase. If you love the work that we do, you can show your support by making a purchase through an affiliate link. Proceeds will go towards feeding homeless dogs (and cats) along with improving the lives of the neglected and abused.
ARF, as a furry NorCal native, I frequently hop on 80-E from San Francisco to Sacramento to escape the fog and bark HELLO to my crazy cousins. Although not nearly as pawbulous as the City by the Bay, Sacramento is a unique (and often overlooked) destination known for Gold Rush history, rich diversity, ethnic integration, farm-to-table food, crazy heat, and arf course, governmental affairs (arf-ter all, it's the California State Capital). With a pawpulation of over a half million people, Sacramento (or Sac, barked for short) is only a less than 90-minute drive (without traffic) from the City and borders the Bay Area. It has become a BIG draw for neighboring Bay Area folks looking to keep their high-paying jobs but find (relative) affordability in the housing market.
As humans move, so do their dogs! From trendy spawts to hipster joints to holes in the wall, the Sac restaurant scene has been gaining momentum, especially after its self-proclamation as the "Farm to Fork Capital." If you are looking for the best places to devour yummy food with your dog by your side, I've got you covered. Sniff out my exclusive picks for 12 BEST Dog-Friendly Restaurants in Sacramento, California below!
Subscribe to my YouTube Channel: Wet Nose Escapades by Roger Wellington for fun dog videos!
What to know before you go:
Like in the rest of California (and the U.S.), "dog-friendly" restaurants simply mean dogs are allowed in their outdoor seating. Although some restaurants may make an exception to letting your furry diner join inside (I've been graciously offered by several in the past), only trained service dogs are technically allowed indoors. And yet, outdoor seating for dogs is not always guaranteed; in 2014, Governor Jerry Brown signed AB 1965, which allows restaurants and retail food businesses with outdoor seating areas to permit pet dogs (non-service dogs) in those areas. However, it is still up to the establishment owner's discretion to allow dogs to dine outside. And yes, I have been denied entry twice in California, including one time in San Francisco. However, that was pre-pandemic, so I can only imagine how much outdoor seating has expanded.
Unlike San Francisco, which has consistent cool temperatures year-round, Sacramento enjoys four seasons, with the summer heat often rising past 90 degrees Fahrenheit or even triple digits. Winters are also supaw cold (by West Coast standards), with the lows frequently hitting the 30s and 40s. Therefore, avoid taking your dog out to eat in extreme temperatures, especially in the summer daytime heat.
As dogs are pack animals who'd LOVE to experience meals with you, don't forget to pack a bag of treats, dog-safe food, bottled water, and to-go bowls for your dog! Don't make your dog feel left out.
ARF, let's now sniff out the 12 BEST Dog-Friendly Restaurants in Sacramento:
#1 Zocalo (1801 Capitol Ave)
This modern, upscale Mexican restaurant is a hot SPAWT for Sacramentans. Voted Sacrameto's #1 Mexican Restaurant in 2022, Zocalo has also landed a prestigious SPAWT in the Michelin Guide. Although this isn't your mom n' pop taqueria, this bustling eatery serves some mouthwatering traditional Mexican dishes with fresh ingredients and bold flavors. From mole enchiladas to Baja fish tacos, the menu is spectacular – to bark the least. Despite having four locations throughout the Greater Sacramento area, my go-to location is PAWS DOWN in Midtown.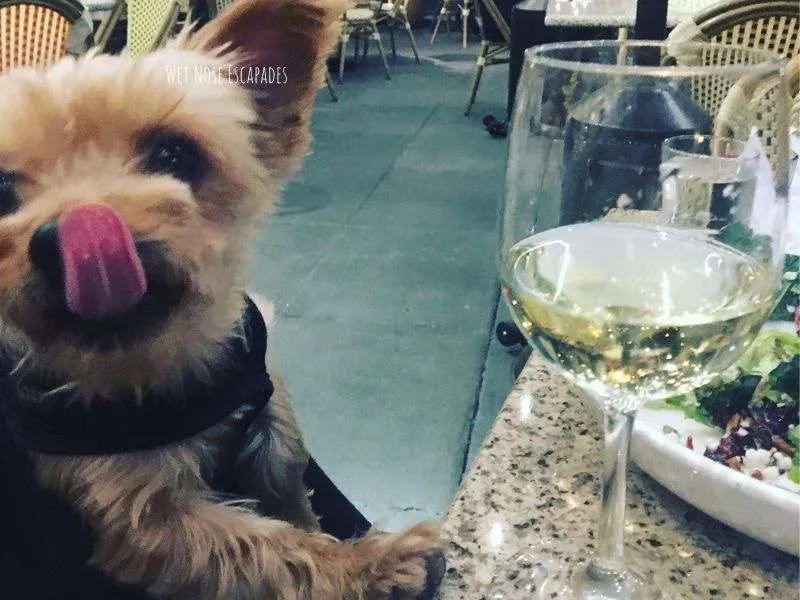 With plenty of tables with heat lamps, their spacious European-inspired dog-friendly outdoor patio is gated and offers a prime location for human and dog-watching in the middle of Downtown. I came here to celebrate a birthday once, and the staff was arf-solutely pawsome – they sang happy birthday and comped us with a delicious dessert. Don't forget happy hour and Taco Tuesdays!
#2 Iron Horse Tavern (1800 15th St.)
Also in Midtown, Iron Horse is one of my human's favorite restaurants in Sacramento. It's hip, stylish, upscale, and FUN! One of the six restaurants owned by Sacramento brotherly restaurateurs Mason, Curtis, and Alan Wong, this pawtastic eatery is known for some chops-lickin' modern American fusion fare in a posh ambiance and interior design honoring the building's industrial heritage. There's a second location nearby in Folsom, but this original location is LEGIT.
Boasting a swanky outdoor patio with sleek benches and tables, Iron Horse welcomes dogs to dine alongside their humans as they sip on creative cocktails and chomp on tuna poke nachos and shrimp pizzas. And, arf course, their tasty beignets (which I would bark as very tasty considering we are not in NOLA). Mmm mmm. Often, the friendly staff will even bring out a fresh water bowl for me without request. WOOF-HOO!
#3 Mas Taco Bar (1800 15th St.)
Just right next to Iron Horse, Mas Tacos is yet another eatery under the Wong brothers' empire. As expected, this is a hip place in Sacramento to get my paws greasy on some paw-lickin' Mexican food. Although there are two other locations (on Watt & Fair Oaks and the newest one in Folsom), the upbeat yet causal Midtown location almost always guarantees a tail-waggin' time. What I wag my tail to the most is their variety of nontraditional street tacos with fusion flavors like Indian butter chicken, fried oysters, Korean fried chicken, and banh mi shrimp (my human's favorite).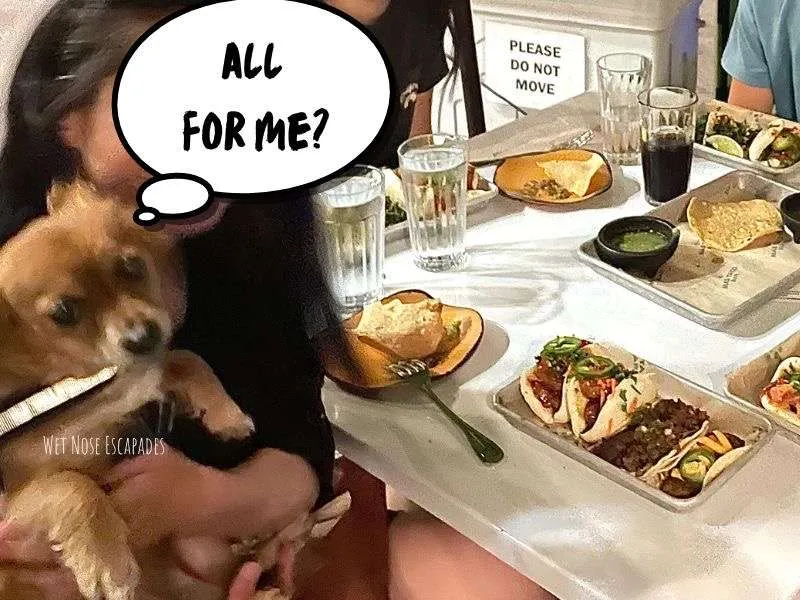 Not to bark, they even have the Impossible asada for those who don't (want to) eat meat. Plus, a variety of beers, craft cocktails, margaritas, and more than a whoppin' 50 tequilas! ARF-my-DOG! Over the weekend, expect to wait for a table (they don't take reservations) and some pawstatic live music at night. Besides the few dog-friendly tables in front, they offer an extended outdoor area with wooden tables and benches.
#4 Bella Bru (4680 Natomas Blvd Suite 10)
Located in the northwestern Sac, Bella Bru is my go-to cafe whenever I make my mark in Natomas, one of Sac's prime neighborhoods just a few exits from Downtown. Unlike Downtown restaurants, Bella Bru is tucked at the corner of a strip mall with ample free parking in a huge parking lot (look for Raley's). With a good-sized dog-friendly outdoor seating with umbrellas in front, the vibe here feels more relaxed and laid-back, which is great for dogs who don't cope well with all the urban hustle and bustle. Water bowls are always available, often without request. 🙂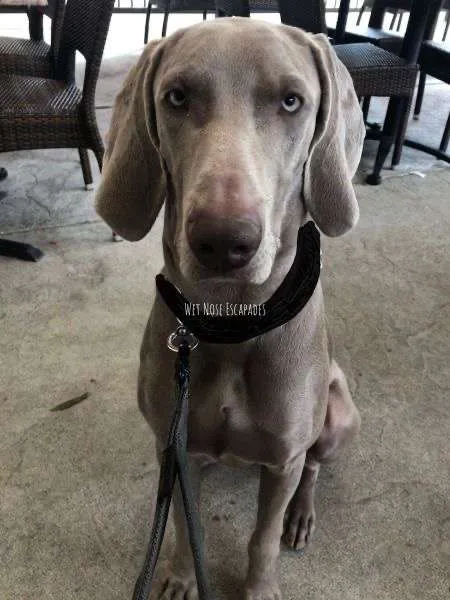 Founded by Sacramentan Liz Mishler, this cafe serves traditional American fare in a classic, casual setting. Even though I've only been here for their tasty brunch specials (French toast and country potatoes, anyone?), I heard from my crazy cousins that Pizza Nights on Tuesdays are a MUST – a whole pizza and bottle of wine for only $39 (as of February 2023). If your dog isn't on a strict diet, be sure to order an unseasoned burger patty for your dog (ARF, like In-N-Out)! Like the other restaurants barked about above, Bella Bru also has other locations in the Greater Sac area – one in Carmichael and another in El Dorado Hills.
#5 Cafeteria 15L (1116 15th St.)
WOOF, Cafeteria 15L is one happenin' place to sniff and be sniffed! Like Iron Horse and Mas Taco Bar, Cafeteria 15L is yet another supaw trendy establishment in Downtown owned by the Wong brothers. Don't let the name fool you – it's not exactly a "cafeteria," but an ultra-hip urban eatery to enjoy "good food, good friends, and great times." Its specialty is American comfort cuisine with a little twist, from their cafeteria burger to prime rib French dip to chicken and waffle. They also have a pawtastic brunch menu with different types of skillets and benedicts. The most barkworthy part about Cafeteria 15L is their posh decor, furnished with reclaimed woods and industrial light fixtures. And yet, this is credited to the designers of the famous W Hotels – arf, so you can only imagine how spectacular this place feels from top to bottom!
The best part of the restaurant is PAWS DOWN their two plush outdoor patios – and yes, dogs are welcome. With a contemporary Vegas-like design, their patios feature pillows, cushions umbrellas, curtains, firepits, heat lamps, and gorgeous trees. Kinda like a greenhouse, their patios are sheltered from the rain and sun, which makes for a comfy outing with your dog on days with yucky weather. ARF yeah, I've also found their dog-lovin' staff to be very accommodating to my furry needs, often delivering water bowls with smiles.
#6 Tres Hermanas (2416 K St.)
WOOF, Tres Hermanas is a legendary place for Mexican food in East Sac. Unlike the other two Mexican eateries barked about above, Tres Hermanas has had a strong foothold in the area since 1996; originally from Chihuahua, Sonia and her two sisters came to the U.S. in 1988 to find work and then eventually opened their own restaurant. Hence, the name Tres Hermanas! Expect to find a sniff-worthy difference in terms of the food and ambiance. As for food, Tres Hermanas specializes in authentic cuisine from distinct flavors of the Chihuahua region. Even their chips and salsa are to BEG for! And, their mole enchiladas? ARF-my-DOG!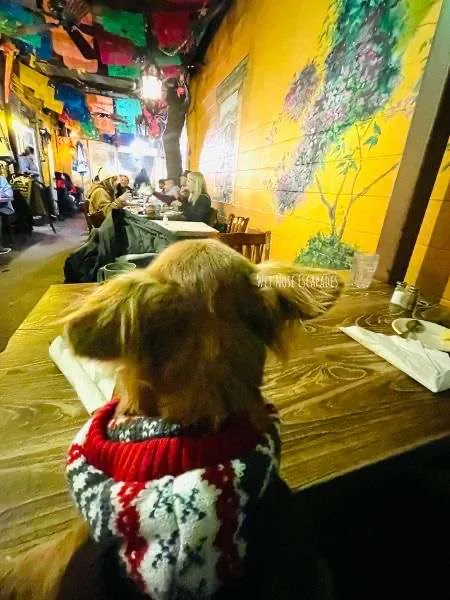 As for the ambiance, the old-school restaurant is in a renovated house so you can only imagine how homey it feels. The colorful decor also sets off some beachy and funky vibes, which makes a supaw fun time! Their uncovered dog-friendly outdoor seating right in front of the house features mesmerizing night lighting and cute fencing – just pawfect for a night out!
#7 Piatti (571 Pavilions Ln)
Dining at this posh, modern trattoria is such a tail-waggin' experience that my human and I keep returning over the years. Established back in 1987, Piatti is at the Pavilions Shopping mall in the Arden-Arcade area. This Italian joint features an sleek, inviting interior that leaves you feeling peaceful and inspired. They have a sizable outdoor dog-friendly patio with shady trees, waterfalls, string lighting, heat lamps, and occasional soothing live music in the evening.
As a former furry Florentine, I can bark with an upright tail that I KNOW my Italian food. Even though Sacramento is over 6,000 miles away, Piatti's superb open kitchen has got my stylish undocked tail wagging. From fresh housemade pastas to stone-hearth oven pizzas, Piatti has ample options to satisfy even the pickiest eater. Although technically Italian American, the cioppino is prepared with fresh seafood so tasty that I'd lick the plate CLEAN over and over again.
#8 Sawasdee Thai Cuisine (1830 J. St.)
WOOF, this family-run Thai restaurant in the heart of Midtown is one of the best places to get your paws on some traditional pad thai, spicy drunken noodles, and chops-lickin' avocado curries. Besides using authentic Thai recipes, the chefs cook with the freshest ingredients to deliver high quality dishes to their patrons. Dogs may not get to walk inside to experience their beautiful decor with Buddha statues, colorful paintings, and wall art, but they can chill outside on their heated patio. Situated at the corner of J and 19th, their gated patio with wooden tables and benches is a sweet spawt for human and dog-watching. A water bowl is usually delivered upon request. Don't forget to complete the meal with their unforgettable mango sticky rice – pawfect for a birthday wish! YUM.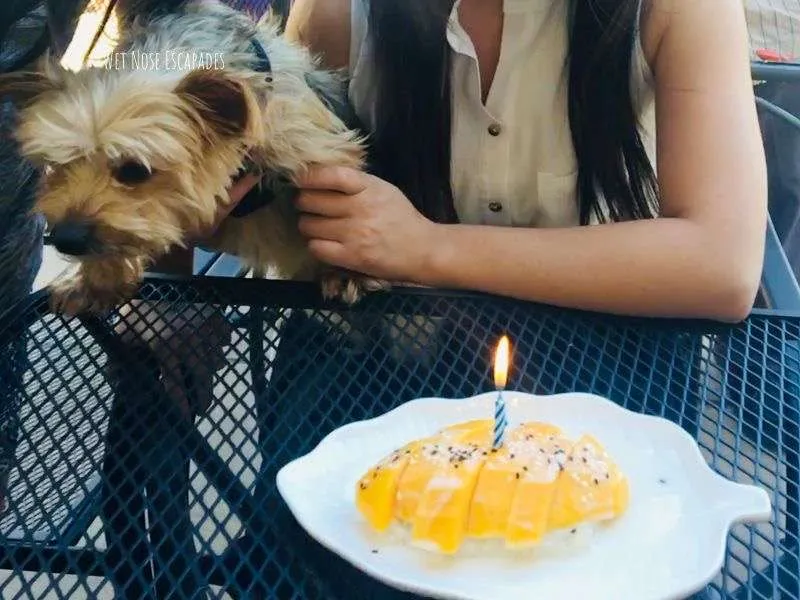 #9 OBO' Italian Table & Bar (3145 Folsom Blvd.)
Established in 2016, OBO in East Sac is the latest addition to the collection of restaurants owned by the Selland Family, an active participant of the farm-to-fork practice in Sacramento for over 30 years. Featuring an extensive menu inspired by rustic Italy, this lively order-at-the-counter has some arf-mazing wood-oven fired pizzas, handmade pastas, and house roasted meats. And, once again, as a former Florentine, I wag my tail and lick my chops in approval. Gimme, gimme MORE!
They also have fun specials like Meatball Mondays or a $32 Vday dinner for two. With an enchanting wooden beam ceiling and ample wooden tables, the interior decor is sleek, contemporary, and minimalistic. It feels pretty classy here despite its casual concept and no wait service. Adorned with light white tables, light blue chairs (matching the storefront), and yellow umbrellas, their side dog-friendly wooden patio is aesthetically pleasing – to bark to least. Expect to sniff out many furry Sacramentans on any given visit.
#10 Thai Spoon (3890 Truxel Rd. Ste 600)
Since opening in 2012, Thai Spoon has taken pride in presenting genuine Thai dishes with consistent quality every time. Located in Natomas Marketplace in a strip mall setting, this modern restaurant offers decently sized portions (and yummy vegetarian options like spicy eggplant and pumpkin curry. On the side of the restaurant, they have a cute small dog-friendly patio with a few wooden picnic tables and chairs. Although on the small side, their outdoor patio is fenced in, which is great when dining with a dog. Not to bark, they also have a heated lamp. Upon first sniff, I was arf-cited to see how friendly the staff was, especially with welcoming dogs with open paws and providing water bowls.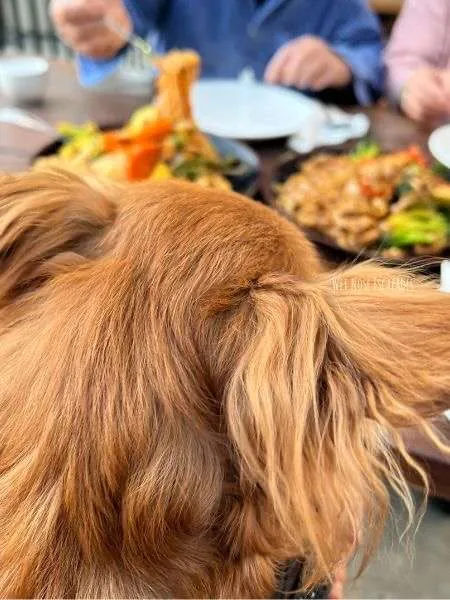 However, I was quickly turned off by all the spider webs found underneath the wooden table and chairs. GRRR, I have to admit that I was completely disgusted! Yuck! BUT the staff was kind and removed the webs as soon as my human pointed it out. They sincerely apologized and quickly explained that no one had used their patio for awhile. My REAL bark: What makes a place stand out as being extra dog-friendly is when the staff goes an extra mile to make furry diners feel comfy. And yet, the staff at Thai Spoon has clearly demonstrated that they deserve a spawt on my list.
#11 Jack's Urban Eats
Jack's may now be a pawpular chain that has branched out to other parts of California (e.g. Walnut Creek and Fresno), but I just love eating at the original Midtown location (and Natomas) every single time I set my furry paws in Sac. With 7 locations in the Greater Sac area, Jack's is a fast, affordable, and casual order-at-the-counter cafeteria that cooks up classic treats like mac n' cheese, mash potatoes, and sweet potato fries along with delicious salads and sandwiches like California cheese steak and Mediterranean veggie (my human's favorite).
With a few tables and chairs outside, their dog-friendly patio may not be much to brag about but does the job. Despite not offering full-on wait service, the friendly staff is always on top of it and delivers water in paper cups upon request before the food comes out.
#12 The Coconut on T (1110 T St.)
ARF, I know this is like the 3rd Thai restaurant on this list. WOOF, what can I bark? Arf-ter a trip to Bangkok and Changmai, my human became a little obsessed with Thai food! It's a busy small joint with an impressive menu of authentic Thai dishes and a good tap selection (remember to sniff out for $2 canned beers)! It may feel like a hole in the wall upon first sniff, but it has a modern decor in a very cozy setting. The most impawtant thing is that they prepare some ARF-mazing mango shrimp salad, green curry, and kao soi. And, their pineapple fried rice? ARF-my-DOG, I'd do a couple tricks just for a tiny bite!
However, don't expect any other wait service besides food delivered to your table – heck, you're even expected to clean up your own table. Hence, be sure to bring a dog bowl for your dog since you're unlikely to get one delivered (to be fair – I've never asked, but let me know how it goes). Nonetheless, your dog can hang out next to you as you devour these heavenly goodies. Their dog-friendly outdoor seating is equipped with a few tables right in front and a pawful of long wooden picnic tables and chairs with heat lamps and lit awning.
WOOF, hope you enjoy my exclusive pics of the BEST dog-friendly restaurants in Sacramento! Feel free to share your experience with me. BARK AT ME!
Sniff out my TOP dog-friendly activities in Sac HERE!
Markin' it up,
Roger Wellington a.k.a. The Doob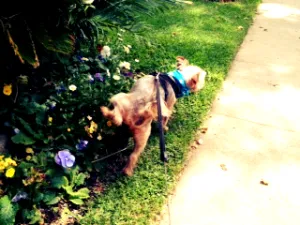 –
Like my post on "12 BEST Dog-Friendly Restaurants in Sacramento, CA"? CLICK TO PIN!