Looking for dog-friendly things to do in Sacramento? This furry NorCal native has you covered!
Last Updated 8/10/22
WOOF, let's bark Sacramento, home of the California State Capitol. Largely overshadowed by its Bay Area neighbor, Sacramento a.k.a. City of Trees is a unique, ethnically diverse (and totally sniff-worthy) city in the Golden State. Located just a quick 90-minutes away from San Francisco, Sacramento (or Sac for short) is often overlooked by visitors despite its long, rich history in California. Not only did the first transcontinental railroad in the country open up here in 1869, but it also played a central role in California's Gold Rush history. Even though I'm no history buff, I surely showed some teeth with an open-mouth smiley face as soon as I filled up my Yorkie belly with fresh, paw-lickin' locally sourced food. With over 40 local farmer markets in the region, it's no wonder that Sacramento has proclaimed itself as "America's Farm to Fork Capital." And, while the San Francisco Bay Area is widely known for its culturally diverse neighborhoods, it sure doesn't beat Sacramento in terms of ethnic integration and racial heterogeneity WITHIN neighborhoods. In simple barks, this means waaaay more people of different ethnicities and races live amongst each other. That's right, even more so than in notably diverse cities like San Francisco, Los Angeles, and New York City. In fact, TIME magazine calls it "America's Most Diverse City"!
Is Sacramento dog-friendly? Heck yeah! As a furry NorCal native, I'm barking with an upright tail that there are plentiful dog-friendly things to do in Sacramento.
Watch me explore California's Capital city below:
Subscribe to my YouTube Channel: Wet Nose Escapades by Roger Wellington for more fun dog travel videos!
*Please note that this post contains affiliate links, and at no obligation or additional cost to you, my humans and I earn a small commission if you make a purchase. If you love the work that we do, you can show your support by making a purchase through an affiliate link. Proceeds will go towards feeding homeless dogs (and cats) along with improving the lives of the neglected and abused.
10+1 Dog-Friendly Things to do in Sacramento, CA:
A BARK OF CAUTION: The Sacramento summer heat can be deadly for dogs! Often climbing to triple digits Fahrenheit, hot summer days here must be avoided for your dog's safety. If you are visiting over the summer, please ONLY explore the outdoors with your dog in the morning or evening.
#1 Step back in time in Old Sac
ARF, as barked earlier, Sacramento has always played a vital part in California's history, from the Gold Rush to the transcontinental railroads to present-day government affairs. I love stepping my paws back in time in Old Sacramento, a well-preserved historic neighborhood from the Gold Rush era with cobblestone streets, charmingly pawfect wooden walkways, 19th-century brick buildings, museums, and old train trails. With the nation's most extensive collection of Gold Rush-era buildings, Old Sac can make a senior dog like myself feel younger than ever. Exploring Sacramento's boomtown past is worthy of some tail wagging. WOOF, there's plenty of interesting dog-friendly shops to sniff out, including Evangeline Costume Mansion (per the customer representative, they LOVE having dogs in there) and Sock City (ARF-my-Dog, I've never sniffed so many socks!). And, if all fails, I can still walk around outside pretending that I'm a Yorkie cowboy roaming around the Wild West!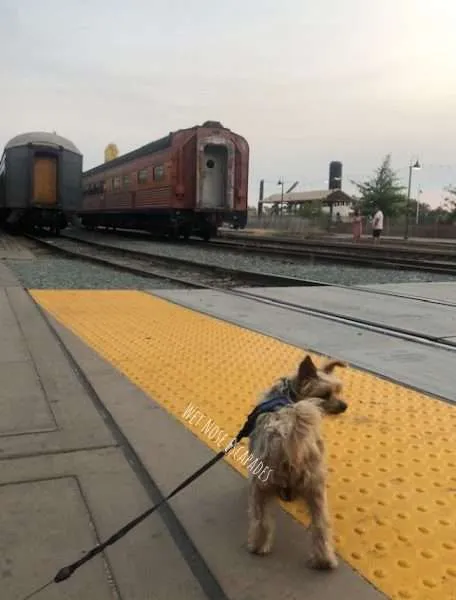 Since Old Sac attracts more visitors than locals, I recommend skipping the restaurants (and even the cool-looking old school saloons) as they can be tourist traps. Keep on sniffing below to find out the best places to eat with your dog.
*Even though dogs are allowed on horse-drawn carriages here, I beg you to skip the ride. Horse-drawn carriages can put horses in danger through overload hauling in extreme temperatures and dodging car traffic. Walking is the BEST way to explore Old Sac!
ARF-yeah, in case you don't know – I'm very vocal about barking out against horse-drawn carriages. Watch me protest in NYC's Central Park.
#2 Walk along the waterfront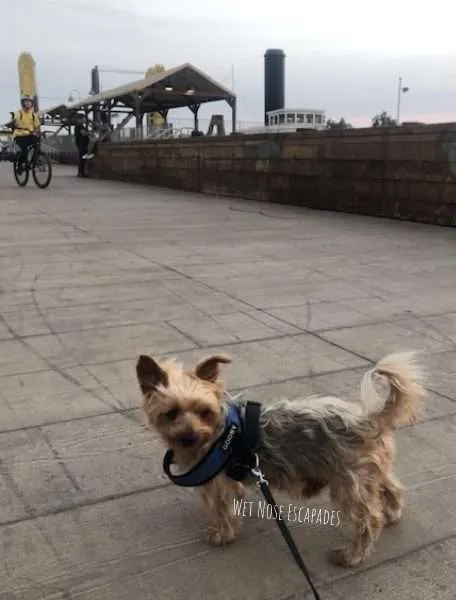 You may not get the Pacific Ocean breeze in Sacramento, but you can get a sniff of the delightful Sacramento River! This 8-block waterfront area in Old Sac has a wide dog-friendly wooden pathway with IG-worthy views of The Delta King, the Tower Bridge, and part of Downtown Sac. Keep walking, and you'll come across a ferris wheel on the left side. Although the static Delta King paddlewheel riverboat turned restaurant and hotel is NOT dog-friendly, I can still snap a photo or two outside of this historic vessel which commuted daily from San Francisco to Sacramento from 1927 to 1940. AH-WOOO, be careful of occasional bikers here and keep your dog on a leash for safety – I saw a few riding quite fast.
#3 Mark up Capitol Park
1300 L St
WOOF, Roger Wellington for Governor! This is where my dreams of being the first canine governor of California lives. As Governor Wellington, I promise free treats to all dogs and cats in California, life sentences for those who abuse animals, and an end to keeping dogs outside and breeding (we've got enough homeless dogs and cats in this world). While I keep daydreaming about a pawfect California, I can mark up the iconic California State Capitol Park to gain some ground. Filled with monuments, memorials, and gardens, the park is, indeed, very dog-friendly. With numerous walking paths and green spaces, this is a paw-pular place for Downtown pawrents to walk their dogs. Therefore, the capitol park becomes a real pawty with a mix of furry Sacramentans and four-legged visitors. The best time to leave your mark and rake your feet is 20 minutes or so before sunset when you can see the bright red, orangey California sun go down against the Tower Bridge – straight from the steps of the Capitol.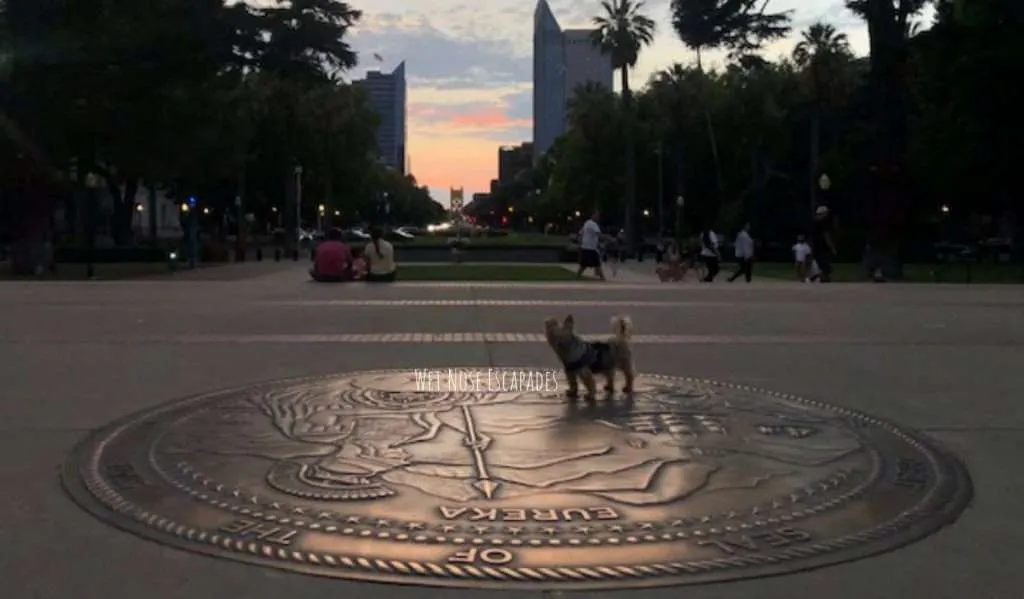 #4 Hit up American River Parkway
WOOF, never heard of the famous "American" River? ARF–my-Dog, you're missing out on a crucial part of "American" history (hence, the name). Spanning 30 miles long, the American River runs from the Sierra Nevada mountain range to the Sacramento River in Downtown. On the American River's south fork near the Sierra Nevadas lies Sutter's Mill, the water-powered sawmill where gold was first discovered in 1848. Besides historical significance, American River boasts a lovely LOOOONG parkway with a 32-mile dog-friendly greenbelt and a whoppin' total of 82 miles of dog-friendly hiking trails. In addition to ample green spaces and picnic areas, I love exploring its gorgeous natural scenery. Dogs are welcome to hit the ground running – well, on-leash (although I came across a few well-behaved off-leashed dogs). As this parkway is super pawpular with furry locals and visitors, you can only imagine all the leg lifting, back kicking, and sniffing that I have to do to keep up my alpha status. As homeless encampment is on the rise here (like in every major urban area these days), you do have to keep a vigilant eye.
#5 Grub in Downtown
ARF, must I bark louder? Eating out with your dog in "America's Farm to Fork Capital" is a MUST! Instead of barking, I'd rather lick my chops and chomp on some paw-lickin' goodies. Regardless of where you grab food in Sac, you're devouring locally sourced ingredients from nearby farms. Unlike other cities, all the restaurants in the region get access to the freshest food without traveling a great distance. Luckily, dogs can dine with their humans in many restaurants with outdoor patios. Downtown Sacramento is not only a vibrant area to explore with your dog, but it's also a fun place to grub! It may not be as bustling as San Francisco's Downtown, but you'll still find plenty of lively places to hang out and grub with your dog – from cocktail bars to trendy restaurants. And, at least you'll rarely have trouble finding parking.
Here are my favorite dog-friendly restaurants in Downtown Sac:
Mas Taco Bar – 1800 15th St.: Go on Saturday evenings for their Late Night Taco Stand! There's live music outdoors, $2.50 tacos (any taco from their menu, ample veggie options available), and $6 margaritas. Despite the live music, the volume is usually not too high (which my highly sensitive ears can appreciate). If it gets too loud for your dog, you can request a table away from the speakers. Keep in mind that they don't take any reservations. :/
Iron Horse Tavern – 1800 15th St.: Located right next to Mas Tacos Bar, Iron Horse Tavern is one of the six restaurants owned by native Sacramentan restaurateurs Mason, Curtis, and Alan Wong. This hip, stylish eatery serving chops-lickin' American fare boasts an inviting dog-friendly outdoor patio.
Zócalo – 1801 Capitol Ave.: This upscale contemporary Mexican restaurant is known for weekend brunch and Taco Tuesdays. Their European-inspired, dog-friendly outdoor patio is a paw-pular spot for furry Sacramentans.
The Coconut on T – 1110 T St.: This no-frills, over-the-counter restaurant serves up some mouthwatering Thai cuisine. Mmm I LOVE their veggie pad thai! Their lovely outdoor wooden tables and benches make a nice casual outing with your dog. 
Sniff out my full list of dog-friendly restaurants in Sac HERE!
Get my 8 tips on how to dine with your dog!
*As dogs are pack animals who'd LOVE to experience meals with you, don't forget to pack a bag of treats, dog-safe food, bottled water, and to-go bowls for your dog! Don't make your dog feel left out.
#6 Mingle with off-leash furry Sacramentans
Time to chase some furry Sacramentan booties! Since Sacramento is so spread out, you can find many off-leash dog parks. Here are my favorite, most barkworthy ones:
Sutter's Landing Park
20 28th Street – Located near Cal Expo (home of the California State Fair), this is a 2.5-acre community park with areas for both large and small dogs.
2780 Mabry Drive – Situated in North Natomas, this local park features two separate dog areas – the small dog park is 0.54 acres, and the large dog park is an impressive 2.0 acres. It also has bragging rights to turf areas, benches, tables, and dog drinking fountains.
2501 New Market Drive – Also in Natomas, this pawsome regional park has two separate dog areas for large and small dogs with turf, decomposed aggregate, paving, dog wash faucets, 20' sq. fabric shade canopies, and dog agility equipment.
Regency Community Park
5500 Honor Pkwy, North Natomas – This is another local community park in Natomas with two separate dog areas for large and small dogs.
Partner Park
5699 South Land Park Drive – Located behind Belle Cooledge Community Center, this 10.41-acre park has a well-maintained dog park with seating and water for dogs.
For a full list of off-leash dog parks in Sacramento, put a furry paw HERE. As always, don't forget to bring poop bags to clean up after your dog.
3800 Land Park Drive
This dog-friendly park is HUGE! Huge as in Top Dog status. With 207.344 acres of an urban oasis, William Land Park (or Land Park, for short) is, paws down, one of the treasured gems in Sacramento. And, dog, there are a lot of trees. A quick walk here clearly demonstrates how Sacramento lives up to its nickname – the "City of Trees," which also means there's bountiful shade. Dogs may not be able to run off-leash here or visit any of the ticketed attractions like Funderland and Fairytale Town (GRR, I don't wanna be around kids anyway), BUT dogs can frolic around jogging paths, lakesides, grassy fields, and picnic areas – all of which are dog-friendly as long as dogs remain on-leash.
#8 Cross the Tower Bridge
The Tower Bridge a.k.a. Sacramento Bridge may not be iconic or internationally renowned or known as THE "Tower Bridge" in London or the nearby Golden Gate Bridge in San Francisco, but ARF – it's still worthy of a couple of barks, sniff, marks, and photos. Formerly known as M Street Bridge, this ultra-short yellow-colored vertical lift bridge connects West Sacramento (technically a different city) to Old Sacramento. Opened in 1935 after Sacramento's population doubled, the pedestrian-vehicle Tower Bridge stands over the calming Sacramento River and measures 737 ft long, 52 ft wide, and 160 ft tall. And yes, dogs ARE allowed to walk on this bridge! Since this river bridge is only roughly .14 mile, it's easy to walk my tiny alpha paws across to the other side. However, just a quick howl that I don't necessarily recommend exploring West Sacramento further other than crossing this cutesy bridge. If you're not keen on crossing bridges, then a quick photo opportunity right in front will suffice.
#9 Chill out at Gunther's Ice Cream
2801 Franklin Blvd.
To combat the crazy Sac heat, I like to lick my chops to some legendary Gunther's ice cream (well, once the sun goes down). Founded in 1940 (yes, in the 40s!!!), this old school, mom-n-pop ice cream shop in Tudor-centric Curtis Park is one sniff-worthy landmark in the State Capitol. Their famous ice cream is homemade and comes in a myriad of mouthwatering flavors – Taro or Thai tea, anyone? Plus, they have a few vegan options like real fruit freezes and shaved ice. YUM! There are plenty of dog-friendly tables outside at this bustling corner spot that wrap around their IG-worthy retro wall art. Since this is one TOP DOG spot, expect long lines in the evening when the temperatures are comfortable and when two-legged and four-legged Sacramentans come out to play.
#10 Shop at Arden Fair (small dogs only)
Wanna get some shopping done in Sacramento? ARF, you can venture to Arden Fair with your small dog. From Lululemon to Michael Kors to Macy's, Arden Fair offers over 150 retail stores for you to swipe that credit card or do some window shopping. Per their security manager, small dogs carried in a bag (and, of course, service animals) are allowed to shop alongside their humans. If you're not much of a shopper like my humans, you can head to the ARF-so-posh Seasons 52 (1689 Arden Way Suite 1065) with your dog. With a mesmerizing trendy dog-friendly outdoor patio, it's the pawfect place to grab a glass of rosé, toasty cauliflower flatbreads, and wood-grilled succulent goodies.
#11 Grab Vietnamese food in Little Saigon
As barked earlier, Sacramento is the most diverse city in America (per the study by Harvard University). Again, while the San Francisco Bay Area is widely known for its culturally diverse neighborhoods, it can hardly compete with Sacramento in terms of ethnic integration and racial heterogeneity WITHIN neighborhoods. One of the most culturally rich ethnic enclaves in Sacramento is Little Saigon in South Sac. From Fruitridge to Florin on Stockton Boulevard, you'll find a plethora of Chinese and Vietnamese grocery stores, bakeries, nail salons, and jewelry stores. Despite the Chinese-Vietnamese businesses' ever-growing presence for the last 40 years, Stockton Boulevard only officially garnered the "Little Saigon" title in 2010. Just a howl of caution – it's not the best neighborhood to explore by paw. However, the Vietnamese food here is SPOT ON and well worth visiting. Trust me, my human says that their pho (noodle soup), bun (vermicelli salad), and banh mi (Vietnamese sandwich) can even compete with those in Hanoi! These mom-and-pop Vietnamese restaurants are so authentic that they're often unclaimed on Yelp (but still boast stellar ratings). Although it's hard to find Vietnamese restaurants with outdoor patios here, I was able to sniff out a couple of authentic ones where you can dine with your dog:
Chao Bay Vietnamese Cuisine – 6829 Stockton Boulevard #399
Banh Cuon Tay Ho – 6840 65th St., Ste 125
If all fails, you can still grab some authentic Vietnamese food on the go with your dog. As these hardworking small business owners crave your business, most may make an exception for your dog if you're just picking up food.
*As dogs are pack animals who'd LOVE to experience meals with you, don't forget to pack a bag of treats, dog-safe food, bottled water, and to-go bowls for your dog! Don't make your dog feel left out.
WOOF, hope you enjoy my favorite dog-friendly things to do in Sacramento! Feel free to share your dog-friendly Sacramento experience with me. BARK AT ME.
Markin' it up,
Roger Wellington a.k.a. The Doob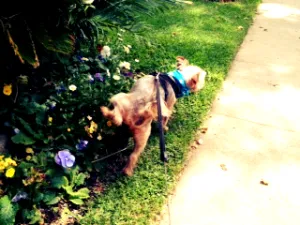 Like my post on "10 Dog-Friendly Things to do in Sacramento, CA"? CLICK TO PIN!