Is Santa Cruz, California dog-friendly? Perk up your ears now!
Last Updated 6/23/23
A quick 90-minute drive south of San Francisco will bring you to Santa Cruz, a popular weekend getaway or day trip for Bay Area residents seeking a hippie-ish culture with more sun, warmer beaches, head-tiltin' redwood trees, and a relaxed yet charming downtown. For the longest time, dogs weren't allowed in Downtown Santa Cruz, but I'm ecstatic to bark out that the dog-friendly culture has changed for the better throughout the city. As a furry NorCal native, I frequently set my alpha paws on Santa Cruz to bum it out on one of their laid-back beaches (before my transformation as a world traveler). With a myriad of dog-friendly state parks and beaches combined with year-round moderate weather, Santa Cruz is now paws down a real pawty for dogs. 
*Please note that this post contains
affiliate links
, and at no obligation or additional cost to you, my humans and I earn a small commission if you make a purchase. If you love the work that we do, you can show your support by making a purchase through an affiliate link. Proceeds will go towards
feeding homeless dogs (and cats) along with improving the lives of the neglected and abused
.
Here's what I have to bark out about visiting dog-friendly Santa Cruz, California:
Dog-Friendly Restaurants & Bars
Like the rest of California, Santa Cruz technically does NOT allow dogs inside establishments that sell food or drinks (with the exception of legitimate service animals). Luckily, the mild weather brings forth plenty of restaurants and bars with a sidewalk or outdoor patio dining. Although it's up to the discretion of the owner to allow dogs on the property, we've never experienced any issues finding a restaurant to dine out. From chops-lickin' beach burritos to specialty quinoa burgers, my little wet nose went crazy sniffing out all the delectable goodies here. Whether my furry paws conquer Seabright or Downtown, I can always sniff out a dog-friendly place that will allow me to sit my furry butt on a human chair – well, outside. During chilly days, I've even been graciously offered indoor seating on several occasions by some kind, dog-loving staff. ARF, I love running into dog lovers wherever I leave my alpha mark!
My favorite dog-friendly restaurants: 
Walnut Avenue Cafe (106 Walnut Avenue) – One of my go-to brunch spots! With sidewalk seating and umbrellas, this laid-back local dog-friendly cafe is a pawsome place to chomp scrambles and hashes with the furry ones. 
Mission Street BBQ (1618 Mission St.) – With a dynamic selection of craft beers from local breweries, this family-owned BBQ joint boasts a spacious outdoor dog-friendly patio with live music. It's a kickass place to sniff and be sniffed on a Friday or Saturday night.
The Crêpe Place (1134 Soquel Avenue) – French food in Santa Cruz? As a former furry Parisian resident, I like getting my paws on savory crepes wherever I can. This charismatic French spot has a beautifully landscaped dog-friendly patio with adorably lined light bulbs and heated lamps.
*Don't forget to pack mouthwatering treats and food for your dog to enjoy!
My favorite dog-friendly bars: 
Lúpolo Craft Beer House (233 Cathcart St) – This casual, unpretentious bar known for domestic and international craft beers has an inviting dog-friendly outdoor patio with wooden benches, tables, umbrellas, AND blankets. I sure like keeping my paws warm on a chilly evening. 
Beer Thirty Bottle Shop & Pour House (2504 S Main St, Soquel) – Just a few miles outside of Santa Cruz, this top dog spot in Soquel serves up a variety of local brews in a massive dog-friendly beer garden with ping pong tables (well, to keep the humans busy). With an enclosed dog run on-site, I can freely chase those furry butts! To top things off, they also sell dog collars and leashes.
West End Tap and Kitchen (334 Ingalls St. D) – Serving craft beers and wines, this rustic gastropub has a cool dog-friendly patio with plenty of tables, heating lamps, AND blankets. ARF, I can never turn my nose up at a place that wants to keep me warm. 
Dog-Friendly Breweries & Vineyards
Besides dog-friendly restaurants and bars, Santa Cruz is embraced with dog-friendly breweries. As long as your dog is on-leash, your dog is welcome to join you at most microbreweries and vineyards in the area. Since I can't drink alcohol (GRRR, they're a little too bitter for me anyway), I'll alternative laps between snores as my humans delight themselves to a tasting or two. 
My favorite dog-friendly breweries:
Humble Sea Brewery (820 Swift St.) – One of the best breweries in Santa Cruz, this IPA-centric joint has a fun dog-friendly beer garden with picnic tables and fresh water bowls ready to quench your dog's thirst. In the words of the owner Nick Pavlina, the beer garden is "as dog-friendly as it gets." 🙂
Santa Cruz Mountain Brewing(402 Ingalls St) – This popular microbrewery specializes in organic beers. I'm all for organic! BUT the best part is their dog-friendly beer garden AND taproom. Oh yea, they also have female brewers! Pretty cool, isn't it?
Discretion Brewing (2703 41st Ave, Ste A, Soquel) – In Soquel, this dog-friendly family-owned brewery focuses on handcrafted, exquisite beer. They have a lovely rustic beer garden that welcomes "friendly" dogs on a short leash as long as they're next to their humans at the table.
My favorite dog-friendly vineyards:
Santa Cruz Mountain Vineyard (334-A Ingalls St) – Dogs are welcome in the tasting room and wine cellar at this regionally esteemed vineyard. One cool fact is that it is "one of the oldest continuously operated vineyards in California," established in 1863. WO-OOF!
MJA Vineyards (328-A Ingalls St) – From Croatia to Hawaii to Napa to Santa Cruz, this multi-cultural vineyard boasts a contemporary dog-friendly tasting room and cellar. Oh yea, you'll find plenty of dogs chillin' by their beautiful fire pits to keep warm in the evening. 
Silver Mountain Vineyard (328-D Ingalls St) – For over 30 years, this dog-friendly vineyard is known for its award-winning organic chardonnays and pinot noirs. Located at 2,100 ft elevation, the winery has ARF-mazing scenic views of Monterey Bay and the redwoods. 
Sones Cellars (334 Ingalls St) – Located on the westside of Santa Cruz, this no-frills local winery allows well-behaved dogs in their tasting room. As they avow "no wine snobbery allowed," I wag my stylish tail to their unpretentious vibe. Their focus is on Petite Sirah and Zinfandel. 
Storrs Winery & Vineyard (303 Potrero St. no 35 at Old Sash Mill) – The award-winning husband-wife winemakers from UC Davis offer a dog-friendly patio outside their rustic tasting room at Old Sash Mill. 
Dog-Friendly Beaches
WOOF, a visit to Santa Cruz is not complete without a beach pawty! As a former Greek Island beach bum, I can't help but get my furry paws diggin' and my nose sandy. Even though off-leash dogs are technically not allowed on most beaches in Santa Cruz, you'll see that most locals tend to let their dogs loose. Whether or not you choose to follow the rules, it's up to you. Of course, I highly bark that you do. Don't forget to clean up after your dog! 
Here's my list of dog-friendly beaches in Santa Cruz and proximity:
*Based on the county rules, your dog's leash must be no longer than 6 ft. 
Lighthouse Field State Beach a.k.a. Its beach (701 W Cliff Dr) – Probably the most known dog-friendly beach in Santa Cruz where dogs on-leash are welcome anytime. 
Mitchell's Cove Beach (W. Cliff Dr) – Dogs on-leash are welcome anytime and off-leash before 10 am and after 4 pm.
Seabright State Beach (15 E Cliff Dr) – Dogs on-leash are welcome on the north side of the harbor.
Twin Lakes State Beach (995 Live Oak Ave) – Dogs on-leash are welcome on the eastside of the harbor.
Seacliff State Beach (State Park Dr, Aptos) – Dogs on-leash are allowed.
Sunny Cove Beach (Sunny Cove Dr or Geoffroy Dr) – Dogs on-leash are welcome at this lesser-known, relaxed beach. 
Manresa State Beach (1445 San Andreas Rd, Watsonville) – Dogs on-leash are welcome on the beach as well as the campground.
Natural Bridges State Beach (2531 W Cliff Dr) – Dogs on-leash are allowed in the parking lot and picnic areas but NOT on the actual beach or trails.
Off-Leash Dog Areas 
ARF, as I always bark to my humans, LET ME LOOSE!  Sniff out these parks with off-leash dog runs or dog parks:
DeLaveaga Park (855 Branciforte Dr) 
Frederick Street Park (168 Frederick St)
Grant Street Park (150 Grant St)
Mimi De Marta Dog Park (119 Broadway)
Pacheco Dog Park (Pacheco Ave)
Ocean View Park (102 Ocean View Ave)
University Terrace Park (Meder St)
Dog-Friendly Trails
Here's my list of dog-friendly trails in Santa Cruz and proximity:
West Cliff Drive (between Bay Street and Natural Bridges State Park) – Three scenic miles of walking or running with your dog along the Pacific Ocean. Starting at Santa Cruz Municipal Wharf, this dog and bike-friendly trail ends at Natural Bridges State Beach.
Big Basin Redwoods State Park (21600 Big Basin Way, Boulder Creek) – This is California's oldest state park! Unfortunately, dogs on-leash are only allowed on campsites, picnic areas, and paved roads. They're welcome to hike on North Escape, a 2.5 mile gated paved road. They are NOT allowed on actual trails. 🙁
The Forest of Nisene Marks State Park (Aptos Creek Rd, Aptos) – In this "secondary" redwood forest, dogs on-leash are allowed below Portner Picnic Area. They are allowed on Aptos Creek fire road and the four single-track trails below the steel bridge. 
Henry Cowell Redwoods State Park (101 N Big Trees Park Rd, Felton) – With over 15 miles of trails, dogs are allowed in some campsites, picnic areas, and hiking trails, including the Redwood Grove Loop Trail. 
Is the Santa Cruz Beach Boardwalk dog-friendly?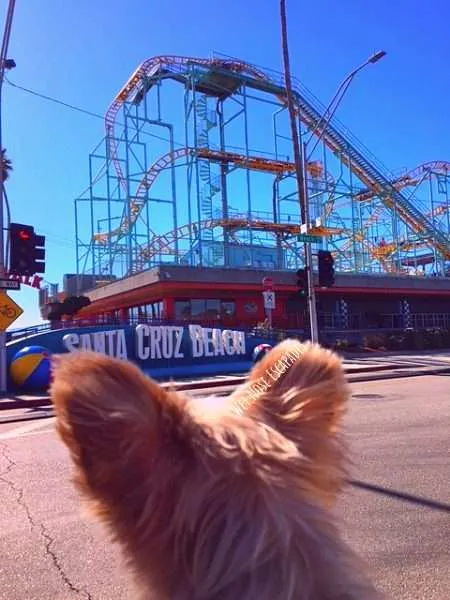 While the city's most famous attraction is the Santa Cruz Boardwalk, dogs are unfortunately NOT allowed on the boardwalk or the Main Beach with the exception of service animals. Not realizing the official rules, my humans took me to the boardwalk one time when we happened to be in the area. Since it was during the off-season in the Fall, the boardwalk was a complete ghost town with barely any souls around. We were not approached or chastised for my presence. Hence, we did not realize that dogs weren't allowed until well after our departure. If you plan on visiting the Boardwalk, please remember to safely leave your dog at the hotel or with doggie daycare. Do NOT leave your dog inside the car. If all fails, you can still take your dog to snap some pictures outside in front of the sign, which is technically allowed. 
Dog-Friendly Kayak
OK, you may already know that I'm not a dog who likes to get all my four paws wet on a kayak. BUT, as a true pack leader, I did some thorough sniffing for all the doggies who love the water. Venture Quest Kayaking (2 Municipal Wharf) is THE SPOT for kayak rentals in Santa Cruz. Small to medium-sized dogs can hop on a kayak with their humans FOR FREE. While there's no specific weight limit for dogs, life jackets are provided, given that they're a comfortable fit for your dog. As you may find otters, seals, sea lions, and other marine animals on the excursion, please do not let your dog scare these beautiful sea creatures in any way:). 
Transportation 
Uber/Lyft or private car is the best way to get around in Santa Cruz. Since my humans and I would drive down from San Francisco, we never had to take public transportation in the city. However, if you'd like to move around via bus, you can take a small dog on METRO for free. Per the METRO official website, "Pet animals are ONLY allowed aboard METRO buses if they are carried inside cases specifically designed for the transporting of animals." Therefore, remember to pack that carrier!
*My fabulous green carrier has been in more countries than most humans on Earth! Get yours HERE!
Hope you and your dog enjoy all these dog-friendly places and activities in Santa Cruz! Feel free to share your experience with me. BARK AT ME!
Markin' it up,
Roger Wellington a.k.a. The Doob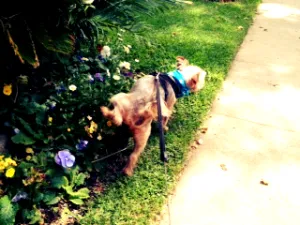 —
Like my post on "A Yorkie's Guide to Visiting Dog-Friendly Santa Cruz, CA"? CLICK TO PIN!