WOOF, sniffing out dog-friendly Santa Monica activities? Perk up your ears and hear my alpha barks NOW.
Posted 10/26/22
Whenever I'm living the high Yorkie life in LA (one of my CA home bases), I always make sure I hop in the front seat for a drive on the 10 to the Westside – ARF, just NOT during traffic hour. One of the most pawpular dog-friendly cities in the Westside is, PAWS DOWN, Santa Monica a.k.a. SaMo. While not technically within the city limits of LA, Santa Monica is a coastal haven just 10 miles (or so) drive west of the city and attracts human and furry visitors like no other place in SoCal. Coined as "Silicon Beach" in recent years due to the influx of startups (watch out, Bay Area), Santa Monica is famous for its spectacular Pier, Muscle Beach (established way back in the 1930s), lively 3rd Street Promenade, and head-tiltin' views of the Pacific Ocean.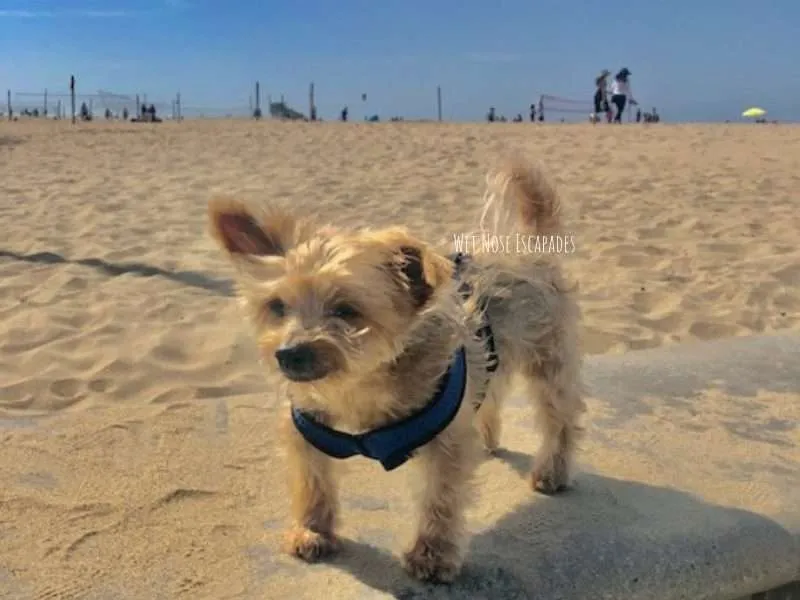 Is Santa Monica dog-friendly? ARF, yes! Because SaMo is right next to the Pacific Ocean, I love markin' it up here mainly to escape the often icky, hot inland temperatures. Not to bark, my humans have a few good friends who call Santa Monica home. Besides pleasant weather, this pawsome city of 91,600 humans (furry residents NOT included) has bragging rights to many dog-friendly parks, eateries, and hotels. Sniff out my guide to visiting Santa Monica with a DOG below:
Just a BARK of Caution:
As much as I love Santa Monica, it's not what it used to be 10 or even 5 years ago. Crime and the homeless pawpulation have skyrocketed in recent years. While SaMo remains a relatively safe city, homeless people and their tents are almost unavoidable here. Although most homeless people will go about their biz and leave you alone, many of them have dogs who are usually not vaccinated (GRR, I have some strong opinions on homeless people with dogs). In addition, most will use public streets as public toilets. Hence, it's best to keep a vigilant eye and steer away from homeless camps. Be sure to dodge or pick up your dog (if small enough like me) when walking past.
Are dogs allowed on the beach?
GRRR, no – dogs are technically NOT allowed on the beaches in Santa Monica but are welcome on the adjacent dog-friendly pathway. Dogs are strictly prohibited on the sand, and signs are all over as reminders. The path next to the Pacific Ocean or "The Strand" can get a little busy over the weekends with pedestrians, bikers, and arf course, other dogs . Hence, please keep your dog on a tight leash for safety. Even though there's a separate lane for bikers, the commotion may still be overwhelming for your dog. The Strand runs through Venice and LA's South Bay beach communities like Redondo and Hermosa, which means you can walk those furry paws to another beach city!
However, it's not unusual to see a few dogs diggin' up sand and roaming around the Santa Monica State Beach despite the rules. That's because visitors, tourists, or daytrippers may not know the rules (or choose to ignore them). Nonetheless, complaints about dogs on the sand are rising, resulting in warnings and citations. If you're lucky, you'll get a verbal warning from the officer. But if you're unlucky, you'll face a fine. GRR, so it's pawbably better not to test your luck.
As a matter of BARK, dogs are not allowed on any beaches in all of Los Angeles County, except for the following:
Long Beach's Granada Beach – Dogs can go off-leash on Rosie's Dog Beach
Malibu's Leo Carrillo State Park – Dogs are allowed on-leash dogs in North Beach
Are dogs allowed on the Pier?
WOOF, yes! Dogs on leash are welcome to walk alongside their humans on the Pier. Be sure to bring poop bags for cleanup. 🙂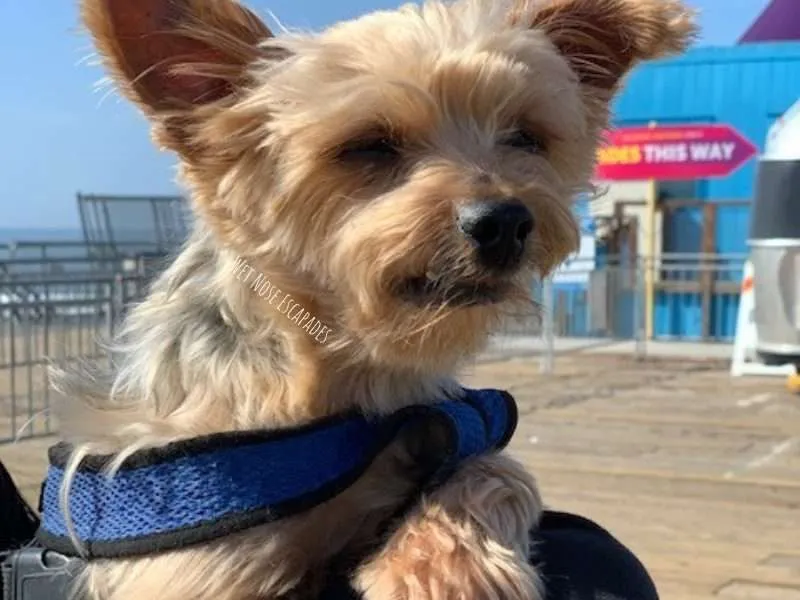 Dog-Friendly Parks in SaMo: Where I like to MARK up
Palisades Park (Ocean Ave.): ARF-my-DOG! I just love this park, which stretches over a whoppin' 26-acres along Ocean Avenue. Since Palisades Park is next to the Pacific Ocean and walkway, I've spent many moons leaving behind my alpha marks at this incredible urban forest. With stunning views of the Santa Monica Bay, this park is pawpular with visitors and locals alike. There are benches, picnic areas, artwork and murals, monuments, and a rose garden.
Setting my furry paws on the paved path at Palisades Park is always a MUST. Again, it can get a bit overwhelming here on a Saturday or Sunday afternoon, so it's best to go earlier in the morning or later in the evening to avoid pedestrian traffic. Even though dogs aren't allowed on the sand, my human was still able to snap some arf-mazing pictures of me with the beach as the backdrop.
Be sure to watch your dog closely during the walk – a dog named Chance the Rapper collapsed after swallowing oxycodone by accident here back in August 2022. Sadly, she subsequently became blind, but her life was saved after 24 hours of hospitalization and a $4K vet bill.
Airport Park Dog Park (3201 Airport Ave.): WOOF, this dog park is legit! Penny Gurl and I had such a crazy time here that my human had to carry us out because we refused to leave. GRR. I had so much fun sniffing and chasing the buttocks of those cute furry Angelenos. It boasts its own free parking lot, which is convenient for my humans to drive in and out. There are two spacious off-leash, double-gated sections – one for large dogs and the other for small dogs like me, and they're both clean and well-maintained. Like most Santa Monica's dog parks, the ground consists of wood chips; my paws don't get that dirty compared to a dirt ground, but it doesn't feel supaw comfy, especially for my soft paws trying to gain traction. Most dog pawrents are respawsible in cleaning up arf-ter their dogs and watch them closely (unlike some other dog parks). The park is closed on Mondays for maintenance. Maximum capacity is 45 dogs.
Other sniff-worthy dog parks or dog-friendly parks in Santa Monica to sniff out and mark up:
Herb Katz Dog Park (2300-2398 7th St) – Inside Joslyn Park, this pawtastic 1.25-acre fenced dog park sits on a hill and has two separate areas for small dogs and large dogs. There are obstacle courses, tunnels, poop scoopers, and benches. The dog park closes on Tuesdays and Thursdays for maintenance, from 9:30-11:30 am. Maximum capacity is 45 dogs.
Pacific Street Dog Park (2174 Main St.) – A 1-acre off leash dog park WITHOUT separate sections for big and small dogs. If your small dog is afraid of big dogs, this may not be the right fit. The ground consists of wood chips and dirt. They've added some trees in the last few years for more shade, but it's still not quite enough on a sunny day (at least to my human). Street parking only. The dog park closes on Wednesdays for maintenance, from 9:30-11:30 am. Maximum capacity is 20 dogs.
Tongva Park (1615 Ocean Ave.) – Tongva Park rocks! It's modern and clean with gorgeous rolling green lawns and winding paths. Named after the indigenious Tongva people, this urban oasis is a 6.2-acre park overlooking the Pacific Ocean within walking distance to the Santa Monica Pier. Dogs are welcome as long as they're on-leash.
Memorial Park Dog Run (1401 Olympic Blvd.) – A small, fenced-in, narrow dog run located just north of the tennis courts on the west side of Memorial Park. The ground is made of dirt, which may or may not be the preference for dogs or their pawrents – I personally don't mind. Since this is a small run, the maximum capacity is 10 dogs. The dog run closes on Thursdays for maintenance, from 9:30-11:30 am.
*Be a good visitor and keep the park clean by always picking up aft-ter your dog.
*Just a bark that your dog must technically obtain a license or permit to use a "dog park" in Santa Monica (although not enforced), which costs $20.01 (as of October 2022). Even if you're not an official SaMo resident, you can still get a permit if you provide a local address, and copies of a valid license and rabies vaccination record from your hometown.
Best Dog-Friendly Walks & Strolls in SaMo
Santa Monica to Venice Beach – PAWS DOWN, walk those furry paws south to Venice Beach! Just a 3-mile walk along the coast takes you and your dog to arguably a different world – Venice Beach! Start on Pacific Avenue and take in those jaw-droppin' views of the Pacific Ocean as you slowly make your way down. AWOOO, expect to sniff the buttocks of many furry Angelenos along the way! Technically within the Los Angeles city limits, Venice Beach is an eccentric beach town totally worthy of some wet nose sniffing and investigating. The dog-friendly Venice Boardwalk is famous for an earthy Bohemian vibe with souvenir shops, street entertainers, and a rich art scene (not to bark, you'll stumble upon many grassroots rappers luring you to buy their music).
Santa Monica Pier (200 Santa Monica Pier) – ARF, my tail is wagging to bark out again that Santa Monica Pier is, indeed, dog-friendly – as long as your dog is on a leash (and arf course, be sure to clean up arf-ter your dog). Although walking your dog on this large double-jointed, 1,600-ft-long pier can be a hit or miss (depending on the crowd), it's barkworthy to know that I can walk my furry paws around here if I wanted. As the heart of the city, this bustling fishing pier is quite a pawty, to bark the least – it boasts ARF-mazing views of the Pacific Ocean, an iconic ferris wheel, a carousel, a 1920s merry-go-round, an amusement park, and numerous concession stands.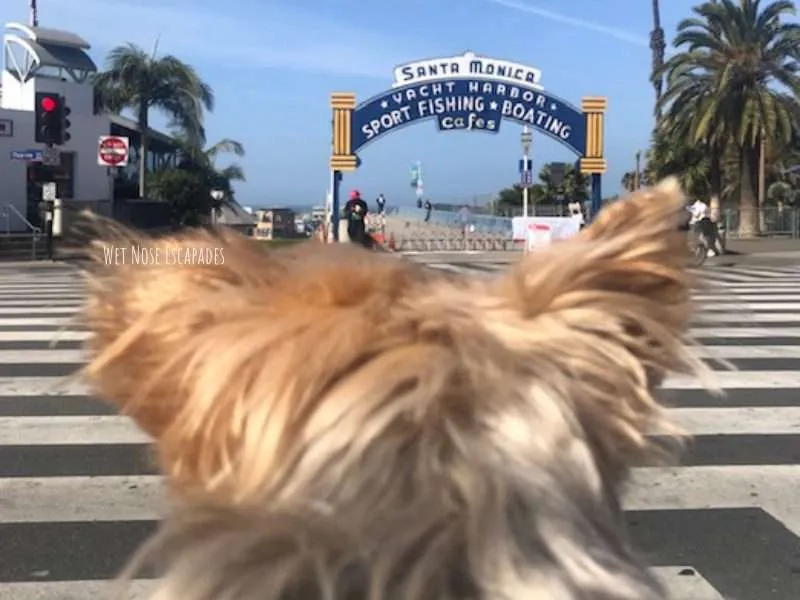 3rd Street Promenade (1351 3rd Street Promenade) – WOOF, no visit to SaMo is ever complete without a visit to the 3rd Street Promenade for some shopping (or window shopping)! If you're not a shopper like my humans, 3rd Street Promenade is still one happening place to be. With its car-free zone, this makes a fun (and safe) stroll with your dog. As a matter of bark, it's one of the most pawpular places to visit in SoCal, attracting humans (and dogs) from all over the world. Since this is a giant outdoor pedestrian mall-dining entertainment complex, dogs are welcome to walk around, dine, and hang out with their humans. With over 80 retailers ranging from designer brands to boutiques plus trendy restaurants like the dog-friendly Casa Martin and Burger Lounge and hip bars like The Britannia Pub (also dog-friendly), 3rd Street spans 3 open-air, pedestrian-friendly blocks with street performers and live music. My preferred time to come here is actually in the evening when the weather is cool and the crowds die down a bit, which makes for a more relaxing stroll.
Santa Monica Place (395 Santa Monica Pl) – Besides 3rd Street Promenade, another dog-friendly outdoor shopping mall is Santa Monica Place, located at the south end of the 3rd Street Promenade and two blocks from the beach and pier. Although not as renowned as 3rd Street, this luxurious shopping mall features Bloomingdales, Nordstrom, Tesla, Louis Vuitton, and Rolex – just to bark a few. There are also 70 boutiques plus more than several dog-friendly restaurants like The Dudes' Brewing and my human's favorite, the arf-so-healthy True Food Kitchen. Bear in mind that this Cheesecake Factory location is NOT dog-friendly, despite its patio seating. GRRR, I was never a big fan of their overly greasy microwave-tasting dishes anyway.
Best Dog-Friendly Restaurant in SaMo: My #1 Go-To Spot
Besides the few that I've barked out above, dog-friendly eateries are ubiquitous in Santa Monica. It's definitely not an understatement when I bark that this city loves dogs! Like all restaurants in California, dogs are technically NOT allowed inside but are usually welcome to dine on the outdoor patio – well, up to the owner's discretion (but from what I've sniffed, only very few restaurants would pass up on such a grand opportunity to accommodate dog-lovin' patrons).
My #1 dog-friendly eatery is Art's Table (1002 Montana Avenue), introduced by my human's friend, a dog pawrent and long-time resident of Santa Monica. With its sleek modern design and eye-catching red-colored theme, Art's Table is an ultra-cool place to meet and greet or get some work done. I wagged my stylish undocked tail as I marched onto their inviting, spacious dog-friendly sidewalk patio with wooden tables and chairs. The best part is that they have a long section of fake grass for doggos to do their business! Arf-my-DOG!
Most of the outdoor seating is covered so your dog can get some shade – arf-ter all, it can get very sunny even on the Westside. Wine, beer, cocktails (Art's Cosmo, anyone?), salads, sandwiches and burgers, small plates, and bigger plates – WOOF, plenty of goodies to choose from their extensive menu! Be sure to come early to take advantage of their pawtastic happy hour a.k.a. social hour, from 3 to 6 pm with discounts on drinks and small bites. During my first visit (2 humans + 3 dogs), I was supaw impressed by the friendly and attentive waitress who even offered free wine to my human and her friend.
Best Dog-Friendly Hotels in SaMo: Where to rest those furry paws
ARF, most visitors drive out to the Westside for the day and rest their paws in Hollywood or DTLA at night. However, there are ample dog-friendly hotels in Santa Monica should you choose to spend the night here with your furry travelers. Here are a few bark-worthy options:
Le Merigot
4-star hotel
1740 Ocean Ave.
2 dogs allowed, 100 lbs. max
$150 non-refundable pet fee per room per stay
Dog park on property
Ocean View Hotel
3-star hotel
1447 Ocean Ave.
2 dogs max, must be well-mannered and house-trained
$150 flat fee
Dogs are not allowed to be unattended
Hampton Inn & Suites
2.5-star hotel
501 Colorado Ave.
2 dogs allowed
$50 extra charge per accommodation per stay
WOOF, that's all I got for now. I hope you enjoy visiting dog-friendly Santa Monica! Feel free to share your experience with me. BARK AT ME!
Markin' it up,
Roger Wellington a.k.a. The Doob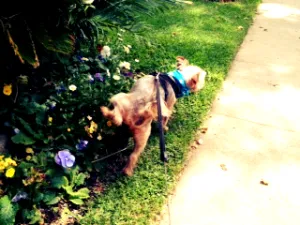 Like my post "Dog-Friendly Santa Monica: A Yorkie's Guide to Visiting Santa Monica with a DOG"? CLICK TO PIN!