ARRRF, is Seoul dog-friendly? Keep on sniffing to find out what it's like having a dog in South Korea!
Posted 2/8/23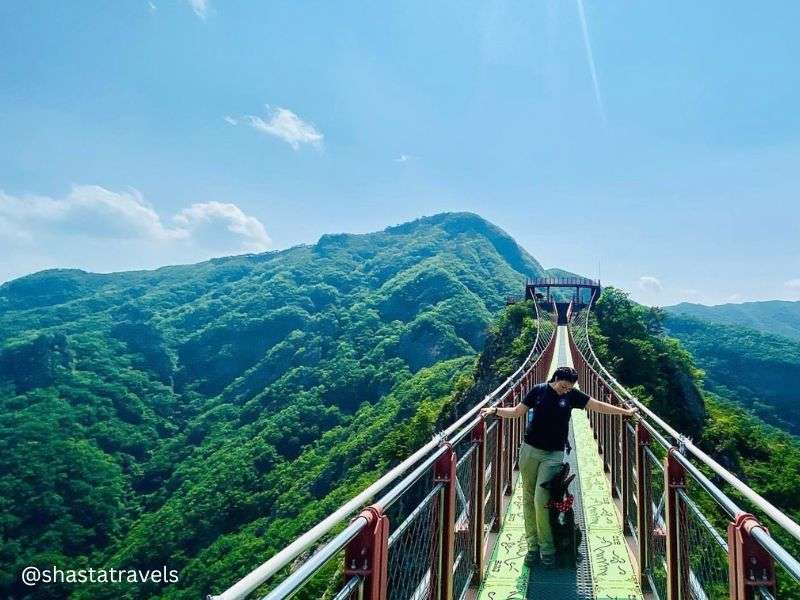 From K-pop to K-drama to skincare products, the world has been graciously blessed by the rich Korean culture over the years. A while back, my human flew to Seoul in South Korea and stuffed her mouth with endless Korean BBQ, bingsu, and roasted chestnuts, all of which she still raves about to this day. But sadly, I have yet to experience this pawsome Asian country for myself. Although South Korea may get a bad rep for an unfavorable dog culture (due to dog meat consumption), my tail is waggin' as I bark that the country is actually more dog-friendly than we think. ARF, don't believe me? Perk up your ears to listen to the barks of my furry pal Shasta and her human mommy Rika, who recently relocated to Pyeongtaek (just south of Seoul), South Korea.
Before I hand (paw) it over to Rika, here's a little BARK about her:
Rika has always loved dogs since she was young. In second grade, her parents allowed her to have her first dog. However, they made it clear she was responsible for him, including training, grooming, feeding, cleaning up waste, and exercising. Besides learning from a couple of different dog trainers, she also has an uncle who's a vet and another with herding dogs. Hence, she learned a great deal about dogs at a young age. She knew that once she could prove to be responsible, she could have a dog. And yet, that was all she wanted as a young girl. She currently lives in South Korea with her husband, 9-year-old son, and ARF course, her rescue world-traveling dog Shasta.
A deep sniff of the world-traveling rescue dog Shasta, as barked by her loving mommy Rika:
Shasta is a 4-year-old German Shepard/Border Collie Mix who's 43 lbs/19.5 kg. My family and I adopted her from an overpacked shelter in Juarez, Mexico (we were stationed in Fort Bliss in El Paso, Texas, and I wanted to visit Mexico).
We were looking for our next prospect dog and hoped she would work out. We chose the darkest dog, female, and at the time, unspayed (when overpacked, shelters don't spay dark dogs because spaying costs money. Dark dogs are likely to be euthanized first since they are less likely to get picked). Shasta was around the 3-4 month mark – still quite young. And definitely fearful of people, but she is smart and has a calm demeanor.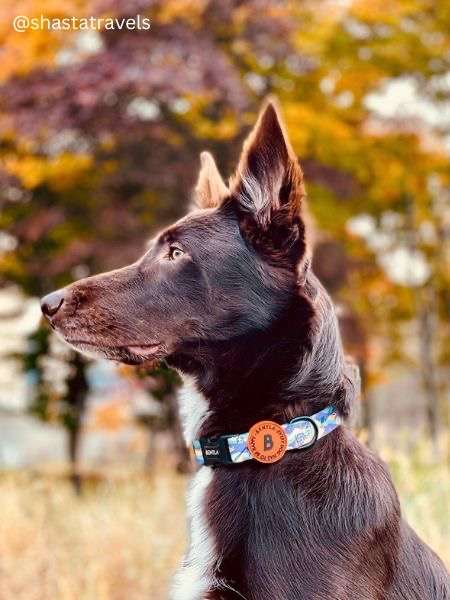 What I love most about her is that she has always been a very adaptable dog. I am so grateful she naturally doesn't care about people or other animals. She can be off-leash because she would never want to be further than an arm's reach from us as a family. She is focused, attentive, and very gentle. Shasta loves anything that takes both mental and physical focus. Her favorite word is not "snack," "treats," or even "walk"; it is without a doubt "work." If I say: Do you want to work? She is ALL in, ready to go. She will get ornery if you take too long after saying it. She is kind of ON all the time, if that makes sense.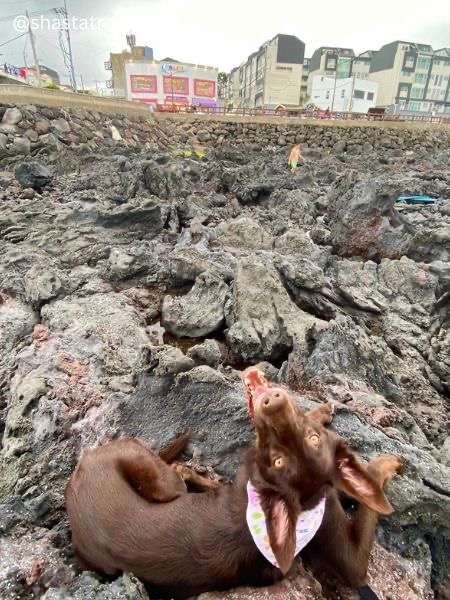 Shasta hates it when we stay home for a full day. If the family gets sick for a few days, she definitely makes her dislike known. Although she is not destructive, she will bring us her things so we can play inside such as her leash, toys, water bottles, any random toy (from my son's room), socks, shoes, etc. Shasta can also be chatty and irritated with us. It is both sad and funny.
Her favorite food is probably dried sardines. I'm not sure of any food that she doesn't like, but she does not eat human food or food not meant for her.
All in all, Shasta is so spoiled that she has too many outfits and collars. 🙂
Dog-Friendly South Korea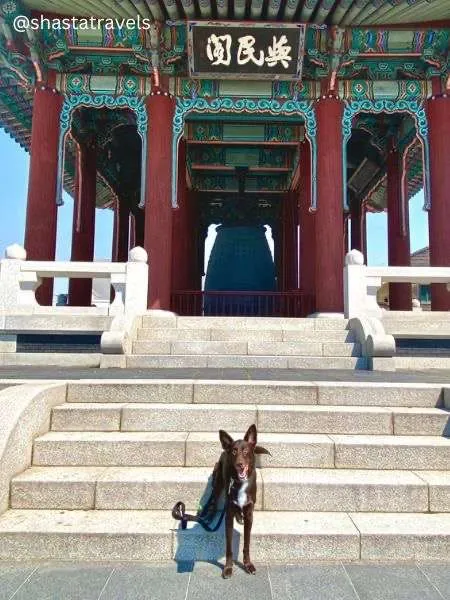 The BEST Part About Having a Dog
Surprisingly, South Korea has numerous dog-friendly cafes, restaurants, bars, parks, pet parks (very, very nice), and even swimming centers. The swimming centers are indoor and outdoor pools where you can swim with your dog alone or in groups for cheap. In addition, they have a large community in dog sports, opportunities to volunteer with your dog at animal shelters, dog-friendly hiking trails, dog-friendly beaches, pet-friendly hotels, pensions, and easy-to-find dog-friendly Airbnbs. They even have things like KPetfair, an entire convention with hundreds of booths all for pet stuff.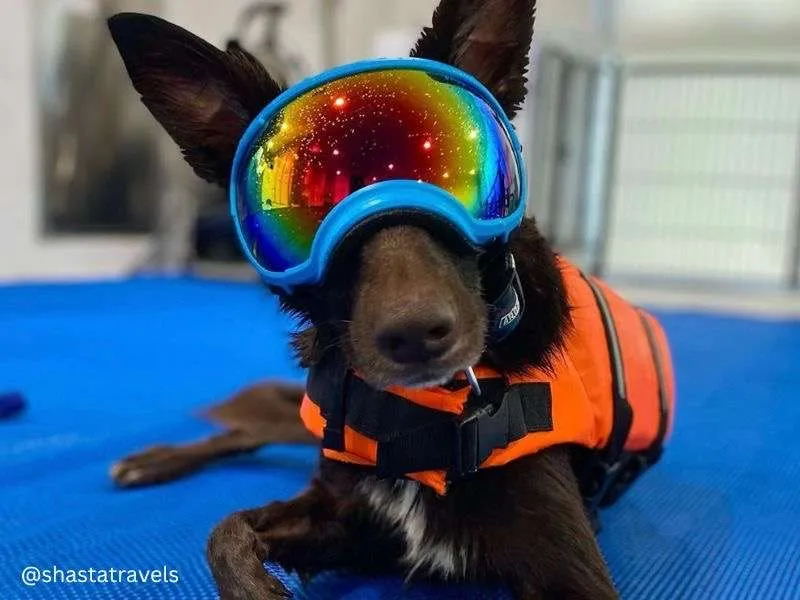 The biggest challenge has been the subway. No dogs are allowed on the subway – not even in a stroller or bag. So, we got a K9 Sport Sack to carry all 43 lbs of her. But you can still be denied a dog over the size of a Corgi. Unfortunately, larger dogs aren't too popular here yet. Buses will not allow a large dog on at all. Therefore, expect to drive and add an hour to your commute in big cities.
Dog Culture
This is a tough one. You have an older generation that still discusses eating dog meat. Dog meat farms are still here. Unfortunately, animal cruelty laws haven't caught up just yet. However, it is making huge strides – the shelters are incredible, and it is so dog-friendly here. Educational and positive training facilities are growing tremendously all over the country. I'd say if you look at the country as a whole, it is so open for dogs – parks, training, sports, cafes, and hikes. People also LOVE to dress their dogs up or have fun with collars and leashes. There are many pet shops, and it is fun going in. People are the sweetest to Shasta here.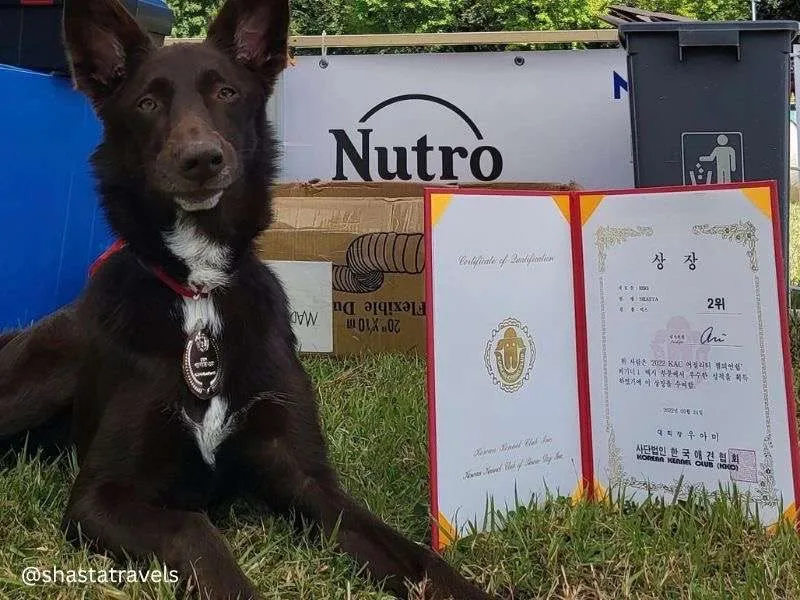 Shasta's Favorite Moments
Before moving to South Korea, Shasta never did agility. We got the opportunity here, and she is a ball of excitement every time we go to agility training. I would say that it is her favorite part about living here.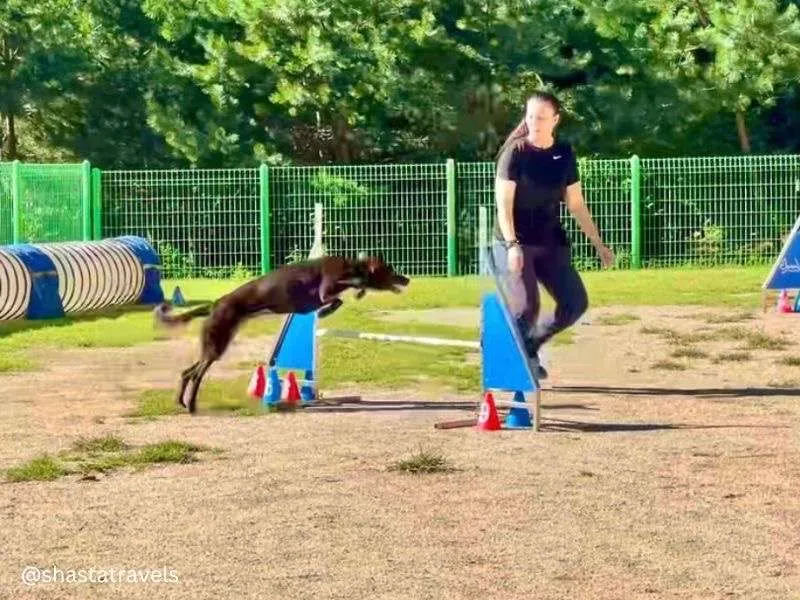 Best Dog-Friendly Parks
The parks that we like: JoyRun Agility Club, Osan Pet Center (and the indoor pool), Osan Pet Theme Center, Nae-ri Park, Namsan Park, Mallipo Bathing Resort, Surfy Beach/Seopi Beach, Cafe Humphreys, Seoul Grand Park, Ga Boja Dog Village, Dog Bay Seoul Branch, Goldeupet n Dog Bay, Dogeurak, Seoul Forest.
Best Dog-Friendly Restaurants
Honfleur (Ongpeulloereu) is our favorite! You can eat inside with your dog. It's right by several hikes and is a lovely little hole in the wall.
Nearby is Southside Parlor, a Texan-themed BBQ joint and cocktail bar after a day of dog sports to celebrate the wins.
Magpie Brewery Itaewon is also in the same area that allows dogs in the bar area.
And, we always enjoy Cafe Humphreys.
At Jeju Island, we really enjoyed Groove, Gobrew Kitchen Tap House (dog-friendly patio), Mango Holic Seogwipo Beophwan Branch, Atelier An, Triple A Coffee Jeju Sin Seogwipo Branch, Frugon/Aewol Cafe Pureugon (with a lovely pet park attached to the cafe), Jenny Jeongwon, Mugeo Burger, Dog Anvil Cafe, and Texia Burgers.
Best Dog-Friendly Attractions
To find dog-friendly places to stay (campgrounds, Airbnb-style houses, or short-term rentals), you only need to type "Dog Pension" into Naver Maps. Please note that Google and Apple maps do not work here. Waze Maps is okay, but doesn't have nearly as many things to look up. The AllTrails App works great here, but many trails listed here are not dog-friendly, particularly if they're inside a national park. If you have to pay to park, it probably will NOT allow dogs.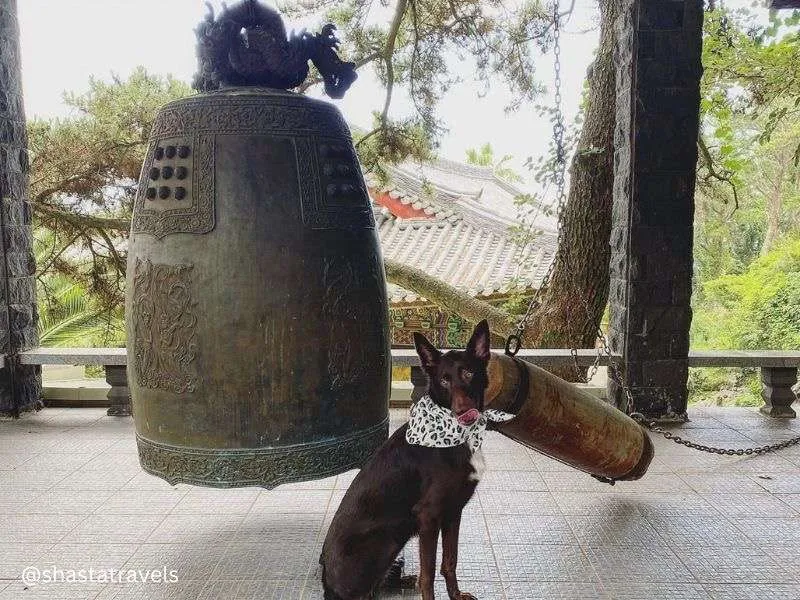 The following is a list of places and attractions that Shasta has enjoyed in South Korea:
Osan Pet Theme Park
Gosangol Dinosaur Park in Daegu
Elephant Rock
Suwom Hwaseong Fortress
Hwaseong Haenggung Palace
Hyowon's Bell
Seunggunsa Temple (Hike)
Maansan Trail (Hike)
Lantern Festival/Buddha's Birthday Parade (May in Seoul)
Red Cloud Bridge Jinan-gun
Namsan Tower & Namsan Mountain Park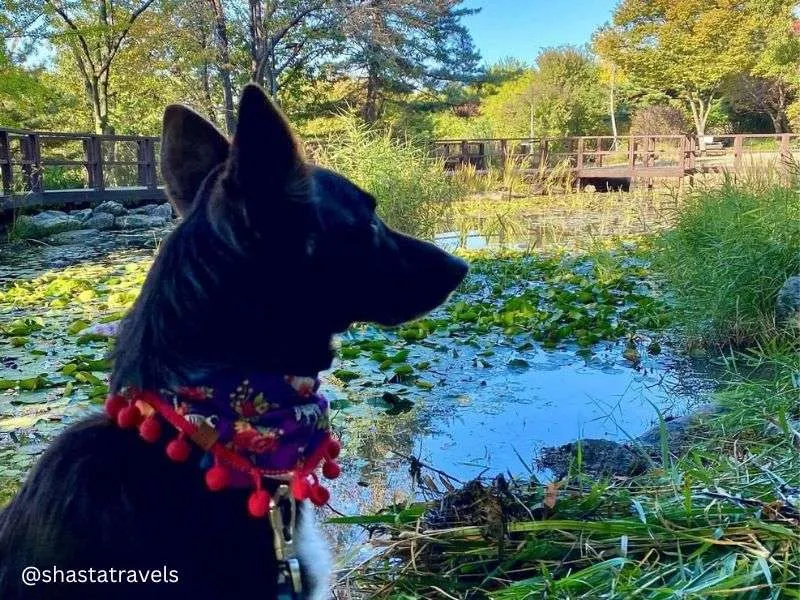 Pyeongtaek Lake Tourist Complex
Tong Bok Market
3/8 Market
4/9 Market
Fur All Dogs (Pet Supply Store in Itaewon)
JoyRun Agility Club
Mallipo Beach
Van's Itaewon Skate Park (opened on February 4, 2023)
SETEC (Seoul Trade Exhibition & Convention) 1st Gallery (hosts pet fairs)
Ai Joa Pet Park (Dongtan)
KINTEX 1st Exhibition (hosts KPET FAIR several times a year)
Suwon Convention Center (hosts KPET FAIR as well)
Pungsan Dog Theme Park
Heungguksa Temple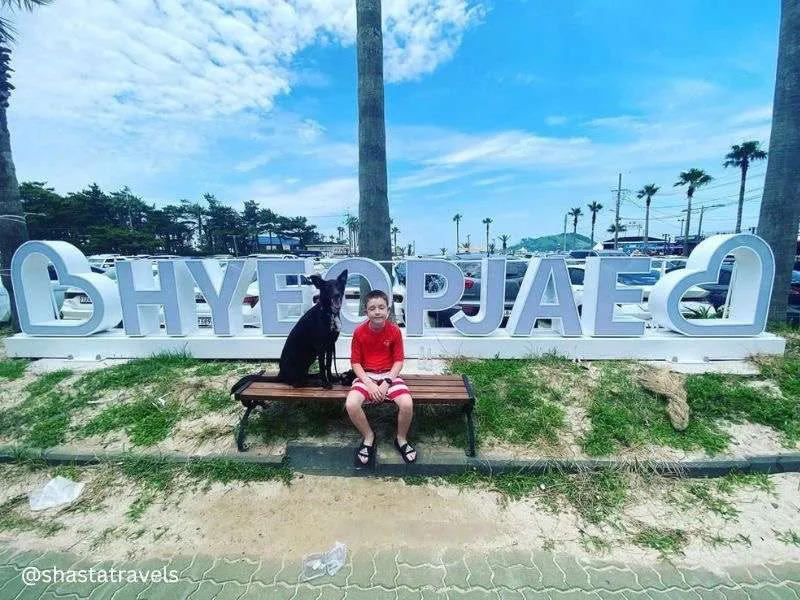 Jeju Island
Dog and Baby Dog Bay (Seoul and Songchu)
Yeongam Fishing Village
Simnipo Bathing Resort
Seopi Beach (a.k.a. Surfyy Beach)
Mongsanpo Bathing Resort
Namhansanseong (mountain fortress)
Seoul Forest
Yeonginsan Recreational Forest
4 Things to do with a Dog in South Korea
#1 Hike up to Namsan Tower to see the love lock bridge, then hike down, and eat at Honfleur.
#2 Take the ferry to Jeju Island. The ferry has full out dog-friendly rooms, which are very accommodating. Most beaches are dog-friendly along with so many restaurants.
#3 Hike up Gubongsan Mountain to the Red Bridge. It is a tough hike, so make sure your dog is in good shape. It's definitely worth it!
#4 Paddle Board! I'm not sure I can decide on one place, but Anseongcheon Stream, Hann River, and Hangang River are some of my favorites (so far).
Moving to South Korea with a Dog
My husband is on Active Duty Military. As of August 2021, we thought we were moving to Georgia (USA) in January 2022. Suddenly, he was deployed for a short time at the last minute and returned in October with orders to move to South Korea. We had about 35 days to pack the house and move overseas! Because of Covid, we wound up getting stalled and then redirected to Japan for some time. We took advantage of the opportunity to travel more. And yet, there was never a second thought that she would not go anywhere that we went. She gives me freedom and the peace of mind that I will be okay no matter where my husband is.
Shasta's Flight to Seoul, South Korea
Since she is a service dog, taking Shasta on the plane is easier than for most people. She flies for free and in-cabin with me. However, she must fit in the foot space in front of me and under the seat in front where carry-on luggage typically goes. To get into South Korea, she must have her 15-digit Microchip, Rabies Antibody Test, Proof of Up-to-Date Annual Vaccines, and Veterinary Health Certificate. If all paperwork is in line, there is no quarantine requirement for dog import.
As a service dog, she also needed a DOT (Department of Transportation) Service Animal Air Travel form, DOT Relief Attestation Form, and my disability doctor's letter. I contacted the airline to advise that a service animal will accompany me on the flight. This is often a simple phone call, and occasionally, I will be asked the two allowed service dog questions over the phone. I am asked the same two questions at each checkpoint throughout the airport. Upon arrival in Japan, we went through customs (at the time, this was just over a year ago) and had to do ten days of quarantine together in a hotel room. We could stay together as a family at the U.S. Army base. Afterwards, we were able to explore the area. Subsequently, we did it again with a 15-day quarantine at a hotel upon arrival in South Korea at the U.S. Army base.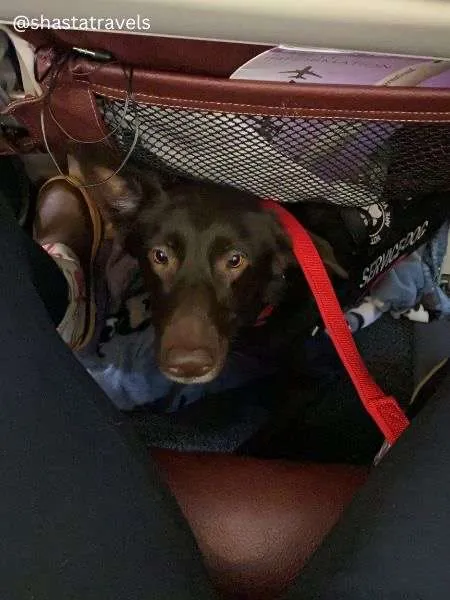 Going through the airport
All my worries and over-planning wound up being all for nothing. She enjoyed walking through the airport and acted like it was empty. The first thing I was nervous about was the metal detector – there are beeps, different smells, and distraction. People are in a rush. You also have to remove all gear from the dog and leave them to go through solo. The staff then pats down the dog. Service dogs often get bumped by luggage and people over and over in this line. She has done it before, but this was in November during holiday time, just as Covid allowed travel again. So, I knew it would be busier than ever. However, she acted like none of these circumstances was a factor for her. She did her usual thing, and off we went.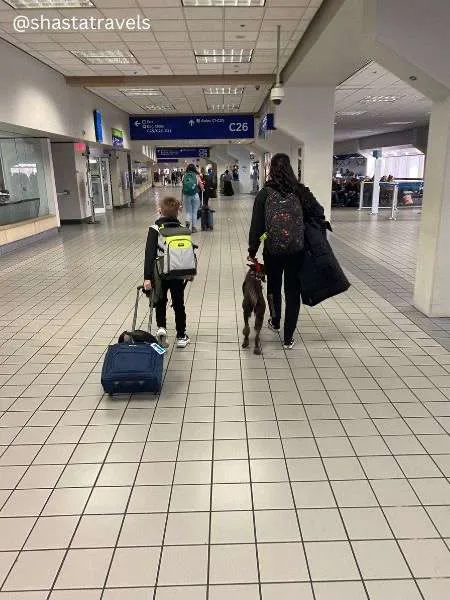 Potty Challenge
Other than that, I was worried about her potty during travel. When I learned how quarantine worked, we practiced getting in and out of the bathtub at home. But time was limited, and it wasn't until we were in the hotel in Japan that we had to have her potty there.
To train her to potty in the tub, we would keep her inside for about an extra 45 minutes, and then immediately take her to the tub. We knew she had to go to the bathroom, so we would ask her repeatedly to "go potty." The first few times, it took close to an hour to convince her to go. When she finally went, we praised her and gave her treats. After a week, she was taking less time to go. In about two weeks, she completely understood what we wanted and would go straight from her kennel to the bathroom each morning.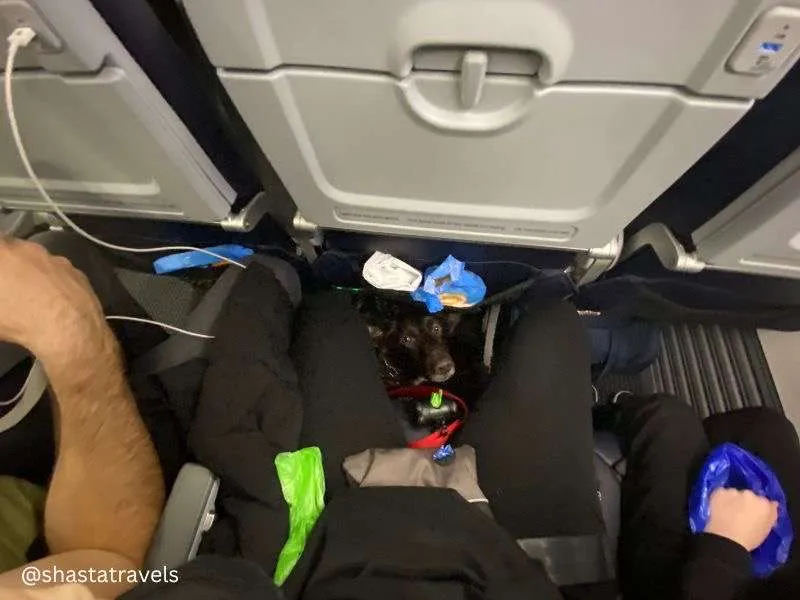 Nonetheless, quarantine was challenging because she was not a fan of going potty in the tub. But she was a good sport. We were lucky that trash came by once a day, but it was definitely tricky. No one was allowed outside at all. Besides that, we were down to the last week praying that the rabies antibody test results came back in time. Nonetheless, it all just adds to the adventure. It is a funny story now.
The airport process went smoother than expected. Of course, I worried about the 13-hour flight – her not being able to potty, then go through customs and the airport without a pet relief area. The Tokyo Airport doesn't have a pet relief area, and I was unable to find one at the Seoul Airport either. However, both airports were fast and efficient so it was a breeze.
Veterinarians
We've taken Shasta to several veterinarians so far. My favorite is the Bomnal Animal Medical Center in Pyeongtaek. Shasta had two legs cut open by a wire while hopping through grass along a river. The vets who helped her were beyond amazing. They were caring and efficient. The waiting room was moving along quickly each time we went. The staff is also lovely and so kind (even though they usually do not speak English). The vets who do speak English will explain everything very well with photos. As with human healthcare, veterinarian care is way more affordable on this side of the world. I had an after-hour emergency visit as a new patient with a dog who needed staples and stitches. The treatment plus the ace bandage, cleaner, cream, and a cone came out to be about USD 50.
Recommendation to Move to South Korea with a Dog?
Yes, 100%! I recommend pawrents moving to South Korea with a dog. It is so much fun. You can hike, play, swim, eat, and shop together.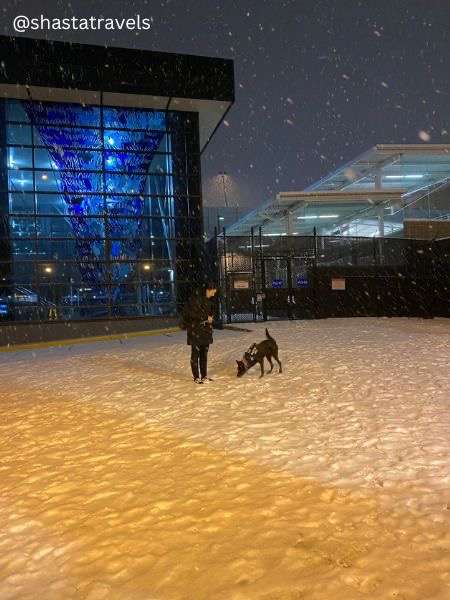 Tips for Moving or Traveling to South Korea/Asia with a Dog:
#1 Keep in mind that Asia does not recognize service dogs. Therefore, if you have one, the access laws from other countries don't apply here. However, you can still go to many places, including several large indoor malls (e.g. Starfield) and outdoor markets. However, don't expect anyone to treat them as anything other than a pet.
#2 Take advantage of dog pensions. You can look them up on the Never app. There are tons! Some are fancy while others are more like clamping and bbq.
#3 Check out a Kpetfair in Suwon or Seoul during the holidays. It's such a fun experience. The outfits on all the dogs alone is worth it. You can find anything you want and then some.
#4 Get involved in dog sports (if you're into them). Take your shot here. There are some amazing trainers, and the competitions are so welcoming and fun. They have some beautiful stadiums. The culture in the sports here is that everyone honestly wants to see everyone do well. If you are not into it, maybe take a day and go watch. It is good fun to share the excitement.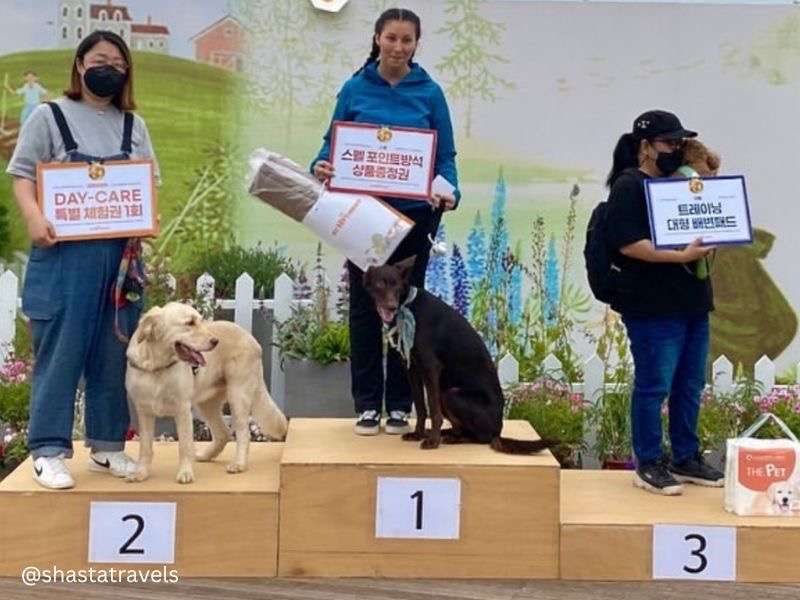 Total Costs of Moving to South Korea with a Dog
U.S. Veterinarian Expenses – Around $500 (USD)
Flight is free for Shasta since she is a service dog
Quarantine hotels were covered for us by the U.S. military
Veterinarian Check-up upon arrival post-quarantine – Around $75 (USD)
Future Travel Plans with Shasta
We had hopes for Bali in March, but they have banned animal import and export because they have a major rabies problem. Therefore, those plans will have to wait. Once they're open, we will go. We also plan for Tokyo (Japan), Philippines, Vietnam, Guam, Thailand, and maybe Australia (although it is a long flight).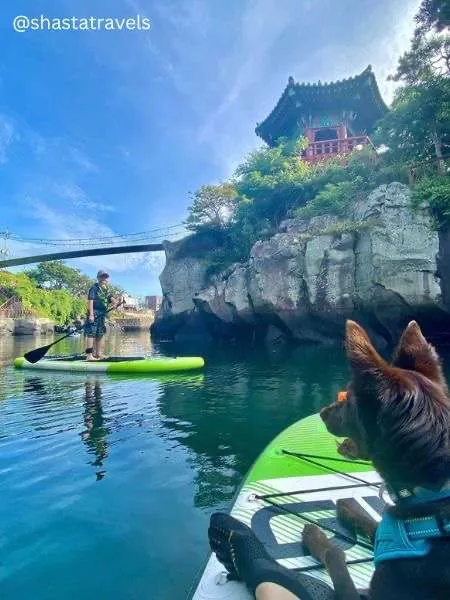 Woof, a BIG bark of THANKS to Rika and Shasta for sharing their move to South Korea and pawbulous life in dog-friendly Seoul! Can't get enough of Shasta? Be sure to follow them on Instagram!
So, is Seoul dog-friendly? AWOOO, You betcha!
Markin' it up,
Roger Wellington a.k.a. The Doob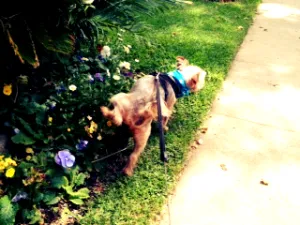 –
Like my post on "Dog-Friendly Seoul: Moving to South Korea with a DOG"? CLICK TO PIN!