Known for its high quality of life, clean streets, lush greenery, and paw-lickin' street food, Singapore is, PAWS DOWN, one of the most expensive cities to live in the world (ARF, haven't you watched Crazy Rich Asians?). Is Singapore dog-friendly? Can you take your dog to Singapore? WOOF, you may not have heard too many barks about the dog culture on this tiny fabulous Southeast Asian island, but Singapore has its fair share of dog lovers and cool dog-friendly spots.
Due to some strict dog import requirements (keep sniffing below to find out), it may be a looong while until my furry paws can dig up Palawan Beach. GRRR. Luckily, I've been sniffing the buttocks of another furry world traveler named Charlemagne, the 8.3-lb. American Terrier who made the ambitious move to Singapore from the States. His pawrents are adventurous world travelers who had always wanted to live in Asia. Thanks to their work, they turned their dreams into reality a few years ago (in addition to Singapore, they've also lived in Japan – ARF-my-DOG!!!). Now, hear the barks from Charlemagne and his lovely mom Julia about their big move to Singapore (and their favorite dog-friendly spots).
Tell us a little bit about Charlemagne! (e.g. background, personality, whatever you'd like to share)
When Charlemagne was a year old, the East Bay SPCA rescued him from a hoarding situation, which was later described to us as "dogs on top of dogs." He was then taken in by Hopalong & Second Chance Animal Rescue, where he was fostered for some time. When we went for our Meet & Greet around 4.5 years ago, he immediately bonded with me (his mom) and has been my shadow (and bodyguard) ever since. He does have trust issues with new people and some dogs. Although he is fiercely loyal to us, he does eventually get comfortable with other people (with time). He is totally a sun dog, definitely not a water dog. He's very chill but can be very playful. He enjoys sprinting around in dog parks – when he was younger, he could outrun almost any other pup! He is very well-traveled: he's lived in 3 countries and has left his mark (literally) in 9 states in the U.S.
What do you love most about Charlemagne?
I love that Charlemagne is a very easy-going dog who loves a good playtime. He's curious and loves to explore the world, just like his mom & dad (we all love to travel and go on adventures!). Furthermore, he is very intuitive and comes to cuddle whenever he senses I'm sad or anxious about anything. He has his own personality and is quite confident while also making sure to stick by my side.
What is his favorite thing to do in the world?
He loves to sleep in the sun. He somehow always finds the sliver of sunlight and lies down right in it. Beyond that, he loves running and chasing/being chased by other dogs, playing with his squeaky toys, noshing on treats (dehydrated lamb lung is his fave!), and getting belly and thigh rubs.
What does he hate the most?
For some reason, fire alarms or other ringing sounds trigger a reaction that causes Charlemagne to tremble uncontrollably until we take him on a walk away from the noise. He also hates being wet (from rain, baths, or natural bodies of water).
What are his favorite foods? Least favorite?
Favorites:
– Dehydrated lamb – e.g., from Idahound and Mud Bay
– Chicken
– Nuts
– Cheese
– Carrots
– Blueberries and blackberries (only if squished)
– Orange fibers (yes, very weird!)
Least favorite:
– Peas
– Milkbone treats (sorry!)
– Apples
What is the most expensive item you've purchased for him?
$2k antivenom medicine when he got bitten by a copperhead snake in Dallas, Texas (while we were staying at my in-laws' place) :(. It was a very tiring day for all of us, especially since it happened during Covid-19 when we couldn't even be by his side at the hospital. Thankfully the antivenom worked, and he pulled through! Otherwise, he cares more about quantity than price (he has 5 dog beds, 10+ types of treats, and 20+ toys).
Where in Singapore did you and Charlemagne live?
We lived in a neighborhood called Robertson Quay. Our building was right next to the river, so we didn't need to cross any roads for our walks. It was also nice because there were a number of outdoor restaurants we could go to.
What are some of your favorite dog-friendly parks in your area? (please provide specific parks)
– Chinese Garden at Jurong Lake
What are some of your favorite dog-friendly restaurants in your area?
– TAP at Robertson Quay (free spam fries on certain days of the week)
– Three Buns Quayside (free patty for your pup!)
Are dogs only allowed to dine outside? Or do some places make an exception? If so, where?
There are a couple of places that allow dogs inside (e.g., Sun Ray Cafe, Menage Cafe, I.N.U. Cafe). But in most cases, they are not allowed. Even in many/most stores that don't even have any food. Also, having outdoor seating doesn't necessarily mean your dog can join you! Some places with outdoor seating still do not allow dogs. When I asked one restaurant why not, they said they need a permit to allow dogs on the patio. You definitely should call ahead to confirm. I created this Google Maps list with some dog-friendly locations.
Overall, how would you describe the local people's attitudes towards dogs?
It's very mixed, but skewing a bit negative. Some people will smile at your dog, while others avoid walking anywhere near your dog. Your dog is expected to be on a leash in public at all times, cannot take public transit, and is only allowed inside/on the patio of businesses with pre-approved permits.
What are some of your favorite road trip destinations (if any) with Charlemagne?
We didn't take too many road trips because dogs are not allowed on public transportation in Singapore (bus or train) and only sometimes allowed in taxis/car services (and you have to check that your driver is OK with having a dog in their back seat beforehand). Singapore is also very small, so we never needed to stay overnight anywhere, but we did go a few further away places with Charlemagne:
Where would you say is the most dog-friendly area in Singapore? And, why?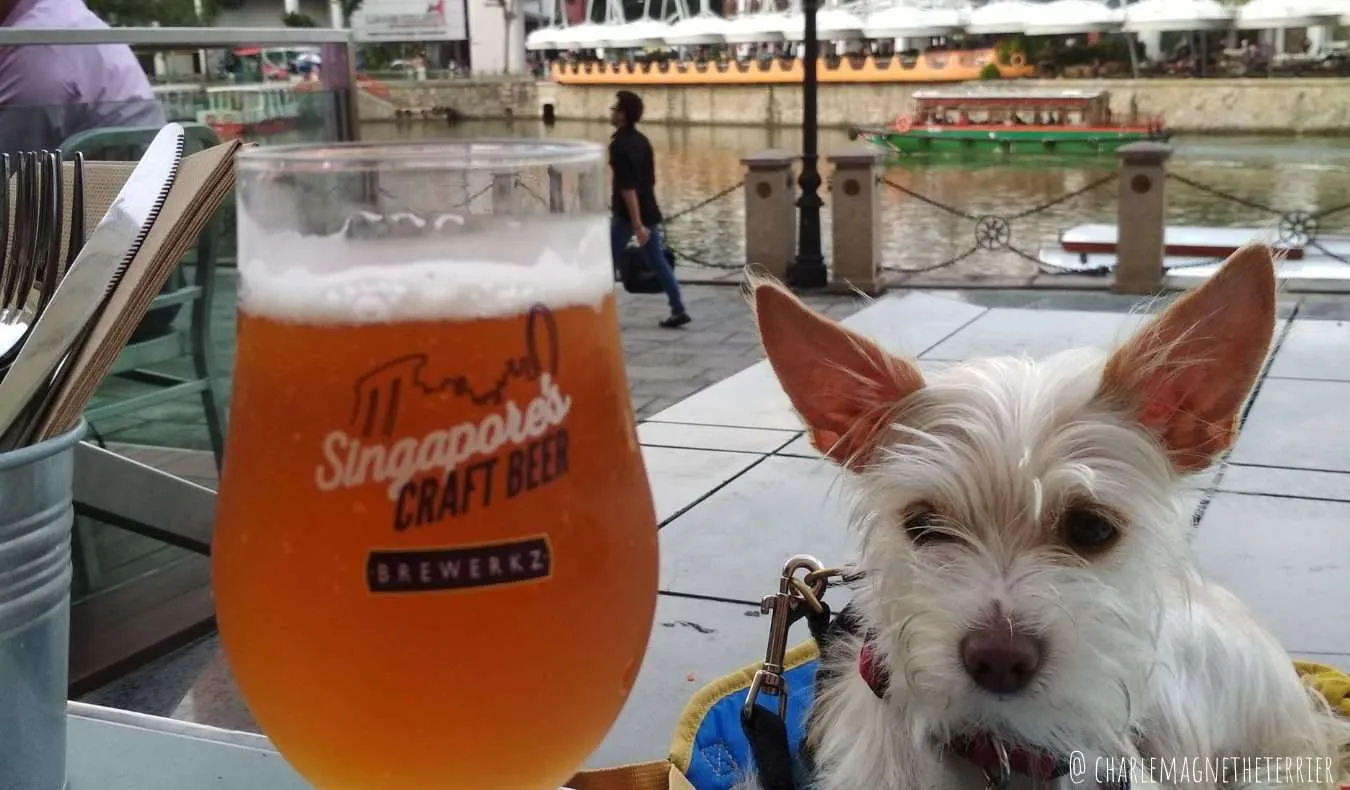 Robertson Quay because it has a lot of outdoor restaurants that allow dogs and has many expats who are more likely to have dogs of their own.
Any other local dog-friendly places that you'd like to share?
There are pedestrian pathways all along the Singapore River (especially on the north side of the river) that start as far west as the Alexandra Canal Linear Park and go past Marina Bay to Kallang Riverside Park in the north and Gardens by the Bay in the east. This is a great stretch to go for a long waterside walk with your dog.
Based on your personal knowledge, would you say that people tend to buy or adopt/rescue dogs in Singapore? Do pet stores exist?
Most of the dogs we saw in Singapore were pure breeds, so our guess is that they were purchased. However, there are animal shelters in Singapore, which means there are definitely some that are rescued or adopted! There are many pet stores in Singapore, including several mostly online stores. Some of our favorites were Moby's Pet Shop, Good Dog People, and Polypet. Pet Lovers Centre is a convenient chain located throughout the island.
How close is the nearest veterinarian from your house? (e.g. in miles and driving time)
1 mile (1.7km), which would take 5 min driving (21 min walking)
Approximately how much is a standard examination/office visit at the local veterinarian?
S$25 – S$45 (approximately $20 – $35 USD)
How would you rate/describe the quality of veterinary care in your area?
Pretty standard, although wait times were sometimes long. Vets are certified, and many have trained in schools outside of Singapore.
What was your experience with the dog import process and quarantine? What were some of the challenges? What went smoother than expected?
Because Singapore is a rabies-free country, there are more steps and quarantine required when coming from non-rabies-free countries, including the U.S. (other than Hawaii). I created a timeline to make sure I did all the steps in the right order and at the right time to avoid an extended quarantine period. Dogs with all the proper tests, paperwork, and vaccinations can have a shortened quarantine period (still 10 days).
Without the right preparation, the quarantine period may be up to 30 days. The process included getting a blood titer test, paperwork from the USDA, USDA-accredited vet certificate, and proof of vaccination against rabies and DHPP; setting up an account with Singapore's APQS and obtaining an import license from Singapore's AVA; scheduling and paying for the Singapore quarantine room & board; and reserving a spot on the flight to bring Charlemagne as a carry-on (he flew in-cabin with us!).
There were a lot of steps, but actually, the most challenging parts were after we got to Singapore — (1) when we arrived at the airport, we needed to go to the Animal and Plant Quarantine Station to go over the paperwork, which required jumping in a taxi with all of our luggage, (2) to visit and eventually pick up Charlemagne we had to go to the Sembawang Animal Quarantine Station, which is very far north in Singapore and requires a taxi or long public transit ride, (3) visiting hours at the quarantine station are limited, so we weren't able to visit him every day during his quarantine.
Moving to Singapore was a lot of effort, forms, time, and money. If you are just visiting for a short time, I would not recommend going there with the pup because he will have to be in a quarantine facility for at least 10 days (if you do all the paperwork properly in advance). We lived in Singapore for a year and a half so we didn't have much choice.
Would you say that the quarantine process in Singapore was a satisfactory experience overall?
Not sure I'd use the word "satisfactory" – it was quite tiring and difficult to do independently. It seems like they do take care of the dogs alright, but the process is not seamless – at least coming from the U.S. I'd only say it would be easy if someone uses a company to take care of all the upon-arrival work (if that exists) and if you don't want to visit your pup while they're in quarantine.
What is one thing you'd like to share with us about a dog's life in Singapore?
If you and your dog love being in the sun, Singapore can be great. That said, Singapore isn't the most dog-friendly country for pets, especially larger ones unless you live further from the city center or can afford a larger space. Also, if you don't have a car, you'll have to rely on taxis or other ride-hailing services to get around (or if you're willing to bear the heat, you can carry your dog while biking, although Singapore is not the most bike-friendly city either).
While Singapore isn't the most dog-friendly place, the dog people you meet in Singapore do love their dogs. There are a number of specialized dog food companies, pet supply stores, groomers, and vets. Another thing to note: high-quality dry dog food is relatively expensive in Singapore, so it may be worth bringing a bag from your home country, or switching to homemade wet food! I started making rice balls (onigiri) for Charlemagne with rice, chicken breast, chicken liver, chicken heart, carrots, sweet potatoes, and green beans because it was actually more affordable than buying our preferred brand of dry kibble.
Thank you to Julia & Charlemagne for this interview and sharing their pawsome Singaporean life with us! Can't get enough of Charlemagne? Be sure to follow his world travels on Instagram!
Markin' it up,
Roger Wellington a.k.a. The Doob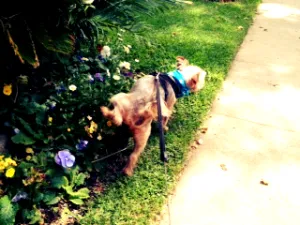 —
Like my post on "Dog-Friendly Singapore: An Interview with Charlemagne, the American Terrier who moved to Singapore"? CLICK TO PIN!