ARF, is South Lake Tahoe, California dog-friendly? Are you looking for dog-friendly things to do with your dog in South Lake Tahoe? Keep on sniffing!
Posted 8/26/21
As a furry NorCal native, I know Tahoe like the back of my paw. From countless weekend trips with my pawrents to rockin' as the Dog of Honor at my Auntie's lakeside wedding, I can bark with an upright tail that Tahoe is Top Dog cool. Since I sure like to pawty, I prefer the exuberant south shore over the rustic north shore. Let's just bark that South Lake Tahoe is way livelier with pawsome restaurants, live music, and casinos (if you're into that sort of thing) in addition to the natural scenery that the north shore has to offer. South Lake Tahoe is, PAWS DOWN, one of the most (if not, the most) pawpular weekend getaways in Northern California. Just under 2 hours from Sacramento and 3.5 hours from San Francisco, South Lake Tahoe boasts bountiful dog-friendly outdoor adventures, restaurants, and lodging – pawfect for a quick getaway with your furry companion. Although Tahoe is better suited for your dog over the summer, hanging out with your dog inside a cabin during the winter can be marvelous as well, especially if your dog enjoys playing in the snow (GRRR, I like to keep my paws warm). Sniff out my 8 favorite things to do in dog-friendly South Lake Tahoe below.
*Due to ongoing fires in the area, please check for fire alerts and air quality before booking your trip.
*Please note that this post contains affiliate links, and at no obligation or additional cost to you, my humans and I earn a small commission if you make a purchase. If you love the work that we do, you can show your support by making a purchase through an affiliate link. Proceeds will go towards feeding homeless dogs (and cats) along with improving the lives of the neglected and abused.
#1 Enjoy a beach day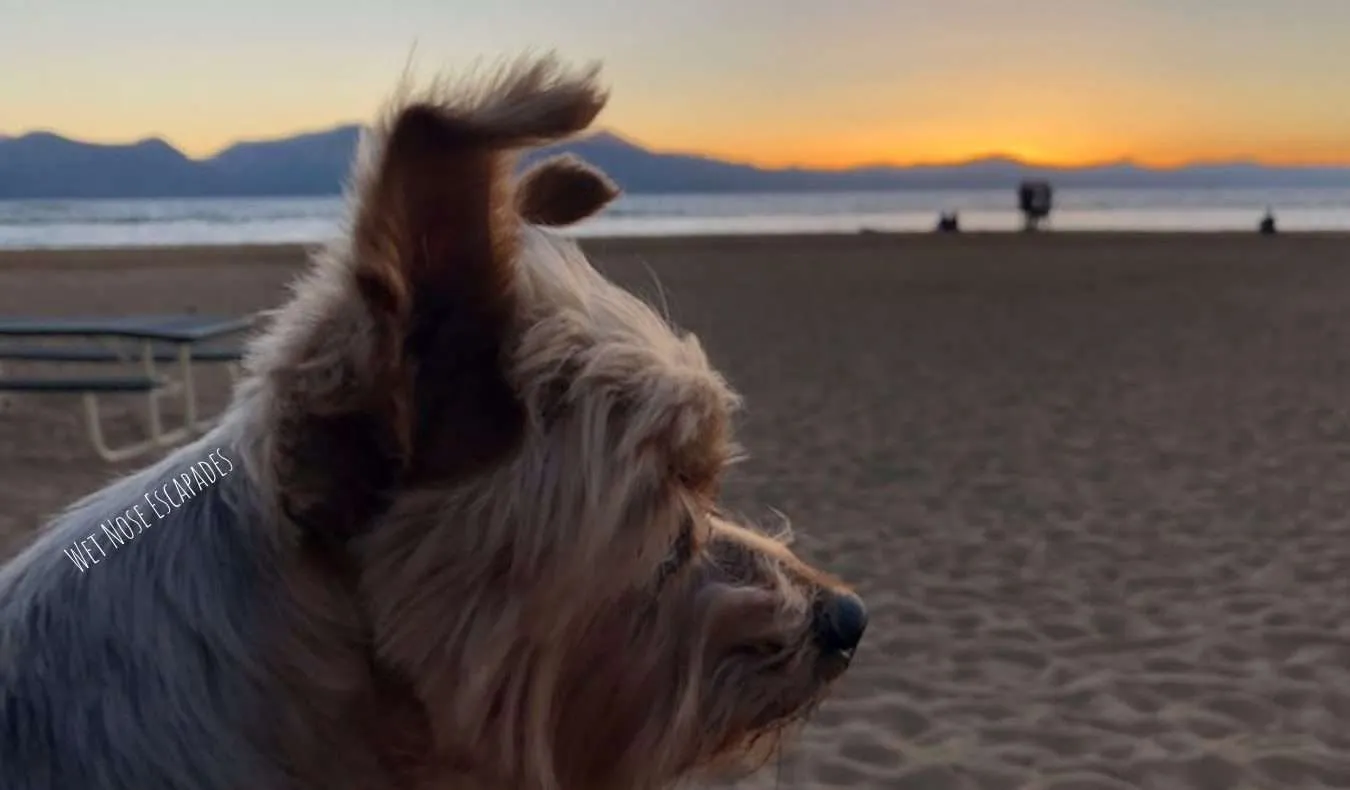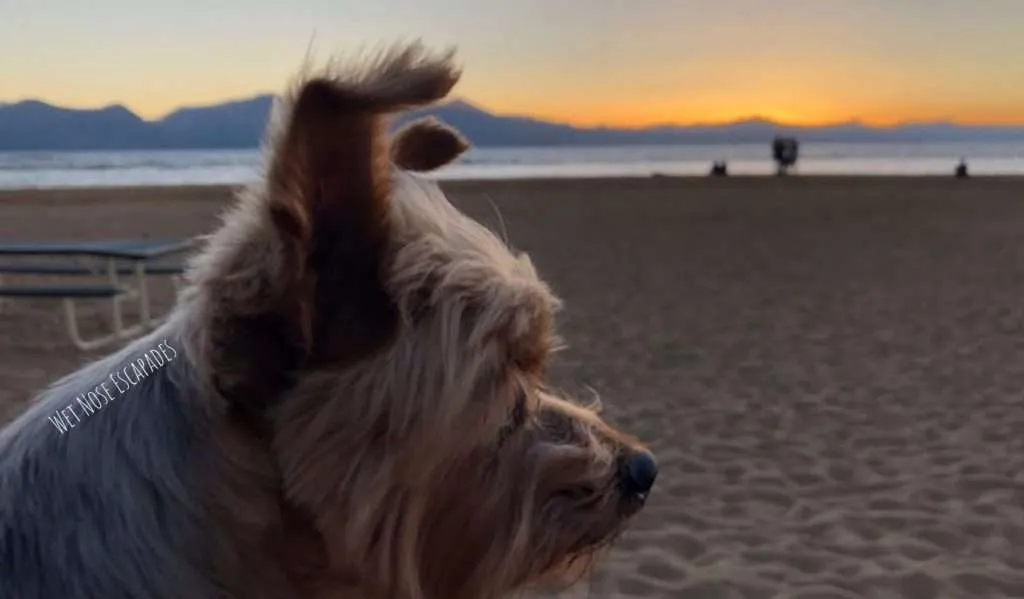 If you're heading to Tahoe during mildly pleasant weather (say Spring to the beginning of Fall), you MUST have a beach day with your dog. While there are several dog-friendly beaches in South Lake Tahoe, I always get my paws sandy at the private Lakeside Beach. Even though daily passes are needed for entry, it's generally not difficult to get your paws on those passes, given that you stay at a nearby hotel. As a guest at any lodging establishments within Lakeside Park Association, you are offered daily access to Lakeside Beach. If not, you can always purchase your entry passes for $25 per adult (18+) and $15 per child (ages 6-17). Children 5 and under are free of charge. Even though their official website indicates a no pet policy (just a bark of caution), I had no trouble getting past the attendant every single day during my stay. I also see plenty of well-behaved, on and off-leash dogs on the beach. As long as your dog is well-behaved, there shouldn't be any pawblems. However, if all fails, you can head over to Kiva Beach where dogs are officially allowed on leash on the sandy Kiva Shoreline. ARF, it's such a beautiful sight of Mount Tallac here. Another dog-friendly public beach is Thomas F. Regan Memorial City Beach, where I love chasing the furry butts of South Lake Tahoe's finest. Off of Hwy 89, Fallen Leaf Lake has a dog-friendly beach where dogs can roam around off-leash. Regardless of which beach you take your dog to, just remember to always clean up after your dog!
#2 Run loose at Bijou community park
With two fenced-in areas for small and big dogs covering a jaw-droppin' 38,000 square feet, Bijou Community is THE off-leash spot for dogs to run wild and sniff butts in South Lake Tahoe. Heck, this park even has obstacles and agility courses for those furry athletes in training. Not to bark, there's plenty of shade, benches (for those lazy humans), pet sanitary stations, and water. For the humans, this local park also offers a bike track, basketball court, volleyball courts, skateboard park, railroad exhibit, and even a disc golf course! ARF-my-DOG! Besides their barkworthy dog runs, Bijou Community Park features lovely meadows where you can stroll along with your dog to enjoy the vistas looking out towards the Sierra Nevadas. Whenever my tiny furry paws need a break, I rest them under their shady gazebo with bountiful picnic tables and benches.
Leave your mark HERE: 1201 Al Tahoe Boulevard South Lake Tahoe
#3 Get your paws on a scenic hike
ARF, South Lake Tahoe is a dream for dogs who love a good hike! As a senior Yorkie, I may not outrun those youngin Weimaraners (ahem, my "little" cousin Sonny) and Huskies, but don't estimate my 7 pounds of athleticism. I love a good trek. And, if I need to rest my alpha paws, I'll hop into my carrier backpack and get carried around by my human. With numerous dog-friendly scenic trails, South Lake Tahoe will make you break out in a sweat (ARF, I mean a pant). Sniff out some of the most pawsome dog-friendly hiking trails on the South Shore: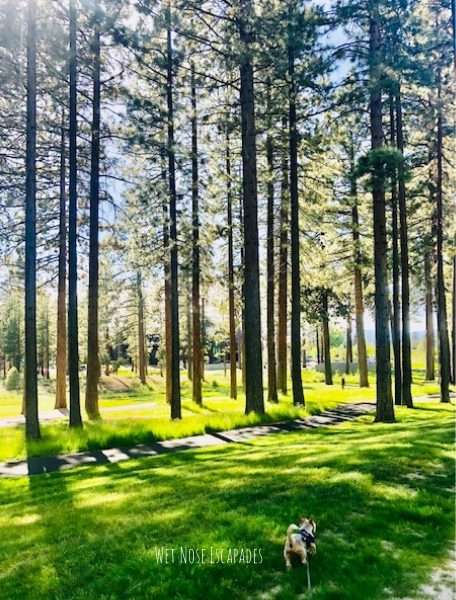 Cascade Falls – Boasting head-tiltin' views and a waterfall at the end, this 2-mile hike is on the relatively easy to moderate level – pawfect for almost any dog.
Van Sickle Bi-State Park – Thanks to James Van Sickle for donating several hundred acres of land to the State of Nevada as a memorial to his late grandfather (which was then purchased by the State of California), we can all enjoy this park. This ARF-so-spectacular park offers various dog-friendly hiking trails. It also conveniently connects to the Tahoe Rim Trail, which is a nice scenic hike up to a waterfall.
Mount Tallac Trail – With three main trails, Mount Tallac Trailhead offers easy to difficult level hikes: Floating Island Lake (1.7 miles one way), Cathedral Lake (2.5 miles one way), and the final Mount Tallac (5 miles one way – not a good idea for small dogs like me). If you have a larger dog who loves long hikes, the peak of Mount Tallac offers ARF-mazing views of Lake Tahoe's blue waters and the dreamy Sierra Nevadas.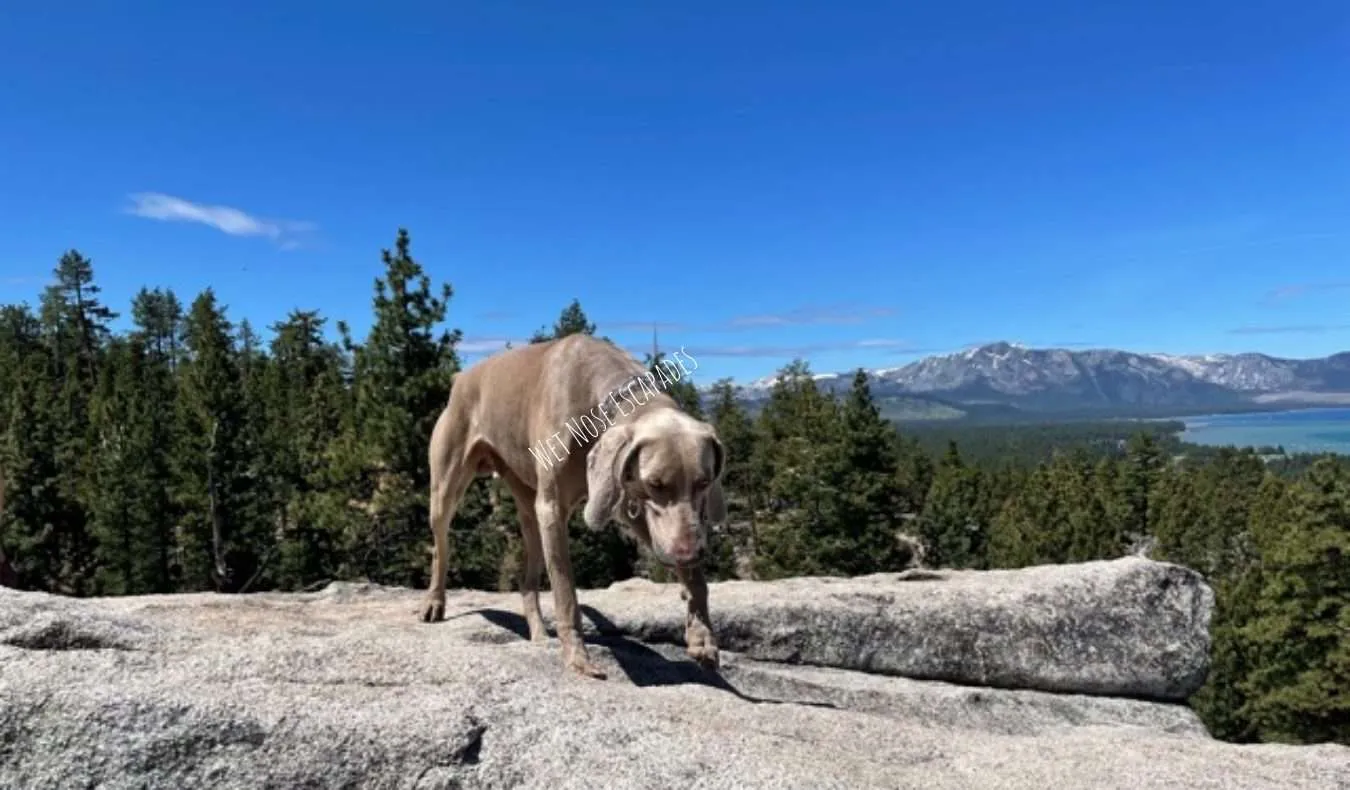 Horsetail Falls – This 3.1-mile hike will lead you to a marvelous waterfall at 500-600 ft elevation. Since there is some uphill climbing, you must ensure your dog is physically capable and healthy before venturing. If you have a smaller dog, this is when a carrier backpack comes in handy.
Sky Trail to Tallac Historic Site – Hit up Lake of Sky Trail for 1.9 miles of trekking to the Tallac Historic Site, where you and your dog can get a sniff of Tahoe history. This trail will also get your dog to dog-friendly Kiva Beach.
Fallen Leaf Lake Trail – This easy, relatively flat 3.6-mile trail will lead your dog to Glen Alpine Falls and the dog-friendly Fallen Leaf Lake. For a longer trek, start at Glen Alpine Trailhead near Lily Lake.
For larger dogs who wanna get their paws on some longer trails, try the 7.4-mile Tamarack Lake with gorgeous views of Echo Lake or the 8.4-mile Tahoe Rim Trail from Big Meadow to Dardanelles Lake.
#4 Chomp on some yummy food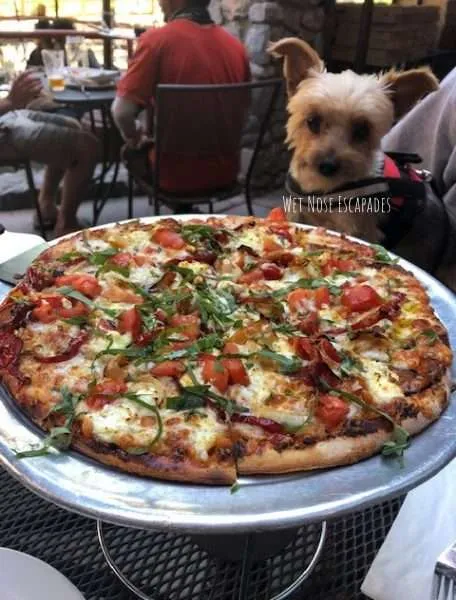 South Lake Tahoe may be a resort town, but don't underestimate its ability to get my chops lickin' and fill up my little BIG tummy! With plentiful restaurants offering dog-friendly outdoor patios, dining with your dog is a fun way to experience Tahoe. I've found most restaurant staff to be dog-welcoming, sometimes even offering me water without request. And, even if I had to request water, they've always brought it out with a smile. The only downside is that dining with your dog is pretty much off-limits over the ultra-cold winter months. Hence, unless you have a legitimate service dog, dining with your dog in Tahoe during the winter is a NO GO. Sniff out my 8 favorite dog-friendly restaurants in South Lake Tahoe.
*As dogs are pack animals who'd LOVE to experience meals with you, don't forget to pack a bag of treats, dog-safe food, bottled water, and to-go bowls for your dog! Don't make your dog feel left out.
#5 Hang out at a local brewery
Besides chomping on delicious food, I get down and pawty it up at local breweries here. Brewing tasty craft beers and cooking up fresh paw-lickin' goodies, South Lake Tahoe breweries are pawsomely fantastic. Luckily, South Lake Tahoe has more than several dog-friendly breweries where furry companions are welcome on their outside patios.
The Brewery at Lake Tahoe – 3542 Lake Tahoe Boulevard, South Lake Tahoe
South Lake Brewing Company -1920 Lake Tahoe Blvd, South Lake Tahoe, CA 96150
Cold Water Brewery and Grill – 2544 Lake Tahoe Blvd, South Lake Tahoe
South of North Brewing Co. – 932 Stateline Ave B, South Lake Tahoe (also featured in my list of dog-friendly restaurants above)
#6 Kayak around the lake
What's a better way to experience Lake Tahoe than to get INTO the lake? After all, Lake Tahoe is a humongous, 191.6-square-mile freshwater lake stretching to both California and Nevada borders. ARF, I'll bark some honest barks – I'm not a fan of getting my paws wet so kayaking is a NO GO for me. However, I know plenty of dogs who'd wag their tails for a good swim or kayak around the lake (ARF, especially my "little" Weimaraner cousin Sonny who's a regular kayaker and Tahoe visitor). If you and your four-legged friend are up for some water adventure on the south shore, hit up Tahoe Sports Tahoe Keys Boat Rental (2435 Venice Drive E # 91, South Lake Tahoe) or Day Go Adventures (193 Kahle Dr, Stateline, NV) for a dog-friendly kayak rental.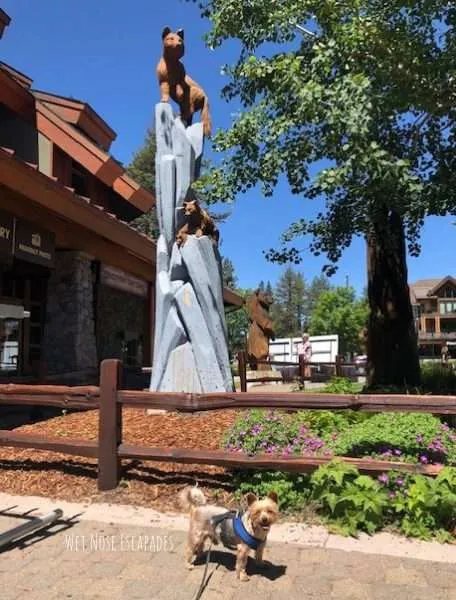 Nestled at the base of the enchanting Sierra Nevadas, The Shops at Heavenly Village is, WOOF, one big pawty! From incredible to-beg-for eateries to sniff-worthy stores (Sock City, anyone?), this ARF-mazing collection of sniff-worthy shops, top-of-the-line restaurants, theatres, ski rentals, and luxurious resorts does make your Tahoe experience feel a bit "heavenly." HAH! With an upright tail, I like marching around this mesmerizing, all-wooden outdoor mall – well, after filling up my little Yorkie belly. Although it's home to the Heavenly gondolas, dogs are technically not allowed to get on the ride (except for service animals, of course). GRRR. If you want to take your dog on a gondola ride in Tahoe, head to Northstar on the north shore (10 minutes from Truckee) where on-leash dogs are allowed.
#8 Relax to live music
ARF, nothing beats a night in Tahoe than relaxing to live music under the starry skies. OK – I may not be in LA or New Orleans, but South Lake Tahoe has its fair share of talented local artists. Whenever the weather is pleasant (which usually constitutes Spring, Summer, and parts of Fall), many dining and drinking establishments offer soothing live music for free for their diners (not to bark, passersby as well). Since these performances take place on outdoor patios, dogs are welcome to enjoy the music alongside their humans. And, don't worry – since the space is outdoors, the volume is generally not too loud, making it a safe experience for my highly sensitive, always perked-up ears. To be on the safe side, you can always request a table away from the speakers or enjoy from a distance if you're passing by. My go-to spots for relaxing live music are Basecamp Pizza and Azul Latin Kitchen – both of which are located at Heavenly Village.
WOOF, hope you enjoy you and your furry companion enjoy dog-friendly South Lake Tahoe! Feel free to share your experience with me. BARK AT ME.
Markin' it up,
Roger Wellington a.k.a. The Doob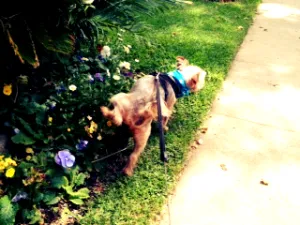 —
Like my post on "Dog-Friendly South Lake Tahoe, CA: 8 Things to do with Your Dog"? CLICK TO PIN!