WOOOOF, I've always wanted to set my furry paws and leave an alpha mark in Sydney. The sophisticated capital of New South Wales, Sydney is what I would bark a true TOP DOG city. ARF-ter all, it's one of the largest cities in the country with a pawpulation of over 5 million humans (canine citizens NOT included in the count). From its famous Opera House to over 100 stunning beaches to a yacht-studded harbor, this southeastern coastal city has long been on my bucket list since I became the world traveling Yorkie.
However, as most avid dog travelers know, Australia is PAWS OFF due to strict import requirements plus mandatory quarantine for dogs. GRRR. Unless you're traveling for a permanent or long-term move, taking your dog to Australia is usually not recommended. Now, is Sydney dog-friendly? What's a dog's life like in Sydney? Luckily, I have my Aussie Yorkie pals Molly & Pixie (and their wonderful human mommy) to leave me with a few marks on their pawbulous lifestyle in Sydney! Keep on sniffing for more.
What's your first name? Tell us a little bit about yourself.
Alyson – I live in inner-city Sydney. I love swimming at the beaches and often run out to them and finish with a swim in the waves to cool down. I compete in fun runs with great courses, like the famous Sydney City 2 Surf and the Sydney Half Marathon, which goes across the iconic Sydney Harbour Bridge and finishes on the Opera House steps.
Tell us a little bit about Molly & Pixie (e.g. background, age, weight, personality, who else do they live with, etc. – whatever you'd like to share.)
Molly came to live with us when she was around 6-months old, after her first owners 'returned' her to the breeder. She is almost 13 years now, an odd little personality more akin to a cat than a dog. She loves nothing better than a 'hand' massage, and if you're rubbing the 'fingers' on one paw, she will subtly shift her weight to insert her other hand into the massage zone. Always on guard, she will often bite first and ask questions later. Unless you come bearing food, then she's yours. She can take an immediate dislike to some people, turning into a 1.3Kg pint-size Cujo. She has always preferred to ride in her bag than walk. If you look like you're going out, she runs to the shelf where her bag is kept and is ready to go out (the bag has to be on a shelf or she would never get out of it). But if you get her lead out, she races back to her basket and flatly refuses to go for a walk. She absolutely loves her collar and 'insists' that you put it back on as soon as possible after her bath. I ask, "Molly do you want your jewellery on?" She then races to me and sits down. There are a few video clips on IG showing these traits.
Pixie came to live with us as a 12-week-old puppy and has much more of a doggy personality.
She is friendly, loves everyone, and is curious about everything. Pixie is 4-years-old and is the worst present we ever bought for Molly…they ARE NOT friends! But at least now they tolerate each other rather than Molly trying to bite Pixie every day. It does not help when Pixie 'accidentally' shoulder charges Molly because despite Pixie being a whopping 2.3Kg, a whole Kg more than Molly, Molly is absolutely and unequivocally the alpha! She also loves her hands massaged, but I think she has learned this from Molly rather than it being 'her thing.' If she is sitting on my lap while I'm working at my computer, she will literally grab my hand to 'ask' me to rub hers.
Pixie's little idiosyncrasies:
– Loves to go for car trips and insists on the window being open so she can stick her head out, which gets lots of laughs.
– Hates any type of moisture on the ground and flatly refuses to walk, insists on being carried
– Loves to smell flowers and sticks her nose in any foliage she comes across
What do you love most about them? What are their favorite things to do in the world?
I love Molly's weirdness, not like any other dog I've owned or known. She has kept her puppy fur, and it is the softest and fluffiest coat I've ever felt. I love how she is very selective about whom she warms up to. She is fiercely protective of me despite her diminutive size. Once I ran into a friend when she was asleep in her bag – I had not seen him for ages and he hugged me. Well, a second later, he had a Molly hanging from his shirt cuff!
Molly's favourite things are her bag, her hand massages, and food! ANY food, especially whatever you are eating. She eats kibble for her meals, BUT she will 'ask' for ANYTHING you may have – bread, strawberries, blueberries, mango, potato, pumpkin, even lemon flesh but she LOVES eggs in any form, sushi rice, and pizza.
I love Pixie's doggyness, her curiosity about everything, and her friendliness. Pixie's coat has beautiful colouring, deep copper, and steel blue/grey, it is the typical silky fur of a Yorkie. Pixie has a very deep bark for her size and people get surprised when her size is revealed as the door opens. The invariable response is, "Oh!" I think Pixie's favourite thing is going out in the car, she is always ready to go out, especially for a drive and she loves to explore new parks. She even likes it when I wheel her around on my electric scooter. She loves to play soccer and would make a very good goalie, you rarely get her ball past her…she uses her body to stop the ball. They both sleep on the bed, but Pixie will not go to bed until I get in. She stays with me, always 'the heartbeat at my feet.'
What do they hate the most?
They BOTH hate their weekly baths but are so obedient that they will come when called even though they know the 'ritual' that precedes the 'torture.' Molly absolutely hates anyone wearing hi-vis gear and turns into Cujo, literally launching herself out of her bag to try and bite them!
What are their favorite foods?
EVERYTHING is Molly's favourite food, and most people are surprised by how she will snatch any offered food and shocked by how much she can consume. She is dreadfully greedy and will 'demand' food from total strangers by looking cute and dancing on her hind legs. When offered some of their food, she will snatch it out of their fingers, almost taking their fingers too, gulp it down, and the dance restarts! Since she is super cute, her little routine is very persuasive so she always tends to be a little on the chubby side.
Pixie's meals are also kibble but she eats everything and will eagerly join in on any of Molly's 'acquired' spoils, but is never pushy or demanding (she'd rather let Molly do the front work).
When I am doing human food prep she is alert to any droppings but doesn't stomp her front feet like Molly to demand samples. Pixie is a gentle feeder, when offered treats she slowly and gently takes them from your fingers, mind you she is not averse to swooping on any missed Molly bits…and definitely vice versa! Pixie's favourite food is the leftover bone from a steak Fiorentino which she will spend hours denuding any flesh. On the other hand, Molly hates bones – the 'Lady Molly' doesn't work for her food, she expects to be served.
Pixie also loves mashed potatoes as well as eggs in any form. She will keep eating food she likes. But sadly, she doesn't have a cast-iron stomach so it often 'returns' the next day. She then panics and races around making 'deposits' in numerous places, so her diet is a lot more monitored than the greedy Molly who I think would be able to digest bricks without any problem!
Least favorite?
Lettuce and leafy greens like cabbage, brussels sprouts, and broccoli are pretty much the ONLY things they don't eat.
Complete this sentence: "My dogs are so spoiled, they think they are humans."
What's the best part about having a dog in Sydney?
The company is wonderful after moving cities and states and leaving behind friends of a lifetime. It seems nearly everyone has a dog in Sydney, especially after Covid hit.
Biggest challenge?
Dogs are not permitted on public transport, in most shops and restaurants. I will not leave my girls tethered outside a shop in case of theft so it does preclude unplanned shopping. They are only allowed off-leash in certain areas of certain parks, which means freedom outdoors is difficult. There are hefty fines for breaches.
Did you grow up with dogs? If not, how/when did you become a dog lover?
Yes, there was always a dog or cat or both in the house.
What are some of your favorite dog-friendly parks in Sydney? (please provide specific parks)
Centennial Park Paddington – it is a huge park with a large off-leash area and is close to where I live.
What are some of your favorite dog-friendly restaurants, if any (please provide specific
restaurants)?
Dogs are permitted to sit with their owners at the outdoor pavement tables at The Village Inn Pub (sadly, only three tables), La Fontaine Potts Point, Bartolo Wine Bar, and pretty much anywhere there is outdoor seating.
I have just seen another pet friendly courtyard at Ciao Fabbrica, an excellent tiny pasta restaurant in Sydney CBD. They make amazing sandwiches for lunch.
Dogs were allowed in quite a few of the pubs in Paddington (The London, The Village Inn, The Imperial) until last year when the local council clamped down on the rules. Despite multiple petitions, dogs are not allowed inside anymore.
Are dogs only allowed to dine outside? Or do some places make an exception for indoor dining? If so, where?
I have sadly not found any places where dogs are permitted to dine inside. There were a few Paddington pubs, but that was stopped last year by the local council. There are a couple of dog-friendly hotels, but I have not experienced them. I'm not sure if dogs are allowed in any food service areas. I'm pretty sure that is a country-wide issue.
What are some dog-friendly tourist attractions in Sydney (if any)? Any other local dog-friendly places that you'd like to share (e.g. beaches, trails, resorts, etc.)?
The Langham Hotel, Pier One, and Ovolo are dog-friendly hotels that I know. There is apparently an unofficial doggy beach in Malabar, but we haven't ventured there.
If a visitor were to ask you for your TOP 5 things to do with a dog in Sydney, what would you say?
Dogs would have to be on-leash for all these activities:
#1 Walk the coast trail from Bronte Beach to Bondi Beach
#2 Walk around Sydney Harbour from Darling Harbour to Bennelong Point at the Opera House (along with surrounding areas)
#3 Enjoy a 'Tricolore' pizza at the outdoor seating at Giorgio's under the Plane Trees in
Potts Point and share the prosciutto with your fur companion. Afterward, check out the magnificent terrace houses in the adjacent streets
#4 Check out 'Happy Hour' at the sidewalk seating at The Village Inn
#5 – Check out Centennial Park with its swan pond, the geese, the different floral and tree
areas – it's huge…189 hectares! And, then take the fur child off-lead for a run in the off-leash area.
Overall, how would you describe the local people's attitudes towards dogs?
Mixed…there are those who love dogs and those who believe they should be kept outdoors at home.
How would you describe the overall stray situation in where you live (e.g. is it a problem or is it nonexistent)?
Strays are nonexistent. In my 18 months in Sydney, I have not seen one in my area.
What are some of your favorite trips you've had with them (e.g. road trips, etc.)? How well do they travel?
They both travel well. Molly has done a few long road trips (over two nights on the road) and loved the adventure, albeit asleep on the passenger lap all the time.
Pixie has gone on a few trips to Bowral (about a 1.5 hrs drive from Sydney). They have both flown on multiple air trips albeit in the cargo hold as animals are not permitted in the cabin.
Molly has flown the most: Brisbane – Melbourne multiple times, Brisbane – Sydney multiple times, and Brisbane – Adelaide.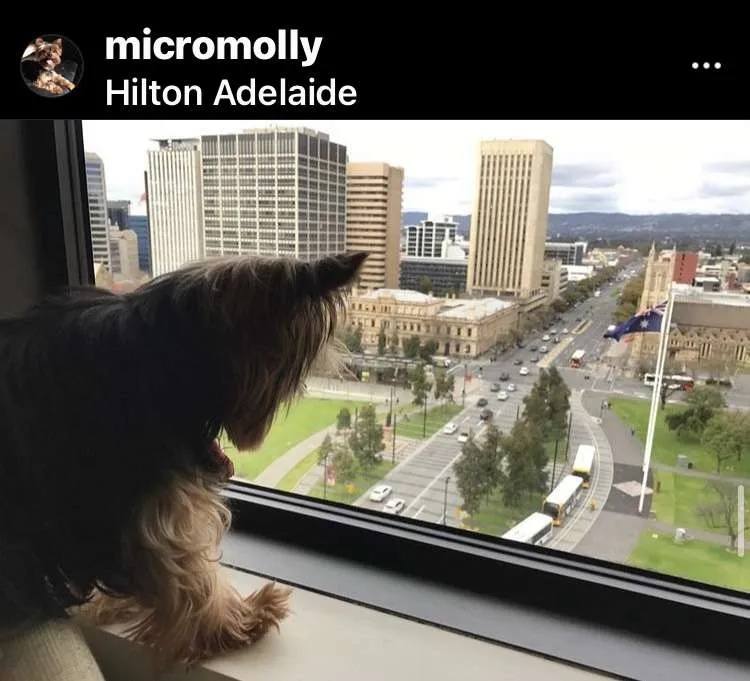 UPDATE: The Australian Air Travel Authority recently changed the rules that will allow airlines to permit pets in the cabin. Well, of course, I got terribly excited and was jumping up and down UNTIL I heard that it will now be up to the individual airlines to amend their policies.
Currently, pets are not even allowed in the terminal at all. They changed the rules a few years ago so even animals travelling cargo were not permitted to be checked in or out at the passenger terminals. I remember getting quite a shock when I rolled up with the girls as I had always done and the check-in staff said I had to get a cab to freight and that the ticket was supposed to be pre-booked and paid. Well, I managed to get it all done in time, and they did make the flight but what a stress. AND, I had to purchase a new airline specific crate for them because the one they had been using for years was deemed no longer acceptable!!

They had to be dropped off and collected at the airlines' freight facility (always a different terminal – miles away from passenger terminal) no less than 2 hours prior to the scheduled departure. Sometimes, collection would take another hour for your pet to arrive at the cargo terminal, often extending a 1.5 hour flight to 4 hours! It largely depended on how many planes were arriving and they would wait until the little trucks were full of cargo before returning to the freight depot!

That's pretty much when I stopped flying with the girls. Too much stress for them AND me! I was always worried they'd forget to load them or worse and there had been multiple incidents of dogs and cats dying while in the keeping of the cargo handlers! Lack of water from delayed and cancelled flights, being left on tarmac in sun, or falling off the little trucks they use). I couldn't deal with the anxiety so that was the end of the girls' flying.

Shame really because I used to get the crate out the day before we travelled and they would get super excited and hop in.
Are dogs allowed on buses, subways, rideshares, taxis, etc.?
No, only assistance dogs are permitted. They have just introduced 'dog-friendly' Uber. Because she prefers sleeping and traveling in her bag, Molly has been easy to smuggle on public transport and into restaurants on occasion when needed. 🙂
If you have any memorable experience regarding taking them onboard, please feel free to share!
I have a memory of a trip that their predecessor Lili was on (she tipped the scales at a whopping 1Kg). She had travelled in the cargo hold on a flight to Brisbane. When I went to the pick-up point, the baggage handler (a huge man around 6'6", very very well built with tattoos a mullet hairdo, and a beard) was holding her crate aloft peering inside and saying in a baby voice, "Who is da cuuuuttest widdle ting!?" Lili was completely outraged and demanded to be let out…hahahahaha…never forget it! There is a pic of Molly being 'guarded' by a similar handler on the tarmac baggage conveyor on IG.
Based on your personal knowledge, would you say that people tend to buy or adopt/rescue dogs in Sydney?
While I have indeed come across many adopted rescue dogs, I think the vast majority are purchased from breeders. French Bulldogs seem to be very popular here.
Do pet stores exist (where dogs and cats are sold)?
While there is a myriad of pet stores that have every conceivable item for pets there is thankfully only ONE pet store that I know of that actually sells dogs and cats. It's at Westfield Bondi Junction.
Do you know how breeders are regulated?
Proper breeders, i.e., ones that will issue a proper pedigree and sell neutered/spayed, vaccinated puppies have to be members of canine control councils in each state. They are closely supervised for their dogs' wellbeing. Sadly, that does not control unregulated 'breeders', who are definitely around and completely unscrupulous. I think the people who purchase from these and from pet stores are ignorant of what is going on behind the cute furry thing they buy. They don't realise that the puppy most likely has hidden health issues and a mother who might be kept in appalling conditions and subject to incredible abuse.
The word is getting out more due to social media, but loads more need to be done.
How close is the nearest veterinarian from your house? (e.g. in miles/km and driving time)
About a 5-minute walk, approx. 500m. Then there is another 10 to 12-minute walk within 3Km and probably even more that I have not seen.
Approximately how much is a standard examination/office visit at the local veterinarian?
My girls go in annually for their vaccinations, annual heartworm injection, teeth clean under anesthesia, and a full check-up which costs me around AU $600 each. I get their injections done while they are 'under' so it doesn't hurt them. Touch wood – they are both super healthy so they don't visit the vet in-between other than to board when we go away.
Soon after we arrived in Sydney Molly got an acute UTI – on a SUNDAY, of course. I found a vet 2Km away who was open – Centennial Park Vets. He prescribed antibiotics and the whole visit cost $95.
How would you rate/describe the quality of veterinary care in your area?
Excellent.
How difficult is it to find dog-friendly housing in your area?
I don't think renting with a dog is too difficult in Australia. It is up to the individual landlord, but most of the dogs around here live in rented accommodation.
Do you have to pay extra money when renting?
I don't think so. I think they have to sign a lease stating that if there is any damage caused by the dog it will have to be repaired/replaced at tenant's expense.
What is one thing you'd like to share with us about a dog's life in Sydney?
If you have fur children with you, spontaneity is difficult. Everything has to be preplanned.
Are there any changes you'd like to see in the way people treat dogs in Sydney?
I hope one day that dogs will be permitted everywhere like most other civilised countries in the world. They are often better behaved than some children!
Why is Sydney worth a visit? 🙂
It is beautiful! There are lots of stunning spots like the Harbour, the beaches both on the seaside and the Harbour side. A ferry trip across the Harbour to Manly is a must as it goes across Sydney Heads (sometimes it can be rough if the swell is high). Take your swimming togs as Manly has a fabulous surf beach a short walk from the ferry terminal. There are fabulous restaurants with fresh seafood and great steaks with cuisines from around the world – Japanese, French, Italian, Spanish, Middle Eastern, Turkish, and, of course, modern Australian.
There are 'secret' hidden bars in laneways and underground lairs that are unknown to tourists to party until the small hours.
Would you recommend that dog parents visit Sydney with their dogs?
Visiting from overseas is impracticable. Your dog will have to undergo rigorous testing before he/she travels, then you're looking at weeks and weeks in quarantine with more tests before being released.
We do not have rabies or a myriad of other diseases here so quarantine is quite understandably incredibly strict. But if you're from other states in Australia, then yes – if you stay somewhere dog-friendly where your pooch is safe to leave, you can enjoy some of the indoor attractions, beaches, and Botanical Gardens. But beware – travelling with a dog could be limiting because of regulations with transport, but this is similar Australia-wide.
Thank you to Molly, Pixie, and their lovely mommy Alyson for this interview and sharing their pawsome life with us! Can't get enough of Molly & Pixie? Be sure to follow their marvelous life in dog-friendly Sydney on Instagram!
Markin' it up,
Roger Wellington a.k.a. The Doob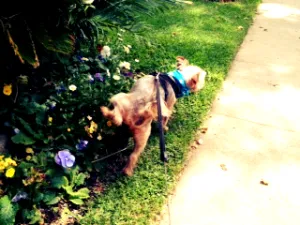 –
Like my post on "Dog-Friendly Sydney with Molly & Pixie the Aussie Yorkies"? CLICK TO PIN!