WOOF, is Taipei, Taiwan dog-friendly? Should you travel to Taiwan with your dog? Sniff out everything you need to know!
First Posted 10/29/19, Last Updated 4/13/23
*Please note that this post contains affiliate links, and at no obligation or additional cost to you, we earn a small commission if you make a purchase. If you love the work that we do, you can show your support by making a purchase through an affiliate link. Proceeds will go towards feeding homeless dogs (and cats) along with improving the lives of the neglected and abused. 
Off the coast of China with Japan to the northeast and the Philippines to the south, Taiwan is a tiny island with a pawpulation of nearly 24 million people. Unless you've been to the capital city Taipei, you wouldn't have thought of Taiwan as dog-friendly. Unfortunately, Asia tends to get a bad rep for poor treatment of dogs despite countless urban pooches living uber-spoiled lives in Tokyo, Singapore, Hong Kong, and Shanghai – just to bark a few. The shocking truth is Taipei is more dog-friendly than you think.
Due to strict quarantine requirements (mandatory SEVEN days from the continental U.S.), I haven't marked up Taiwan myself, but my crazy humans have spent a lot of time there and even helped rescue Formosan Mountain/Taiwan dogs. Luckily, they've reported back to the Yorkie BOSS the REAL DEAL on the dog culture in Taipei. Keep on sniffing!
Dog Culture in Taipei, Taiwan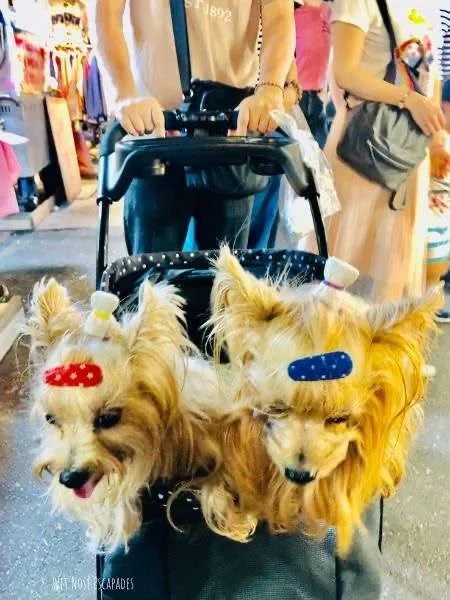 In Taiwan's bustling, street-food lovin' capital city, you can find dressed-up pooches in strollers with personal fans (to combat the heat and humidity), Poodles and Malteses rockin' the most stylish cuts, herbal shop resident Dachshunds welcoming new customers, a pack of spoiled Shibas venturing night markets, a plethora of luxurious doggie spas, veterinarians, and daycare centers, and humans with tattoos of their precious furry best friends. From the grounds of Taipei 101 to Shilin night market, well-pampered dogs in strollers and motorbikes are ubiquitous. Hence, taking your dog out and about (including work for business owners) or running errands with your dog is the norm here. 
With that barked, it is common to see tethered dogs (and even cats who are forced into uncomfortable clothing) at retail shops or outside a home. Native to Taiwan, Formosan Mountain dogs are generally used as guard dogs and are often tied to heavy chains. Because retail shops here tend to have an open-door storefront, these tethered animals are hard to miss. While a few shop owners have assured my humans that the animals are only tethered temporarily and get the run of the house in the evening, it can be a heartbreaking sight as some dogs and cats are subjected to ultra-short tethers.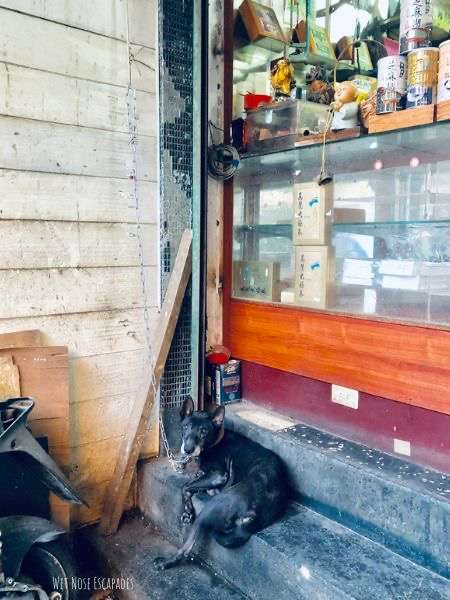 Based on my humans' interactions with the local people, the attitudes of the Taiwanese toward dogs can vary, from viewing them as REAL, equal family members to guard dogs to protect their property to nuisances or trash in society. As more young urban dwellers opt not to have human babies, dogs often take the place of babies and have indisputably outnumbered children. 
The Stray Situation
Although many dogs live pampered lives in Taipei, stray and feral dogs (mostly Formosan Mountain/Taiwan dogs) are commonly found throughout the city and are more prevalent in rural areas outside the city. Strays are usually dumped in mountainous regions because they are less likely to find their way home – arf-ter all, dogs are smart and have a good sense of navigation. In rural and mountainous areas on the island, homeless dogs are frequently injured or mutilated by cruel steel-jaw traps set up by humans to fend off wild animals. 🙁 
During my humans' residency in Taipei, they dedicated a lot of time going around town to feed stray dogs, many of whom were born feral and some were apparently dumped (with existing collars around the neck). Although these dogs likely roam in packs, they still beg for food and rely heavily on humans to feed them leftovers. Some frequently take matters into their own paws by rummaging through garbage. From what my humans were told, the government does attempt to control the stray pawpulation through TNR (Trap, Neuter, Return) programs.
Like anywhere else, animal shelters in Taiwan are overcrowded and lack sufficient funding. My humans had first-PAW experience with the lack of action taken from local shelters and rescue organizations – all (except for one) responded by saying that they could not take another dog and requested another rescue organization to be contacted (or for my humans to act on their own).
Arf-ter the Taiwanese government banned euthanasia in 2017, the stray and shelter population subsequently increased; the ban was passed after a veterinarian, an animal lover who dedicated her life to helping animals, tragically committed suicide after having to euthanize over 700 animals in 2 years. As people continue to buy dogs and cats from pet stores and breeders in Taiwan (and everywhere in the world), we must urge people to always ADOPT, NEVER SHOP and spread awareness on responsible, humane pet ownership. 
*SIDE BARK: The government has banned animal testing in cosmetic products, which demonstrates some progression of animal cruelty laws in the country. 
Breed Preference & Pet Stores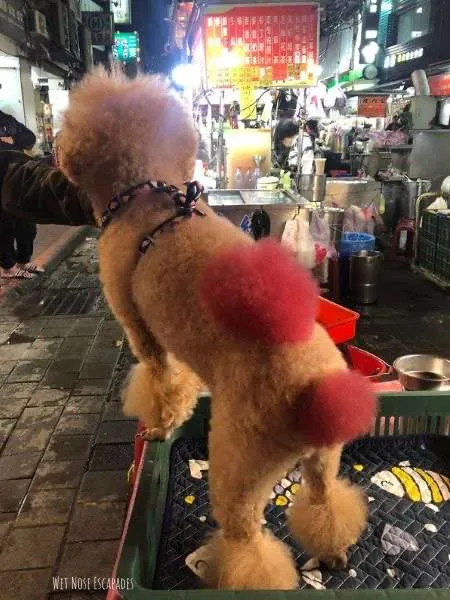 Despite the rise of dog pawrenthood in urban cities throughout Asia, rescuing and adopting shelter or stray dogs trails behind the trend of buying young (often unweaned) designer puppies or toy breeds. As a matter of bark, my humans saw just as many poodles in strollers as homeless Formosan Mountain/Taiwan dogs, who are, again, native to the island. From Poodles to Yorkies to Maltese to Bichon Frises, it's a trend to get dogs with longer hair so that the cutest, off-the-wall hairdos with little clips can be attempted (or even hair dye disturbingly). Pet stores selling puppies and kittens of pawpular breeds (who look too young to be separated from their mothers) are throughout the city, with the trend being the younger, the more expensive.
Restaurants & Cafes 
From mom-and-pop dumpling shops to hand-made noodle joints to coffee shops, dogs are allowed to hang out and dine with their humans in outdoor seating. In many restaurants and cafes, dogs may also be allowed indoors although they usually stay in a stroller, which is a very pawpular way to transport a dog on the busy streets of Taipei. If there are no signs to prohibit the entry of dogs, you can likely dine with your dog inside. However, with plenty of restaurants offering outdoor seating, finding dog-friendly restaurants in Taipei is rarely difficult. Unlike Westerners, the Taiwanese are quick when it comes to dining out – instead of being an "experience," eating is more like a necessity.
Bars
The same goes for bars in Taipei – dogs are allowed outside, and occasionally allowed inside (depending on the establishment). But I would bark that Western-type bars and watering holes are not pawpular in the city as nightlife is more about eating and drinking, not drinking alone. 
Night Markets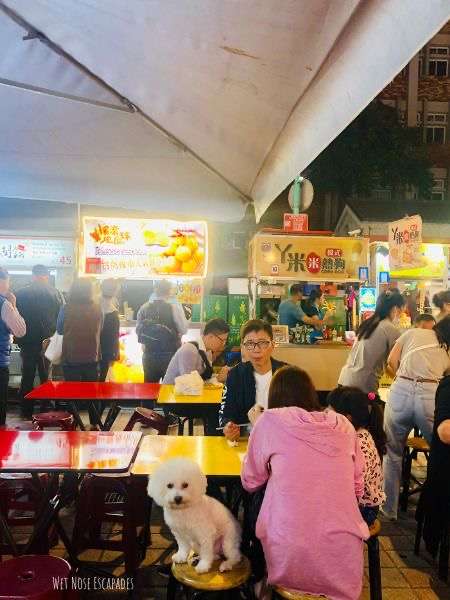 On a similar bark, night markets are THE SPAWT to be in Taipei. And, yes – dogs are welcome and seen pretty much at every night market that my humans have been too. A visit to Taipei is never complete without strolling through an exuberant night market, home to numerous street food carts. Night markets are real HOT SPAWTS in Taipei (and Asia), where you can get your paws on famous late night snacks like oyster omelets, spring onion pancakes (my human's favorite), and tapioca dessert soups. Because these night markets are known to be crowded and chaotic, it's best to walk through with your dog in a stroller for his safety. If you go on a pawpular night (especially weekends), it may be a challenge to find a good seat, which is outdoors only. Therefore, it's best to go on an off night for your dog's sake. 
Be sure to sniff out the night markets at Raohe Street, Ningxia, & Shilin, the most famous and largest one.
Weather
With a subtropical climate, Taiwan has long, hot summers (typically from May to September) and short mild winters. Generally barking, Taiwan is a warm and humid place, which can be challenging for senior dogs not used to the climate like myself (especially those with a respiratory condition). Therefore, it's impawtant to keep your dog hydrated and avoid hours when the temperatures are scorching high. Due to the warm temperatures, it's common to see doggies in strollers with personal fans. 
Retail Shops 
Dog-friendliness may vary from store to store, so please check for signs. But, in general, dogs are allowed unless otherwise noted. If you don't see any "NO DOG" sign, it's a safe assumption that your dog can accompany you (although it's still best to stroll or carry your dog inside). At herbal shops, my humans have seen resident dogs and cats (again, sometimes tethered) chillin' inside with their pawrents, often greeting (or hiding) from customers.
Malls
At the malls with outdoor shopping, furry shoppers are found strolling around with their humans. Dogs' entrance to indoor malls can fluctuate (again, look for signs stating otherwise), but it's usually permissible if dogs remain inside the strollers. 
Grocery Stores
Although dogs are technically NOT allowed to shop at grocery stores or markets with their humans, they can still go to the store and stay temporarily in small cages (designated for dogs and cats) while their humans shop for goodies. At every large market, a pet section is guaranteed to be found with American brands of dog and cat food like Hills available. The "boarding" facility at grocery stores reaffirms how it's the norm to take your dog everywhere in Taipei. 
Parks
Dog-friendly urban parks are all over the city, with bountiful off-leash dog parks found in Yingfeng (Songshan), Tanmei (Neihu), Zhongzheng, Shilin, Xinyi, Beitou, Datong, and Da'an. Most dog parks have two separate zones for big and small dogs. 
Veterinarian Care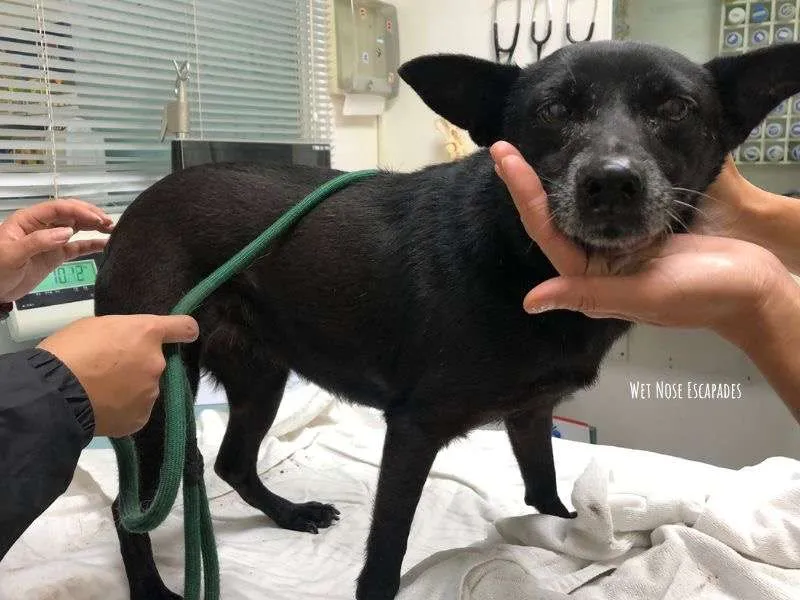 Since my humans rescued dogs during their stay, they interacted with several veterinarians throughout the city. Luckily, they also found quite a few 24-hour emergency hospitals with clean facilities and modern technology. Due to the low cost of living in Taiwan, the costs of veterinarian care are only a fraction of what they would be back home in the U.S., particularly if you come from expensive cities like San Francisco or NYC. Although it's difficult to find people who speak English fluently on the island, the veterinarian staff has nothing but kind and pleasant. Plus, they seem to genuinely care for animals.
Public Transportation
In Taipei City, dogs (and cats) are allowed on public buses as long as they are transported in a cage or carrier no larger than 27 cubic centimeters in size. On the buses in New Taipei City, dogs (and cats) can be transported in carriers or containers no larger than 55x45x40 cm. Small dogs travel for FREE. One dog per passenger on all buses. 
Likewise, dogs (and cats) are allowed on the Taiwan Railways Administration (TRA), Taipei Rapid Transit Corp, and Taiwan High Speed Rail if transported in a sturdy carrier that does not leak and no larger than 55x45x38 cm. The carrier must be kept under the passenger's seat at all times. Wheeled pet carriers are also allowed, if not exceeding the allowed dimensions. Again, small dogs travel for FREE! Larger dogs can also be transported in larger carriers (combined length, width, and height of 210 cm) for a one-way MRT ticket for NT$80. One dog per passenger. Sniff out more info here.
Dog–Friendly Accommodations
Dog-friendly hotels in Taipei are not too difficult to find (and very affordable, relatively barking), thanks to American hotel chains that have made a mark in the city. 
Aloft Taipei Beitou
No. 1 Lane 300, Daye Road, Beitou District (Taipei City)
4-star hotel
Dogs are welcome with advanced booking for an extra charge of NT$1733 per dog, per night
Dogs are also welcome at the hotel restaurant Nook, which offers a spectacular doggie menu
Maximum weight: 30 kg
1 dog per room
Grand Hyatt Taipei
No. 2 Songshou Road, Xinyi District near Taipei 101 (Taipei City) 
5-star hotel
Dogs are welcome with advanced booking in advance for an extra charge
Maximum weight: 25 kg and under or 2 dogs under a combined weight of 25 kg 
Kimpton Hotel – Da' An 
5-star hotel
No. 25 Lane 27, Section 4, Ren'ai Road, Da'an District (Taipei City)
Dogs of all sizes stay for free (like at all Kimpton hotels)
No limit – all dogs are welcome!
So is Taipei, Taiwan dog-friendly? ARF, you betcha! However, due to a mandatory 7-day quarantine for all dogs coming from the continental U.S., it's pawbably not a good idea to take your dog to Taiwan unless it's for a permanent or long-term move.
Did you travel to Taiwan with your dog? Feel free to share your experience with me. WOOF, BARK AT ME!
Markin' it up,
Roger Wellington a.k.a. The Doob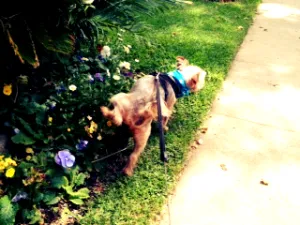 —
Like my post on the "Dogs of Taipei"? PIN IT!