Ciao, escapaders! Thinking of visiting Rome, Italy with a dog? Looking for dog-friendly things to do in Rome? Keep on sniffing!
As the traveling Yorkie, I can't bark about international dog travel without barking about Italy. Italy is, PAWS DOWN, a wonderful country for dogs to live not only pampered, but almost seemingly equal lives with their humans. From sitting my little furry butt on antique chairs at fancy ristorantes to shopping for fresh tagliatelle and zucchini in a dog-designated cart, I love being an Italian dog.
Being nomadic for the last several years means that I am blessed to have lived, sniffed out, and marked up some of the greatest cities in Italian history. ARF course, that includes Rome. After all, it's the Top Dog, the ultimate pack leader of it all. When a Top Dog like me enters a Top Dog territory like Rome, you can only expect an upright tail, open-mouth smiley face experience from the best of the BEST. So, follow my alpha paw prints and let me show you the ropes of visiting Rome, Italy with a dog. 
When in Rome, do as the Romans do:
TAKE YOUR DOG (almost) EVERYWHERE
Italians, including the Romans, love taking their dog out and about. Whether it's picking up medication from the local pharmacy or grabbing a slice of Neapolitan pizza, a furry butt or two will likely accompany their human patrons. As Italian culture is about taking things slow and appreciating the little things in life, it came to no surprise when I sniffed out many Italian dogs just chillin' at public squares in Rome – watching other furry passersby from a distance. ARF, the truth is I learned to slow down myself (despite having a crazy wet nose) – perhaps the first sign of me transforming into a true Italian dog.
So, while you can visit Rome with your dog and take your dog almost everywhere, you should do so at a slower pace. It's not only for your own experience but also for your dog's sake. While dogs make pawsome travel buddies, they are not luggage to be hauled around – not to bark, it's stressful on their bodies – big or small. Enjoy the real Roman experience by slowing it down and taking your dog almost everywhere – again, do as the Romans do!
Where NOT to Take Your Dog in Rome
ARF, despite Italy's elite status as an ultra dog-friendly country, dogs are NOT allowed inside museums and churches. The only exception is assistance or guide dogs. For instance, if you plan on going INSIDE, say St. Peter's Basilica in Vatican City, it's best to leave your dog back at the hotel. With that barked, dogs are usually welcome on the exterior grounds of museums and churches, which means photo opportunities are endless! WOOF! From the Basilica of St. Paul Outside the Walls to the Basilica of St. Mary Major, you'll find plenty of intriguing grounds to explore with your dog. After all, there are only over 600 churches in Rome. ARF-my-DOG!
Some things to watch out for
Like any international city, the streets of Rome can be dirty; with trash and litter seemingly unavoidable, it can be difficult not to feel gross when walking your dog. The worst part about the filth is that human urine is quite prominent, especially in the mornings. As a dog, I don't mind dog urine but human urine? GRR, a big pawblem for me! My human also gets extra disgusted by human urine on the street – unlike dogs who must use the outdoors for potty breaks, humans have their own indoor, private toilets in this day and age.
On a different bark, many Europeans, Italians included, tend not to neuter or spay their dogs. Hence, if you have an alpha dog like myself, be prepared to ask if they're "mascu" (male) before socializing and pull your dog back if necessary! WOOF, just a warning bark that there may be a lot of growling and back feet kicking!
BEST Dog-Friendly "Tourist" Attractions in Rome (Photo Opportunities)
Colosseum (Colosseo) – First-time visitors to Rome cannot leave without visiting the magnificent Colosseum! ARF course, that includes furry visitors! Although dogs are NOT allowed inside the Colosseum (tickets required for human visitors), they can explore the stunning exterior grounds of this oval amphitheatre by paw. Residing in the Celio neighborhood, this massive Roman masterpiece is one of the seven wonders of the world. Constructed in travertine limestone, volcanic rock, and brick-faced concrete, the Colosseum is the largest ancient amphitheatre ever AND still the largest standing amphitheatre in the world. WOOF, bark about TOP DOG status!
Capitoline Hill (Campidoglio) – This ancient fortress was one of the famed Seven Hills where Rome was founded. Located between the Forum and Campus Martius, this hill has a rich history dating back to B.C. and medieval times. Michelangelo also designed the pawpular Renaissance-era public square surrounding the hill called Piazza del Campidoglio. Fun Top Dog Fact: The story goes that Capitol Hill in Washington D.C. was actually named after Capitoline Hill! I love marching around the bustling square, hopping up and down the enchanting staircase, or simply post up to human and dog-watch.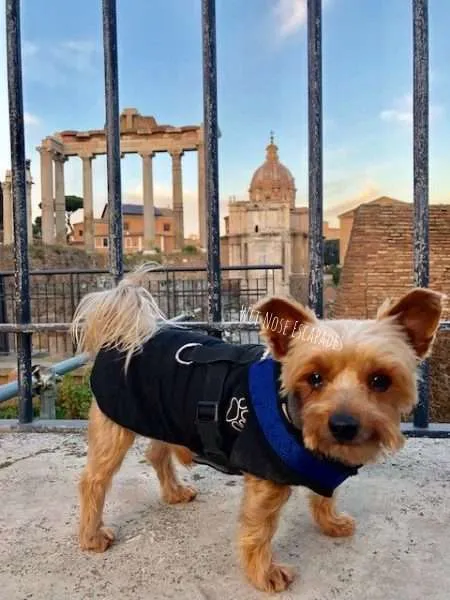 Roman Forum (Foro Romano) – Like the Colosseum, the Roman Forum is a MUST-SNIFF. With a literal Latin translation of "public place outdoors," the Forum is a historical gathering site with ancient government buildings where people start meeting publicly. To enter the Forum, you'll need to purchase an actual ticket like the Colosseum. Sadly, dogs are also NOT allowed inside this ARF-mazing site. However, dogs are allowed right outside the gates where you can snap plenty of pictures of your dog with the 2,000+ year-old Forum in the backdrop.
Circus Maximus (Circo Massimo) – WOOF, this historical Roman chariot-racing stadium is, indeed, dog-friendly. I may be against horse racing in any form (any animal racing or sledding, that is), but I was intrigued to sniff out and mark up ancient Rome's first and largest stadium. Since Circus Maximus is now a public park, I can roam up and down the ginormous, rectangular green space (2,037 ft by 387 ft). My jaws dropped to fathom that this former stadium once held over 150,000 spectators!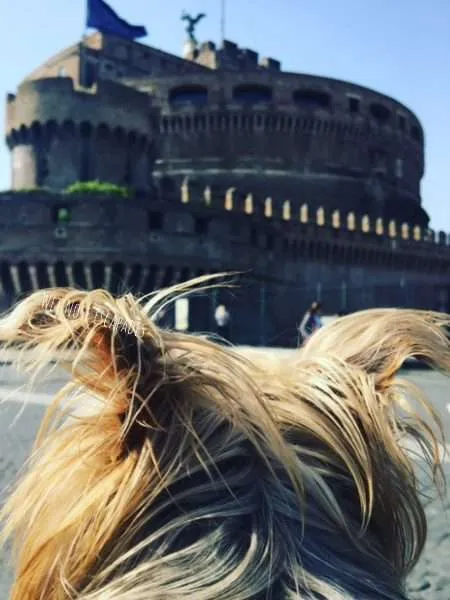 Castle of the Holy Angel (Castel Sant'Angelo) – Once the tallest building in Rome, the Castle of the Holy Angel was first constructed as a mausoleum for the Roman Emperor Hadrian before it turned into a fortress and a castle. Resting near Vatican City, it now operates as a museum. Again, dogs are not allowed inside museums in Italy, BUT my human and I enjoy crossing the bridge to get closer to this fascinating cylinder architecture, especially in the evening when the pedestrian traffic has slowed, and the building is illuminated. AH-HOOO, over the River Tiber (Fiume Tevere), it is worth a selfie or two.
Spanish Steps (Scalinata di Trinità dei Monti) – With the late Renaissance Trinità dei Monti church at the top of the steps, the grand 135-step Spanish staircase leads to the splendid Piazza di Spagna at the bottom. Whenever youngsters and tourists aren't flooding these famous stairs (best times to visit are late night or early morning), I exercise my alpha leg muscles by making a run up the steps until I get tired – then I'll gaze at my human to demand her to pick me up. Unfortunately, sitting on the steps is technically "illegal" although enforcement may be a hit or miss. BUT, just bark of caution, the fines are hefty (hundreds of US dollars)!
Pincian Hill (Pincio Promenade) – Near the Spanish Steps, the Pincian Hill rocks some ARF-mazing views! It overlooks the Piazza del Popolo, Villa Medici, and the city of Rome. It may not be one of the original Seven Hills that birthed Rome, but Pincian Hill sure attracts many visitors (including furry ones like myself). It's such a gorgeous hill with bragging rights to some head-tiltin' views. There's also a cute cafe (Caffè del Pincio) where I can lick my chops to tiramisu and cappuccinos (prepare to overpay for the view).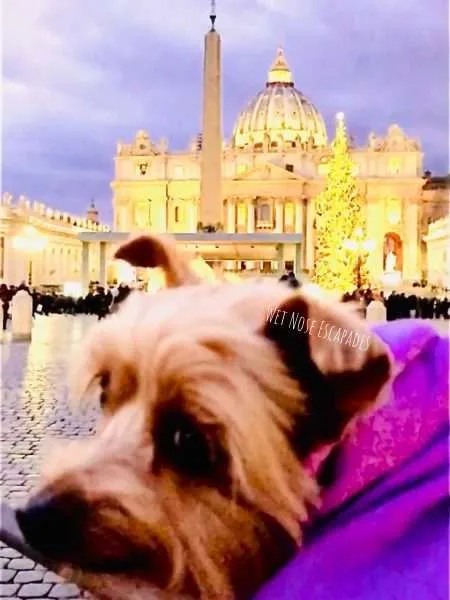 Vatican City – Although Vatican City is technically an independent city-state, it is entirely surrounded by the city of Rome. Spanning just over 100 acres with around 800 residents, Vatican City is the smallest country in the world! Whether or not you are Catholic, Vatican City is a MUST-SNIFF. ARF, who doesn't want to visit St. Peter's Basilica, the Sistine Chapel, and my gosh, the first pope's grave? I know I do, BUT these internationally renowned attractions are sadly off-limits to dogs. GRRR. However, I can still meander these sacred grounds of St. Peter's Square on four paws and admire the architectural beauties – just right outside the gate.
Altar of the Fatherland (Mole del Vittoriano) – After resting my furry paws at Capitoline Hill, I usually march over to the nearby Altar of the Fatherland. This neoclassical national monument was built in the late 1800s to honor Victor Emmanuel II, the first king to unify the country! WOOF, as the alpha dog and pack leader, I can relate to the feeling of having a unified pack.
Pantheon (Pantheum) – Completed in 125 A.D., this former temple is one of the most well-preserved buildings from ancient Rome. Heck, it is, PAWS DOWN, one of the most incredible architecture sites I've ever sniffed out. The dome itself is astounding, exhibiting the greatness of Roman architecture. To this day, it is still the world's largest unreinforced concrete dome. Even though dogs aren't allowed inside the museum, I still had a grand ol' time investigating the 2,000+ year history outside. Should you wish to leave your dog at home for a few hours, you'll find tombs of the Italian monarchy inside the Pantheon. It is free to visit, but I recommend getting your paws on advanced reservations online.
*Long, staged photo shoots are taxing and annoying for your dogs who prefer NOT to sit still while you mess with your iPhone or expensive Nikon for the right angle and lighting. My human LOVES taking pictures of me, but she will only stage quick 10 to 45-second photo shoots sparingly and "pays" me with lots of yummy treats before and after. She opts for more candid shots – as they show my natural state, candids are simply more fun and memorable. Therefore, capture your dog's real Roman experience moment with candids.
BEST Dog-Friendly Squares & Fountains
Even though dogs aren't allowed inside museums or indoor tourist attractions in Rome, they are always welcome to hang out alongside their humans at any of the city's many public squares and fountains! While these Roman fountains are gorgeous during the day, they are even more mesmerizing at night when illuminated. Late night or early morning is often the best time to visit these fountains with your dog when the pedestrian traffic slows down, making it more enjoyable for your dog. GRR, I don't want to get my tiny paws stepped on!
Piazza Navona – Built in the 1st century AD, Piazza Navona was designed as a stadium. Interestingly enough, the Romans used to watch "agones" here, which are games or contests. I enjoy posting up at the Fountain of the Four Rivers (Fontana dei Quattro Fiumi) – this phenomenal masterpiece depicts Gods of the four great rivers: the Nile in Africa, the Ganges in Asia, the Danube in Europe, and the Rio de la Plata in America.
Piazza di Trevi – This square is home to none other than the Trevi Fountain, the most famous fountain in Rome. WOOF, the Trevi Fountain is super special because it is one of the oldest water sources in Rome. Dating back to 19 B.C. (as if this ancient city isn't already old enough), this picturesque fountain provided water to Roman baths and fountains throughout the city. Humans often toss coins into the fountain for good luck, whether it's to find love or return to this ARF-so-dreamy site.
Piazza di Spagna – Again, this is the square resting at the bottom of the Spanish Steps! Piazza di Spagna has quite a distinctive look to it, making me tilt my head to its butterfly shape with two triangles crossing at the top. At the right corner of the square, I sniffed out the house that once belonged to a famous English poet, John Keats. His old residence has been turned into a museum to celebrate his life. Pretty pawsome, isn't it?
Piazza Venezia – ARF, this is the epicenter of Rome! Not only is Piazza Venezia close to all the major tourist attractions (like the Forum and Capitoline Hill), but it's also where major intersections unite, including Via dei Fori Imperiali and Via del Corso. My humans and I like to take water and paw-resting breaks near the King of Italy Victor Emmanuel II monument. Nevertheless, because this spot is so pawpular, you can only expect a lot of action – honking cars, local and tour buses, speedy scooters, and of course, a myriad of tourists along with locals and their doggies.
Piazza del Popolo – It's the "PEOPLE'S SQUARE"! This iconic square is HUGE, to bark the least, and I mean bigger than oversized Yorkies-BIG. My favorite part of the square is the Egyptian obelisk that towers fabulously in the center. ARF course, I can't forget the Fountain of Neptune (Fontana del Nettuno), which are the works of the Roman sculptor Giovanni Ceccarini.
Campo de' Fiori – Just south of Piazza Navona, Campo de' Fiori is home to the local open-air market selling fruit, fish, vegetables, and flowers – just to bark a few. Surrounded by Palazzo Orsini, this square was also the site of many public executions during Roman times.
Dog-Friendly Restaurants & Eating Places
Most restaurants and eating places (if not all) are super dog-friendly! Whether you want to dine indoors or outdoors, you should be able to do so with your furry diner next to you. The wait staff is either smitten by your dog or completely indifferent; as dining with your dog is quite common in Italy, rest assured that you shouldn't be getting any nasty or disgusted glares. From pizzerias to trattorias to gelaterias to bakeries, dogs are almost always welcome.
It doesn't matter how fancy or cheap the place is – I've walked in with an upright tail as I belong. Unlike the U.S. & Canada, where only service animals are allowed indoors, dogs are virtually welcome at most food and drink establishments in Italy. Out of all my extended stays in Italy in the last several years, I was only denied entry ONCE at a touristy, semi-upscale restaurant in Rome (I won't bark out the name).  
ARF, it's time to fill up my Yorkie belly with a traditional 5-course Italian meal:
Antipasto – Appetizer, "before the meal"
Primo – Pasta, "first course"
Secondo – Meat or Fish, "second course" (my favorite course!)
Contorno – Vegetables, "side dish" (more for my humans)
Dolce – Dessert, "sweet"
Markets, Grocery Stores, & Farmers Markets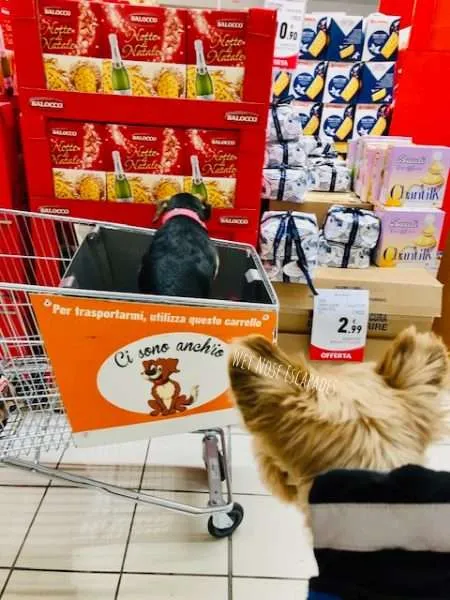 As barked earlier, dogs are not only allowed to shop with humans at grocery stores and markets, but they are also often accommodated with dog-designated shopping carts! Look for them outside whenever you want to take your dog inside. Alternatively, you can also just walk your dog in – it's not a pawblem!
BEST Dog-Friendly Neighborhoods to Explore
Trastevere – PAWS DOWN, my favorite neighborhood in Rome! It's hip, artsy, and colorful – a good mix of the new and old vibes with ample exceptional trattorias, cute artisan shops, local bars & laid-back pubs along with affordable accommodations. Translating to "beyond the Tiber," Trastevere was a formerly working class neighborhood and is known as the "real" Roman neighborhood. Walk your paws here or better yet, snooze overnight to get an authentic experience.
Parione – ARF, I've spent countless days marking up Parione, the dynamic neighborhood where two of the best squares in the city reside – Piazza Navona and Campo de' Fiori. My favorite part about Parione's is its spectacular monuments, small bars, vintage shops, and cool-looking churches. As my four paws hit their alleyways, my tail wags uncontrollably to sniff out the city's Baroque architecture.
Prati – With Rome's many ancient neighborhoods, Prati is considered a new kid on the block (or a young puppy, as I would bark). Developed in the 19th century, Prati is modern, sophisticated, and not to bark, very wealthy. Resting on the west bank of River Tiber, this upscale hood has bragging rights to expensive boutiques, lavish wine bars and lounges, and high-end eateries with St. Peter's Basilica in the backdrop. The streets are cleaner, which keeps my paws spotless and makes my walks smoother.
Borgo – This tiny neighborhood near the Vatican rests on the right bank of the Tiber River. Home to Castel Sant'Angelo, Borgo boasts local bars, vibrant cafes, sidewalk restaurants, shops on Cola di Rienzo, and cobblestone streets – all that you can explore with your dog.
ROUND-UP: TOP 12 Things to do with Your Dog in Rome, Italy
#1 Explore the TOP DOG Colosseum
#2 Cross the bridge to Castel Sant'Angelo
#3 Devour a REAL Italian meal – Sniff out my list of the best food in Rome and where to get it HERE.
#4 Grab gelato
#5 Roam around Circus Maximus
#6 Hang out at Trevi Fountain late at night
#7 Walk the Spanish Steps – ARF, perhaps not all 135 steps as it depends on your dog's age and health.
#8 Drink from the water fountain throughout the city – That's right, Roman water is free, drinkable, and tasty! I mean, they've only spent the last thousand years or so pawfecting it!
#9 Get pizza "take away" – Just a bark: they don't call it food "to-go" here, it's "take away." 🙂
#10 Go grocery shopping – Yep, shop for all the tortellini you want – with your dog next to you. You can even put your dog in a dog-designated cart!
#11 Wander around Trastevere – ARF-my-DOG! This is the best local neighborhood in Rome, as reported by my Sherlock wet nose.
#12 Visit Vatican City – OK, I know it's technically NOT in Rome or Italy, but come on, it's close enough.
Dogs on Public Transportation in Rome and throughout Italy
Throughout Italy, small dogs and animals can travel for FREE in both first and second class on all trains and in Executive, Business, Premium, and Standard service levels. The catch is that they must be transported in a carrier not exceeding the dimensions of 70x30x50 cm. As long as larger dogs are muzzled and leashed, there is no size limit! WOOF-HOO! And, depending on your luck, enforcement may be a hit or miss. Dogs are allowed on Espressi (Express), IC, ICN, Frecciabianca, Frecciarossa, and Frecciargento trains in both first and second class for a reduced ticket price at 50% of the original fare.
The downside is that large dogs are not permitted during rush hour time of 7-9 am Mondays thru Fridays. One dog is permitted per passenger. Also, their policy states that you must bring your dog's E.U. Pet Passport or health documents or you may be fined or forced to get off at the next stop (again, this is not always enforced). ARF course, guide dogs for the blind, regardless of size, travel for free.
As for buses in Rome, small dogs inside carriers are typically able to travel for free. But, keep in mind that the rules largely depend on the individual driver and transportation agency.
That's it, escapaders! Hope you have a blast marking up these dog-friendly things to do in Rome! Be sure to share your dog-friendly experience with me. 🙂 Grab my guide on Traveling to Italy with a Dog HERE.
Don't forget sniff me out here and follow my alpha paw prints on Instagram, Facebook, & YouTube!
Ciao!
Markin' it up,
Roger Wellington a.k.a. The Doob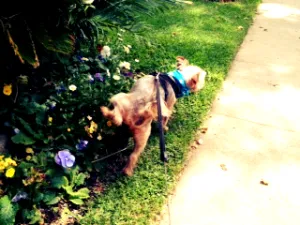 —
Like my post on "Dog-Friendly Things to do in Rome: A Yorkie's MUST-SNIFF Guide to Visiting Rome with a Dog"? CLICK TO PIN!