Konnichiwa, escapaders! My stylish tail is wagging as I bark about Tokyo, the sky-scrapin' bustlin' capital city of Japan. From the anime central of Akihabara to world-famous nightlife in Roppongi to classy shops in Ginza to fashionable poodles, Tokyo never fails to impress any creature who sets paw on its ARF-so-clean streets. WOOF, I haven't even barked about Japanese food yet – anyone in the mood to slurp some udon? PAWS down, ME! Now, how dog-friendly is Tokyo? Can you travel to Tokyo with your dog? Due to a lengthy 180-day dog import process, I do not recommend taking your dog to Japan for a typical vacation lasting a couple of weeks or even a month.
However, if you plan on staying in Japan long-term (at the very least, more than several months), then it could be worth the hassle – not to bark, the additional rabies shot and titer test for your dog (if originating from the U.S.). :/ ARF, to get a deeper sniff of what's it like moving to Japan with a dog along with the best dog-friendly spots in Tokyo, I've invited back my fellow furry global citizen Charlemagne, the always curious rescue Terrier.
Charlemagne and his globetrotting pawrent Julia have lived the BIG dream of moving to Japan, where they lived for 2 years (and would have stayed longer if it weren't for the pandemic. GRRR). WOOF, did I bark that they've also lived in Singapore? Dog, are these interesting creatures! So, get your wet nose ready for some real sniffing and perk up your ears to hear their barks about a dog's life in Tokyo!
Tell us a little bit about Charlemagne! (e.g. background, personality, whatever you'd like to share)
When Charlemagne was a year old, the East Bay SPCA rescued him from a hoarding situation, which was later described to us as "dogs on top of dogs." He was then taken in by Hopalong & Second Chance Animal Rescue, where he was fostered for some time. When we went for our Meet & Greet around 4.5 years ago, he immediately bonded with me (his mom) and has been my shadow (and bodyguard) ever since. He does have trust issues with new people and some dogs. Although he is fiercely loyal to us, he does eventually get comfortable with other people (with time). He is totally a sun dog, definitely not a water dog. He's very chill but can be very playful. He enjoys sprinting around in dog parks – when he was younger, he could outrun almost any other pup! He is very well-traveled: he's lived in 3 countries and has left his mark (literally) in 9 states in the U.S.
What do you love most about Charlemagne?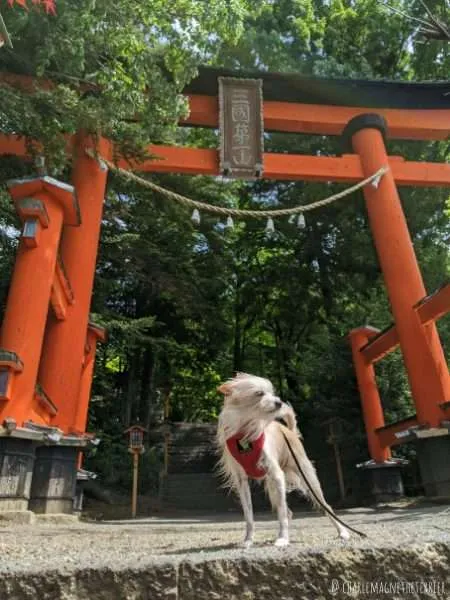 I love that Charlemagne is a very easy-going dog who loves a good playtime. He's curious and loves to explore the world, just like his mom & dad (we all love to travel and go on adventures!). Furthermore, he is very intuitive and comes to cuddle whenever he senses I'm sad or anxious about anything. He has his own personality and is quite confident while also making sure to stick by my side.
What is his favorite thing to do in the world?
He loves to sleep in the sun. He somehow always finds the sliver of sunlight and lies down right in it. Beyond that, he loves running and chasing/being chased by other dogs, playing with his squeaky toys, noshing on treats (dehydrated lamb lung is his fave!), and getting belly and thigh rubs.
What does he hate the most?
For some reason, fire alarms or other ringing sounds trigger a reaction that causes Charlemagne to tremble uncontrollably until we take him on a walk away from the noise. He also hates being wet (from rain, baths, or natural bodies of water).
What are his favorite foods? Least favorite?
Favorites:
– Dehydrated lamb – e.g., from Idahound and Mud Bay
– Chicken
– Nuts
– Cheese
– Carrots
– Blueberries and blackberries (only if squished)
– Orange fibers (yes, very weird!)
Least favorite:
– Peas
– Milkbone treats (sorry!)
– Apples
What is the most expensive item you've purchased for him?
$2k antivenom medicine when he got bitten by a copperhead snake in Dallas, Texas (while we were staying at my in-laws' place) :(. It was a very tiring day for all of us, especially since it happened during Covid-19 when we couldn't even be by his side at the hospital. Thankfully the antivenom worked, and he pulled through! Otherwise, he cares more about quantity than price (he has 5 dog beds, 10+ types of treats, and 20+ toys).
What was your experience with the dog import process to Japan from Singapore? What were some of the challenges? What went smoother than expected?
It was honestly a bit hectic, as the window of time to get everything completed was quite short. However, Charlemagne did not have to spend any time in quarantine (which could have been up to 6 months), so it was worth it! The process for us was:
[0] Ensure your dog has all relevant vaccinations and a blood titer test that is valid for your arrival (for Japan, your test must have been conducted 6 months to 2 years before arrival)
[1] Create an NACCS account at https://webaps.nac6.naccs.jp/prod/anau/send_webAps_login.htm
[2] Prepare a notification of import form (http://www.maff.go.jp/aqs/english/animal/dog/pdf/notification-dog.pdf) and upload the document on NACCS (at least 30 days in advance, but even earlier is better).
[3] Prepare an import inspection form (http://www.maff.go.jp/aqs/animal/dog/pdf/applicationim-dog.pdf) and upload the document on NACCS (recommend doing so well in advance to confirm the inspection office will have the capacity to examine your dog and paperwork at the time of your arrival).
[4] Get a pre-export inspection (http://www.maff.go.jp/aqs/english/animal/dog/attach/pdf/import-other-5.pdf) within 10 days of departure, and of course, schedule this appointment well in advance. Tips: The "Date of identification" in the form is the microchip date, not the examination date. And if there are any corrections to be made, the incorrect information must be crossed out with two horizontal lines and it must be signed by the vet beside the correction.
[5] Obtain government endorsement on the physical original documents (make sure all of the dates are in the Japanese format: yyyy/mm/dd)
[6] Bring all original documents and printed copies of Japan approvals with you to Japan and upon landing, proceed to the inspection area in the airport terminal. For us, the inspection was very quick – they scanned for the microchip, confirmed the papers, stamped the approval, and we were off!
*IMPORTANT: Make sure you have completed all export requirements in your departure country (for Singapore, we needed to get an export license within 30 days of departure. Also, the government endorsement took multiple days to obtain, so you should factor that into your timeline)
*Tip: Along the way, you can check your documents and ask any questions to the Japanese AQS at your destination, and they can confirm everything is in order.
Where in Tokyo did you and Charlemagne live?
We lived in an area called Sarugakucho, which is in between Shibuya, Ebisu, and Daikanyama.
Was it difficult to find dog-friendly housing in Tokyo?
We had an agent who looked for apartments for us. But in Japan, the things that made it harder to get an apartment were (1) not speaking Japanese and (2) having a dog. Many buildings are not dog-friendly, but they do exist.
What are some of your favorite dog-friendly parks in your area? (please provide specific parks)
– Yoyogi Park: nice park that also has two large off-leash dog runs — one for big dogs, one for small dogs (which has a small subsection for tiny dogs), and several dog-friendly restaurants
– Tamagawa River: perfect picnic spot next to a long river
– Showa Kinen Park: seasonally curated flower garden with several dog runs
*Note: you are supposed to register your dog at the park office before using the dog runs
*Note: dogs may not be allowed in some outdoor spaces that are considered more sacred or restricted (e.g., Meiji Jingu and the grounds of the Imperial Palace)
What are some of your favorite dog-friendly restaurants in Tokyo?
– Burger Mania Ebisu: solid burgers and fries
– THE LOBBY: great coffee and the best kakigori in the summer
– Kushikatsu Tanaka: cheap kushikatsu and drinks and DIY takoyaki
– Saturdays NYC: excellent coffee and a patio with a nice view outback
– Arms Burger: great burgers right next to Yoyogi Park, but usually there's a wait
– Jade5: cute small hole-in-the-wall restaurant for brunch on a mostly pedestrian street
– Yellow Company Ebisu: good soup curry shop
– Oreryu Shio Ramen (Shibuya): decent ramen with dogs allowed in covered patio
– Pizza Salvatore Cuomo (Shibuya): great Italian-style pizza with dogs allowed on the outdoor patio
*Note: all of the restaurants above allow dogs inside unless otherwise noted.
Are dogs only allowed to dine outside? Or do some places make an exception? If so, where?
Dogs are sometimes allowed to eat inside, but not always, so it's best to ask. The best practice is to keep your dog in a carrying bag if inside. Given that there is outdoor seating, dogs will be allowed in most cases. I followed this Google Maps list from Captain Jack for more locations. I also created a Google Maps list with some dog-friendly spots.
Overall, how would you describe the local people's attitudes towards dogs?'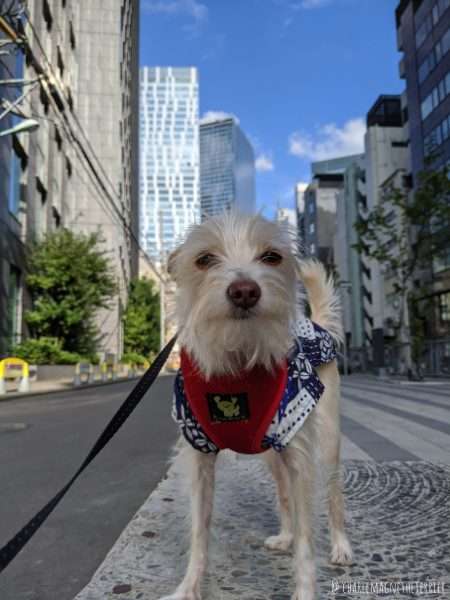 Generally neutral to positive. Dogs are often treated like children (i.e., fur babies), and you'll generally see very pampered dogs dressed up, nicely groomed, and sometimes in dog buggies. We often would see dogs posing for pictures in nice scenic areas. Several dog cafes even prepare fancy meals for dogs. Note that, in addition to the common courtesy of picking up your dog's poop, there is an expectation that you spray down your dog's pee with a water bottle (you will often see pet owners carrying a small tote with poop bags, wet wipes, and spray bottles).
What are some of your favorite road trip destinations (if any) with Charlemagne?
We weren't able to drive in Japan, but dogs are allowed on most public transit if fully enclosed in a bag.
– Kotokuin Temple: pets are only allowed if carried in a bag/buggy
– Tsurugaoka Hachimangu Shrine
– Komachi Dori: pedestrian street with many shops (including shops selling fresh dango)
– Verve Coffee Roasters: Light roast coffee roaster from Santa Cruz, California with outdoor seating
– 元祖鎌倉うどん 鎌倉美水: udon shop where dogs are allowed inside or on the patio
– Dottorino pizzeria stuzzicheria: nice neighborhood Italian restaurant with outdoor terrace seating
– Dino Diner: a restaurant serving tasty burgers and fries with covered outdoor patio seating
– KANJYUKUYA: restaurant serving really good hōtō and tempura with covered outdoor seating on the deck (sitting on floor mats) and a dog treat menu!
– troisieme marche: small cafe serving coffee and cake with outdoor seating
– Tokyo Restaurant Confectionery: sweets shop with monaka, dango, and seasonal & traditional desserts with some outdoor benches
– Hike up the mountain or take the cable car
– Some food options, but I'd recommend packing a lunch and/or stopping by a conbini for food, as it may be more convenient
What city/town would you say is the most dog-friendly in Japan? And, why?
Hard to say. Perhaps Tokyo because there is an abundance of places to go due to the sheer density of the city. In particular, it seemed like there were many dog-friendly options and vets in the Tokyo neighborhoods of Ebisu, Yoyogi-Uehara, Sangenjaya, and Komazawa. Alternatively, dogs may like the vast nature in other parts of the country like Hakone, Nikko, Nasu, or Hakuba.
Any other local dog-friendly places that you'd like to share?
There are many pet supplies stores, but some of the ones we shopped at were Kojima, Green Dog, and Zoo Ebisu. Don Quijote doesn't have a clear pet policy, so we would go inside sometimes (not in the food section) and never were asked to leave.
Based on your personal knowledge, would you say that people tend to buy or adopt/rescue dogs in Japan? Do pet stores exist?
Based on the designer breed dogs we would most commonly see, the existence of several puppy stores, and the lack of animal shelters, my guess is that most dogs are purchased. The puppy stores (e.g., P's-first) sell very young puppies at very high prices. Most are very small breeds, which makes sense given that apartments typically are very small in Tokyo.
How close is the nearest veterinarian from your house? (e.g. in miles and driving time)
Our vet was literally down the block from our place (500ft, so a 2-min walk). There are many scattered throughout the city, although you should definitely check Google Maps for English capability if you don't speak Japanese!
Approximately how much is a standard examination/office visit at the local veterinarian?
The consulting fee at our vet was 1,000 yen (about USD 10). Preventative flea/tick/heartworm treatments were pretty expensive.
How would you rate/describe the quality of veterinary care in your area?
Good, I suppose – although due to my limited Japanese skills, I wasn't really able to ask many questions!
What is one thing you'd like to share with us about a dog's life in Japan?
Life in Tokyo, Japan can be great for a dog, with many boutique shops and some restaurants allowing indoor seating. However, pet owners will need to be responsible and clean up after their dogs and make sure all their paperwork and documentation remains up-to-date. Dogs should be registered at your local ward office when you arrive, and you'll receive a cute dog-shaped registration tag; you'll also get a rabies tag. The ward offices usually schedule annual rabies shots at central locations at a discounted price. Rabies vaccination boosters are required annually, and you must obtain a new rabies tag each year. If everything is in order, you and your pup can explore all the great adventures waiting for you in Japan!
Thank you to Julia & Charlemagne for this interview and sharing their pawsome dog-friendly Tokyo life with us! Can't get enough of Charlemagne? Sniff out his interview on a dog's life in Sinagpore and follow his world travels on Instagram!
Wanna meet more fabulous dogs from Japan? Put a furry paw HERE.
Sayonara!
Markin' it up,
Roger Wellington a.k.a. The Doob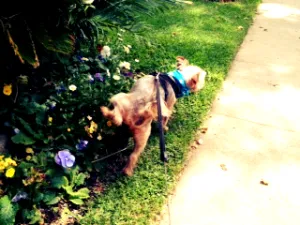 —
Like my post on "Dog-Friendly Tokyo: An Interview with Charlemagne, the American Terrier who moved to Japan"? CLICK TO PIN!