WOOF, looking for the BEST dog-friendly parks and places on the Upper East Side in New York City? Sniff out my furry buttocks to find out more!
Last Updated 8/12/23
*Please note that this post contains
affiliate links
, and at no obligation or additional cost to you, my humans and I earn a small commission if you make a purchase. If you love the work that we do, you can show your support by making a purchase through an affiliate link. Proceeds will go towards
feeding homeless dogs (and cats) along with improving the lives of the neglected and abused
.
ABOUT THE UES
This prestigious neighborhood on the "east side" of Central Park above Midtown starts at 59th Street and goes all the way north to 96th Street. Bounded by the East River to the east and Central Park to the west, the Upper East Side or simply UES constitutes three smaller neighborhoods – Lenox Hill, Carnegie Hill, and Yorkville. Whether you're a visitor or a recent transplant, the UES is ARF-so-dazzling – not just for humans, but also for dogs. Without fail, you and your dog will stumble upon plenty of dog-friendly eateries, parks, and activities in this ritzy area that was once home to some of America's most distinguished families, including the Rockefellers, Roosevelts, and Kennedys. ARF-my-God!
As a furry global nomad, I'm proud to bark that the Upper East Side has become one of my most beloved home bases. The UES may be glamorous, but you'll stumble upon a more down-to-earth atmosphere with laid-back bars, corner delis, and casual eateries as your furry pack leader leads you eastward toward 3rd, 2nd, and 1st Avenues. Sniff out my insider list of 10 BEST Dog-Friendly Parks and Places on the Upper East Side, NYC! 
Just a BARK: Although dog parks & runs are fun places to take your dog, you must always keep a vigilant eye for your precious dog's safety along with other dogs with who he's interacting. As always, be the responsible dog pawrent by cleaning up after your dog! Also, keep in mind that dogs are prohibited on children's playgrounds in all of NYC. 
10 BEST Dog-Friendly Parks & Places on the Upper East Side, NYC:
#1 Central Park – East Side
The main draw of this sought-after neighborhood is PAWS DOWN, no other than Central Park. Luckily, it's also one of the best dog-friendly parks on the Upper East Side. Situated right smack in the middle between the Upper East Side and Upper West Side, this 843-acre urban park is HUGE with plenty of grounds for your dog to sniff out and explore. On the east side of Central Park, I relish sauntering along the Conservatory Water, a pond with beautiful vegetation that's surrounded by the life-size bronze statues of Alice in Wonderland and Hans Christian Andersen. Nearly everywhere I turn, I see off-leash dogs frolicking around on hilly grassy fields regardless of the time of the day.
Although dogs must be on-leash on the walkway, there are ample off-leash areas (a whopping total of 23 areas in the entire park) to let loose and chase a furry butt or two. Despite the rules, it's never a rarity to find dogs roaming off-leash alongside their humans. In fact, it's more uncommon to see dogs on-leash (vs. off-leash) on the pathway, even in the 38-acre woodland walkway The Ramble. Covering both the UES and UWS on a 1.58-mile track, the 106-acre Jacqueline Kennedy Onassis Reservoir is also a prime spot to walk or run with your dog. 
Even though the Central Park Zoo stands on the east side with some dog-friendly paths (near the entrance), I hardly frequented it due to my stance against wild animals living or being bred in captivity.
Central Park Rules: Dogs must be on-leash 9:00 am – 9:00 pm. Off-leash hours are 6:00 am – 9:00 am and 9:00 pm – 1:00 am. Again, keep in mind that dogs must technically be leashed in The Ramble.
For more information on dog-friendly areas in Central Park, put your furry paw HERE!
#2 Carl Schurz Park – East 86th Street & East End Ave
Wanna take your dog to a bigger park on the Upper East Side that's NOT Central Park? WOOF, I've got you covered. Carl Schurz Park is THE SPOT! This lesser-known park with gorgeous East River views may very well be the UES' kept secret for dogs. Even though there's a children's playground (Catbird Playground) near the dog run, this park is big enough where dogs can easily avoid screaming or obnoxious kids. A quick walk on its waterfront promenade gets my stylish rat tail waggin' – this place is a real pawty for dogs who love socializing (such as myself). 
Offering two separate dog runs for small and large dogs, the Carl Schurz Park Dog Run is spacious enough, well-kept, and clean. As with most dog runs in Manhattan, this dog run has concrete floors to keep your dog's paws free of dirt. My favorite part about the dog run is that you'll get some ARF-mazing views of the East River, Randall's and Wards Islands, Roosevelt Island Lighthouse, and Triborough Bridge (well, at least for my human's sake since I'd follow other furry butts just about anywhere). ARF yeah, don't forget to take a quick sniff at the 18th Century Gracie Mansion yellow-white exterior, which is the Mayor's official residence. 
How to take your dog to Philly from NYC
#3 John Jay Park – FDR Drive (between 76th and 78th)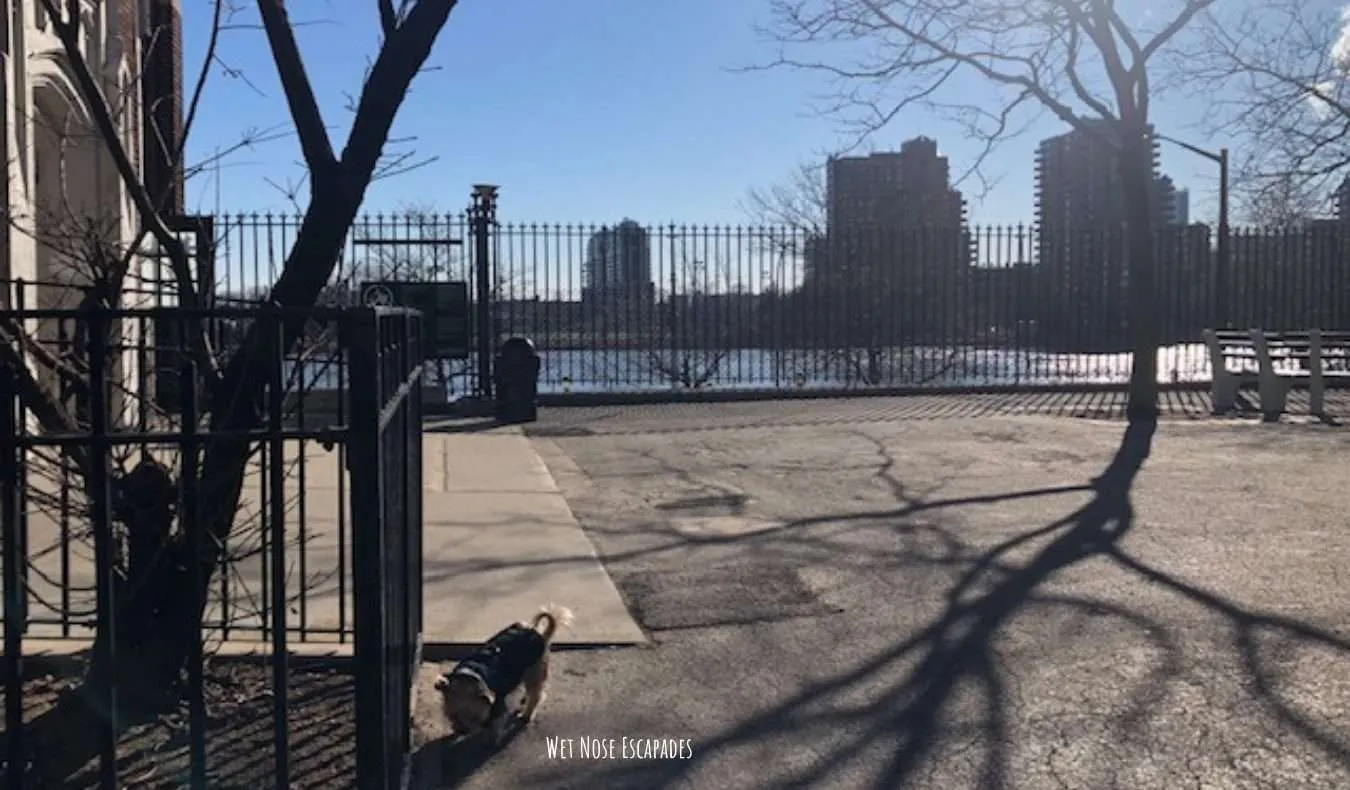 ARF, named after the former New York Governor, the 3.3-acre John Jay Park is my go-to neighborhood park! At this small, rectangular-ish park near the East River on FDR Drive between E. 76th and 78th Streets, you'll find mostly locals walking their dogs or letting them loose inside the basketball courts (well, when no game is in session). Needless to bark, this spot is like an unofficial dog park – a real hot spot for the UES dogs. Since I live only a few blocks away, I'd lead my humans here every single day for my morning sniff (gotta catch up with the "Furry Times"!). 
A downside to this dog-friendly local park is the children's playground, which is super popular with the stroller-pushing nannies and childcare staff. My human heard that there was even a ban on dogs at this park some years ago thanks to the children's playground, but fortunately, the ban was quickly overturned. Therefore, if you take your dog here in the morning or mid to late afternoon, BEWARE of screaming kids running around! Since it's near the East River, you'll find some head-tiltin' views of the river (although largely blocked by the fence gate).
10 BEST Dog-Friendly Activities in Lower Manhattan
#4 Andrew Haswell Green Park – East River at 63rd Street (Bobby Wagner Walk & E 63rd Street Pedestrian Bridge)
ARF-my-DOG, all I can bark is that this dog park rocks! I can spend all day tirelessly chasing furry butt after furry butt while my humans can relax to serene views of boats and ships heading toward Roosevelt Island, that crazily narrow island between Manhattan and Queens. Boasting two roomy dog runs on the north end (one for small dogs and another for large dogs), Andrew Haswell Green Park Dog Run a.k.a. East River Esplanade Dog Run is pawsomely located on the East River trail, south of Carl Schurz Park. 
Although most people prefer the Hudson over the East River, this enclosed, sandy-ish/gravel-filled dog-friendly area along the East River is spectacularly tucked away near 63rd St. and the east side highway with impressive views of the Queensboro Bridge, which famously connects Manhattan to Queens. Since many dog pawrents hate dealing with sand and gravel, this dog park offers a hose area to wash off your dog's paws after a long outing. The only downside to this happening spot is the lack of shade so it's best to come early in the morning or later in the evening over the summertime!
#5 Museum Mile/5th Avenue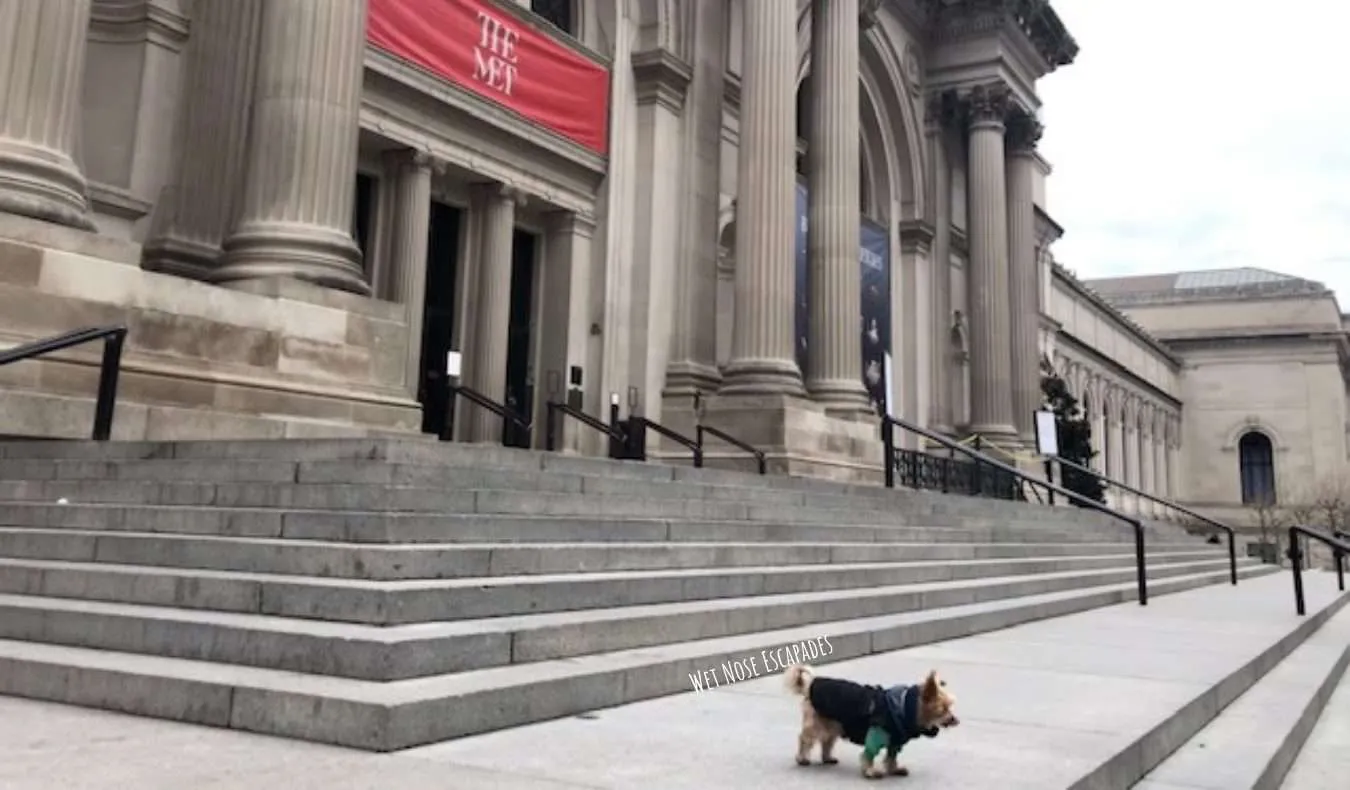 Situated in Carnegie Hill, Museum Mile is a bark-worthy one-mile + three-block stretch of world-renowned museums on Fifth Avenue in the Upper East Side. Running from 82nd to 110th streets, Museum Mile is PAWS down one of the UES' many claims to TOP DOG fame. Although dogs are generally NOT allowed inside museums, I love museum-hoppin' and sniffing out their intricate facades and exquisite architecture.
Besides, museum exteriors often make the best backdrop for a quick IG-worthy picture of your furry influencer. From The Met (Metropolitan Museum of Art) to Solomon R. Guggenheim Museum to El Museo del Barrio, there's an abundance of architectural beauty to drop my little Yorkie mouth in awe to without having to step my tiny furry paws inside. 
Outside of The ARF-so-fabulous Met, the 7 lb.-athlete in me can get my cardio on by running up and down the stairs – only stopping to pose for my human if I feel like it! 
From a distance, my alpha paws stopped across the street at the ultra-peculiar, almost outer spaceship-like Solomon R. Guggenheim Museum. Designed as a "temple of spirit," this museum sure looks (and smells) like it's out of this world! 
Learn how to take your dog to Hoboken from NYC!
#6 Madison Avenue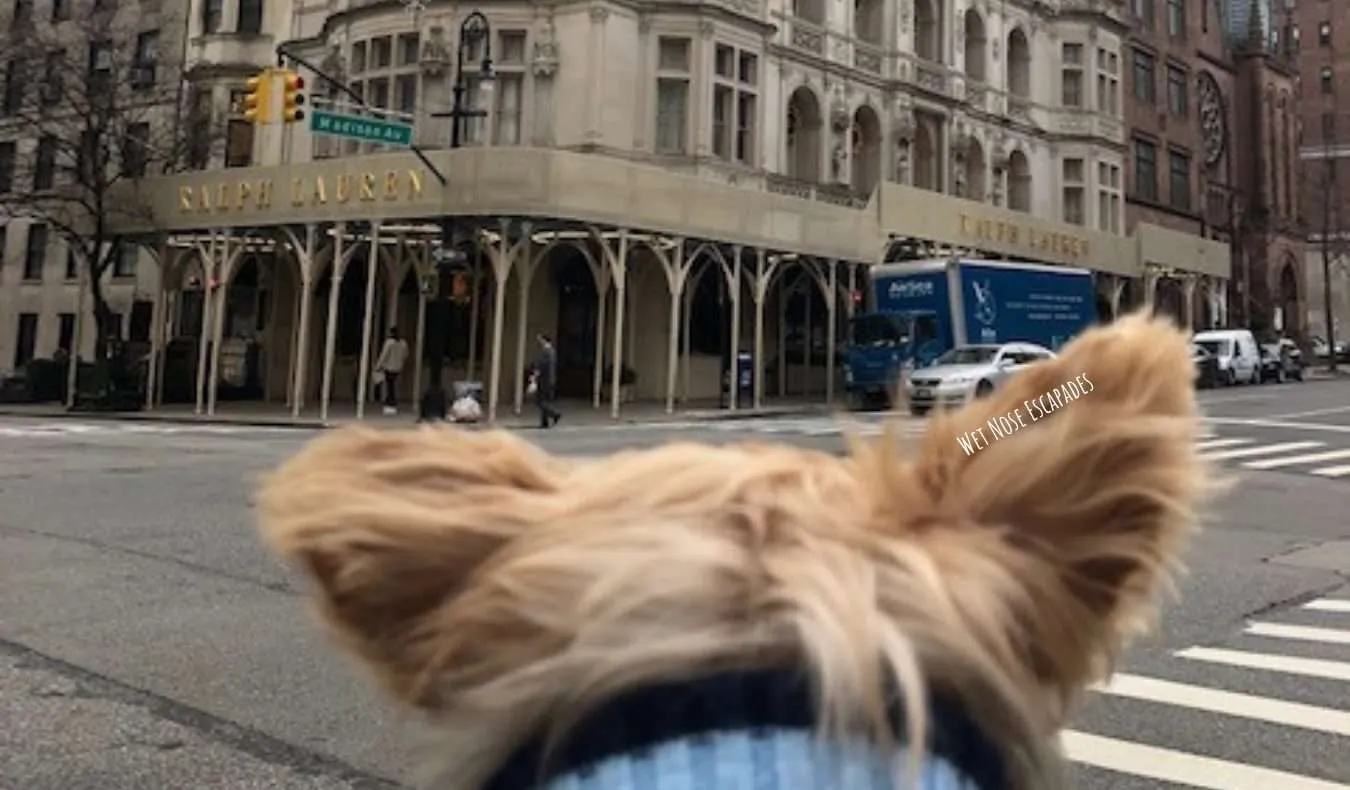 Named after the fourth U.S. President James Madison, Madison Avenue is where I better get groomed before walking my furry paws down this trendy street filled with designer stores and expensive boutiques. Perhaps I'd even throw on a cutesy shirt to match my human. My flawlessly brushed tail wagged in excitement as I met and greeted the finest and most voguish furry residents in the UES. With roots in the advertising industry, Madison Avenue has become a paradise flooded with luxurious goods for wealthy (or perhaps, materialistic) shoppers. 
From the high 60s to mid-80s numbered streets, you'll come across brand name after brand name – some you may even have trouble pronouncing correctly if you're not accustomed! From Theory Madison Ave & 85th to Madewell, Madison Avenue is a high-end shopper's dream. Even Ralph Lauren has an upscale dog-friendly coffee shop set up here! Since my millennial humans and I live quite the minimalist lifestyle after being nomads for over 5 years (and counting), we aren't keen on shopping (or even window shopping, really); however, we take immense pleasure in meandering along the classy Madison Avenue as a way to spend a tranquil, pawfect afternoon. 
How to take your dog to Connecticut from NYC
#7 Park Avenue
WOOF, a glimpse of any NYC-themed movie will hint to you that life on the Upper East Side means some expensive real estate. Yep, I'm barking with an upright tail that you'll find some of the priciest real estates in the WORLD, not just in the United States. Formerly Fourth Avenue, Park Avenue runs parallel to Madison Avenue (on the west) and Lexington Avenue (on the east) and showcases some of the most luxurious residential buildings NYC has to offer. 
Unlike Billionaires' Row where you'll find new skyscraping glitzy residential towers, Park Avenue on the UES has older yet very well-maintained shorter brownish brick buildings; despite its pricey zip code, it certainly sets off a more subtle, communal feel. Sure, you and your dog won't be able to access any of the multi-million dollar penthouses (unless you know someone), but it's always fun to walk up and down Park Avenue to get a quick sniff of the extravagant lifestyle in the UES. From suited and booted doormen to lit-up Christmas trees (right smack in the center of the street), Park Avenue feels like a unique town of its own.
6 Tips on Finding and Saving Money on Dog-Friendly Accommodations
#8 Dog-Friendly Restaurants & Bars in UES
Lucky for furry foodies like myself, dog-friendly restaurants and bars in the UES are easy to find! With bountiful establishments with outdoor seating all over the hood, eating and drinking with your dog is essentially a MUST when venturing out on the Upper East Side. Given any day during lunch or dinner, you'll surely find furry diners sitting either on human chairs or under the table waiting for a tasty morsel to drop (I prefer the human chair :)). Per my robust wet nose, the best places for food and drinks are mostly on (but not limited to) 2nd and 1st Avenues. Sniff out some of my favorite dog-friendly spots to dine out and about with my humans below:
Barking Dog (1678 3rd Ave) – A dog-themed American eatery with a doggie menu and doggie water fountain outside!
Jones Wood Foundry (401 E 76th St) – A homey British bulldog-themed pub with a cute dog-friendly garden patio.
THEP Thai (1439 2nd Ave) – A contemporary yet unpretentious Thai restaurant with vegan options offering dog-friendly seating (not to mention a dog-lovin' attitude :)).
The Stumble Inn (1454 2nd Ave) – A lively sports bar attracting mostly locals and their furry friends. A small BARK of warning: It can get a little rowdy over the weekends so it's best to come early to avoid the crowd – for your dog's sake. 🙂 
Get my 8 tips on how to dine with your dog!
*As dogs are pack animals who'd LOVE to experience meals with you, don't forget to pack a bag of treats, dog-safe food, bottled water, and to-go bowls for your dog! Don't make your dog feel left out.
#9 East River Greenway
A visit to the Upper East Side is never complete without a stroll along the East River. Besides taking your dog to Carl Schurz Park and Andrew Haswell Green Park, you can also walk your dog along the East River Greenway for some fabulous views of the river and Long Island City, Queens. The greenway elevates to a sweet pedestrian-friendly walkway at 90th Street above Franklin D. Roosevelt (FDR) Drive.
You can smile at the sights of the tidal strait Hell Gate and the 255-acre Wards Island while your dog investigates the pathway for the doggie guestbook (or shall I bark, mark-book?). GRR, the only downside is the traffic on FDR Drive, which can lower your dog's tail if he's not used to such noise. Nonetheless, I tend to make my mark on this pathway earlier in the morning (before rush hour traffic) for a more peaceful, quiet stroll. 
#10 Ruppert Park – 1741 2nd Ave bet. E. 90 St. and E. 91 St.
Dedicated to Colonel Jacob Ruppert, the first co-owner of Yankees, Ruppert Park is in Yorkville located on 2nd Avenue between E. 90 St. and E. 91 St. After the Civil War, Ruppert's father opened the Jacob Ruppert Brewing Company in the area. Opened in 1979, this urban park may be popular with kids (thanks to the children's playground), but it's also a heavily frequented park for UES dogs.
Although dogs are technically not allowed (especially on playgrounds), you'll still see plenty of local dogs ruffin' around with each other here. However, hear my barks of caution – you could get a warning (or even a citation – although it is unlikely but recognize that you're still "taking your chances"). Yet this doesn't stop UES dog pawrents from taking their dogs here every day. Many of the residents are pressing for a dog run or dog-friendly area so let's hope (with an upright tail) that everything will play out in the future when dogs can legitimately hang out here!
Providing immense shade from its oversized trees, dogs can enjoy a pleasant walk and sniff around the beautiful greenery even on hotter days. Even though this shady grove fails to offer scenic views like Carl Schurz, most dogs like myself still find it to be very sniff-worthy. My fashionable tail wagged uncontrollably to its simple yet enchanting presentation – it's just a small, clean, and green park with plenty of benches and tables for locals to enjoy a piece of nature in the Big City.
After consistent renovation over the years, Ruppert Park has transformed into a prolific green oasis with a water fountain and a wide range of dynamic species of flowers, plants, crops, and trees all densely cohabiting with one another. ARF yea, remember to stop your dog from peeing on the plants!
10 NYC Winter Safety Tips for Dogs
WOOF, hope you enjoy my picks for dog-friendly parks and places on the Upper East Side in NYC! Feel free to share your NYC experience with me – BARK AT ME!
Watch me take on the Big Apple:
Subscribe to my YouTube Channel: Wet Nose Escapades by Roger Wellington for more fun dog travel videos!
Markin' it up,
Roger Wellington a.k.a. The Doob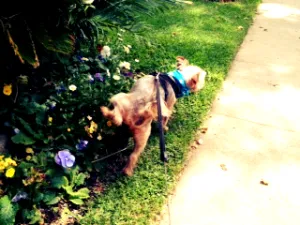 —
Like my post on "10 BEST Dog-Friendly Parks & Places on the Upper East Side, NYC"? CLICK HERE TO PIN!