WOOF, is Vancouver a dog-friendly city? YES, you betcha! 
Are you looking for fun places to take your dog in Vancouver, B.C.? Keep on sniffing!
First Posted 12/10/20, Last Updated  3/20/23
Although it rains about 165 days out of the year, Vancouver is still a very dog-friendly city worthy of a furry visit. According to my gregarious Canadian friends who I met during my month-long stay, Vancouver is very dog-centric. Arf-ter all, the environmentally-conscious city of Vancouver has a whopping 37 off-leash dog parks in addition to all the public parks, which are dog-friendly. That's right – according to the city's official website, dogs are welcome in ALL of Vancouver's parks as long as they're leashed (unless they are in a designated off-leash area). Just to compare, up until 2019, dogs could only access 16% of the parks in Paris, arguably one of the most dog-friendly in the world.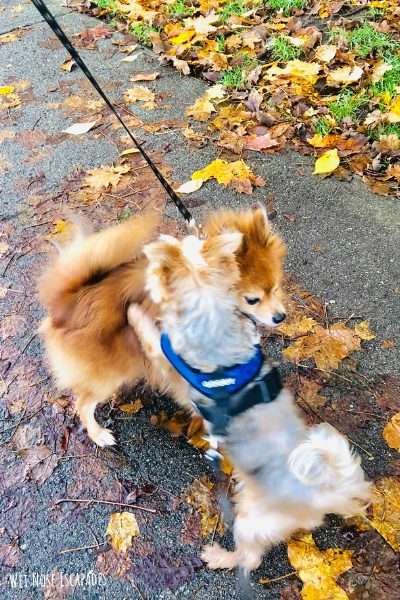 What I LOVE the most: As expected in Canada, I found both human and furry residents to be supaw friendly. ARRRFF, I have never sniffed out so many rescue dogs until I set my furry paws on the streets of Vancouver. From Thailand to Taiwan, these rescue dogs come from all over the world and often sustain physical and mental injuries after years of living on the streets. Since my humans have helped rescue dogs abroad themselves, they can attest to the horrific abuse that stray and feral dogs endure. As a dog who was given up not once but twice, I wagged my stylish tail to see mutts and Formosan mountain dogs take over the city parks. A high PAW to Vancouverites for being such compassionate animal lovers!
*Please note that this post contains
affiliate links
, and at no obligation or additional cost to you, my humans and I earn a small commission if you make a purchase. If you love the work that we do, you can show your support by making a purchase through an affiliate link. Proceeds will go towards
feeding homeless dogs (and cats) along with improving the lives of the neglected and abused
.
Watch me make my alpha mark around dog-friendly Vancouver:
Subscribe to my YouTube Channel: Wet Nose Escapades by Roger Wellington for more fun dog travel videos!
So now, let's sniff out the best places to take your dog in Vancouver, B.C.:
Dog-Friendly Stanley Park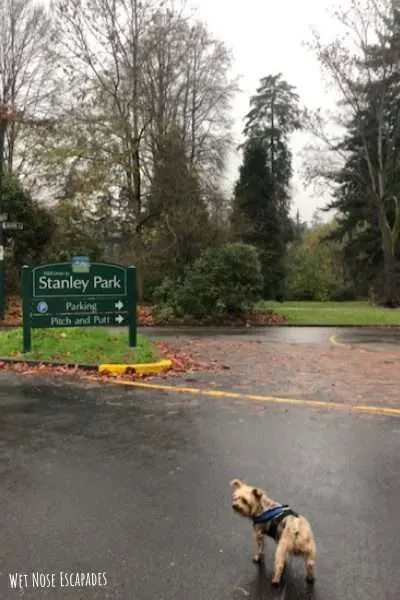 With over 1,000 acres, Stanley Park is an urban public park near downtown Vancouver. As the 3rd largest park in North America (surpassing NYC's Central Park), it's Canada's most famous and largest park where you'll find locals and visitors walking, biking, running, rollerblading, swimming, and picnicking along with other fun activities. In addition to bark-worthy backdrops of the mountains and oceans, you may stumble upon totem poles, monuments, and even some wildlife habitat.
Luckily for me and other furry travelers, the massive Stanley Park IS dog-friendly – again, as long as dogs are leashed and cleaned up after (although I've seen some off-leash, well-behaved dogs as well). There's also a small dog park here where dogs can technically roam around and go butt-chasing off-leash.
Side BARK: When I'm not marking up Stanley Park, my go-to park is the local Guelph Park, where it's quite a doggie pawty everywhere I sniff.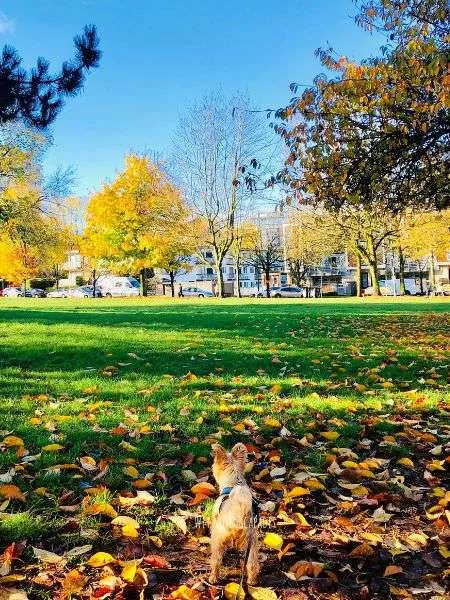 Dog-Friendly Walkway: Beach Avenue (English Bay)
ARF-my-DOG! Beach Avenue is one of the most arf-mazing places to take your dog in Vancouver. Since I resided primarily in the West End, I love strolling along the nearby scenic English Bay. From English Bay Beach Park to Sunset Beach Park, these bayside grassy field hangouts are the places to be for both humans and dogs. Regardless of where you start on Beach Avenue, you'll spoil yourself and your dog with some gorgeous oceanfront views. The sunsets against the stormy skies are NO JOKE; the views are incredible (and this is coming from someone who has seen the world-renowned, overcrowded Oia sunset in Santorini, Greece). As my human gazes into the dreamy sunset, I make myself busy with investigative sniffs and chases after those supaw friendly furry Canadians. 
Find out what essentials to pack for your dog!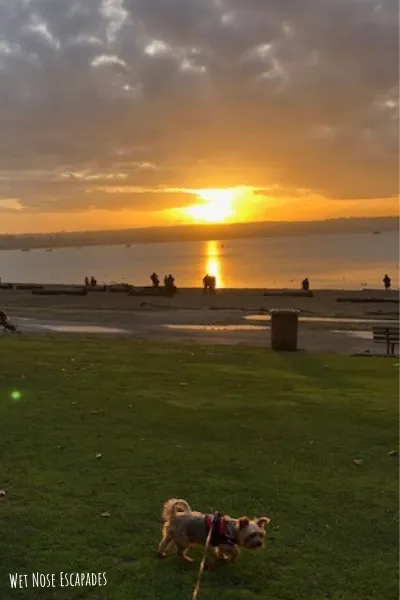 Dog-Friendly Beaches
OK – I'm not much of a canine swimmer, but I enjoy kicking back sand for the heck of it (and digging for gold). I also know plenty of dogs who never refuse a good dip (like my little Weimaraner cousin Sonny). As you can imagine, this dog-loving city has its fair share of dog-friendly beaches – with a whoppin' 8 beaches where dogs can get their paws sandy. My to-go beach is Spanish Banks Beach; located along the shores of English Bay, this sandy 16-acre beach with picturesque mountain and city views is dog-friendly with an off-leash dog area.
South of Spanish Banks Beach is Sunset Beach Park, where you'll also find lots of dogs roaming around despite a NO DOG sign. According to the city's official website, dogs are allowed at beaches with designed off-leash areas (although not every pawrent may follow the rules). Other popular dog-friendly beaches include Hadden Beach and Trout Lake Beach, both of which offer well-maintained off-leash dog areas. 
Again, don't forget to clean up after your dog. Otherwise, we may lose beach privilege!
Dog-Friendly Hikes
WOOF, as barked in the beginning, all of Vancouver's parks are dog-friendly as long as dogs are leashed. Hence, one can only assume that most hiking trails are also dog-friendly – well unless otherwise indicated. Although it's a bit of a drive to North Vancouver, Dog Mountain has a popular, short summit trail that's easy for small dogs like me. Closer to the city, you have Pacific Spirit Regional Park with over 73 km of clearly marked walking/hiking trails and on-leash and leash-optional areas. I also recommend Fraser River Trail, which makes a nice walk along the river with your furry athlete, and Everette Crowley Park, a popular hiking area for off-leash dogs.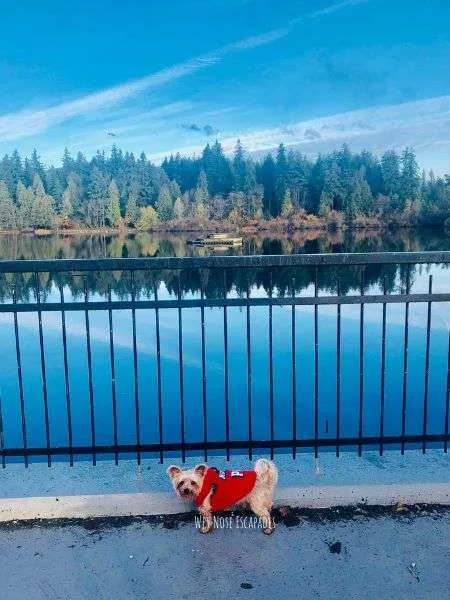 Don't forget to pack a water bottle (this one keeps water fresh and cool), to-go bowls, snacks/treats, and a pet first-aid kit. Also, for those small furry hikers, be sure to pack a soft carrier, in case he wants to rest his furry paws.
Dog Travel Essentials: Part 2 – Make sure you grab everything you need for your travel dog!
Dog-Friendly Island
Just south of downtown, Granville Island is one delightful place to take your dog in Vancouver. Once a dumping ground for waste, Granville Island has transformed into a cultural center that now attracts art lovers, international foodies, and the typical tourists. Although their famous indoor Public Market (hosting an impressive 50 vendors) doesn't allow dogs, your furry visitor can still dine with you at Public Market Courtyard, roam around Ron Basford Park, and hang out at the Picnic Pavilion. I also love exploring the exterior grounds of the island, walking along the dog-friendly Seawall, and attempting to get a deep sniff of the ocean waters.
Dog-Friendly Bridges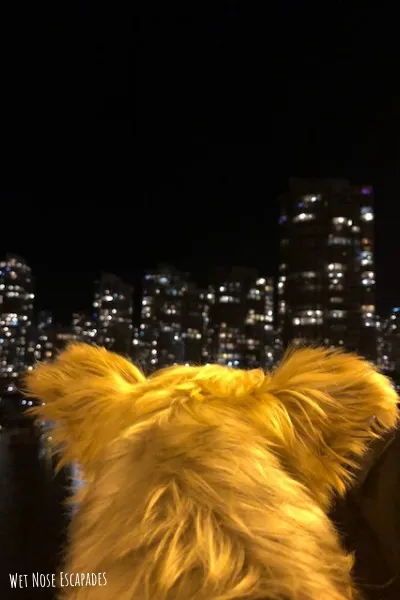 Cambie St. Bridge: This six-lane bridge connects the rest of Vancouver to Downtown, making it one of the coolest places to take your dog in Vancouver. With a 14-ft, 4.3-meter pedestrian walkway that's separated from car traffic with concrete barriers, Cambie St. Bridge presents marvelous views of Downtown, False Creek, and the Science World ball. Despite the walkway designated for both walkers and bikers to share, there is plenty of space for all travelers (including furry ones like myself, but of course, always practice safety first). After a fun outing in Yaletown, I love crossing the bridge with my tiny furry paws, especially at night with less foot traffic and those illuminating skyscrapers. 
Capilano Suspension Bridge:  Spanning 70 meters above the Capilano River, this 140-meter-long suspension bridge is, PAWS DOWN, one of the most pawpular tourist attractions in the city. And, luckily, dogs are allowed to walk on this bridge and tilt their heads to some jaw-droppin' greenery. But, arf course, due to such great height, please remember to be careful and keep your dog safe at all times. Unfortunately, it's not free to leave a mark on this mesmerizing suspension bridge – be ready to drop $62.95 for one regular adult ticket (although dogs are free :)). (Price as of March 2023)
Grab my exclusive guide on how to travel with your dog!
Dog-Friendly Ferries
As a former furry Greek Islander, I wagged my tail as I sniffed that ferries in Vancouver ARE dog-friendly! According to the official Aquabus website, dogs "are not just allowed, they are encouraged"! Their only request is that dogs must be "clean and on a leash." ARF, sounds easy to me! As they dock from 8 different locations (Granville Island is one of them), traveling by Aquabus is an exciting way to see different parts of the city. The fares are also relatively affordable, ranging from under $8.00 (CA) one-way to $17.00 (CA) for a day pass. (Prices as of March 2023)
Dock Locations:
1 Hornby Street
2 Granville Island
3 David Lam Park
4 Stamps Landing
5 Spyglass Place
6 Yaletown
7 Plaza of Nations
8 The Village
Dog-Friendly Neighborhoods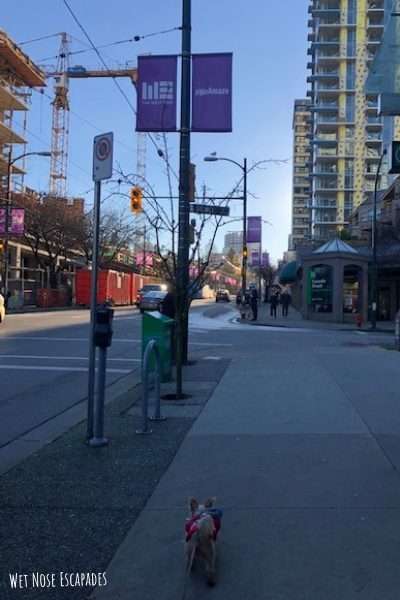 As one of the most ethnically diverse cities in the world, Vancouver boasts dynamic neighborhoods for you and your dog traveler to discover on foot (I mean, paw). Here are some of my favorite dog-friendly neighborhoods:
West End: Paws down, my favorite neighborhood in the city where I spent the majority of my time. West End is a laid-back, residential neighborhood with a foodie paradise reputation minus the yucky touristy feel. My humans are obsessed with handmade ramen noodles and dumplings from this hood. Its strategic location is unbeatable – right next to a beach and easy access to Stanley Park, which feels a lot like the Richmond District in my hometown San Francisco.
Yaletown: Renovated from run-down warehouse buildings, Yaletown is a small neighborhood known as the playground for the 20-30-something working Vancouverite professionals. Besides trendy restaurants, posh lounges, and heated terraces, Yaletown is also home to a pawsome waterfront park (David Lam Park) and a stoned Seawall. 
Gastown: Many tourists flock to Gastown to see the two-ton Steam Clock that whistles and shoots off steam at every quarter-hour. However, I was much more captivated by their lovely cobblestone streets, which kinda takes me back to my wet nose escapades in Europe. Since their hipster eateries, indie art galleries, and boutique shops have attracted both new techie residents and tourists alike, Gastown sets off a very distinct vibe compared to the rest of the city. 
Downtown: Is the bustlin' Downtown Vancouver dog-friendly? YES, arf-solutely! I briefly called the eclectic Downtown home before moving to the more easygoing West End. As a real urban dog, I am totally digging the city feel with the modern high rises and luxurious condos. From fancy boutiques to food trucks (not to mention their lively nightlife for humans), Downtown is an entertaining neighborhood to explore with your dog. Unlike other downtowns where the crowds make it unpleasant and unsafe to to explore with your dog, Downtown Vancouver is more laid-back, but still walkable. Not to bark, the streets are clean for a downtown – I like to keep my paws clean. 🙂
Why dogs make the BEST travel buddies
Dog-Friendly Vancouver FAQ
Are restaurants and bars in Vancouver dog-friendly?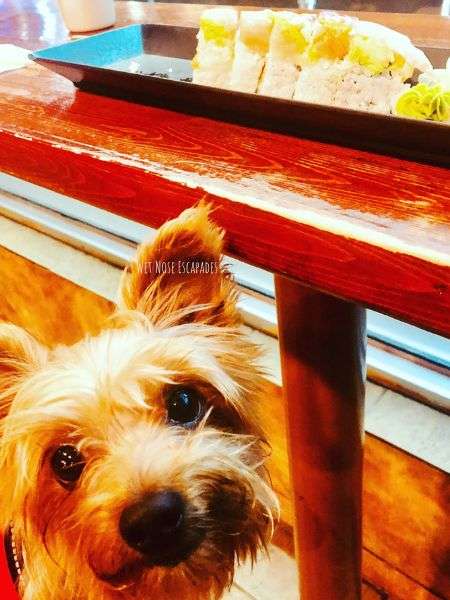 Unfortunately, this is where Vancouver falls short as a dog-friendly city. Restaurants and bars in the city are NOT so dog-friendly, even the ones with outdoor seating. Due to health regulations, the city of Vancouver does NOT allow dogs anywhere (NOT even outdoor patios) where food is served, except for registered service animals with proper paperwork. Fortunately, some restaurants and breweries may still allow dogs on their outdoor patio despite the city ordinance; it ultimately depends on management or perhaps the staff of the hour.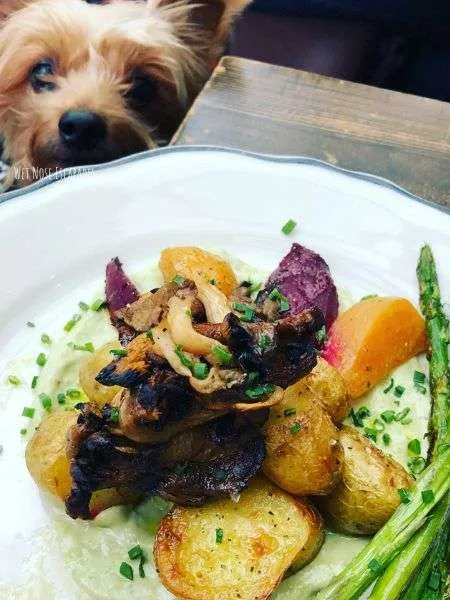 I've set my tiny furry paws INSIDE a Japanese restaurant in the West End whereas I was immediately denied outdoor seating at a contemporary restaurant in Yaletown. Therefore, dining with your dog in Vancouver is almost a hit or miss experience. For long outings, my humans grabbed meals on the go to enjoy with me at a park if they were unable to find a dog-friendly restaurant. If you're looking to NOT face rejection with your dog, head to Red Truck Beer Company (295 East 1st Ave), which is widely known for their dog-friendly patio. 
Get my 8 tips on how to dine with your dog!
Are tourist attractions in Vancouver dog-friendly?
As with most cities around the world, Vancouver does not allow dogs to accompany their humans inside tourist attractions. The only exception is service dogs, and you must show documentation. This comes as no surprise since even restaurants in the city with outdoor seating do not necessarily have dog-friendly patios. 
The good news is that there are plenty of outdoor dog-friendly attractions. Besides what I barked above, dogs are also allowed at the Hell's Gate Air Tram and Mainstreet Farmer's Market.
Is it easy to find dog-friendly hotels in Vancouver? 
Dog-friendly hotels in Vancouver are not hard to find, but you should expect to pay a daily or weekly fee for your dog's stay. Because Vancouver is not a cheap city, expect to fork out some top dollars for a decent hotel here, dog-friendly or not.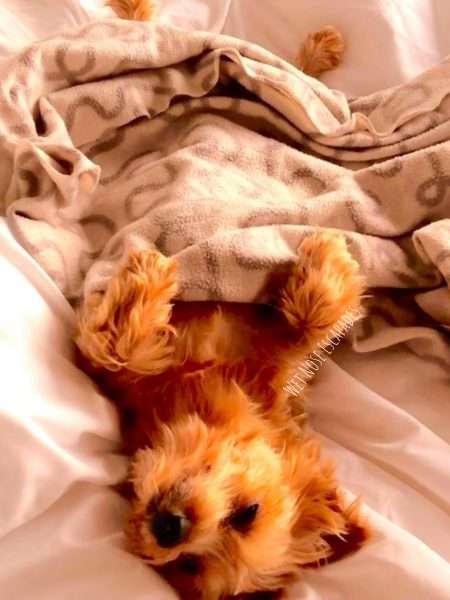 A few bark-worthy dog-friendly hotels:
Fairmont Waterfront 
900 Canada Place
4-star Hotel
$35 (CA) per night (tax included) for dog cleaning fee
Complimentary water bowls, welcome treats, and bed provided plus dog-sitting services are available upon request
Marriott Residence Inn
1234 Hornby Street
3-star Hotel
$75 (CA) dog fee per room
2 Dogs max per room with a 23 kg total weight limit (4th & 15th floors only)
Best Western Plus Sands
1755 Davie Street
3-star Hotel
$14 (CA) dog fee per day with a $100 per week maximum
Dogs are allowed based on the availability of pet-friendly rooms
2 Dogs max per room with an 80-lb. weight limit
Does your dog have what it takes to be an international traveler? Learn how to fly with your dog internationally!
Are dogs allowed inside cabs/Uber/Lyft in Vancouver?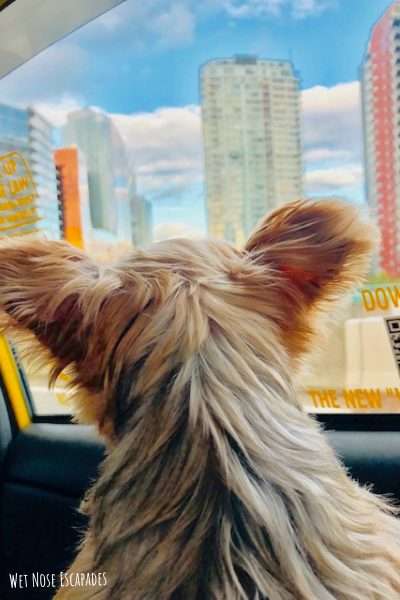 ARF, I took many cab rides around the city without any pawblems, even when out of hiding from my carrier. As for January 2020, Uber and Lyft are allowed to operate in the city. WOOF-HOO! Depending on the driver, furry passengers may or may not be accepted on Uber/Lyft. It's always best to ask ahead of time OR keep your dog (if small enough) inside a carrier to avoid any issues. 
Are dogs allowed on public transportation in Vancouver?
Unless you have a registered service dog, only small dogs like myself are allowed on public transit (including SkyTrain and public buses). Your small dog must be transported in a hand-held cage or carrier small enough to fit on your lap. 
How to travel to Canada from USA with your Dog
ARF, traveling to Canada from the U.S. with your dog is EASY PEASY! Proof of rabies vaccination is the ONLY requirement for all dogs entering Canada from the U.S. Likewise, to return to the U.S. with your dog, all you need is proof of rabies vaccination. No Vet Health Certificate or visit to the Vet needed before travel. WOOF-HOO! 
For dogs under 8 months NOT traveling with their owner, a health certificate must be completed by a licensed veterinarian in the U.S. within 72 hours of arrival in Canada. However, unlike dog travel to Europe, the certificate does not need to be endorsed by APHIS. Since air travel can be stressful for dogs, I'm barking with an upright tail that I do NOT recommend air travel for dogs under a year old, even when traveling with their humans.
*Always check the official APHIS website for the latest information
For $100 each way, I flew in-cabin from Los Angeles to Vancouver on a quick 3-hour flight operated by Alaska Airlines. Although I got out several times for a quick breather on my return flight, I snoozed with paws in the air inside my carrier throughout most of the ARF-so-smooth round-trip journey.
I used this fabulous green carrier to fly to and from Vancouver, and it has been in more countries than most humans on Earth! Get yours HERE!
Get 25 Tips on How to Fly with Your Senior Dog!
WOOF, is Vancouver dog-friendly? YES! GRR, my only complaint is that I wished there were more dog-friendly restaurants. But, overall, I'm happy to bark that most dogs in Vancouver live spoiled lives, which is deserving for all dogs. 
Hope you enjoy these fun dog-friendly places to take your dog in Vancouver, B.C.! Be sure to share your dog-friendly Vancouver experience with me. BARK AT ME!
Markin' it up,
Roger Wellington a.k.a. The Doob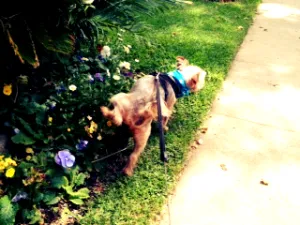 —
Like my post on "Places to Take Your Dog in Vancouver, B.C."? CLICK TO PIN!