ARRRFFF, let's bark Wellington. No, I'm not barking about myself! Sure, my name is, indeed, Roger WELLINGTON, but I have yet to leave my alpha mark in Wellington, New Zealand – the city that I'm secretly barking that was named ARF-ter me, the one and only TOP DOG. 🙂 The paw-bulous capital of New Zealand, Wellington is a gorgeous seaside city situated at the southwestern tip of the North Island, between Cook Strait and Remutaka Range. Consistently ranked for its high quality of life, Wellington is one of the world's most livable cities. PAWS DOWN. It boasts one heck of a waterfront promenade and blissful beaches to get those furry paws sandy. ARF-ter all, it's not called the "Coolest Little Capital" for no reason.
Not to bark, it is also the country's second most ethnically diverse city with a mixing of cultures among Polynesians, Asian sub-groups, and Europeans. Now, is New Zealand dog-friendly? Due to some complicated dog import requirements (which include quarantine), it may be a long while until I set my furry paws on the bustling streets of Lambton Quay a.k.a. The Beach. Thankfully though, I can sniff out what it's like being a dog in Wellington from my furry pals Milly & Poppy, and their sweet mommy Sheree. Keep on sniffing to get the lowdown on dog-friendly Wellington!
Tell us a little bit about yourself.
My name is Sheree, I'm an IT professional currently living in Wellington, the capital city of New Zealand.
Wellington is located at the bottom of the North Island, so we have the luxury of everything being relatively close. Well, most things are close in New Zealand. We're small and often forgotten about with the rest of the world although Peter Jackson put us on the map with Lord of the Rings filmed here (a lot in Wellington) and our rugby team, the All Blacks. New Zealand has a population of approx. 5 million, with our closest neighbours being Australia and the Islands (Fiji, Cook Islands, Vanuatu etc).
My ex-husband and I have a great relationship, and we share the dogs. Like parents do with their children, our dogs were like our children. Some friends found that strange, but we've been doing it for 5 years now, and it works great. If either of us goes on holiday, the other can look after them, the dogs go different places with each of us and know the routine. They wait every Saturday morning at the door, somehow knowing what day it is, and listen out for his ute to turn up. And, off they go for some different adventures.
We have all seasons here, so enjoy snowboarding in the winter, often followed closely by a holiday in the Islands (although not so much since COVID), but the likes of Fiji, Cook Islands, Vanuatu are a regular spot for many kiwis and a relatively short flight.
I also sail and race most weekends. We have a few clubs in Wellington, also known as the windy city, so sailing is ideal and also started taking up kitesurfing lessons.
Tell us a little bit about your two dogs (e.g. name, background, age, weight, personality, who else do they live with, etc. – whatever you'd like to share.)
We have two miniature Fox Terriers that we got at 12 weeks from a local farmer, so they're from the same litter. They are turning 8 in May this year and starting to get greyer and slow a little. Milly is approx. 9kg and Poppy is about 8kg, there has always been a kg between them, although Milly feels about 12kg when lifting her compared with her sister, who's more featherweight.
We were told that getting two the same age can result in some hierarchy issues. They fought like any two sisters and worked out who was the boss – it was also evident to us when we found Milly sitting facing the wall while her sister, Poppy, gave her the evil eyes.
Poppy is the smaller of the two, the runt of the six puppies, but the boss of the house. She has an underbite and is always smiling.
She rules the house, will bury her treats, then steal her sisters, or just have both if she feels inclined. She will often do a lap of the yard every half hour at night to make sure the neighbour's cat isn't on her territory or that a bird isn't making itself at home in her yard. Poppy loves a game – standing still and staring at her sparks her into position, butt in the air and front paws sprawled in front. She does a little growl and runs to get her toys or starts doing mentals around the house. Poppy loves watching TV; unless it's an animal on there, cartoon or real – it doesn't matter, she'll run up to the TV and tell it to leave. Then, she'll staunchly walk back to her bed and keep watching, to make sure the intruder doesn't appear back on the TV.
Milly was number two in the litter, and her chunkier body proves that (although she's not shy of finishing off her sister's bowl, which doesn't help).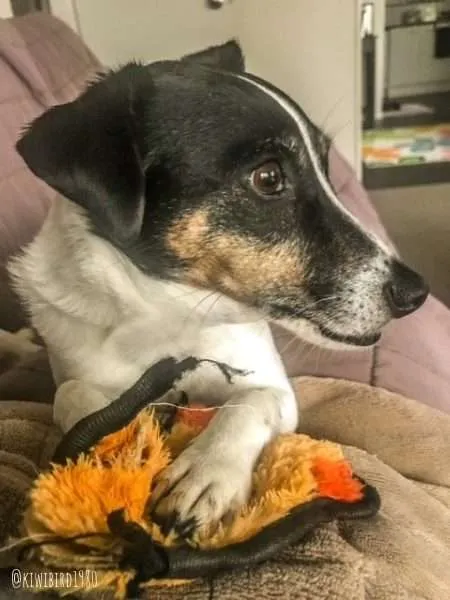 Milly is less playful and prefers to sleep or have a belly rub, which is her main party trick whenever a new person meets her – one pat, and she's already on her back. She gives the most pitiful looks and is a big drama queen. Just asking her how her foot is, she'll hobble over, holding it up, until you cuddle her and tell her she's ok and off she goes. Although Poppy is the boss in the house, Milly is the boss outdoors. They both love off-lead walks around the various parks/beaches we have. Poppy will follow behind Milly and fret if Milly goes bush and Poppy sight. Milly I think was a mountain goat in a past life, she will scamper up the side of a hill, on the hunt for any rabbits, despite her round belly she is more a marathon runner than Poppy who's a sprinter.
What do you love most about them? What are their favorite things to do in the world?
I love their different personalities and how they are so easy to manage and look after. They've both had puppy and teen training but they're just so easy going. People who meet them are curious as to why they are so quiet. They bark when they need to but otherwise, they're just happy being around us or doing their own thing. They are great company, especially during lockdown, where I spent my 40th working on Covid projects till all hours and the company of the girls. The house is very quiet when they're at their dad's but also, no fur for a week!
Poppy loves playing and being near you. Although she's not a cuddler, she will always lay close with one eye on you. She loves a good game of hide and seek (funniest thing is watching them look for you). Milly loves being close and her belly rubs, and just lazing about, you'll find her sunbathing most of the time. Neither are huge water dogs but they do love a run through the local river or beach. They prefer bush walks more.
What do they hate the most?
They're not fans of bath time! They stand like little statues and gradually edge their way closer to the side of the bath. But playtime after a bath is fun for them, doing laps of the house and yard.
They're not keen on cats or birds – on our walks, they'll think they're being stealth, but their collars jingle. Despite being terriers who are known for speed, they're not so much and give chances very early in the game. Milly did chase the shadow on the ground of an airplane once, as it flew overhead.
What are their favourite foods? Least favourite?
Both love their dog roll – just good old normal dog roll. Their favourites are chicken and cheese.
Once a week they get raw chicken necks – they love these too as it's good to clean their bellies and teeth. They love the taste.
They aren't that fussy really and have always had a range of foods but their least favourite would be tinned food. They had some during Covid when their other food was harder to get so I had to sprinkle some cheese on it for them to eat. But I think it was more that it was different, not that they didn't like it.
Complete this sentence: "My dogs are so spoiled that my friends wish they were my dogs cause of how well they are treated." They really are – heated dog bed in winter, feather duvet, the walks and holidays they take, and just everything about their lives.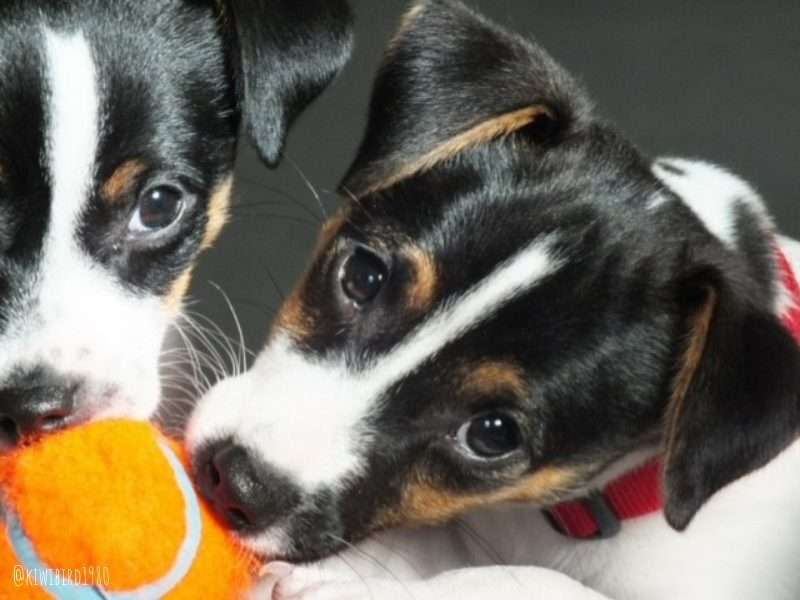 What's the best part about having a dog in Wellington? Biggest challenge?
Wellington has the CBD in the middle and the suburbs around the outskirts so there is plenty of room to get out and about. Wellington recently allowed dogs/animals to travel on public transport, buses, and trains.
There are a lot of off-lead dedicated parks and walks around the Wellington region, one about an 8-minute walk from home has a river running through it, a picnic area for the family, and a nice long walk that takes you to a waterfall. Great for the hot summers.
Wellington dog parks also make it a family-friendly environment, not just for the dogs. Ensuring the park is family-friendly, they often have free dog bags along with taps and water bowls available. Kids can ride their bikes while the dogs run around.
There are now many cafes around our waterfront and inner-city that allow dogs. They even have dog menus!
Many beaches accommodate dogs too, with some more so in winter to avoid dogs running up to eat the family lunch at the beach, so there are summer hours and winter when it's pretty much free rein.
I tend to drive up to about 40 mins to get right into the bush for the walks. There are some good hard walks and some lighter ones – each generally has a river, waterfall and not that many people, due to the number of parks/walks available.
The challenge I've found would be those who don't pick up after their dogs. There are always some, but kiwis are also very vocal if someone didn't. Some people walk their dog off-lead when it's not an off-lead area, and then wonder why other people complain when their dog runs up or causes problems. There is always the odd one or two who don't abide by the rules.
Overall, I can't complain about the number of parks and the investments made by our city councils. There are maps online of all the dog parks, including those that are fenced in. Every place is clearly marked, indicating if it's dog off-lead or on-lead, etc.
Did you grow up with dogs? If not, how/when did you become a dog lover?
Our family had a dog growing up, and I've had two dogs when I was in my early 20s. However, I ended up doing my OE (Overseas Excursion) that most kiwis do. Living so far from the rest of the world, we tend to pack up and live in the UK and travel the world while we are over there, which I did for nearly three years. My parents looked after my two while I was away and ended up keeping them as our family dog had passed away (at 16 years), so they were company for my parents.
My two dogs didn't forget me even after nearly three years. They ran up so excitedly and didn't leave my side for a long time.
What are some of your favourite dog-friendly parks in your region/city? (please provide specific parks)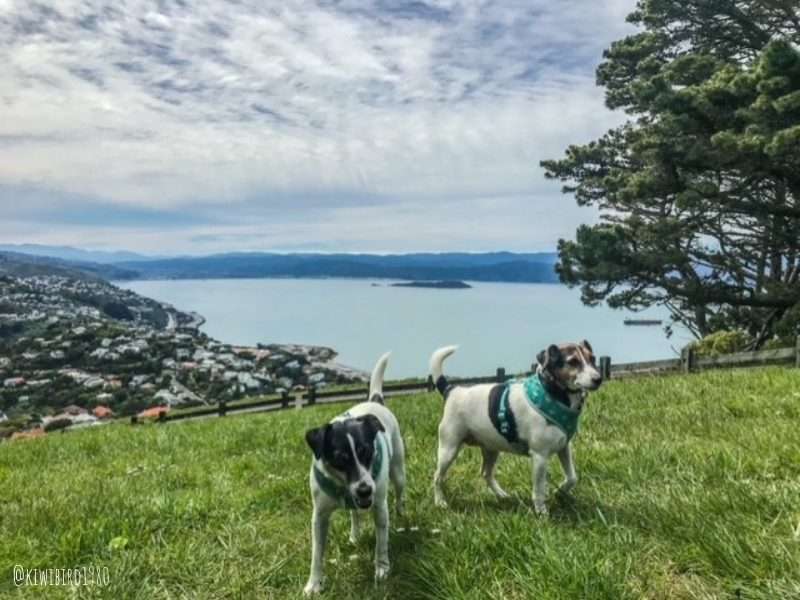 One of the favourite nearby is Seton Nossiter Park with its river and waterfall.
Whitireia Park has amazing views of the south island and is a lovely walk.
Tawatawa Reserve has great sea views.
Queen Elizabeth Park is a beautiful beach that has off-lead. If you get there early enough, the beach is empty – just lots of empty beaches for the dogs to run around.
Trelissick Park is an all-off-lead park that runs between two suburbs, with the river running through it and lots of native birds.
There are so many more, but these are some of our favourite ones.
What are some of your favourite dog-friendly restaurants, if any (please provide specific restaurants)? Are dogs only allowed to dine outside? Or do some places make an exception for indoor dining? If so, where?
Beach Babylon – This is a great restaurant where dogs are allowed to dine outside and they have their menu, from biscuits to meat platters to dogoccinos.
Golding's Free Dive – Dogs are welcome inside or out. It's great with concrete floors. And, the food and drinks are great for the humans too.
Parrotdog Brewery – This brewery is located near another dog beach, a very popular surfing beach at Lyall Bay. Dogs can also go inside. It's a great place for humans to watch beer being brewed.
What are some dog-friendly tourist attractions in Wellington (if any)? Any other local dog-friendly places that you'd like to share (e.g. beaches, trails, resorts, etc.)?
Some of the areas where you can take your dog on walks are both on and off-lead locations, where the Lord of the Rings was filmed. These are just places next to main highways or rivers or in a bushwalk.
You can take your dog for a ride in the cable car after a successful trial, and it takes you up to the Botanic Gardens.
If a visitor were to ask you for your TOP 5 things to do with a dog in Wellington, what would you say?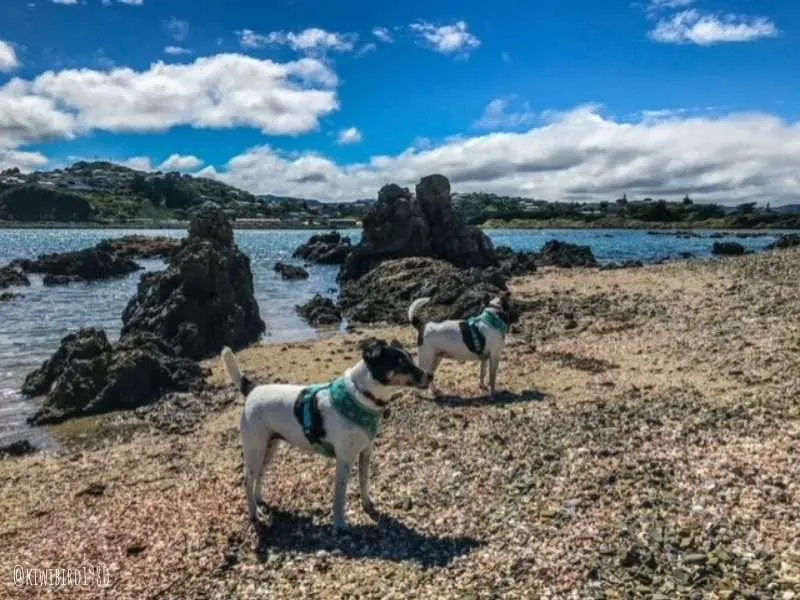 #1 Head to Lyall Bay Dog Beach – You can watch dolphins playing with surfers, then head across the road to the Parrotdog Brewery or Spruce Goose Café, where dogs are allowed outside. You can sit and watch the surfers and planes come and go to the nearby airport.
#2 Walk around Oriental Parade – You can enjoy the man-made beach that allows dogs off-lead during off-peak times. Beach Babylon is along here and offers a dog menu. You can sit and watch the sailing or just the world go by while enjoying a glass of wine. Oriental Parade walk is all around the waterfront and offers a wide range of views, markets, and restaurants/bars.
#3 Take a walk around Whitireia Park – You can get great views of the South Island and watch sailboats and fishing boats head out. You can enjoy the beaches in a secluded area.
#4 Head up to Mt. Victoria – It provides panoramic views of Wellington, and many of the bushwalks around that area were featured in LOTR.
#5 Head out to Kaitoke Regional Park – This camping ground offers many walks, rivers, swing bridges, and other great outdoor fun. And, it's dog friendly.
Overall, how would you describe the local people's attitudes towards dogs?
As long as owners pick up after their dogs and allow dogs off-lead in off-lead only areas, then there is no problem.
How would you describe the overall stray situation in where you live (e.g. is it a problem or is it nonexistent)?
As long as owners pick up after their dogs and allow dogs off-lead in off-lead only areas, then there is no problem.
It would be a very rare occasion that stray dogs are roaming around without an owner. I haven't seen any before. There is a large Facebook community for dogs – for any dog found with no collar, etc. (all dogs are to be microchipped in NZ), they are reported on Facebook and taken to the RSPCA/Pound. There is a local person with her own scanner, so she is often engaged to help identify the owner.
What are some of your favorite trips you've had with them (e.g. road trips, air travel – if any)? How well do they travel?
Dogs aren't permitted to travel on planes in New Zealand, so we have a ferry to get from one island to the other. The ferries take both cars and animals. Most dogs just travel with their owners.
I've booked a house in Martinborough before (a town surrounded by Vineyards). The house allowed dogs so they enjoyed roaming the section and there were some local beaches that were tourist attractions so they enjoyed a walk there.
The dogs' dad has a campervan, so they often go on holidays with him and stay in many places. He also takes them up to his extended family up the North Island so they are well-travelled.
They both just sleep in their crate in the car without barking or making any noise, apart from their snoring. We stop regularly for them for walks and toilet stops, but otherwise, they're used to car rides.
Are dogs allowed on buses, subways, rideshares, taxis, etc.? If you have any memorable experience regarding taking them onboard, please feel free to share!
I've not taken them on public transport. We don't have subways, just buses and trains. New Zealand is relatively small so driving by car is the most used mode of transportation. However, they are allowed on buses and trains after a successful trial, although I've not seen anyone take theirs on the bus (apart from a seeing-eye dog).
Based on your personal knowledge, would you say that people tend to buy or adopt/rescue dogs in New Zealand? Do pet stores exist (where dogs and cats are sold)? Do you know how breeders are regulated?
A majority of people tend to adopt rescue dogs from the SPCA or someone who may have them for sale locally.
There are dog shows in NZ with various breeds and dog breeders. NZ has had instances of dog breeders illegally breeding, and the SPCA caught and prosecuted them. Everyone keeps an eye out and reports those neglectful or doing wrong to a pet.
There are the odd pet stores, but they have become less and less. The SPCA or breeders, etc. are the more popular places to get a pet.
How close is the nearest veterinarian from your house? (e.g. in miles/km and driving time)
My vet is about 10 mins max. in driving distance. The after-hours emergency clinic is about a 15-min drive. There are several vets within a similar distance to mine.
Approximately how much is a standard examination/office visit at the local veterinarian?
A vet visit, depending on what for is approx. $60-100 for both dogs.
How would you rate/describe the quality of veterinary care in your area?
My vet is great. He has gotten used to the dogs and provides good advice, not just on medicines but a range of things to try. Vets in our area are well-recommended and tend to have loyal customers.
How difficult is it to find dog-friendly housing in your area? Do you have to pay extra money?
At the moment, NZ is hard to rent in general as our housing market has risen significantly, so the cost of buying a home is out of reach for some. There are pet-friendly places to rent, but often not as easy to come by. And, if they are rentable, the landlords lean more towards cats than dogs. But, there are websites for renters who have pets looking, and often they have references from previous tenants.
What is one thing you'd like to share with us about a dog's life in New Zealand?
From what I've seen, being out and about a lot with my two dogs, is that everyone else is out with theirs. The parks are often busy with dogs, and families are all walking, whether it is in the city, beaches, or parks. Kiwis like the outdoors. Seeing everyone out enjoying what our country has to offer is great. It shows that these dogs are being looked after, exercised, cared for, and part of the family.
Are there any changes you'd like to see in the way people treat dogs in New Zealand?
Like with any country, there is a minority who shouldn't own dogs or breed them. There are cases like that here in NZ, but we know this because they are being caught and prosecuted, thanks to the public for reporting. And, the SPCA for stepping in to enforce the rules and laws that protect animals. So while it happens, the fact that it's being found and shut down shows that things are improving.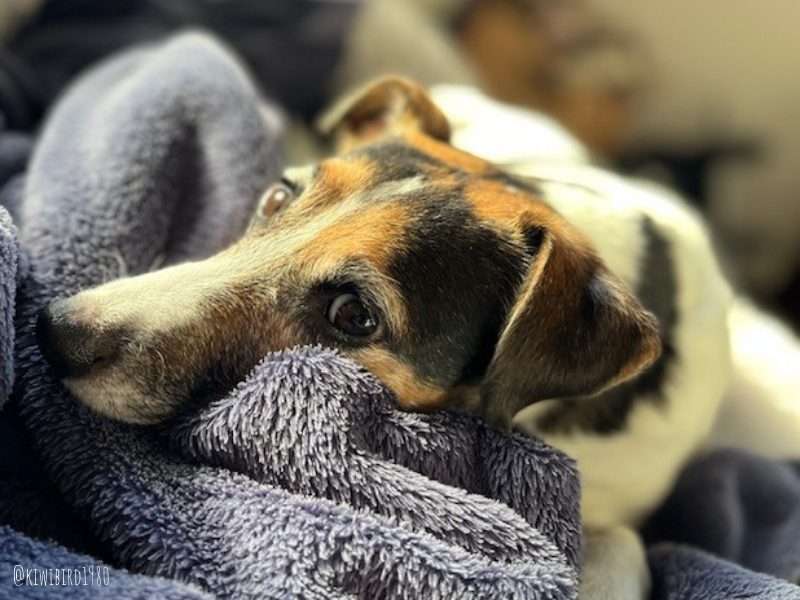 Why is Wellington worth a visit? 🙂
Wellington is known as the "Coolest Little Capital." Of course, I am biased, but it's pretty great. It's a place where anything and anyone goes – there is no judgment on what you wear and what you do. People are free to live their lives for the most part.
We have a great restaurant/bar/café culture with the best coffee you've ever tasted, guaranteed! We are big on our coffees.
Wellington has the best indoors and outdoors, and you're never too far from anywhere, as we're pretty much in the middle of the two islands. There is something for everyone – eating, drinking, water sports, mountain biking (we have some great tracks), beaches, etc.
Wellington has a lot of history – you can walk around the waterfront and read plaques where the shoreline used to be until 1855 when an earthquake caused the land to rise, which is now one of our main shopping streets.
We have a lot of festivals and concerts (well, less while COVID is around), but there is always something happening somewhere to see and enjoy.
We also have Weta – the Peter Jackson production company that did the likes of LOTR, Avatar, King Kong, etc., so you can explore the Weta Cave and see how things are made and developed.
I would recommend coming to Wellington and seeing what it has to offer. Also, I would recommend exploring the rest of New Zealand. Since it's a long way to come for a visit, you should make it an adventure holiday.
Would you recommend that dog parents visit Wellington with their dogs?
I recommend dog parents come to Wellington for a visit, see the sights, and let their dogs explore what we have to offer. It's a great experience for the dogs but also great for the humans to check out a bit of the "Coolest Little Capital." There is a lot to see and do in the city itself and the surrounding region with vineyards, animal parks, beaches, and parks.
Thank you to Milly, Poppy & Sheree for this wonderful interview and sharing their pawsome dog-friendly New Zealand life with us! Can't get enough of Milly & Poppy? Sniff out & follow their escapades on Instagram!
How to Take Your Dog to New Zealand from the U.S.
WOOF, ready to take your dog to visit the ARF-mazing New Zealand? GRR, not so fast! Due to New Zealand's classification as a rabies-free country, dog import is a very lengthy process, unless you're coming from neighboring Australia. Unless you're going for a long-term stay, taking your dog to New Zealand may not be worth the hassle and stress on your dog. Take a deep sniff below:
#1 ISO 15-digit Microchip – Get your dog chipped if you haven't done so already. Microchip is the first step to making your dog an international traveler!
#2 Importer Breed Declaration – This declaration must be made upon arrival in New Zealand. The Dog Control Act 1996 prohibits the following breeds and types from entering the country:
-Brazilian Fila
-Dogo Argentino
-Japanese Tosa
-Perro de Presa Canario
-American Pit Bull Terrier
GRR, since I grew up with the sweetest Pitbull, I can attest that no breed is deemed "dangerous" – it's all about the human who raised them to be aggressive.
#3 Import Permit – The import permit is required for dogs from all countries except Australia. A minimum of 10 working days is needed to process. Apply for the permit HERE.
#4 Documentation Required to Accompany Goods
Import permits
Veterinary certificate
Laboratory reports
Importer dog breed declaration
*All documents must be identified with the animal's microchip number, original, accompany "the imported goods," written in English or have an English translation that is clear and legible, endorsed on every page by the Official Veterinarian with their original stamp, signature, and date or endorsed in the space allocated.
Documentation must be sent to the New Zealand Official Veterinarian at the airport or port of arrival at least 72 hours before importation.
#5 Quarantine upon Arrival
Unless your dog is coming from Australia, the minimum quarantine time is 10 days or until all biosecurity requirements are met. If you have an assistance dog, you may request for home quarantine.
#6 Required Vaccines and Veterinary Clearance
Follow up with your veterinarian for the required Vaccinations and Treatments:
Rabies Vaccine
External parasites – must be treated by a veterinarian twice with a topical product for the control of ticks and fleas
Internal parasites – must be treated twice for the control of nematodes and cestodes
A veterinarian must clear your dog of the following:
Babesia canis – for dogs who have ever resided in or traveled to South Africa
Babesia gibsoni
Brucella canis
Canine transmissible venereal tumour
Heartworm
Leptospirosis
Canine influenz
For more information on traveling to New Zealand with your dog, put a furry paw HERE.
Just a BARK of Caution: Except for assistance dogs, dogs are NOT allowed to fly in-cabin to (and within) New Zealand.
WOOF, hope you enjoy learning all about dog-friendly Wellington, New Zealand! Don't forget to subscribe to my YouTube Channel: Wet Nose Escapades by Roger Wellington for fun dog travel videos!
Markin' it up,
Roger Wellington a.k.a. The Doob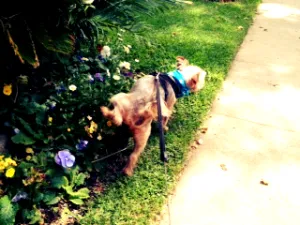 —
Like my post on "Dog-Friendly Wellington, New Zealand with Fox Terriers Milly & Poppy"? CLICK TO PIN!