Preparing your dog for air travel, but your dog hates the carrier? Don't you lower that tail of yours! WOOF, ARF, RUFF – I'm here to help!
*For simplicity purposes, the gender of the word "dog" will be in the masculine form ("he" or "him") throughout this post.
*Please note that this post contains affiliate links, and at no obligation or additional cost to you, my humans and I earn a small commission if you make a purchase. If you love the work that we do, you can show your support by making a purchase through an affiliate link. Proceeds will go towards feeding homeless dogs (and cats) along with improving the lives of the neglected and abused.
In 2016, I transformed into a world dog traveler when I marked my first chapter as a furry nomad by making a 10+ hour flight from Los Angeles to Paris. Since then, I've been living a wanderlust, globetrotting life that many humans would daydream about behind their desks. WOOF, I've gotten so used to flying that I even wrote a whole book about it (OK, my human wrote it for me – under my directions). If your little wet nose led you to this post, chances are you are trying to fly somewhere with your dog. YAY, WOOF-HOO – my stylish, undocked tail is wagging for your upcoming wet nose escapade. Whether you're planning for a quick 2-hour domestic flight or a 10+ hour international flight, carrier training is the KEY to a smooth journey for your dog.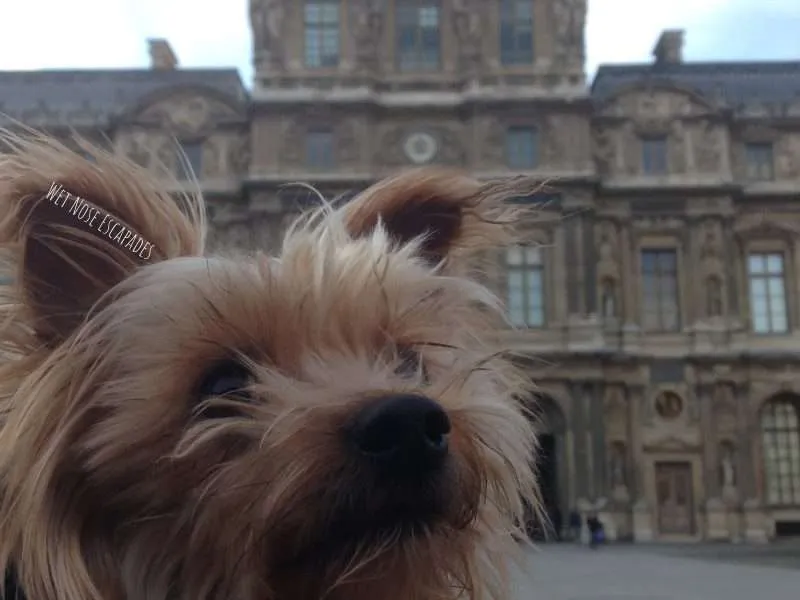 What to do when your dog hates the carrier?
But, what if your dog hates the carrier? He refuses to enter, runs out when you put him in, and scratches and barks when you zip him up inside. What do you do then? Give up? Not take your dog with you?
HOLD UP – Let's not jump the gun here. First things first, ask yourself – are you spending enough time training your dog? Instead of blaming it on your dog, you should be honest with yourself. GRRRR, please don't take any shortcuts in carrier training. Flying with your dog should never be something you take lightly. I recommend starting carrier training months in advance to prepare for your dog's international flight. You must dedicate at least an hour every single day to training your dog. And, like crate training, don't ever use the carrier as a form of punishment.
#1 Carefully select the right carrier
Your dog hates the carrier? Perhaps, you've got the wrong carrier. OK, this may seem obvious, but I feel like many traveling dog pawrents don't think about it enough. Are you selecting the best carrier for your dog? Is it too small? Not comfy enough? Not enough ventilation? Do thorough research before purchasing. After researching and shopping for a carrier in-store and online, my human bought me this paw-bulous green carrier, which has been with me since 2016. That's right, I still have yet to replace it! It's my #1 carrier that has now been with me on over 50 flights to date! It's a backpack, roller bag, and hand-held tote ALL-IN-ONE. Heck, it has been in more countries than most humans on Earth. 🙂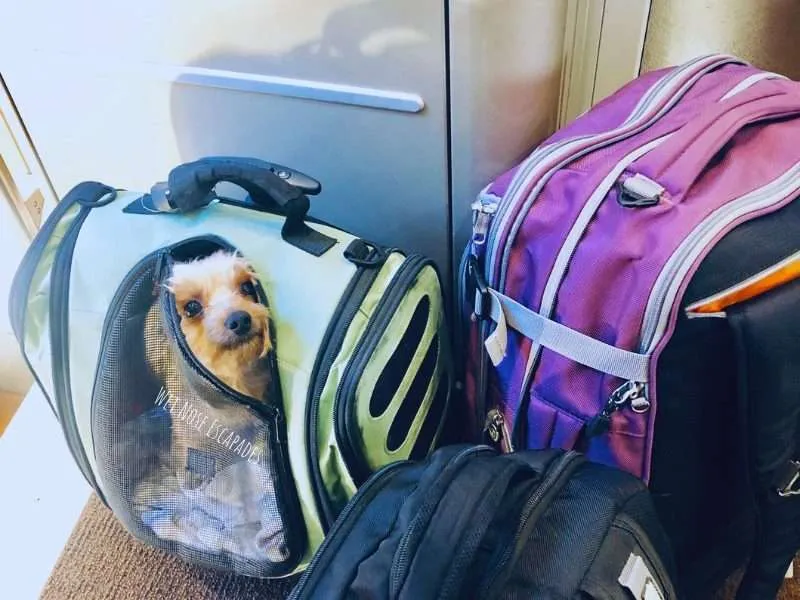 #2 Hide treats inside the carrier
When you first introduce the carrier for your dog, be sure to do so in an area at home where your dog is most comfortable, whether it's the bedroom or living room – wherever he tends to hang out.
Before your dog sees the carrier, make sure you already have his favorite treats hidden inside. Let those treats entice his robust wet nose, so he goes inside naturally.
Carrier training doesn't have to be RUFF! Try your best to create a fun adventure for your dog – hopefully, he will wag his tail and jump for joy whenever you take out the carrier.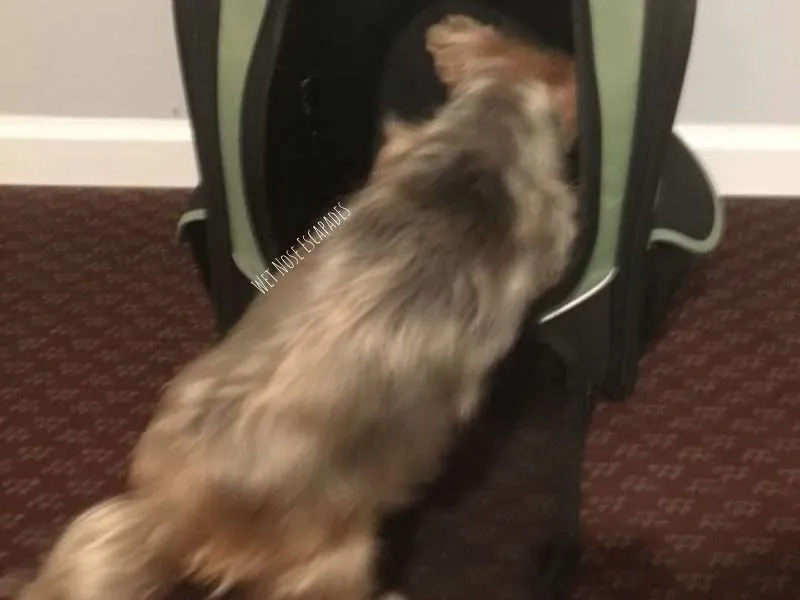 My human placed the carrier near MY King bed, where I take afternoon naps and sleep at night. It was the pawfect location! Since I'm a sucker for food, I had no pawblem going inside to claim my goodies!
#3 Allow your dog to explore naturally
The biggest mistake you can make is to put your dog inside the carrier and zip it up. ARF-my-DOG, please don't do that! You'll just frighten and confuse him, and he may then freak out every time he sees the carrier. If he panics, let him out immediately and then use treats to entice him to go back in.
Once you've hidden delicious treats inside the carrier, allow your dog to explore on his own. Let him sniff around, investigate, and slurp those goodies. Whenever he goes in by himself, praise him verbally "Good job!" and reward him with extra treats. Make him feel like a WINNER!
If your dog refuses to go inside, don't force him. Always leave the carrier unzipped and keep luring him with treats and goodies. If offering his favorite treats fails, try hiding pieces of chicken inside – something you know he cannot resist!
And, if he's done uncovering all the yummy treats, have more treats handy to continue the "treat hunt" for your dog.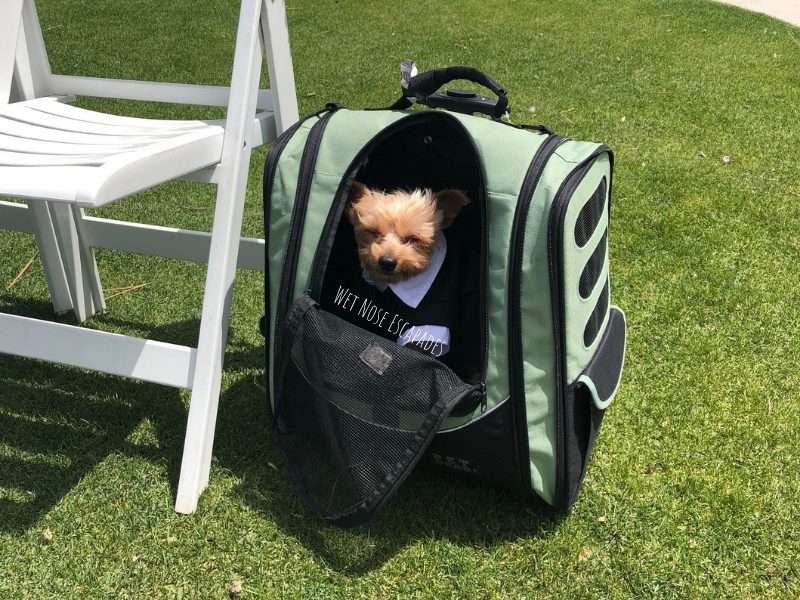 ARF-ter a while, I started going inside the carrier for a sniff whenever I'm bored or hungry!
#4 Put his favorite toys and blanket inside the carrier
In addition to treats, you should also put his favorite toys and blanket. The idea here is for your dog to associate the carrier as a tail-waggin', safe, pawsitive place. Comfort (along with familiarity) is crucial. BUT, don't put a bulky blanket in there, which takes up all the space and hides the ventilation. Make sure the blanket is light, soft, warm, and most importantly, familiar!
ARRRRF, I've been traveling with the same blankey for over 6 years now!
#5 Once he's inside, zip it up briefly and then release
Once your dog willingly goes inside the carrier, zip it up slowly (and casually), and then unzip immediately after a minute. Keep him relaxed by not forcing him to stay inside longer than he feels comfortable, as this can ruin his first impression of the carrier!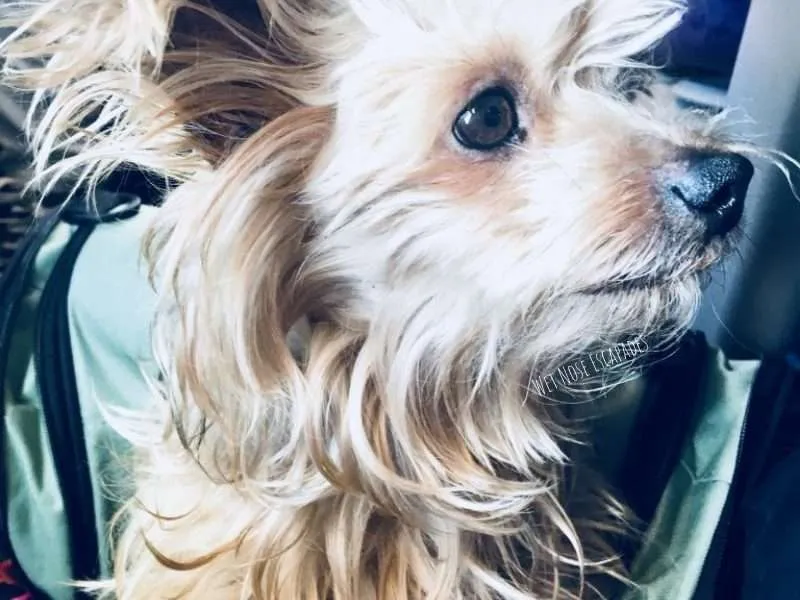 #6 Act normal
Whenever he's inside the carrier, act as normal as paw-ssible. Be casual, hang out, watch TV, talk to him as you normally would – whatever you can do to create a safe environment for your dog during each training session. Remember, dogs are smart and can sense tension and fear so your normalization of the process can only help your dog. NEVER leave your dog alone inside the carrier, even if he seems relaxed or has fallen asleep inside. Failure to monitor your dog at all times is not only can this be dangerous, but can also generate detrimental psychological effects in your dog.
#7 REPEAT, repeat, repeat – EVERY SINGLE DAY
GRRRR, humans – don't get lazy here! Carrier training should be done every single day because the time that your dog spends inside the carrier should increase with each session. Start first by just adding a few additional minutes every single day, then slowly work up to an hour or two, and eventually at least half the duration of the flight – well, only if your dog isn't fighting to get out. If your dog seems comfortable inside, then you can increase the time increments as well, say an additional 10-15 minutes every single day. There is no set amount of time because it depends on your dog's progress, which you must actively gauge. Remember, every dog is a distinct individual who may react differently to being inside a carrier.
#8 Walk around with the carrier
Once your dog seems comfortable inside the carrier, you should start walking around with the carrier (with your dog inside, ARF course). Whether you're carrying or rolling the carrier, you'll want your dog to get used to the motion of being transported inside the carrier. Start first by just walking around inside your house, where he feels comfortable and safe. But, before you start walking with or rolling the carrier, please make sure that your dog is laying down and not standing since that can cause some sudden shifting, discomfort, and even fear in your dog. Do it slowly! GRRR, don't frighten your dog.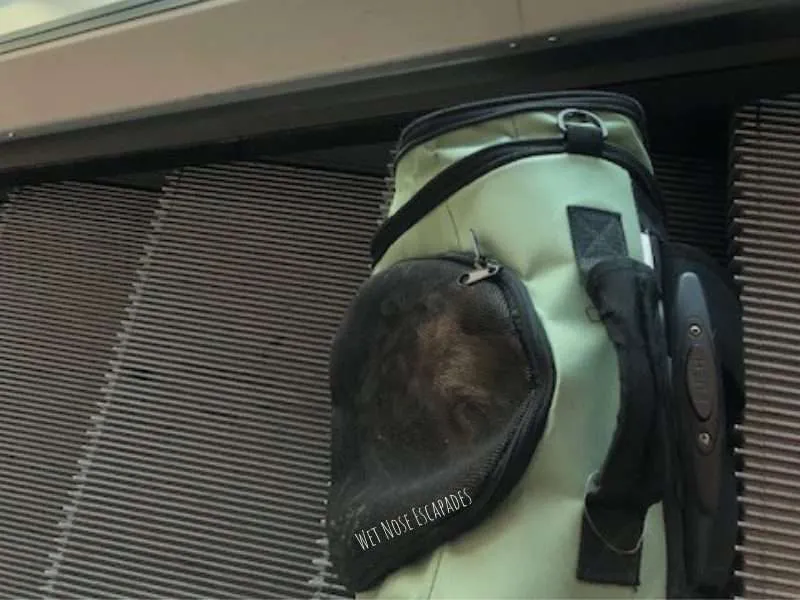 Depending on your dog's progress, you should attempt to use the carrier when going out and about (say, after a few weeks of indoor training). When you're outside, make sure you give your dog ample opportunities to walk out of the carrier. If you can familiarize him with getting in and out of the carrier on his own, then you're well ahead of the game!
It's all about PRACTICE! I cannot bark that enough.
ARF, if your dog hates the carrier, I hope these 8 tips help make him feel more comfortable inside! Essentially, it's about investing enough time and patience into training your dog to get used to the carrier. Remember to take accountability and don't blame your dog for running away from the carrier. GRRR, the fact is no one likes solitary confinement.
Again, never use the carrier as a form of punishment – you'll surely make any flight (however long or short) completely miserable for your dog.
FOR THE RECORD, THERE IS A DIFFERENCE BETWEEN THE USE OF CARRIERS VS. THE USE OF CRATES
For someone against regular, long-term crating, I still recognize the benefits of training your dog to feel comfortable inside a carrier. Creating a safe, comfortable environment inside the carrier for your dog on the flight is the key to success. Regardless of the flight duration, carrier training is a step that you cannot skip if you want the best for your dog.
ARF course, a carrier is PAWS DOWN smaller than a crate or kennel, but the use of one only pertains to transporting your dog. In other barks, a dog carrier, although offering your dog less space than a crate, is only used as much as you travel with your dog. Yet, even for hard-core furry nomads like myself, I don't hop on a flight every single day or even every single week (not even two weeks as dog travel often equates to slow travel). Because the airlines require carriers to transport your dog, there is no way around it (unless you have a legitimate service dog). With that barked, locking your dog inside a crate every day while at work is merely a lifestyle choice you've made for your dog.
WOOF, that's all I got for now! Got a new tip or wanna tell me how these tips worked for you? Sharing is CARING! BARK AT ME.
Markin' it up,
Roger Wellington a.k.a. The Doob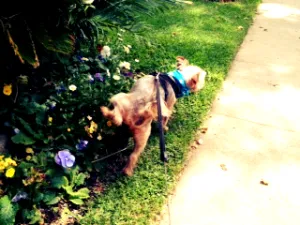 –
Like my post on "Dog Hates Carrier? Try these 8 Expert Tips to Make Your Dog Feel Comfortable Inside a Carrier"? CLICK TO PIN!