ARRRF, I've officially survived FIVE weeks as an American dog in Barcelona LOCKDOWN. Find out how I survived another eight days of lockdown in Spain, days 27 to 34 (April 9, to April 16, 2020). SNIFF ME OUT NOW!
Thank goodness we continued to experience good news in Spain during this period. WOOF-HOO! The number of daily infections continued to decrease EXCEPT for a spike on April 15th (from 3,961 to 6,599). Luckily, the number dropped to 4,289 the next day (April 16, 2020). Spain's Health Minister Salvador Illa avowed that the peak of the virus had been reached and the focus is turning to "bending" the infection curve. After Easter Sunday, non-essential workers in construction and manufacturing returned to work. To curb the spread, police officers distributed free masks to commuters on public transportation. Daily tests have now doubled to around 40,000. 
Read 11 PRECAUTIONS TO TAKE WITH YOUR DOG IN A LOCKDOWN
Despite a slowdown, Spain's total infections are now hitting nearly 185K with a death toll of over 19K (as of April 16, 2020). Sadly, Spain has suffered more deaths per million inhabitants than any other nation in the world. Prime Minister Pedro Sanchez stated that the current lockdown is extending beyond the April 25th expiration date (and rules will ease based on the sector). Schools will also remain closed until September. Back home in California, the infection rate appears to be curving as well (but only time will tell). With an ultra wet nose and upright tail, I am hopeful that things will continue to get better for everyone in the world. *4/21/20 Update: California started seeing a huge surge in cases shortly after this period with the number of infections and deaths surpassing the previous highs. 🙁
As I see more humans (and doggies) out during the daytime, I sense that the general feel is more relaxed. Despite having another favorite park closed down suddenly, I feel less anxious than the previous weeks. Although ambulances and face coverings are still dashing through my neighborhood, resilience and optimism are undeniably taking over. Nevertheless, my humans and I are cautiously optimistic; we fear a resurgence as restrictions continue to lift. Hence, my outdoor time remains shorter and naps are longer than ever. From spying on sanitation workers to flirting with furry cuties to booking a head massage, I continue to find ways to keep myself busy (and sane) for another 8 days of lockdown!
Watch exactly how I survived Days 27 to 34 as an American dog in Barcelona Lockdown below:
Sniff-worthy Video Highlights:
Spying on the sanitation workers 
Amazing head massages by my masseuse 
Flirting with furry cuties
An Easter Sunday bath (YUCK!)
Closure of one of my favorite parks 🙁
Indoor exercises and personal training with the HUMAN
TURN, TURN, TURN
More nightly LOUD barks for the our heroes
And, of course, more treats and more bones – you seriously can't live in quarantine without chops-lickin' goodies!
If you missed my previous lockdown updates, feel free to sniff out my buttocks down below:
Click here if you need ideas to keep busy with your dog indoors!
Hope you continue to stay safe and healthy! Prayers for humans and furry friends.
Markin' it up,
Roger Wellington a.k.a. The Doob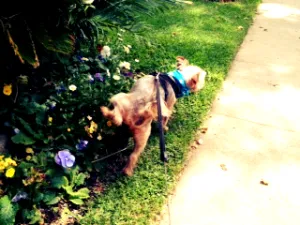 Like my post on "Lockdown Days 27 to 34: An American dog in Barcelona Lockdown"? PIN IT!