ARF, ARF! I'm an American dog living in coronavirus (COVID-19) quarantine in Barcelona, Spain. As a world dog traveler, I have traveled extensively throughout Europe for the last 4 years and even lived in this dashing coastal city in the past. Strangely, the bustle of this international city (that I've called home for the last few months) came to an apparent halt during my evening walk on Friday the 13th; restaurants and shops started closing as Spain officially entered into a nationwide lockdown the very next day, leaving only essential stores open, e.g. grocery stores, pharmacies, banks, and a few food spots for "take away" a.k.a. "para llevar." Residents are ordered to not leave their homes for "nonessential" reasons. Unless you still have to work during this time, you can only leave your home to buy groceries, pick up medicine, attend medical appointments, go to the bank, and walk your dogs (one person per dog and walks should remain short with social distancing in place). And yes, violators potentially face a fine; as I was marking it up at a nearby park, I witnessed a police officer questioning a man who was just sitting on a bench. 
Read 11 safety tips to take with your dog in a coronavirus (COVID-19) quarantine!
I was relieved to come across veterinarian offices, pet supply stores, and even doggy care centers that remain open. WOOF, my tail wags to the Spanish being such dog lovers. Lines are now found outside of markets as people are advised to keep their distance from each other (although I occasionally sniff out a few people who are still conversing in proximity). With my walk time cut down in half, I'm trying to keep myself busy in other ways. As an active and social dog, I'm struggling with not being able to sniff out every butt that comes my way. As the infection rate in Spain climbs, the eerie atmosphere continues to grow. Life has become very strange here for both humans and dogs as it is in other parts of the world infected by the coronavirus (COVID-19), including my hometown California (where some counties have recently entered in some sort of a "lockdown," and I'm sure many more to come). *3/20/20 Update: Shortly after I published this post, California announced a state-wide lockdown as Governor Newsom predicts that over HALF of the residents will contract coronavirus in the next eight weeks.
Watch how I survived the first 5 days as an American dog in coronavirus (COVID-19) quarantine in Spain:
Recently, the World Health Organization declared Europe to be the new epicenter of coronavirus. Spain has now surpassed South Korea in the number of infections to become the fourth most infected country in the world, only after Iran. Perhaps it'll even surpass Iran by the time you read this. As the European Union closed its borders in an attempt to lower the infection rate, the death rate nearly doubled in Spain on March 17th. Subsequently, I noticed more and more people taking extreme measures to protect themselves with heavy-duty masks and gloves. Today, my ears perked up when I saw a hotel receptionist wearing a plastic hairnet IN ADDITION to a mask and gloves. On March 18th, the Spanish government announced that all hotels must empty by March 24th to curb tourism and combat the spread of the virus. Nevertheless, even in these scary, crazy times, camaraderie prevails – every night at 8 pm since the lockdown, I join millions of Spanish residents in showing gratitude for all the healthcare workers on the frontline battling coronavirus (COVID-19). As you see in my video, dogs can also do their part in showing support! 
*3/20/20 Update: The number of infections in Spain has surpassed Iran.
As the infection and death rates continue to increase worldwide, I strongly urge everyone to stay at home and away from the elderly and at-risk population. Heck, I'm even urging people to shorten their walks with precious dogs, and I LOVE my walks. Please follow all guidelines outlined by your local, state, and federal government regarding coronavirus (COVID-19). Remember, young and healthy people can be asymptomatic or only exhibit mild symptoms so they can be spreading it without knowing. Hence, we MUST all do our part to protect the elderly and at-risk population.
Be safe, everyone. Unless you're a dog like me, keep your distance from one another. If you are looking for ways to keep busy with your dog, watch my elaborate tutorial NOW!
Don't forget to watch me survive Lockdown Days 6 to 10…
Markin' it up,
Roger Wellington a.k.a. The Doob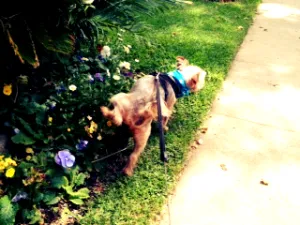 Like my post on "American dog in coronavirus (COVID-19) quarantine in Spain: First 5 Days of LOCKDOWN"? PIN IT!