WOOF, trying to find out why your dog keeps wanting to go in the crate? Sniff out 7 reasons why your dog refuses to come out!
First Posted 2/19/22, Last Updated 3/12/23
*Please note that this post contains affiliate links, and at no obligation or additional cost to you, my humans and I earn a small commission if you make a purchase. If you love the work that we do, you can show your support by making a purchase through an affiliate link. Proceeds will go towards feeding homeless dogs (and cats) along with improving the lives of the neglected and abused.
*For simplicity purposes, the gender of the word "dog" will be in the masculine form ("he" or "him") throughout this post.
Although crates are widely used for potty training, it doesn't necessarily mean that dogs love their crates. Regardless of how "humane" you believe crate training is, dogs only willingly go inside their crates because they've been conditioned to do so over time. Now, what if your dog keeps wanting to go in the crate or refuses to come out? If your dog constantly wants to go in the crate or keeps running back inside, something could be wrong. Sniff out 7 reasons below:
#1 Your Dog is Afraid
Since crated dogs are conditioned to stay inside their crates for long periods, they will eventually come to feel comfortable and safe there. Hence, dog trainers often refer to crates as "safe places" or "wolf dens" for dogs. However, the truth is that uncrated dogs who have the run of the house without the threat of obnoxious children, abusive adults, or any undesired environment can find comfortable and safe places pretty much anywhere in a truly good home.
If your dog keeps wanting to go in the crate, then he is most likely afraid of coming out in fear of threat or abuse. Sadly, this behavior is frequently observed in dogs who have suffered (or currently suffer) from abuse – regardless of the magnitude.
Are you using positive reinforcement to train your dog? For instance, are you screaming at him (or worse, hitting him) every time he jumps on the couch or has an accident on your pristine hardwood floors? It is a FACT that dogs learn best through PAWsitive reinforcement as punishment or negative reinforcement only confuses and ignites fear in your dog (plus it's largely ineffective and indisputably abusive).
Despite the pawpular belief that only rescue or shelter dogs are "damaged" and exhibit fear, the dog you've had since puppyhood may also exhibit fear. Even if you got your dog as a young puppy, you may not necessarily know the REAL environment your puppy was exposed to during his first few months or weeks of life. Fear and lack of confidence are common traits found in dogs separated from their mother before 8 weeks, which is the gold standard for separation.
When puppies spend more time with their mother, they learn to receive love, care, attention, and protection (and, ARF course, food) from her. Because puppies see their mother as the pack leader, they also learn A LOT from her during these 8 weeks – from discipline to social skills. Once properly weaned, they become more independent through direction and support of their mother who encourages self-reliance.
Sadly, a fearful mother is likely to produce fearful puppies while a calm and confident mother is likely to produce calm and confident puppies. Therefore, it's NEVER a good idea to get a puppy from online or a pet store (where they're supplied by evil puppy mills that breed dogs in horrific, deplorable conditions and treat them like pure commodities). Dogs who are forced to live in overcrowded, filthy, tiny wire cages (or even smaller windowless breeding boxes) are prone to breed fearful, anxious puppies with a host of health issues.
Sniff out more: Why you should NEVER get a puppy before 8 weeks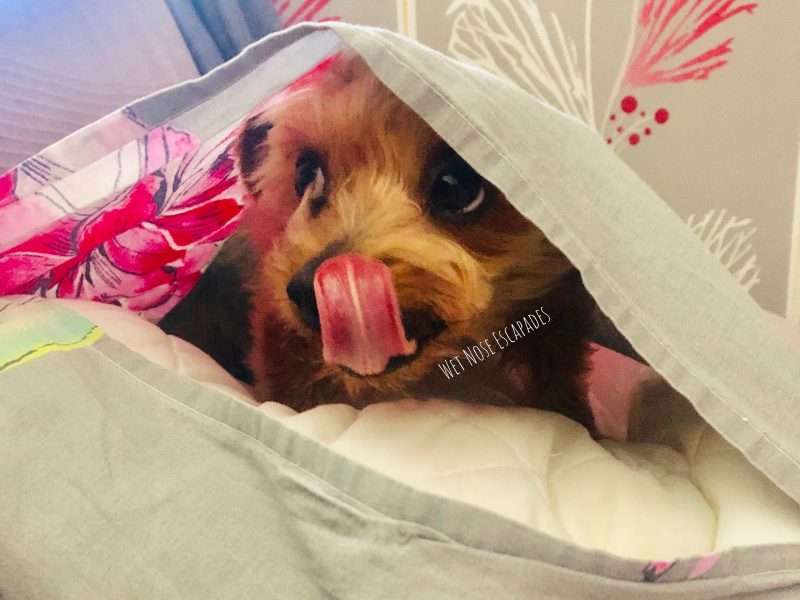 Now, if you know for a fact that your dog has never suffered from abuse before (let's say you've had him since he was born), why would he be afraid?
In such a situation, that's a question for YOU to answer.
Sniff out 16 reasons why dogs hate your child.
THINK: Why would your dog be afraid in his own home? Why would your dog feel threatened to leave his crate? Are you unknowingly creating an unsafe or stressful environment for your dog? For instance, do you have obnoxious kids who aren't taught to respect your dog's boundaries? Even actions you deem "harmless" like teasing (with or without food) and hugging/carrying can be distasteful to your dog. Do you have visitors inside the house to whom your dog isn't familiar? Is there a type of sound that ignites fear in your dog? For instance, my Papillon-Dachshund sidekick Penny Gurl is terrified of any loud noise like thunder, traffic, plate stacking, and live music.
And, again, are you using PAWsitive reinforcement to train your dog? If not, there is a very good reason for your dog to be afraid and keep going back to his crate.
To get a better understanding, it's imperative to observe your dog's body language when he's outside vs. inside the crate:
*Note – below lists are not all inclusive
Happy dog
Relaxed body
Relaxed eyelids and gaze
Relaxed mouth (loosely closed or slightly open)
Upright tail (exemplifies confidence)
Wagging tail (bear in mind that it doesn't always mean that they're happy – it just means they're excited)
Sleeping on back with paws up (worry-free as this is their most vulnerable position)
Fearful dog
Flattened ears
Stiff tail (between hind legs) or lowered tail
Crouching down (in fear)
Licking lips (with no food around)
Stressed or tense dog
Pacing around
Shaking (when it's not cold)
Whining
Barking
Yawning
Drooling
Licking lips (with no food around)
Curled up in the "guarded" position while sleeping (with their vital organs tucked in and hidden)
#2 Your Dog is Spending TOO MUCH Time Inside (or has a history of long-term, excessive crating)
Sorry for all you pro-crate folks out there, but a "crate" is just a fancy word for "cage." This is the TRUTH, and honestly, there is no way around bending the truth. When a dog has been denied the freedom to move around and relieve themselves at will for long periods, two things can happen – either he goes crazy and spurts out of the crate as soon as the door swings open OR he can feel completely dejected and withdrawn.
If you're crating your dog for more than 8 hours total a day, then he is spending way too much time getting locked up. Can you imagine being locked up in a cage for more than a few hours every single day? While crates are widely used as a tool for potty training (based on the concept that dogs don't usually soil where they sleep. Hence, the crate must not be too big), their regular use should dwindle and eventually diminish as your dog graduates from potty training. If you're going to crate your dog for potty training purposes, do so carefully as excessive, long-term use is bound to have some unintended effects – behavioral, emotional, and psychological.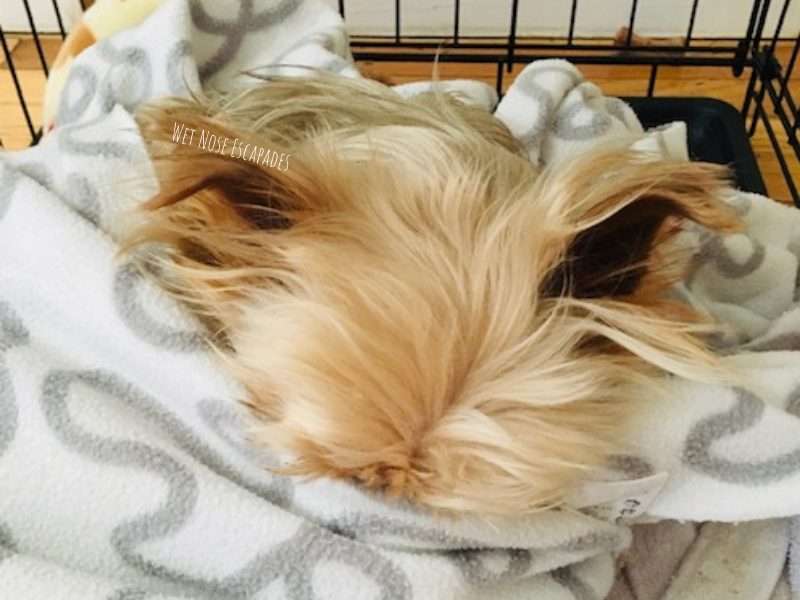 The real pawblem with crates is that a few hours of confinement can quickly turn into 9-10 (or even longer) hours when you're away for work, and then another 8 hours overnight. GRRR, that is a whoppin' 17-18 hours a day to be locked up! No matter how you try to justify it, no dog should ever spend the majority of his life inside a cage – it's simply NOT humane. Please don't get a dog just to lock him up! As sentient individuals, dogs aren't toys that you can "put away" (out of sight, out of mind) whenever you're done with them. Plus, there are more humane and effective ways to potty train your dog WITHOUT a crate.
The rule of claw is 8 hours TOPS daily for healthy adult dogs whereas puppies and geriatric senior dogs should not spend more than a few hours in confinement. Sniff out how long dogs can "hold their pee."
#3 Your Dog is Sick
When dogs aren't feeling well, they just want to be left alone (just like humans). Whether the illness is minor or life-threatening, dogs will naturally retrieve to a quiet space where they can rest. Therefore, illness can be a valid reason why your dog keeps wanting to go in the crate. If you know for a fact that your dog is NOT afraid or uncomfortable of his surroundings (let's bark that nothing has changed in his environment, and now he's suddenly walking back to his crate all the time), there is a very good chance that he is sick. 🙁
If you are unable to entice him to come out with his favorite food or treat, then please take him to the nearest veterinarian immediately. Since dogs usually have exceptional appetites, their refusal to leave the crate is a sure sign that something is wrong. Hence, if they're refusing to come out at the sight of food, you must act fast and consult a veterinarian. ACTING FAST CAN SAVE A LIFE. In this case, it may be best to transport him inside the crate for comfort and safety.
#4 Your Dog is Sad or Depressed
No, it's not just a dog! If you think that way, you should not have a dog to begin with. As sentient beings, dogs are individuals who can feel human emotions. Just as dogs can feel happy and excited (as exhibited through tail wagging, open-mouth smiling, and jumping around), they can also feel sad, lonely, withdraw, or even depressed. Signs of sadness or depression in dogs include, but are not limited to the following:
Sleeping more than usual
Having sad eyes
Loss of interest in food and in general
Paw licking
Withdrawal or in hiding
Dropping ears (farther back)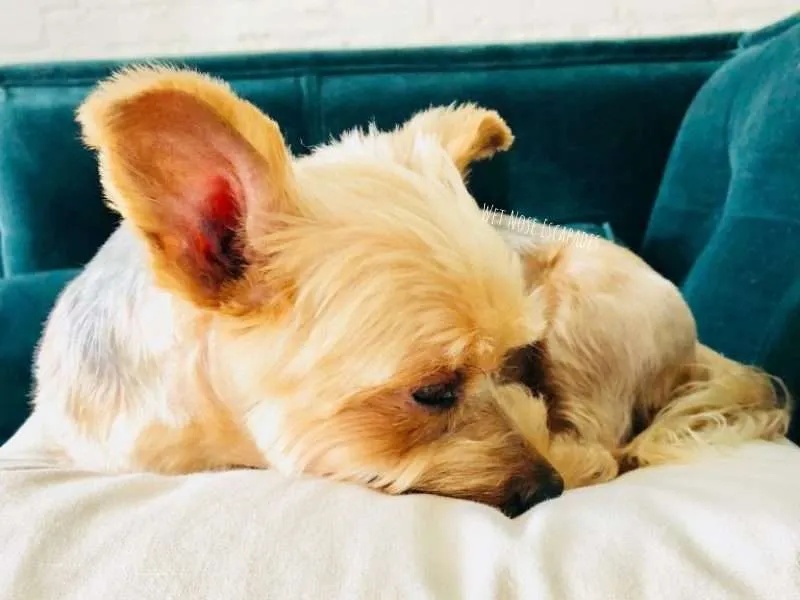 ARF, but why would your dog be sad or depressed? He's in the best home ever, right? Despite being in a "good" home (which can be subjective), there could still be a range of PAWsibilities why your dog feels sad or depressed. For instance, if you recently adopted him, he could be missing his previous family and companions (including human, canine, or feline). Or he could just be confused and overwhelmed by everything that has happened to him. If there is a recent addition to the family (e.g. a new dog, cat, human baby, or human adult) or a sudden change in your schedule, your dog may react if you're not giving him the same amount of attention as before.
Again, this is a question you need to ask yourself. However, before you jump to the conclusion that your dog keeps wanting to go in the crate due to sadness, be sure to have a veterinarian rule out any health issues first.
#5 Your Dog has Experienced Recent Changes
On a similar bark, another PAWSibility as to why your dog keeps wanting to go in the crate is if he has experienced recent changes. Whether these changes are good or bad, dogs do not understand why these changes are made and may simply need time adjusting. If you've changed his environment in any way (whether unknowingly or knowingly), then this can very well be a reason why your dog is acting strange. Changes can include losing a family member (human or furry – cats included too), relocating/moving, traveling, scheduling, changing food, and again, adding new family members – among many other changes that you've knowingly or unknowingly made in your dog's life.
The good news is that dogs are generally resilient creatures and can easily adapt to change with time and proper care.
#6 Your Dog is Waiting for Food
If you only feed your dog when he's inside the crate and he keeps running back to it, then he could simply be waiting for food. Such a situation can occur because pawrents are taught to train their dog to "like" their crates through PAWSitive affiliation, such as feeding your dog inside the crate. While it's imperative to use positive reinforcement to train your dog, you should be careful of perpetuating the act of ONLY feeding your dog inside the crate. Why? Because your dog may then believe that he only gets food if he stays inside the crate, and as a result, you may continue to lure out him with food, which can lead to overfeeding. And, as we all know, overfeeding leads to obesity. Therefore, switch it up by luring your dog out with a ball or chew toy – something else that he loves, but cannot eat! Stuffing a Kong with treats is also a great alternative, making him work for these goodies.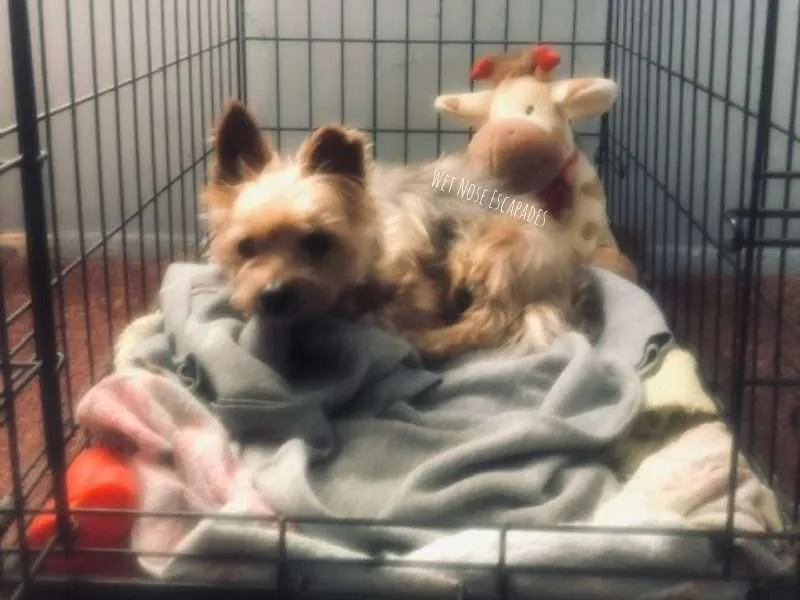 #7 Your Dog is Upset with You
Dogs who are mad or upset with their humans will turn their backs on them or walk away from them. If your dog keeps wanting to get away from you and walking back to his crate, then you may have done something to upset him, whether you've realized it or not. Perhaps it's not you, but someone inside the household doing something to your dog without your knowing. Watch out for these behavioral signs indicating that your dog could be mad or upset:
Flattened ears
Turns back on you
Walks away from you
Yawning
Licking lips (with no food around)
Growling
Showing teeth
No eye contact
Stiff body
Again, ask yourself questions! Don't assume you've done nothing wrong, and that your dog's acting "strange" for no reason! TAKE ACCOUNTABILITY. Think about it. Did you do something to upset your dog in any way? Were you treating your dog unfairly without knowing? Were you giving a neighbor's dog too much attention? Did you leave him for the week to go on a trip? Did you yell or snap at him for something, anything? Are you teaching your children or new partner to respect your dog's boundaries?
If you've "punished" your dog verbally or physically for something he did "wrong," please understand that there is no right or wrong in a dog's world. He only affiliates your responses with his actions. Dogs don't feel guilt but only fear based on what has happened in the past. Animal abuse is for cowards PERIOD. GRRR. Although verbal abuse isn't nearly as bad as physical abuse, it is still considered emotional abuse, and should not be used on your innocent dog who has a different way of communicating and learning from humans. Remember that the most humane, effective training technique is ONLY to use PAWSitive reinforcement, NOT negative reinforcement or punishment to train your dog.
Here's the BEST solution – Don't Crate Your Dog!
After you've intentionally locked him up for hours on end every single day, you are now wondering why your dog keeps going back into the crate. Can you imagine a child locked up inside a closet even just for a few hours a day – every single day? Think about 8 hours, or 10, or even 18! What kind of confidence would this child have lost? The only difference is that sadly animals are not held up at the same value as humans. Except for Sweden and Finland, crating or locking up your dog is, unfortunately, NOT illegal in this world (although crating your dog is largely an AMERICAN practice, and remains unpopular outside of the U.S.). However, locking your child up could get you in trouble with the law for child abuse.
Given that your dog isn't sick, you should try removing the crate entirely but still give your dog an area that he can call his own. OR you can still use a crate, but always leave the door wide open so your dog can choose to go in and out as he pleases. Instead of caging your dog, dog-proof a room and leave his favorite toys and blankets in the same area. Yes, dogs love having their safe places, but be realistic here – a wolf's den or a dog's safe place is never locked by someone else. If your dog is truly in a good home, he can find numerous safe places anywhere.
From MY King bed inside the bedroom to the comfy couch in the living room to my human's office chair, I choose my "safe place" based on my mood. That's right – whatever floats my boat! My humans can attest that I have over seven blankets throughout our home and I use whichever one I feel like in any given hour. Even without a crate, I always sleep on my back fully relaxed with all four paws in the air, which is a dog's most vulnerable position. I feel safe and confident with my surroundings because I know I'm in a good home and my humans know to respect my space.
All in all, crates don't need to be present in a dog's life, and there are more effective and humane ways to potty train your dog!
Sniff out more on dogs and crates below:
10 Reasons Why You Should NOT Crate Your Dog
Do Dogs REALLY Love Their Crates: Dog Crate Misconceptions DEBUNKED
Why Your Dog is Barking in the Crate & How to STOP it
Can You Crate Train an Older Dog?
WOOF, that's all I got for now, humans! Be sure to subscribe to my YouTube Channel: Wet Nose Escapades by Roger Wellington for fun dog videos!
Markin' it up,
Roger Wellington a.k.a. The Doob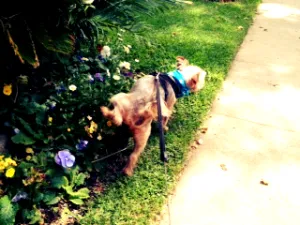 –
Like my post on "Why does your DOG keep wanting to go in the CRATE? 7 Reasons why your dog refuses to come out"? CLICK TO PIN!