Are you thinking of taking your dog on a 10+ hour flight? Are you worried that your dog may not survive a 10+ hour flight? AWOOOO, I've got you covered!
Last Updated 7/4/23
*For simplicity purposes, the gender of the word "dog" will be in the masculine form ("he" or "him") throughout this post.
*Please note that this post contains affiliate links, and at no obligation or additional cost to you, my humans and I earn a small commission if you make a purchase. If you love the work that we do, you can show your support by making a purchase through an affiliate link. Proceeds will go towards feeding homeless dogs (and cats) along with improving the lives of the neglected and abused.
ARF! As a seasoned world dog traveler, I've been on more 10+ hour flights than I can count with my claws! While many dog lovers are enthused by my furry nomadic lifestyle, a few have expressed some concerns; over 10 hours inside a carrier? Gosh, that's a long time to be confined. What about using the bathroom? Is it safe for dogs to be on a plane for over 10 hours? How stressful is flying for dogs?
WOOF, I get it. Believe it or not, I agree with these concerns. After over five years on the road, I have surely worked my way up to become an expert international dog traveler, but I'd be lying if I told you that there was no hurdle. International dog travel should never be taken lightly – it takes a whole lot of planning and preparation for a smooth journey. And, even though I teach dog pawrents how to travel with their dog, I don't always recommend it.
When it comes to flying your dog on a 10+ hour flight, practice makes PAWFECT
WOOF, let the truth be known – a 10-hour flight is long for any human, but at least humans (except for babies) know that they're making the trek overseas. Dog pawrents flying their dog for the first time internationally tend to feel immense anxiety before and during the journey. Heck, I don't blame them – my humans were the same way before they flew me on a one-way 10+ hour flight from Los Angeles to Paris. Now, even though I handled the long-haul flight as if I were born to travel, I had a lot of practice beforehand. Even long before I took my very first "practice" flight, which was a quick hour-long flight from Los Angeles to San Francisco, I was always out and about! WOOF, I'm not just barking about all those road trips I took from NorCal to SoCal regularly before embarking on my international journey. From happy hours and date nights to doggie play dates to errand runs, I was quite the furry socialite – to bark the least.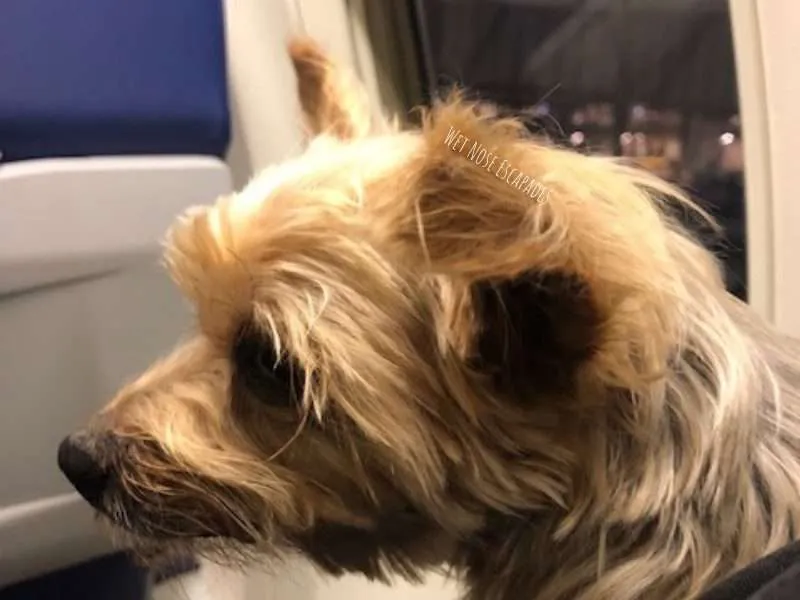 Getting your dog used to being in different environments is the very first step you can take. Practice, practice, practice! I can't bark that enough. Taking your dog out, going on road trips, and flying your dog domestically – all those experiences will help your dog prepare for a long-hauled flight. GRRR, keep in mind that your dog's first flight should NEVER be a 10+ hour flight to Paris (sorry, guys!).
Don't fly an anxious dog on a 10+ hour flight
So, I've gotten a comment from a human who used the word "cruel" to describe flying a dog on a 10+ hour flight. As a dog advocate who is against regular, long-term crating, I can empathize with why it may seem cruel. ARF-ter all, who wants to be stuck inside a carrier for that long? However, whether or not it's "cruel" ultimately depends on your dog. Like in the case of humans, some dogs simply handle long flights better than others. Seasoned dog travelers like me usually have no pawblem sleeping or relaxing through the majority of flight with all four paws up in the air (inside an unzipped carrier for extra ventilation).
As you continue to sniff out this post, you'll find that there are many ways to prepare your dog for the journey ahead and ease the hurdle. BUT, it's a different ballgame for an anxious dog. Dogs who exhibit anxiety when out and about or on car rides are unlikely to fare well without proper training and immense preparation. If your anxious dog has shown little improvement after you've invested adequate time in training techniques, then it's best not to fly your dog. All in all, you know your dog best.
Get my anxious sidekick Penny Gurl's guide on How to Fly an Anxious Dog: 16 Things You MUST Know.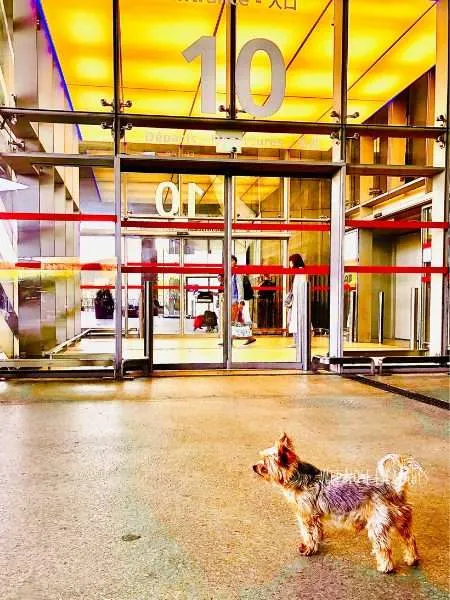 So, is it "cruel" to fly your dog on a 10+ hour flight? I would bark that it can be cruel if you haven't invested adequate time and effort to properly prepare your dog for the flight and/or if you KNOW in your heart that your dog will not handle it well.
Take your dog to the vet
For dog pawrents afraid that their dog cannot survive a 10+ hour flight, they must address those concerns with a veterinarian familiar with your dog's medical history. AWOOO, we've all heard those horror stories from both in-cabin and cargo flights where a dog is found dead after a flight. 🙁 Although I'm an "expert" dog traveler, I am not an "expert" in your dog. Every dog is different based on temperament, age, and overall health. The good news is that you'll have to take your dog to the vet to complete the paperwork for international dog travel regardless. Hence, a vet visit is usually not an extra step (considering this is your dog's first international flight).
Carrier Training is the KEY to your dog's success on a 10+ hour flight
For someone against regular, long-term crating, I still recognize the benefits of training your dog to feel comfortable inside a carrier. Creating a safe, comfortable environment inside the carrier for your dog on the flight is the key to success. Whether you're taking your dog on a 2-hour or 12-hour flight, carrier training is a step that you cannot skip if you want the best for your dog. I recommend starting carrier training months in advance to prepare for your dog's international flight.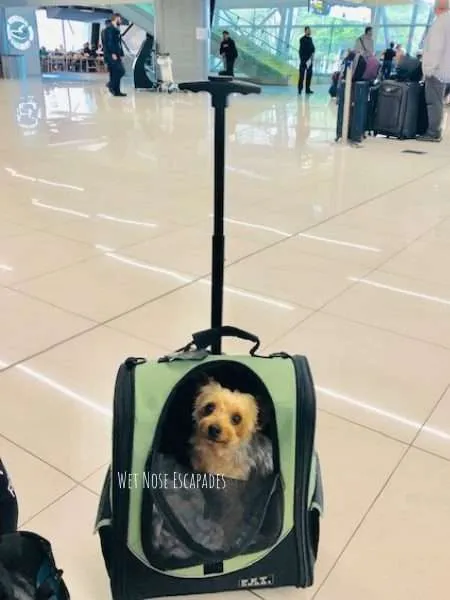 Learn how to select the right carrier for your dog HERE.
Quick carrier training tips:
#1 Open up the carrier and hide treats inside – be sure to place the carrier in an area that your dog is comfortable with, e.g. the bedroom or living room – wherever he tends to hang out.
I'm a sucker for treats, so I had no pawblem going inside to claim my goodies!
#2 Allow your dog to explore, sniff around, and most importantly, get those goodies. Let him feel like a WINNER!
#3 Put his favorite toys and blanket so he can associate the carrier as a pawsitive place. Yep, gotta make that carrier a happy, tail-waggin' haven for your dog!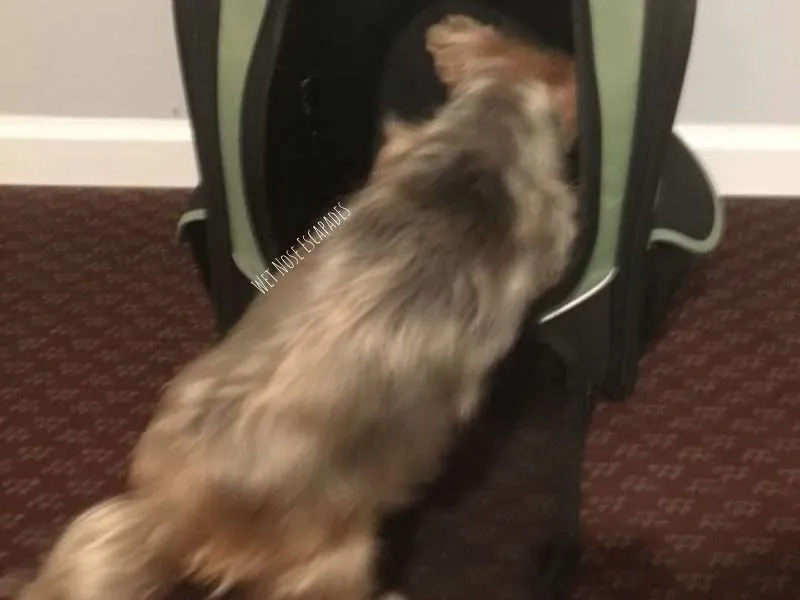 #4 Once your dog is inside the carrier, zip it up for a minute and then let him out. Keep him relaxed by not forcing him into it – this can ruin his first impression of the carrier!
#5 If your dog refuses to go inside, don't force him in. Always leave the carrier unzipped and keep enticing him with treats and goodies. If delicious treats fail, try putting wet food or a piece of chicken breast inside – something you know he cannot resist! When he does go inside, slowly zip it up – but only for a minute.
#6 REPEAT, repeat, repeat. Add a few extra minutes every single day.
#7 Start using the carrier with your dog! Go out and about with your dog – again, practice, practice, practice!
Get your paws on my comprehensive carrier training guide HERE.
NOTE THE DIFFERENCE BETWEEN CARRIERS & CRATES: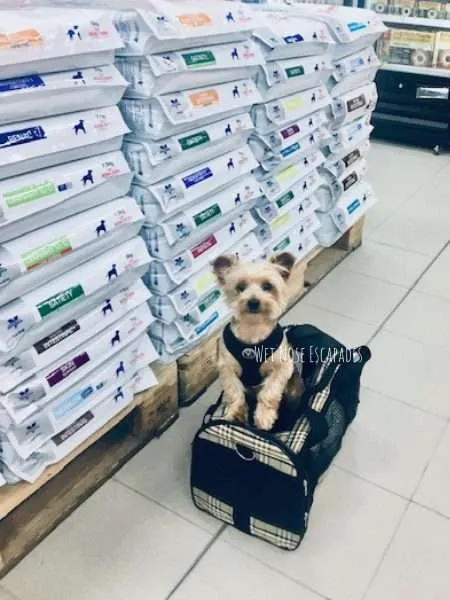 ARF course, a carrier is PAWS DOWN smaller than a crate or kennel, but the use of one only pertains to transporting your dog. In other barks, a dog carrier, although offering your dog less space than a crate, is only used as much as you travel with your dog. Yet, even for hard-core furry nomads like myself, I don't hop on a flight every single day or even every single week (not even two weeks as dog travel often equates to slow travel). Because the airlines require carriers to transport your dog, there is no way around it (unless you have a legitimate service dog). With that barked, locking your dog inside a crate every day while at work is merely a lifestyle choice you've made for your dog.
Exercise your dog BEFORE the flight
As the old saying goes, a tired dog is a happy dog! Keep your dog calm on a 10+ hour flight by exhausting his energy beforehand. If your dog can sleep through most of the flight, then you have yourself a furry pro-traveler! Ever since my very first international flight, my humans have been utterly surprised by just how relaxed of a traveler I am. A born traveler, they say! The truth is that I'm just a sleepyhead after a long walk. It's certainly no coincidence that I get extra walk time before a flight. Don't make your dog run a marathon before a flight – just an additional 15-20 minutes of walk or playtime will do the trick, depending on the size of your dog.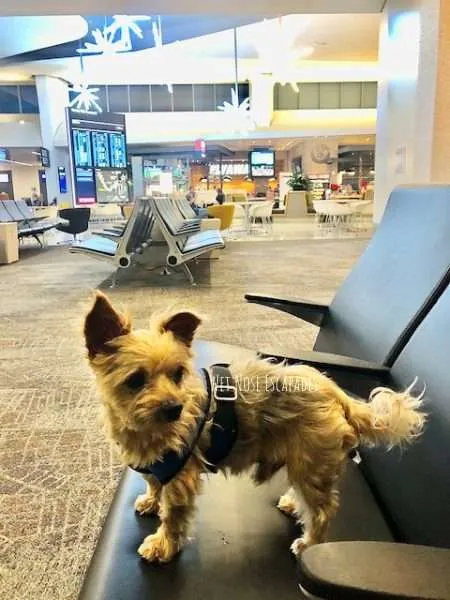 Plan out food & water breaks
Don't overfeed your dog before a flight! Make sure you provide enough time for your dog to relieve himself after his meal (but before he goes to the airport terminal for boarding). I usually like to eat my last big meal two hours or so before heading to the airport. That way, I have enough time to digest and relieve myself on a long walk before the flight. Then, I'll have a few treats, snacks, or light meals throughout the flight. Water breaks are trickier since dogs will only drink when they're thirsty, but it's still important to offer your dog several water breaks throughout the long flight. Finding that balance and being strategic with feeding times is crucial in helping your dog prevent accidents.
Prepare for quick & easy clean-up
After over five years of flying around the world, I've never had an accident on a plane. Yet my human always stays ready. If your dog is used to relieving himself outside, chances are he will probably be able to "hold it" on the plane – well, given that he is a healthy adult and you've strategically planned out his food and water breaks. However, you should still be realistic with your expectations, especially when it comes to a 10+ hour flight. All in all, don't expect your dog to hold it! Place a pee pad inside the carrier – just in case. Poop bags, dog wipes, and human sanitizing wipes – be prepared to clean up quickly without any commotion after your dog if an accident occurs. And, please don't punish your dog! Know that he's trying his best in a stressful situation. Remember, some dogs pee out of distress.
Monitor your dog at all times
I know it's hard not to fall asleep on a long-haul flight, but it helps to stay alert for your dog's sake. Keep an eye on your dog at all times and watch for signs of distress. If you have a human travel buddy, be sure to switch off with the monitoring. If paw-ssible, unzip the carrier a few times throughout the flight so your dog can get a breather and extra space.
Cargo Transport is MORE stressful than in-cabin
Now, what if your dog is too big to travel in-cabin and must resort to cargo transport? Besides the obvious dangers of cargo transport, dogs also inevitably face more stress in cargo. Despite my ARF-mazing escapades abroad, I wouldn't recommend flying your dog via cargo on a 10+ hour flight. The only exceptions I'd make are if you're doing a long-term stay or permanent move with your dog although the decision is ultimately up to you. My humans have always asserted that if I cannot physically be with them on the plane, they'd rather not go through with it.
What to pack for your dog's 10+ hour flight:
Mandatory Paperwork – Don't forget to bring dog import paperwork required to enter the country of arrival. Otherwise, your dog will not be able to board!
Airline Approved Carrier – Sniff out my #1 carrier that has been with me on over 50 flights to date! It's a backpack, roller bag, and hand-held tote ALL-IN-ONE. Plus, it's expandable!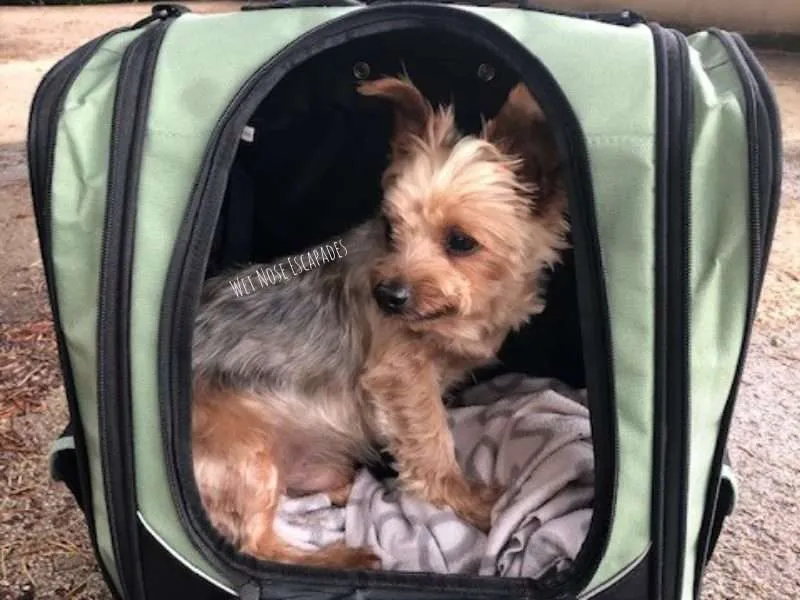 To-Go Bowls – Save some space inside your carry-on by getting your paws on these collapsible to-go bowls.
Dog Water Bottle – Fill up this stainless steel, BPA-free bottle with water after passing through the security checkpoint! This pawsome portable bottle not only keeps water fresh and cold but also has a toxin-free polypropylene lid (which can also be used as a bowl).
Dog Food – In case of unexpected flight delays or lost baggage, pack a couple days worth of dog food inside a plastic container or large zip-lock bag to ensure freshness.
Dog Treats – Reward your dog for good behavior on the flight with some chops-lickin' goodies.
Dog Toys – Keep your dog busy and entertained with toys! *Be careful of chews during takeoff, landing, and turbulence due to potential choking.
Blanket – Make sure your dog is comfortable and warm on the flight.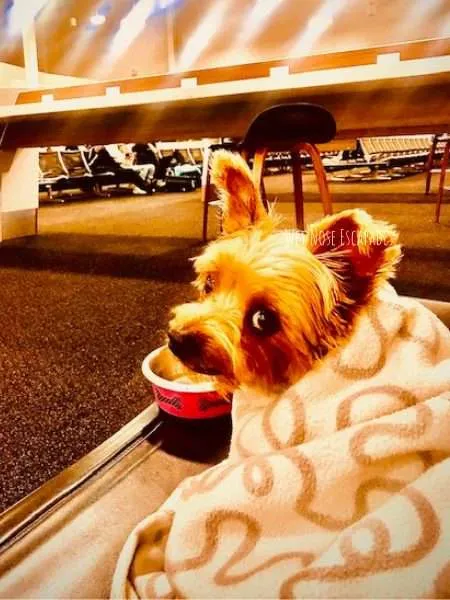 Pee Pads, Poop Bags, Dog Wipes, & Sanitizing Wipes (for Humans) – Be ready to clean up accidents quickly and easily!
First-Aid Kit for Dogs – Is there a veterinarian on the plane? Chances are NO. Prepare for emergencies by packing this 50-piece essential first-aid kit for your dog.
Want more tips on how to prepare your dog for a 10+ hour flight? Get your furry paws on Roger Wellington's Expert Guide to International Dog Travel!
WOOF, hope you have a safe 10+ hour flight with your dog! Feel free to share your experience with me. BARK AT ME!
Sniff out my flights around the world:
Subscribe to my YouTube Channel: Wet Nose Escapades by Roger Wellington for more fun dog travel videos!
Markin' it up,
Roger Wellington a.k.a. The Doob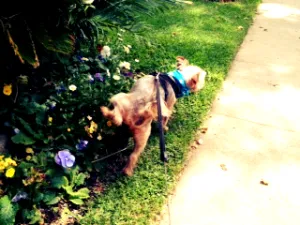 —
Like my post on "Dog on a 10+ hour flight: What to Expect"? CLICK TO PIN!