ARF, looking for the BEST dog parks in San Francisco? Hear the alpha barks of the San Franciscan Yorkie!
Even though I've marked up all over the globe, I am proud to call San Francisco my home sweet home. As a rescue Yorkie, I'm uber blessed to have spent some of the BEST days of my life sniffing out techies and hipsters, brunching on Union Street, chasing the fog in the Richmond, and dodging the wind at Marina Green. After spending years and years investigating the best dog-friendly parks in San Francisco, I'm wagging my tail to bark out 10+1 of my favorites!
10+1 BEST Dog Parks in San Francisco, California:
*AH-HOOOOO! As the #1 Pack Leader, let me first bark out the general rules:
Pick up and remove dog waste
Leash your dog(s) in on-leash areas
Do not leave your pet unattended
Control excessive barking and noise
Prevent digging/destructive behavior
Keep vaccinations and licenses current
Watch out for coyotes! Coyote sightings have been reported in many parks in the City.
Jackson St. &, Steiner St, San Francisco, CA
WOOF! Want a spectacular city view? Alta Plaza Park is the place to be! Pawfectly resting on top of the western edge of the prestigious neighborhood of Pacific Heights, Alta Plaza Park boasts head-tiltin' panoramic views of the Marina, Cow Hollow, Presidio, Fort Mason, Alcatraz, and the San Francisco Bay. Such ARF-mazing views make this a super popular place for all locals, including screaming children (found on their playground). Not a fan of kids, I wagged my tail to know that dogs have a separate area on the southeast corner. With four square blocks, this 12-acre park has long been acclaimed as one of the best dog-friendly parks by San Franciscans. Yep, I sniffed out plenty of city dogs roaming around both on and off-leash. As a 7 lb. athlete, I like to exercise my masculine leg muscles by running up and down the grand staircase at the south entrance on Clay and Pierce. Sadly, these legendary steps were used without permission and damaged during the filming of What's Up, Doc? GRRR.
10 BEST Dog-Friendly Day Trips in Northern California
Gough St &, Washington St, San Francisco, CA
ARF-K, let's bark Lafayette Park, one of San Francisco's crown jewels. After the city dedicated over $10 million to improving Lafayette Park in 2008, things have taken a complete turn for the better. Standing at 11.5 acres in ritzy Pac Heights (again), Lafayette Park is meticulously designed and landscaped (not to bark, clean). Like the nearby Alta Plaza Park, Lafayette Park also rests on a hill and offers incredible views of the Marina, Alcatraz, and the San Francisco Bay. BUT, their multi-million dollar views aren't what make this park top of the line for dog lovers – it's their expensive, immaculately clean off-leash dog area that rocks! After all, it only cost an unbelievable $305,000. With exceptional quality artificial turf, gate, and fence, Lafayette Park's dog area is indisputably renowned – to bark the least. Since I'm not always a "dog park" kind of guy, I prefer to mark it up and meander along with their flawlessly landscaped open green spaces. Just a howl that park-goers have reported coyote sightings (usually in the evening) so be sure to keep your dog close by and stay alert!
19th St & Minnesota St, San Francisco, CA
This park may be small, but don't underestimate its pawsomeness. Like Yorkies, good things come in small packages! Back in 1980, the Esprit Corporation purchased a warehouse in the same exact location next to their factory and hired Landscape Architect Drew Detsch to design an "urban oasis." Today, this private corporate rectangular space has turned into a heavily trafficked, shady park under the management of San Francisco Parks & Rec. Located in the up-and-coming, gentrified neighborhood of Dogpatch (near Portrero Hill), Esprit Park is a lesser-known to people who don't live nearby, but it's paws down an up-and-coming area for dogs. On two acres, this park has a well-maintained gravel path that's pawfect for some dog-walking. On either of the two large grassy meadows, I always wag my stylish rat tail to find other dogs frolicking off-leash here. Plus, my human loves that the poop bags are almost always stocked.
The third most visited park in the U.S., Golden Gate Park is a MUST visit with your dog in San Francisco. With 1,017 acres (from lakes to meadows), it's safe to bark that this gigantic urban park is TOP DOG cool. WOOF, it's even 20% larger than Central Park in NYC! As a former Upper East Side boy, I've spent a whole lot of time marking it up at Central Park. BUT, nonetheless, I still left my little Yorkie heart in Golden Gate Park. 🙂 Get ready to wag those tails because there's not one, not two, but THREE off-leash dog runs here. ARF-my-dog!
a) In the Southeast: Lincoln Way, Martin Luther King Jr. Drive, along with 5th and 7th avenues.
b) In the Northeast: Stanyan Street, between Hayes and Fulton streets
c) In the Western Region of the Park: MLK Jr. and Middle drives, and 34th and 38th avenues.
Over at 38th Avenue and Fulton Street, I also sniffed out a dog training area where bigger furry San Franciscans practiced their jumps and leaps.
The downside is that dogs are not allowed to visit the Big Rec section of the park. GRR. And, while plenty of dogs roam off-leash on those spacious meadows, they are technically not allowed to go off-leash. As always, keep a vigilant eye on your dog – although the park is generally safe for dogs, poison oak has been spotted in some areas. AH-HOOOOO, let's notify the pack!
And, if I keep exploring eastward, I eventually walk my tiny furry paws into The Panhandle, the long and skinny .75 mile green space that touches Golden Gate Park.
Steiner St & Hayes Street, San Francisco, CA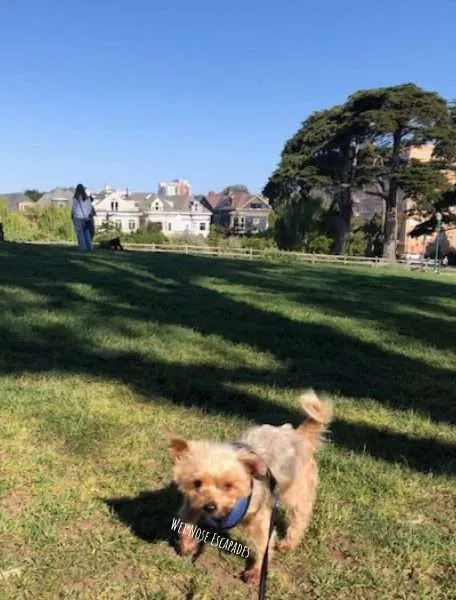 Is it time to bark "Everywhere you look, everywhere you go" and look for Comet (or Comet Jr.)? For Full House fans, Alamo Square is more than just a fun dog park – it represents nostalgia. 🙂 Although often confused with the actual Full House house in Lower Pac Heights, Alamo Square is an integral part of the show's opening credits. Covering four city blocks on top of a hill, Alamo Square boasts to-beg-for views of the San Francisco skyline. Then, there's the pawsome postcard-worthy "Painted Ladies" with 710-720 Steiner Street a.k.a. The Seven Sisters being the most famous. This grassy park with tree-shaded slopes is entirely dog-friendly – both on and off-leash! Although dogs must remain on leash on the eastern side of the park, they can run off-leash and freely chase furry butts in the dog play area on the western side. It's dogs GALORE here so I like to smell my best before setting my alpha paws into this hot meat market.
Watch me visit the "Full House" House:
Grab my guide for the TOP dog-friendly activities in San Francisco, California
Yacht Road and Old Mason Street San Francisco, CA
Located right smack in the middle between the Presidio and Fort Mason, the 74-acre Marina Green is my old stomping ground. Before I became a world traveler, I spent my days taking in the fresh, crisp air and hopping around the 1.1-mile-long grassy rectangular field with the quintessential Golden Gate Bridge in the backdrop. Not to bark, Angel Island, Alcatraz, and the Bay with those multi-million dollar historic 1920s-30s houses on Marina Boulevard where many tech billionaires call home. ARF, I may not be Peter Thiel's dog, but I sure lived an ARF-so-fabulous life in my old hood, the Marina. Even though it's unfenced and next to the busy Marina Boulevard, Marina Green has plenty of dogs roaming around off-leash. The only other downside is the yucky wind (it is adjacent to the San Francisco Bay after all) so get ready to do some wind-dodging and pack a light sweater for an evening walk.
Roosevelt Way &, Museum Way, San Francisco, CA
Spanning across the spunky neighborhoods of Castro and Corona Heights, Corona Heights Park sits on 15 acres of dog-friendly space, including an off-leash dog run. Locals often describe their dog park as rustic due to its geographical proximity to Corona Heights Natural Area. It is, after all, made of dirt and mulch. Since there isn't a divide between small and large dogs, your dog must feel comfortable interacting with dogs of different sizes. This park is known for its to-beg-for hilltop views, which have bragging rights to 360-degree sweeping views of the City, from FiDi (Financial District) to Twin Peaks. And yet, these views are easily accessible through the quick one-mile Corona Heights dirt path trail, which is entirely dog-friendly (well, as long as your dog is on-leashed). Whenever my human and I are up for a longer walk, we'd start the walk from the Panhandle or Buena Vista Park.
1199 E Beach, San Francisco, CA
A former military base, the Presidio is now a recognized national park. It's so huge that I can spend the entire day investigating and marking it up. Nestled on the northwest corner tip of San Francisco, Presidio welcomes dogs in all areas, including hiking trails and forested grounds, as long as they're on a leash. With 24 miles of dog-friendly trails and eight scenic overlooks, the Presidio is a sniff-worthy area to explore with your dog. The best part is that it doesn't feel like you're in the City at all! BUT, just a howl that coyotes have been sighted. Hence, it's best to follow the leash rules, keep a vigilant eye, and not venture after sunset. Since the Presidio is humongous (WOOF, it's only 1,500 acres), I'm giving a special bark to Crissy Field, my favorite area in the Presidio where I'd love to walk my paws over from Marina Green. Crissy Field boasts a stunning, in-your-face view of the Golden Gate Bridge, off-leash dog grassy areas, picnic tables, dog-friendly trails, and a dog-friendly beach (where dogs are welcome to take a dip).
What to do with Your Dog in Monterey, California
680 Point Lobos Ave, San Francisco, CA
The rocky cliffs and wind-sweeping ocean views from Lands End are something to bark about and perk up my ears. From the historic Sutro Baths ruins to the 4-mile round trip Lands End hiking trail, Lands End is filled with numerous dog-friendly spots to traverse with your dog, hear the crashing waves, and admire the San Francisco Bay from the rugged terrain. Heck, there's even an off-leash, unfenced dog area at Lands End Beach right next to the Sutro Baths. I don't like to get my paws wet, but I don't mind digging my paws into the sand and getting my little black nose sandy. Beautiful views, pawsome hiking trails, and dog-friendly beaches – what more can a Yorkie ask? Except for off-leash areas, dogs must be on-leash or under voice control. 
Haight St. and Buena Vista Ave. San Francisco, CA
Considered the oldest park in San Francisco, Buena Vista Park is founded in 1867 and serves the Haight-Ashbury and Buena Vista Heights neighborhoods. This park isn't just heavily frequented by locals, but also by visitors with their beautiful hilltop views of San Francisco, the Golden Gate Bridge, and Marin headlands. ARF, with an intriguing wild oak forest terrain, Buena Visa Park is one of the most wooded areas in the city. Despite the lack of large open spaces for dogs, the park has paved trails, dirt paths, lookout points, hilly areas, and wooden stairs that all welcome dogs to enjoy. Gotta wag my tail to that! Nevertheless, Buena Vista Park still offers some pawsome off-leash areas found in 35 acres, including the northwest corner in Oak Woodland.
**BONUS Best Dog Park in San Francisco
700-898 Beach St. San Francisco, CA
Want to sniff out more best dog parks in San Francisco? I've got you covered with a bonus! Conveniently situated near Ghirardelli Square and Fisherman's Wharf, Aquatic Park is a lovely waterfront area technically part of the San Francisco Maritime National Historical Park. Offering gorgeous views of Alcatraz, historic ships, and the San Francisco Bay, Aquatic Park is a fantastic place to walk dogs, swim at the beach, and picnic on the grassy fields. Dogs are welcome everywhere in the area except for the beach (although it's not uncommon to see a few off-leash dogs getting their noses sandy), Hyde Street Pier, and the historic ships. As a Marina boy, I'd march up and down the scenic trail from Great Meadow to Aquatic Park. The only downside to this park is that you may encounter a few homeless people here and there (although usually harmless).
WOOF, I hope you enjoy exploring my paw-picked list of the 10+1 BEST dog parks in San Francisco! What's your favorite dog park in San Francisco? BARK AT ME!
Subscribe to my YouTube Channel: Wet Nose Escapades by Roger Wellington for fun dog travel videos!
Markin' it up,
Roger Wellington a.k.a. The Doob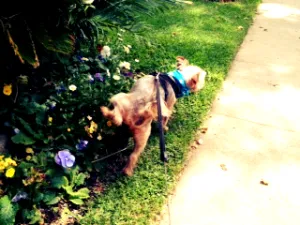 —
Like "10+1 BEST Dog Parks in San Francisco, California"? CLICK TO PIN!