Looking for dog road trip essentials? Ah-oooo, you've set your furry paws in the right place!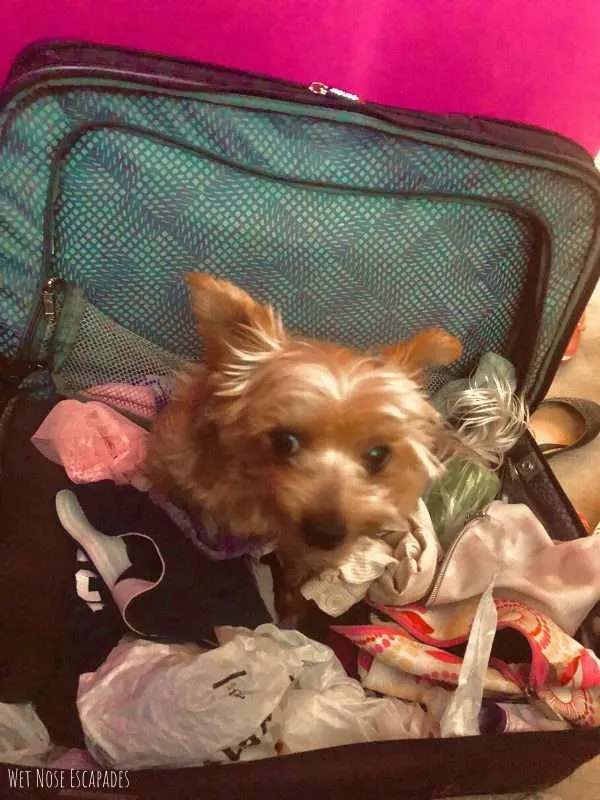 WOOF, you don't need to fly internationally with your dog for a wanderlust experience or iconic pictures. Road trips with your dog are fun ways to deepen the bond and create lasting memories. Not to mention, road trips with your dog are way easier than flying with your dog. Sniff out these 16 dog road trip essentials!
*Please note that this post contains affiliate links, and at no obligation or additional cost to you, we earn a small commission if you make a purchase. If you love the work that we do, you can show your support by making a purchase through an affiliate link. Proceeds will go towards feeding homeless dogs (and cats) along with improving the lives of the neglected and abused.
#1 Protective Gear 
Safety first when it comes to dog road trip essentials! Protective gear for dogs can save lives – both theirs and yours. Keep your dog safe on the road AND stop any potential distraction from your dog when you're behind the wheel. If you're like my humans, you know it's hard to say no when your pooch demands a back massage!
Options:
#2 Dog Seat Cover
If you're overprotective of your car seats, you should consider investing in a quality, waterproof dog seat cover. It not only protects your seats from water spills, scratches, and other types of potential destruction, but it's also easy to wash and clean. As my humans are vastly indifferent about their car seats, they don't have one for me personally. However, my Auntie uses a dog seat cover for my little BIG Weimaraner cousin Sonny on road trips and can attest to its wondrous benefits!
#3 Microchip +
ID Tag
In an unfortunate event that your dog somehow separates from you, your dog's microchip and ID tag will make reunification faster and easier. If you haven't already done so, get your dog microchipped and attach an ID tag on his collar with your contact information. 
Learn why dogs make awesome travel buddies!
#4 First-Aid Kit
You can either put together your own first-aid kit or grab my favorite one from Kurgo, which comes with all the essentials.
#5 Your Dog's Health Records
Have your dog's health records ready in case you ever need to make a trip to the veterinarian. Put all your dog's paperwork in a safe place while on the road. 
#6 Medications
If your dog is on any veterinarian-prescribed medications, be sure to pack them in a safe place, away from the heat. Also, if you intend to be away from home for more than a few weeks, please check if any routine meds (e.g. flea and tick meds) are due during the trip.  
#7
Food and Treats
Don't forget to pack their favorite goodies for the journey! Please keep in mind to limit their meal intake right before a long ride, in case they need to relieve themselves after consumption or suffer from motion sickness. Feeding them in small quantities throughout the trip is crucial for a healthy journey.
Two of my favorite types of dog food:
5 lb. Blue Wilderness (Grain-Free Chicken or Salmon – Adult)
4 lb. Blue Buffalo Basics (Grain-Free Turkey & Potato – Adult)
As long car rides are not easy for anyone, please reward and treat your dogs throughout the road trip. That's right, I can never hit the road without chops-lickin' treats! 
Two of my favorite treat bags:
6 oz. Merrick Power Bites Grain-Free (Beef)
4 oz. Blue Buffalo/Wilderness Bits (Chicken)
Although I've listed certain brands, I'm in no way stuck on eating the same type or brand of food all the time; I believe food diversification is essential to a healthy diet. I actually devour a lot of home-cooked meals made just for ME! I love chomping on home-made veggie omelettes, veggie rice bowls, and baked salmon with sweet potato wedges and zucchini slices. Carrots and cucumbers are my FAVORITE "human" snacks. To taste different kibble, I switch up my "dog food" every month. Regardless, I opt for grain-free and natural (or even better, organic) whenever possible. I also add high-quality raw food to the rotation. A healthy and balanced diet is vital to keep any dog (and human) healthy on the road. 
If you can pack home cooked meals for your dog, GO FOR IT! Be sure to keep those delicious meals from spoiling on hot summer days.
Fill up several water bottles with fresh and clean water before hitting the road. ARF, hydration is KEY for dogs, especially during the summertime. I love this recyclable stainless steel water bottle designed specifically for dogs; it fits in a cup holder, keeps water cold, and doesn't release BPA or dangerous chemicals. Access to fresh and clean water is imperative, even if you must strategically limit their water intake on a long ride to prevent accidents.
10 Tips for Summer Travel with your DOG!
You can take the bowls that you already have at home OR grab these awesome convenient collapsible ones to save space. Don't forget to stop frequently (at least once every 4 hours, but even more frequently for puppies) to give your dog (and yourself) adequate potty breaks, exercise, and some food. Even though I'm potty-trained and can certainly "hold it" for more than 4 hours, I still need plenty of breaks for fresh air and exercise. And, of course, I never miss an opportunity to mark my territory on the road! GRRR.
A list of dog road trip essentials is not complete without TOYS! Long car rides are inevitably boring for dogs. Unlike humans, dogs don't get to watch movies in the car to make time fly. Hence, keep them busy with toys and puzzles for mental stimulation. I do not recommend bones or chews on a road trip due to the potential risk of choking during an abrupt stop. 
Stock up those poop bags! Be a responsible dog owner and pick up after your dog no matter where you make a pit stop. If you strive to be environmentally conscious, reuse plastic produce bags that you get from the market.
Get all my recommended travel essentials Part 1 and Part 2!
Comfort is essential for any road trip with your dog. Regardless of the mode of transportation, I travel everywhere with a warm blankey. 
Using a choke-free harness is a safe way to hold your dog while allowing him to look out the window. Please don't let him stick his head out the window or at least for too long (as flying rocks and debris from the road can cause injury). The best way is to roll down the window just a little less than half so he can look out, enjoy some fresh air yet stay safe inside.
Choke-free harnesses are vital for your dog's health regardless of the season or the size of your dog. Prevent choking and breathing difficulty (which are more prone on hot summer days) by swapping a collar for a choke-free harness. I always suggest purchasing a choke-free harness made with soft, breathable material so it helps with ventilation like the blue one I have HERE. 
Of course, with the harness comes the LEASH! For safety reasons, please put your dog on a loose leash during potty breaks, particularly in congested areas with a lot of cars and people. Get my Flexi Retractable Tape Leash that offers 16 ft of freedom! For big dogs, get them a LARGE leash which offers a whopping 26 ft of exploration.
Sniff out my 10 FAVORITE moments as a world-traveling Yorkie!
Place a pee pad in the car for potential accidents. Pee pads provide an opportunity for relief in case your dog cannot "hold it" in time for a pit stop. Learn how to train your dog to use a pee pad HERE.
#15 Portable Fan (for summer travel)
A portable fan in the car provides a new level of comfort for your road-trippin' dog on hot summer days. This device is a real LIFESAVER if your dog travels in the back of an SUV or any area where the A/C fails to reach effectively.
#16 Cooling Pad (for summer travel)
Cooling pads offer a safe and effective way for dogs to cool down faster and prevent the dangers of overheating. They come in all sizes so you can probably find one that best fits your car to combat the heat on any travel day. The bigger ones are usually collapsible so they still make for easy packing. I love The Green Pet Shop Self-cooling Pet Pad – it's safe, non-toxic, easy to use, easy to clean, and rechargeable. Most importantly, it WORKS! 
Hope you like my my dog road trip essentials recommendations! Please remember to NEVER leave your dog inside a hot or warm car even for "a second." If you have an essential item that's not on my list, please BARK at me! Sharing is caring. 🙂
Markin' it up,
Roger Wellington a.k.a. The Doob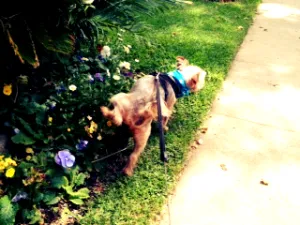 Like my post on "16 Dog Road Trip Essentials"? PIN IT!