HALLO, escapaders! My tail is wagging to be back in one of my favorite cities in the world – the hip, funky, and dog-friendly Amsterdam, As I got tired of panting from the crazy heat in Greece, I fled north and crossed multiple borders – all the way to the Netherlands.
In July, I flew in-cabin from the beautiful resort island of Crete, Greece to the incredibly colorful and bustling Amsterdam, Netherlands. It has been 2 years since I laid my greasy paws on the streets of Jordaan (my favorite neighborhood to mark up) and I couldn't wait to lick my chops to some bitterballens and Heineken! Perk up your ears, open your eyes widely, and sniff out my video thoroughly to find out how an American dog spends his first week back amidst the fun Amsterdam madness.
Dog Travel in Amsterdam: The Return of Roger Wellington:
ARRRRF, THERE'S MORE TO COME!
Wanna take a quick sniff at my last trip to Amsterdam? Put your furry right paw HERE!
Markin' it up,
Roger Wellington a.k.a. The Doob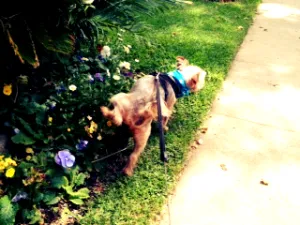 —
Like my post? PIN IT!