¡Hola, escapaders! I love making my mark in the international city of Barcelona, Spain. From Parc Güell to La Sagrada Familia, the ALPHA DOG and pack leader in me was determined to take over the capital and largest city of Catalonia. Watch me conquer this resplendent seaside settlement with an upright tail and lick my chops to mouthwatering tapas!
SNIFF OUT MY VIDEO of "An American dog travels to Barcelona, Spain" NOW:
Wanna know where to get your paws greasy and chomp on the yummiest food? Check out my posts on 10 Best Places to Eat and Drink in Barcelona and 10 MUST-TRY Tapas in Barcelona!
Markin' it up,
Roger Wellington a.k.a. The Doob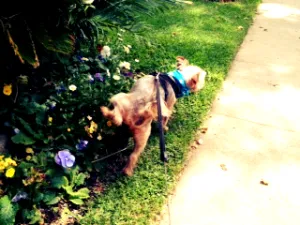 *Please note that this post contains affiliate links, and at no obligation or additional cost to you, we earn a small commission if you make a purchase. If you love the work that we do, you can show your support by making a purchase through an affiliate link. Proceeds will go towards feeding homeless dogs (and cats) along with improving the lives of the neglected and abused. 
—
Like my post "Roger Wellington conquers Barcelona!"? PIN IT!