Helloooo, escapaders! Humans and fidos often pick my brain as a world-traveling dog on how to prepare for an international escapade, specifically what items to pack. Wag your tails and perk up your furry ears as I'm ecstatic to bark out all my travel essentials! WOOF!
#1 Dog Travel Essential: REQUIRED PAPERWORK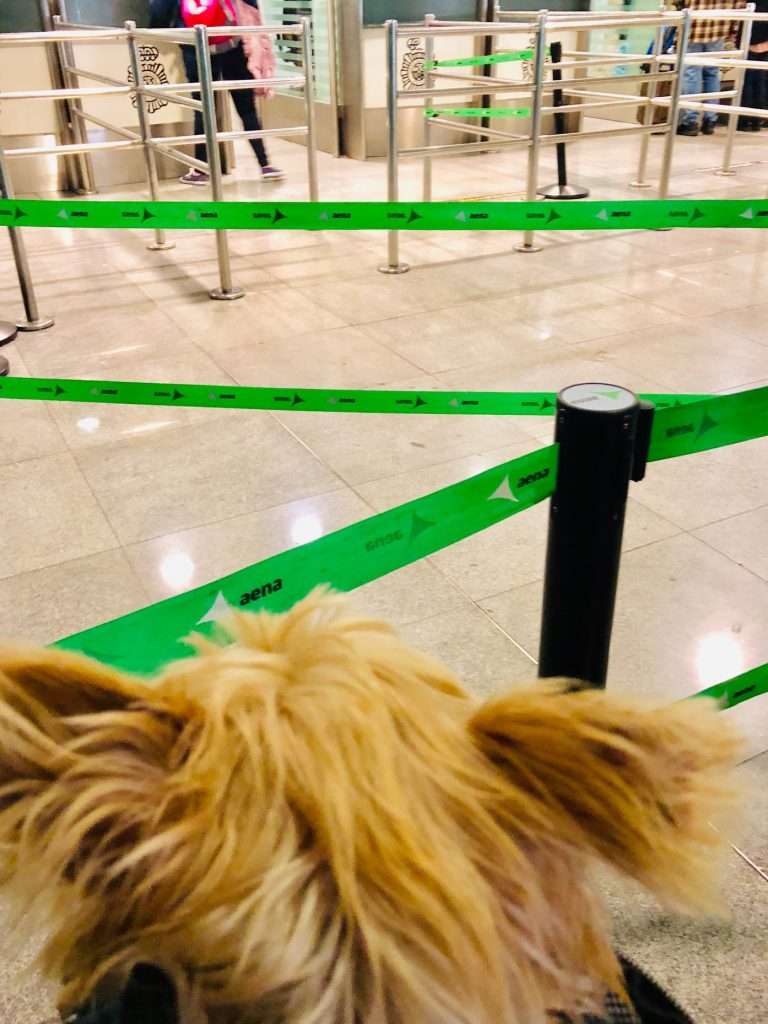 In the world of international dog travel, the single most important item required for entry is your dog's paperwork. Obtaining the proper paperwork is imperative before you even think about gathering your dog's travel essentials. It's simple – if your dog doesn't have the necessary paperwork to pass the immigration gates, then he's NOT going PERIOD. Please review and understand all the dog import requirements (specific to your destination) along with the requirements for return BEFORE booking any flight with your four-legged best friend. Start your research as soon as you're thinking of traveling with your dog. Depending on the intended destination, the process can be either super simple or beyond complex (and lengthy). Have the paperwork ready to go in a safe place as you and your furry pal approach the airline counter!
Want a step by step guide on how to travel with your dog? Put your wet nose into my expert guide NOW!
ARRRFFF, a carrier is a MUST when your dog is traveling by air (both domestically and internationally). Every airline has slightly different carrier specs so please research thoroughly to ensure that you meet the maximum dimensions allowed. Even if your dog isn't hopping on a flight, a carrier will come in handy throughout the journey as a safe way to transport him. I absolutely love my spacious yet versatile roller bag/backpack carrier. The best part is that it fits perfectly under most U.S. airline seats (but international airline seats will vary). You can roll it, carry by hand, or simply put it on your back. Since it's only 3.4 lbs, it's lightweight and easy to transport. Get yours HERE!
10 Things to do with Your Dog in Vienna, Austria
Regardless of the destination, I travel everywhere with two carriers. In addition to the versatile carrier, I have a small soft carrier as a backup carrier and to transport all my travel essentials. A back-up carrier is what I call a FLIGHT-SAVER should I ever encounter an unexpected situation where the airline rejects either carrier. While checking in my flight to Stockholm, Sweden at Schiphol Airport in Amsterdam, Netherlands, I was denied at the counter because the staff claimed that my soft carrier didn't meet their specs. After shifting all my belongings to the versatile carrier, I finally got the approving nod from the staff and made my flight – just in time. WOOF-HOO! Again, you can use either carrier as an easy and safe way to transport your dog once you've reached your destination.
WOOF, never starve a dog period! Make sure you especially reward and treat him when he's enduring a tough travel day. I can never hit the road without access to yummy food and chops-lickin' treats! For trips longer than two weeks, I pack a new 4-5 lb bag of mouthwatering food and two small bags of tricks-worthy treats (of course, the amounts will differ depending on your dog's size). Sniff out a few of my favorites that fill up my little Yorkie tummy:
5 lb. Blue Wilderness (Grain-Free Chicken or Salmon – Adult)
4 lb. Blue Buffalo Basics (Grain-Free Turkey & Potato – Adult)
6 oz. Merrick Power Bites Grain-Free (Beef)
4 oz. Blue Buffalo/Wilderness Bits (Chicken)
Although I've listed certain brands, I'm in no way stuck on eating the same type or brand of food all the time as I believe food diversification is essential to a healthy diet. I actually devour a lot of home-cooked meals made just for ME! I love chomping on home-made veggie omelettes (like in the photo above), veggie rice bowls, and baked salmon with sweet potato wedges and zucchini slices. Carrots and cucumbers are my FAVORITE go-to snacks. In order to taste different kibble, I switch up my "dog food" every month. Regardless, I opt for grain-free and natural (or even better, organic) whenever possible. I also add high-quality raw food to the rotation. A healthy and balanced diet is vital to keep any dog (and human) healthy on the road.
#5 Dog Travel Essential: TO-GO BOWLS
To-Go bowls are MUST-HAVES so that your darling pooch has easy access to clean water and food. You can take the ones that you already have at home (as long as they're not oversized) OR grab these pawsome convenient collapsible ones to save some luggage space.
6 MUST-KNOW Tips for International Dog Travel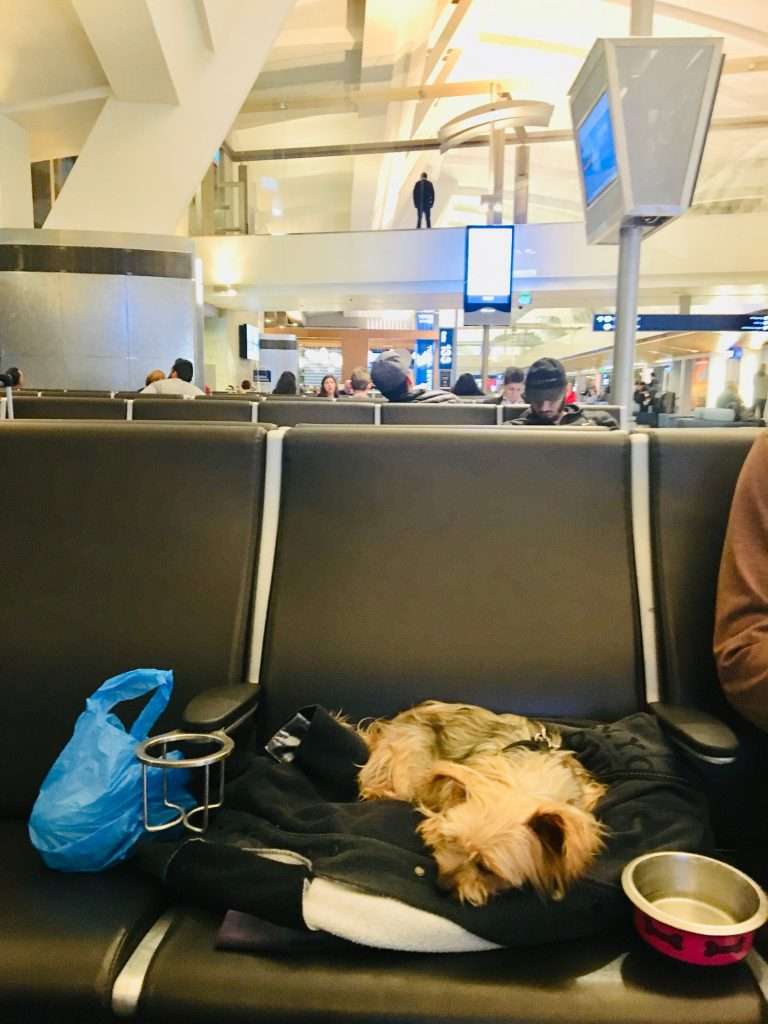 #6 Dog Travel Essential: WATER BOTTLE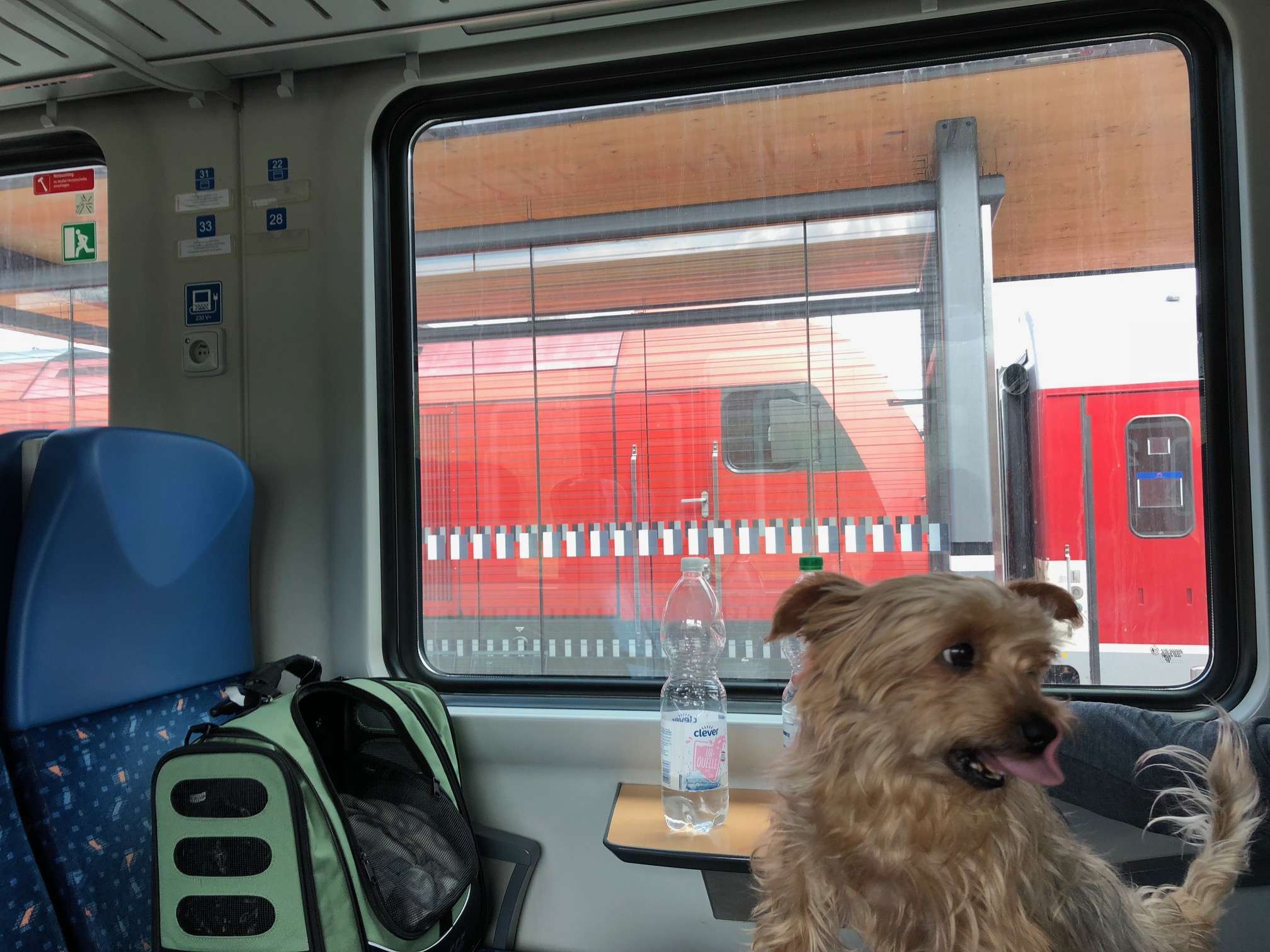 Hydration is KEY. Making sure your dog has access to fresh water is imperative, even if you must strategically limit his water intake on a long flight to prevent accidents. Get your furry paws on a clean sturdy bottle and fill it up at a water station inside the airport OR simply refill a used plastic bottle. Either way, you will save yourself from being ripped off of an overpriced $4-5 bottled water. Now, that's something to bark about! ARF!
Check out My Fabulous Life in Montenegro!
#7 Dog Travel Essential: BLANKET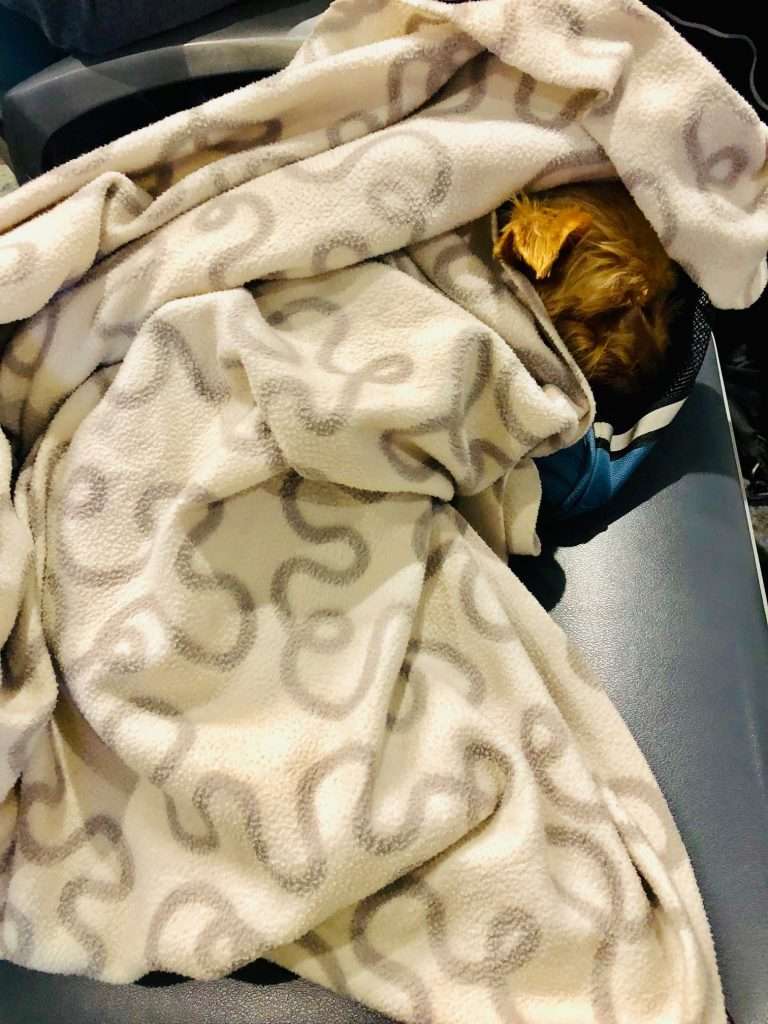 FUN FACT: My warm white fleece "blankey" has been in more countries than the average American! Give your dog some comfort on a tough travel day with his very own blanket. My precious blanket has been with me on every single flight, train ride, bus ride, car ride, and even cruise! If only it could bark or talk, it would have a blog of its own!
10 Tips for Summer Travel with Your Dog
#8 MUST-Have for Dog Travel: TOYS & CHEWS
I'm a sucker for a good bone and can spend HOURS gnawing it. Stimulating toys and tasty chews make any long-haul flight seem quick and effortless! ARF, gotta keep your dog busy with fun toys and lasting chews on a flight just as you keep your human self busy with movies and books. Get your furry paws on my paw-lickin' TOP PICKS below!
Blue Ridge Naturals (Chicken Wrapped Sweet 'Tater Stix)
Even if your dog is used to walking off-leash, it's a pawsome idea to pack a harness when your dog is traveling with you (and for the sake of your dog's comfort and health, please make sure it's choke-free). In unfamiliar territory, you may not be fully aware of the destination's dog culture, especially during your first visit. Therefore, it's best to keep your dog on a harness (+ leash) until you get a feel for the area's level of dog-friendliness, which varies from region to region!
Get these 16 Dog Road Trip Essentials
#10 Dog Travel Essential: LONG LEASH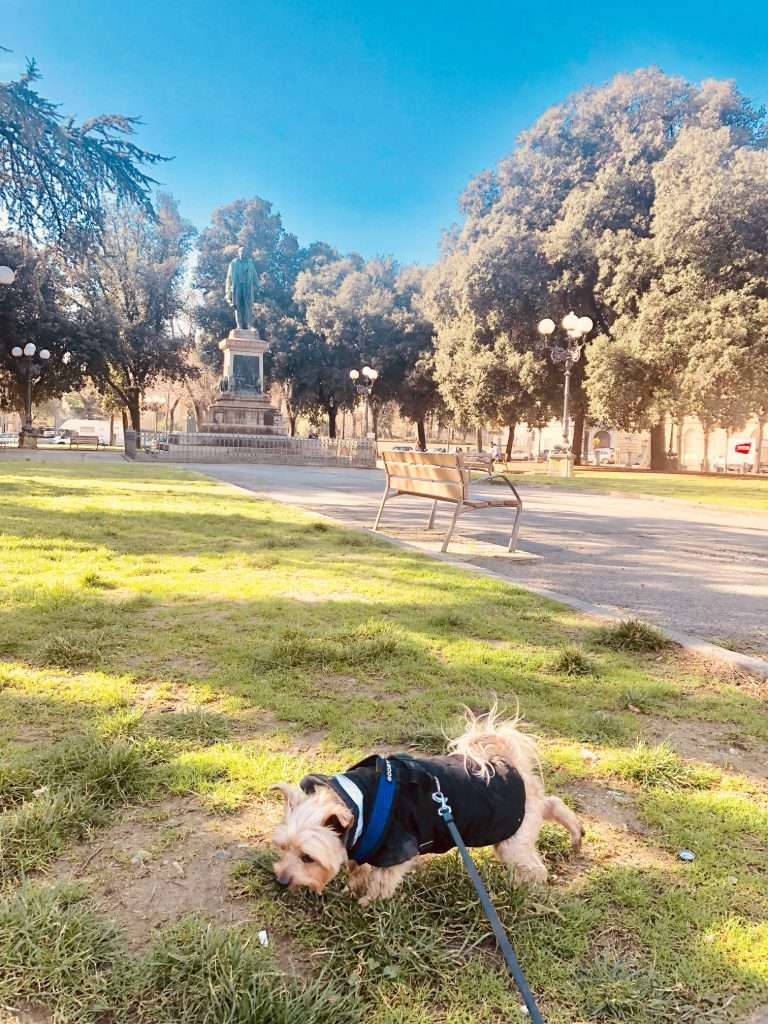 Lastly, don't forget to pair the choke-free harness with a long leash! Give your dog some freedom by walking him on a loose leash and allowing him to lead from time to time! I love being the BOSS. I proudly lead my human pack on most walks with my long retractable leash and take my good ol' time to investigate every bush and pole.
Watch how I survived my first 5 days of Coronavirus quarantine in Spain…
That's it for PART I, escapaders! Check out PART II of dog travel essentials.
Ready to travel with your four-legged child? Follow my paw prints and I'll take you to find some flights – just put your furry paw HERE!
Markin' it up,
Roger Wellington a.k.a. The Doob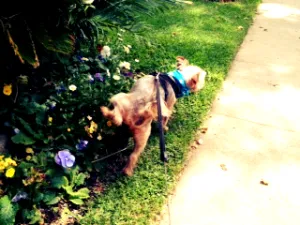 *Please note that this post contains affiliate links, and at no obligation or additional cost to you, we earn a small commission if you make a purchase. If you love the work that we do, you can show your support by making a purchase through an affiliate link. Proceeds will go towards feeding homeless dogs (and cats) along with improving the lives of the neglected and abused.
—
Like my post? PIN IT!