Is Athens, Greece dog-friendly? Should you take your dog to Athens? Sniff out my guide to dog travel in Athens now!
Last Updated 8/6/23
*Please note that this post contains affiliate links, and at no obligation or additional cost to you, we earn a small commission if you make a purchase. If you love the work that we do, you can show your support by making a purchase through an affiliate link. Proceeds will go towards feeding homeless dogs (and cats) along with improving the lives of the neglected and abused.
ARF, my stylish undocked tail is wagging as I bark about Athens, Greece. You don't need to be a history buff to know that Athens used to be a TOP DOG. Like seriously. PAWS DOWN, one of the oldest cities in the world, Athens is filled with ancient history, dynamic culture, and rich heritage. Widely known as the birthplace of democracy and Western Civilization, Athens and its greatness and influence can still be felt today. Some thousands of years later, Athen is still an international city and the economic center of Greece.
What's the Dog Culture like in Athens?
When it comes to the dog culture in Athens, many argue that Athens is not a dog-friendly city. Due to a high stray PAWpulation, countless dogs in Greece lead tough lives on the streets, where they have to scavenge for food and fend for themselves on a daily basis. It's no surprise that street dogs are ubiquitous throughout the country, not just Athens. The same goes for cats who roam the country and reproduce like crazy.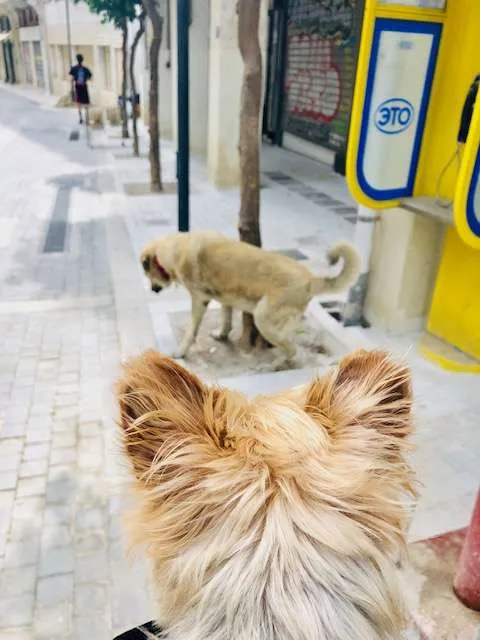 When I first set my alpha paws in Athens, my private transportation driver explained that many Greeks abandon their dogs on the streets over the summer when it's vacation or "holiday" time, when it's customary for Europeans to take 4 to 6 weeks off from work. Although he loves dogs himself, he said he would never get another one due to the immense pain he endured when his first dog died. He said he cried so much "as if his dog were human."
As a blessed rescue dog, I offered the Greek stray dogs water and food whenever I encountered them. My human also went on daily feeding missions without me. All dogs are beautiful innocent souls who deserve a safe, loving home. Based on my many encounters with the strays here, I sniffed them out to be generally not aggressive – they go about their business and find shade, water, and food.
To bark the least, I spent A LOT of time hanging out with (and studying) the human locals. Based on my interaction with the Greeks in the 3-4 months spent marking up the country, I can bark with an upright tail that most of them are dog-friendly or dog-tolerant. I even met the sweetest barista, who insisted on hand-feeding me fresh cold water on a hot day. However, the dogs who do have homes are often tethered or left outside as guard dogs (even in the scorching heat).
It appears that the lack of government legislation and enforcement to protect dogs is the biggest issue. Even the Greeks who tell my humans how much they love dogs and even proceed to gently pet my head, they would admit that their dogs live outdoors. With that barked, I've also sniffed out quite a few dogs who live indoors, especially in Athens where apartment living is the norm.
BARKS OF CAUTION: Due to Greece's geographical location, the country is often considered the gateway to Europe from the Middle East. And yet, Athens is home to hundreds of thousands of Middle Easterners who sought asylum in Europe. With Islam being the dominant religion in the Middle East, it is estimated more than 300,00 Muslims live in Athens. Unfortunately, dogs are perceived as unclean and are generally not welcome by this minority group (although there are exceptions, like in everything in life).
Luckily, I only had one not-so-PAWsitive experience at a Muslim-dominated neighborhood; a guy standing outside a cell phone store tried to scare me with his hands and voice as my human carried me past the block. Hence, just be careful of your surroundings when walking your dog, and be aware of those who dislike or fear dogs. If your dog is small enough, pick him up to avoid potential negative encounters.
Side Barks: Some of the best food in Athens are found in Middle Eastern and Pakistani neighborhoods, so it's still worthy of going! The ethnic enclave stretches from Kato Patisia to Monastiraki.
What's it like Walking Your Dog in Athens?
Just a howl that the streets of Athens can be dirty and grimy with litter, making daily walks a bit gross (perhaps for the humans, as I sure didn't mind getting my paws filthy). As a result, my human would clean my paws with moist hypoallergenic alcohol-free dog wipes after every walk. Besides filthy city streets, another downside of walking your dog here is that the streets can get pretty busy with pedestrian traffic, depending on the time of the day and during peak summer travel.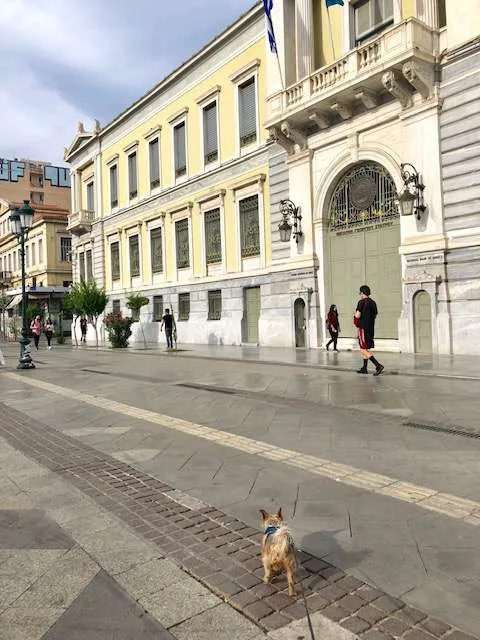 Generally barking, Athens is safe to walk around with your dog during the day (although the risk of pickpocketing can be high in tourist-centric areas). In addition, some neighborhoods must be avoided, especially at night, like Omonia Square and proximity, Colonus, Agio Panteleimomas, Metaxourghio station, and Exarchia. I stayed just north of the Acropolis, which is generally considered a safe area (including Thission, Petralona, and Filopappou).
Plaka (my favorite cobblestoned neighborhood), Monastiraki, Koukaki, and Kolonaki are also safe bets as they're PAWpular neighborhoods to stay in the city. Overall, my humans felt fairly safe walking with me in the city, but they stayed vigilant and alert. They also took general precautions like not wearing anything flashy and having their bags and personal belongings in front of them.
My favorite place to leave my alpha mark (and show the furry Greeks who's boss)is the National Garden, a 38-acre public park (formerly royal garden) situated in the center of the city. It's home to 7,000 trees, 40,000 bushes, numerous plants, and some stray dogs.
I also love doing some human and dog-watching at one of Athen's many famous public squares like Monastiraki Square, Nea Smyrni Square, and Syntagma Square. The most famous square is Omonia Square, but as barked earlier, it can be not so safe at night.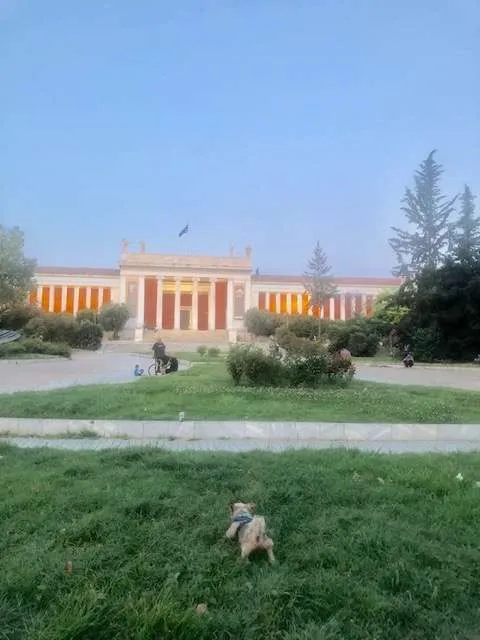 The exterior grounds of museums are generally dog-friendly and fun places for me and my humans. I can get my sniff and mark on as they can get photos of me with magnificent backdrops, like the Panathenaic Stadium.
When Should You Travel to Athens with Your Dog?
On another bark, it's best to avoid traveling to Athens with your dog during the summer peak season. GRR, summers can be ARF-so-lutely brutal and downright dangerous here.
When I arrived in mid-May, the temperatures were pretty comfortable, with the highs being in the high 70s to low 80s Fahrenheit. However, by the time I left for the Greek Islands in mid-June, it was quickly heating up to the high 80s to low 90s. GRR. June is typically when the city starts to heat up although the temperature is still "bearable" – according to the locals.
Watch me take the Greek Islands:
As a San Franciscan dog, I was NOT wagging my tail to the temperature. And yet, it only gets hotter and hotter as the summer continues, with August being the warmest month, often hitting TRIPLE digits Fahrenheit. At 80s-90s degrees Fahrenheit, I'm already panting after walking two or three blocks. With my chronic collapsed trachea condition, I had to take extra precautions before arrival.
For instance, I prepared for the Athens heat by getting a fur trim a week before my less than 2-hour flight from Dubrovnik, Croatia. Also, I ensured I landed in Athens in the morning to avoid the afternoon heat. Thankfully, I'm blessed with the PAWfect physique and weight for in-cabin flights since my humans would NEVER put me under cargo.
ARF-ter perking up my ears to some crazy takeoff noise, I immediately knocked out in a soft carrier (and even slept on my back with all four paws in the air). If you are flying within Europe like me, you can expect to pay anywhere from 50-75 euros one-way for the dog in-cabin fee (depending on the airline). From the U.S., international dog cabin fees range from $125 to $200 one-way, depending on the airline.
Upon arrival, I altered my walking schedule to conquer the dangerous heat. I would take my humans out shortly after sunrise (before it heats up) and later in the evening (when it cools down), with a quick pee pee break in between. During my walks, my humans would bring along the following (in case I needed a water break):
Collapsible To-Go Bowls – Save some space inside your carry-on by getting your paws on these collapsible to-go bowls.
Dog Water Bottle – This pawsome portable bottle not only keeps water fresh and cold, but also has a toxin-free polypropylene lid (which can also be used as a bowl).
As the 7 lb. pack leader, I became adept at finding shady areas to break from the scorching sun. AWOOO, hydration is KEY for your dog to survive the Athens heat! During the dangerously hot afternoons, I'd be happily snoring with four paws in the air inside with the A/C on blast.
Besides the heat factor, I don't recommend taking your dog to Athens in the summer due to higher prices in flights and accommodations. Again, summer is the PEAK season for travel in Europe. Now ARF-ter having done it, I would bark that the best time to visit Athens is during the Spring (March or April) and Fall (September, October, and November).
Are Dogs Allowed at Restaurants in Athens?
From gyro fast food joints to traditional Greek restaurants, all the places where I wined and dined in Athens were dog-friendly, where my pack and I could sit either indoors or outdoors. However, since most restaurants didn't have A/C inside (which makes a very stuffy dining experience), we opted to dine outside most of the time for semi-cooler air.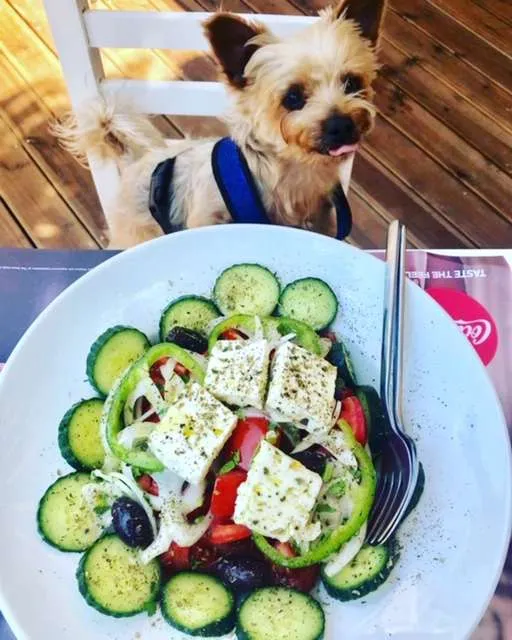 AWOOO, I wolfed down way too much mouth-watering food and filled up my little Yorkie belly! Since Greek food is one of my favorite cuisines in the world (and trust me, I've been around the block), I wagged my stylish undocked tail and licked my chops to foodie heaven. ARF-my-DOG! Although gyro and souvlaki are ubiquitous and paw-lickin' good, I was suPAW excited by their luscious vegetarian dishes. As you may already know, I love my veggies! Yet all the Greek veggie items were irresistible to my Yorkie stomach.
Here's what else you MUST try (besides gyro and souvlaki):
Gemista – stuffed tomatoes and/or peppers with potatoes
Vegetarian Moussaka – Layered eggplant or potato-based dish with béchamel sauce
Dolmades – Stuffed vine leaves
Horiatiki – classic Greek salad
Fava Beans Purée – the name barks for itself…fava beans in a smooth and creamy texture
Imam – baked aubergine
Mmm, mmm – too many to bark out!
Can Dogs go to Archaeological Sites in Athens?
During my visit, my robust Sherlock wet nose detected a myriad of spectacular ruins throughout the city dating back thousands of years. I bark again, THOUSANDS of years! ARRRF, bark about ancient history! My fearless paws even marched close enough to the Acropolis where I could stretch out my anaconda neck for a long and thorough investigative sniff. Sadly, I couldn't go in since "dogs are NOT allowed."
GRRRR. But I'm excited to bark that things are changing – for the better.
TOP DOG BARKS: In April 2023, Greece's Culture Ministry announced that "pets" will be allowed into more than 120 archaeological sites. ARF-my-DOG! Currently, dogs are NOT allowed to visit any ancient sites or ruins in Greece, except for guide dogs for disabled visitors. Although there is no word (yet) as to when the new regulations will be implemented, the tail-waggin' news is that this decision was unanimously approved by the Central Archaeological Council. WOOF-HOO! The downside of the news is that the most PAWpular archaeological sites, like the Acropolis (along with Ancient Olympia and Delphia) will remain "pet-free" due to heavy tourist traffic.
So far, here's what we know about the rules for dogs to enter an archaeological site in Athens:
Dogs must be kept on a leash no longer than one meter or three feet OR carried in a pet carrier or pouch AND be accompanied by a health certificate and poop bags or accessories to eliminate waste. Larger dogs must wear a muzzle. Cages will also be available at over 110 sites.
Such a progressive move will align with other European nations where pet entry is already allowed at many monuments and archaeological sites.
Until this legislation becomes in full effect, you must leave your dog at the hotel or apartment to visit an archaeological site in Athens or elsewhere in Greece. PAWS CROSSED that all goes well!
Are Dogs Allowed on Public Transportation in Athens?
YES! It was a breeze for my humans to bring me on Athens Metro, the city's underground public transportation. The open-mouth smiley news is that dogs are allowed on trains as long as they are transported in a safe closed transport cage (or carrier) with maximum dimensions no greater than 70x40x50 cm.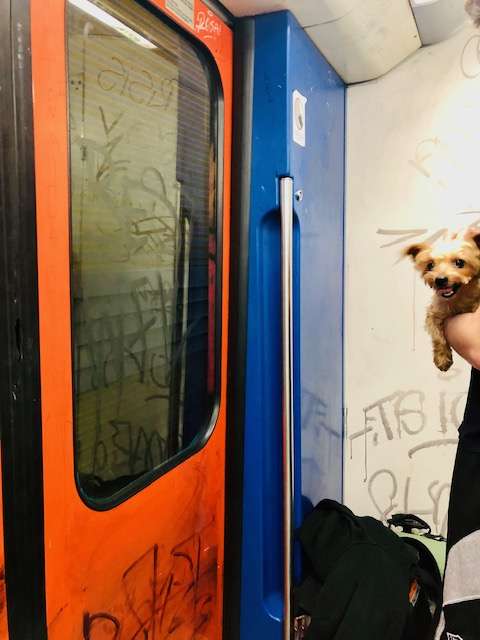 Due to the heat, I stayed outside my carrier during my ride, and luckily, it was no PAWblem. However, if you're traveling with your dog over the summer, I would suggest hiring private transportation to and/or from the airport, which was what my humans did to get to our apartment in Athens. That would ensure a much more comfortable ride for your dog.
You must stay close to your dog to ensure no injury or disturbance to other passengers. Also, you cannot put your dog in the passageways, the entrance, or exit points. Be sure to travel with your dog's health paperwork or E.U. Pet Passport. Although I've never been asked (and Greece is notorious for being laxed), I always like to stay ready.
On buses, dogs are also allowed if they fit in a carrier not larger than 70x40x50 cm.
On ferries, dogs are allowed free of charge. As a matter of bark, I've gone island-hoppin' all over the Greek Islands.
Is it Easy to Find Dog-Friendly Accommodations in Athens?
Finding a dog-friendly apartment in Athens was relatively easy by using the pet-friendly filter. Although dog fees are the norm at hotels, my humans escaped them by booking a dog-friendly apartment. ARF, I dreamt of gyro in pita and gemista in my very own comfy one-bedroom apartment equipped with a full kitchen, located just north of the Acropolis. Whenever I felt like it, I'd allow my humans on my King bed. Otherwise, they were couch-surfing in my spacious bachelor pad. Sniff out what app/website I use to sniff out the best dog-friendly apartments.
So, is Athens, Greece dog-friendly? For the most part, YES! Although there may be some things to avoid or watch out for, like the heat and certain neighborhoods, taking your dog to Athens can be fun and rewarding.
Got questions on taking your dog to Athens? Need some paw holding? Book a consultation service with my human staff NOW.
Ready for your dog to conquer Athens? Book your flight NOW and sniff out my E-Book how to travel with your dog!
Markin' it up,
Roger Wellington a.k.a. The Doob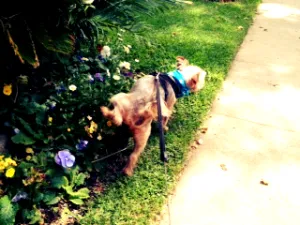 —
Like my post on "Is Athens, Greece Dog-Friendly? A Yorkie's Guide to Dog Travel in Athens"? CLICK TO PIN!