ARF, trying to find the BEST dog wedding outfits? You've set your furry paws at the right place. Whether you have a Yorkie like myself or a Weimaraner, dogs can melt people's hearts at weddings, making the BIG day extra special. Many dog lovers want to include their beloved dogs on their wedding day by dressing their dogs in the cutest wedding outfits.
Last Updated 11/25/22
*Please note that this post contains affiliate links, and at no obligation or additional cost to you, my humans and I earn a small commission if you make a purchase. If you love the work that we do, you can show your support by making a purchase through an affiliate link. Proceeds will go towards feeding homeless dogs (and cats) along with improving the lives of the neglected and abused.
Dog Wedding Outfit Ideas for Yorkies and other dogs:
Formal Suit or Tux (Yorkie boy or male dog)
Wedding Dress (Yorkie girl or female dog)
Bow Tie (Yorkie boy or male dog)
Veil (Yorkie girl or female dog)
Wedding Color Matching or Wedding themed Bandana
Wedding Color Matching Harness
Small and Lightweight Ring Bearer Pillow
Wedding Tag (e.g. "My humans are getting married," BEST DOG, DOG OF HONOR, etc.)
So hear my barks! WOOF, humans love dressing up for their BIG WEDDING DAY, but that doesn't mean dogs love it (or even like it) too. NEWS FLASH – dogs (or any other animal) are probably not eager to wear a ring pillow on their back or a sparkling tutu dress. Sure, humans are easily in awe with cute, extravagant wedding outfits for their dogs, but please recognize that dogs wouldn't dress up if they had a choice.
Sniff out "Dog Wedding Outfits: Dos and Don'ts for Yorkies and other dogs" below:
#1 DO put COMFORT first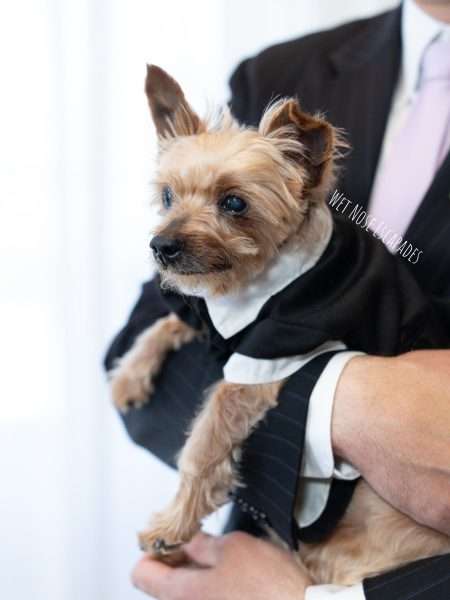 Always consider your Yorkie or dog first! So you've found the "cutest" dog wedding outfit online, but don't hit checkout before thinking carefully about how your Yorkie or dog will feel in that wedding attire (if you don't think dogs have feelings, think again). Examine the material for potential irritants and hazards and think beyond how amazing your wedding pictures will turn out. Remember, your Yorkie or dog should NOT be an animal exploited for entertainment or amusement – he or she is an integral part of your family, your life! Comfort over cuteness.
#2 DON'T over do it! Less is MORE
Extravagant dresses and full-body tuxedos may look so darn cute on your Yorkie or dog, but consider the old saying – LESS is MORE. Think simplicity. Just pick ONE item for your dog to wear – whether it's a veil or wedding dress for your Yorkie girl or a bow tie or tuxedo for your Yorkie boy. Don't overdo it! The less you put on your dog, the more relaxed he or she will be on your wedding day (which will already be stressful enough).
Should you have your dog in your wedding? Ask these questions first!
#3 DO have your dog TRY multiple wedding outfits
Schedule a wedding outfit shopping day for your Yorkie or dog just like you would for yourself and your bridesmaids! If you are keen on shopping online, then order one outfit at a time and make sure the company has a free return policy.
Please make sure that they try on at least 2-3 outfits before making the final selection. Observe their behavior and mannerisms in each wedding outfit for at least 3 to 5 mins. Choose wisely with your furry family member in mind as cuteness is NOT everything!
ASK YOURSELF: Do they appear comfortable or confident? Is their tail upright to exemplify confidence? Are they trying to get out of the wedding outfit? If so, that is a sure sign that they are NOT comfortable. NEXT!
#4 DON'T wait until the LAST minute
If you plan to purchase his or her outfit online, you should do it at least 1-2 months beforehand for some wiggle room (in case things don't work out). Don't wait until the last minute for Amazon Prime to deliver your Yorkie or dog's wedding outfit a few days before the BIG Day.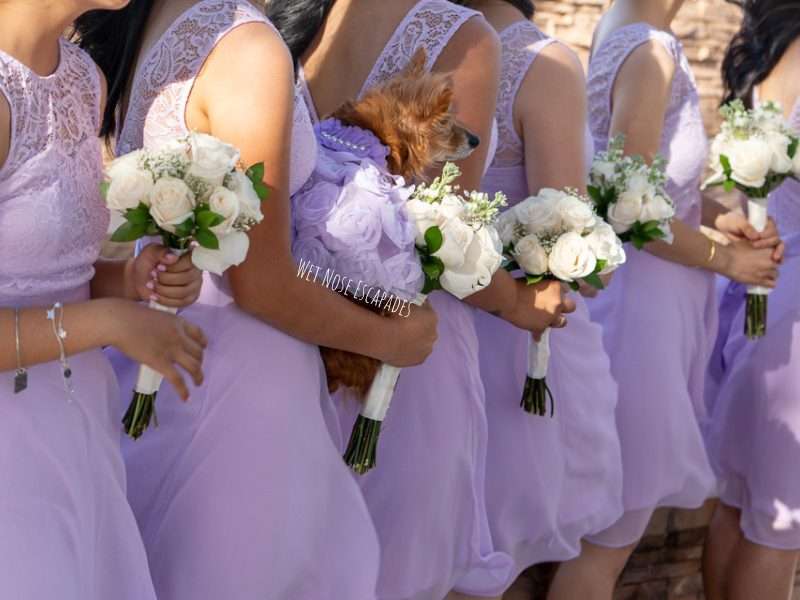 What if it doesn't fit him or her? Minimize stress through preparation! Dress shopping for your Yorkie should be done at least one to two months in advance. Start shopping for your Yorkie as soon as you've said YES TO THE DRESS.
Find out how to incorporate dogs into weddings WITHOUT them being there!
#5 DO choose semi-LOOSE over a "perfect" fit
Don't aim for a "perfect" fit when selecting a wedding outfit for your Yorkie or dog. Make sure wedding attire is LOOSE enough so it doesn't hinder his or her ability to breathe naturally.
Anything tight or heavy is torture for dogs. ASK YOURSELF: Can they move freely in the attire? Can they sit, walk, run, stretch, and lay down like normal?
#6 DON'T go too CHEAP
ARF, weddings may be expensive, but your dog's wedding outfit is not something to skimp on! Inexpensive dog clothes and products are typical of substandard quality. Cheap fabrics or materials can be irritating or even harmful to your Yorkie or dog. Plus, you won't want to deal with loose threads or attire mishap on the BIG DAY.
Hence, make the wedding outfit a good investment! Read the reviews before ordering online. If your Yorkie or dog is full-grown, he or she can always wear the outfit for a future event. Accessorize a bit, and WOOF, it can be your dog's next Halloween costume.
Get OVER 15 tips on how to include Yorkies in a Wedding!
#7 DO several TEST wears before the Big Day
Make sure your Yorkie or dog appears comfortable and relaxed in the wedding outfit you've carefully selected for him. Have your Yorkie try on the wedding attire at least 3-4 weeks in advance – the earlier, the better. As a lot of material may cause allergic reactions or create discomfort for dogs, please ensure the outfit is loose enough and without irritating fabric.
To ensure comfort, have your Yorkie or dog wear the outfit for 10-15 minutes during the first fitting and slowly work it up for 2-3 hours over a whole week. Observe your dog for any negative reaction. Remove immediately if he or she starts itching in it or exhibiting discomfort.
Get my guide on how to train your dog to walk down the aisle!
#8 DON'T prolong your dog's WEAR
After family and wedding party photos, remember to take off his or her outfit. Make sure your Yorkie's date or caretaker is keeping an eye out for any negative reaction. Like Halloween costumes, dog wedding outfits should not be worn for long hours, typically 3-4 hours at most. Again, safety first!
#9 DON'T leave your dog unattended with the wedding outfit on
Caution: NEVER leave your Yorkie or dog unattended while wearing the wedding outfit (no matter how comfortable they may look). Assign someone to watch for signs of discomfort at all times.
Having a destination wedding? Find out how to fly with your dog!
Prep your wedding dog for the long car ride with these 16 Dog Road Trip Essentials!
#10 DON'T put FLOWERS on your dog's body
Besides the risk of allergies and skin irritations from flowers, Yorkies and other dogs would not enjoy having real flowers on their bodies. Even if they are taking up the role of "flower dogs," they don't need to have actual flowers adorn their bodies, which may be prone to skin or environmental allergies.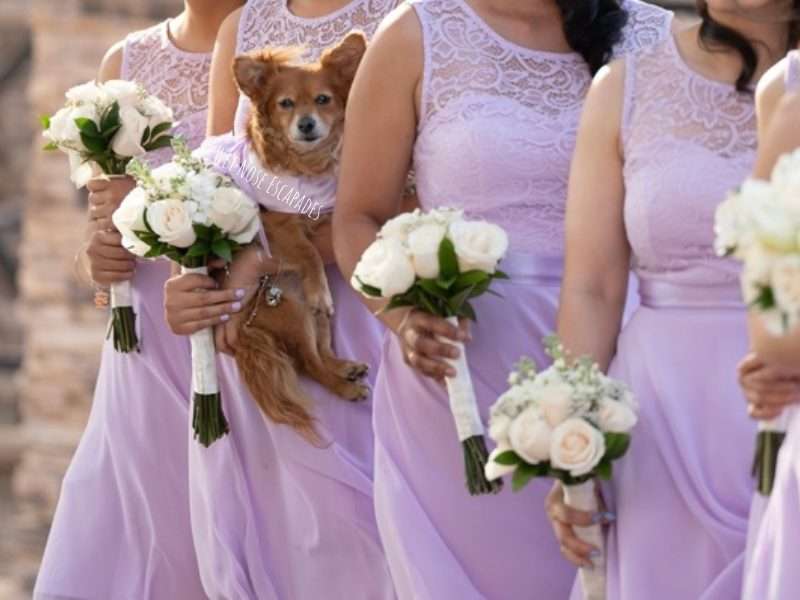 Consider these alternatives:
-Decorate the leash with flowers – leave the bottom quarter undecorated as it will make contact with your Yorkie or dog's body
-Have the assigned date scatter rose petals while walking your Yorkie or dog out
-Have the assigned date wheel out your Yorkie or dog on a flower garden wagon or wheelbarrow
The possibilities are endless if you think creatively. Regardless of the execution, always keep your dog's safety and comfort in mind. Your dog is already cute enough! Even if not "properly" adorned, his or her mere presence is sufficient.
Get your paws on more Dog Wedding Tips & Ideas NOW!
Get my ultimate packing list for your wedding dog!
Watch me have the BEST time at my Auntie's wedding in California:
Hope you enjoy reading my tips on dog wedding outfits for Yorkies and other dogs. Got a new dog wedding outfit tip? BARK AT ME. Sharing is caring! Subscribe to my YouTube Channel: Wet Nose Escapades by Roger Wellington for more fun Yorkie videos!
Markin' it up,
Roger Wellington a.k.a. The Doob
Like my post on "Dog Wedding Outfits: Dos and Don'ts for Yorkies and other dogs"? PIN IT!