ARF, wondering if dogs are allowed at the Colosseum and Forum in Rome? Can you take your dog to see the famous Colosseum and Roman Forum? Keep on sniffing to get more info!
Posted 4/22/22
*Please note that this post contains affiliate links, and at no obligation or additional cost to you, my humans and I earn a small commission if you make a purchase. If you love the work that we do, you can show your support by making a purchase through an affiliate link. Proceeds will go towards feeding homeless dogs (and cats) along with improving the lives of the neglected and abused.
As for the former Italian Yorkie, I'll be first to bark how much I love Rome! Even though I lived in artsy Florence, I've set my furry paws in Rome quite frequently and even had several extended visits during my Italian residency. ARF-ter all, Rome is just a quick 3-hour train ride from Florence. Although my home base Florence, Tuscany is known for its culture, Renaissance art galleries, head-tiltin' architecture, and to-beg-for gelato (yes, it is the birthplace of gelato!), Rome is truly a different breed. It's the TOP DOG of all TOP DOGS. Historically, Rome is one of the most powerful cities in the world and the long-standing dynamic capital city of the country. PAWS DOWN, the Roman Empire was a major powerhouse and conquered most of Western Europe, the Balkans, the Middle East, and even North Africa during its heyday. AWOOOO, a real alpha pack leader like me! A quick sniff of its ancient remains confirmed that I had surely made a mark in a TOP DOG city a.k.a. a city of my caliber.
Since Italy is one of the most dog-friendly countries in the world, Rome has become one pawpular destination for dog travelers from all over the world, with its most pawpular, sniffed-out attractions being the Colosseum and Roman Forum. Each year, 9 WHOPPIN' million visitors come to Rome for a sniff at these centuries-old Roman ruins, many of whom want to bring their furry travelers along. Get that tail waggin' to sniff the buttocks of other dog travelers! So, are dogs allowed at the Colosseum and Forum in Rome? I've got the answer for you below!
Are Dogs Allowed at the Colosseum in Rome?
YES and NO.
OK, technically NO. Dogs are NOT allowed inside the Colosseum. The only exceptions are E.U. defined service dogs. However, I wagged my stylish tail to find out that I can still investigate and sniff out the stunning exterior grounds of this massive oval amphitheater by paw. With an upright tail, I would bark that the best photo opportunity for your dog is likely on the hill just east where there's an elevated road where your dog can pose with the Colosseum in the backdrop. Due to such ARF-mazing lighting, nighttime pictures are highly encouraged! The ground level of the Colosseum is certainly sniff-worthy as well, but it can get supaw busy with foot traffic depending on the time of the day. Plus, the ground level won't give you those iconic IG-worthy shots of the Colosseum.
Located in the neighborhood Celio, the Colosseum is definitely no beta dog. GRRRR. ARF-ter all, it's one of the Seven Wonders of the World. Constructed in travertine limestone, volcanic rock, and brick-faced concrete nearly 2,000 years ago (back in AD 70-80), this Roman masterpiece is the largest ancient amphitheater EVER, and is still the largest standing amphitheater in the world. There's also a section of the arena that was once underground (well, not accessible to dogs). ARF-my-DOG! Now, that's real TOP DOG status.
But, not all things about the Colosseum are grand. Sadly and disturbingly, it has a long history of animal abuse. Its sickening gladiator "games" killed and tortured around A MILLION animals over nearly 400 years when the amphitheater was active. These innocent animals include elephants, lions, tigers, boars, rabbits, crocodiles, bears, leopards, and DOGS. Yes, dogs. 🙁 We can pawbably argue that the origin of dogfighting can be attributed to these bloody gladiator games in Rome. Not to bark, approximately 400,000 humans died within the walls as well. ARF, if only the walls could bark. And, if I could only be allowed inside for a deep investigative sniff inside the 2,000-year grounds, I think I'd start shaking and lowering my usually confident Yorkie tail in heartbreak and fear.
If you want a tour of the Colosseum interior, it's best to leave your dog back at the hotel. If you have no choice but to bring your dog along, you could try testing your luck by sneaking a small dog inside a carrier or travel bag. Well, just a bark of disclaimer – my humans and I have had no experience in such shenanigan so let us know how it goes if you do try! Nevertheless, remember to buy tickets online ahead of time, so you don't have to wait in line. Tickets are required for human visitors, ARF-course.
Watch me take over the Colosseum:
ARF-ter exploring the Colosseum, don't forget to take your dog to the nearby Arch of Constantine, which is only a 2-minute walk from the Colosseum. Dated back to 315 AD, this is a triumphal arch dedicated to the emperor Constantine the Great to celebrate the victory over Maxentius at the Battle of Milvian Bridge. At 21 meters high and 25 meters wide and made up of three arches, the Arch of Constantine is, PAWS DOWN, one of the most famous momuments in the city. A dog-friendly one too! Quick fact – did you know that the Romans invented arches?
Are Dogs Allowed at the Roman Forum?
Again, YES and NO.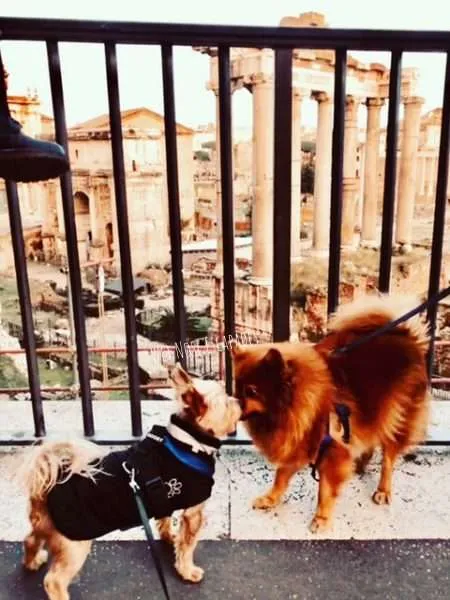 Like the Colosseum, you can only walk around with your dog outside the Forum, but technically NOT inside. The only exceptions are E.U. defined service dogs. Even though I wasn't allowed to get my furry paws on the ground surrounding these ancient government buildings, I like to march alongside the gates where I can gaze down and let my robust wet nose do the job from afar. WOOF, let me just bark that it's quite the meet and greet spot here for humans and doggies. And, if you lift your dog up slightly (be supaw careful though), you can even get some ARF-mazing views and pictures of the ancient site.
Now, what is the Forum exactly? Here's a quick howl – the literal Latin translation means "public place outdoors." In ancient Rome, the Forum was a gathering site with government buildings where people started meeting publicly. Dating back to the 7th Century B.C. (or even earlier by other accounts), many buildings in the Roman Forum are close to a whoppin' 3,000-years-old! Spanning 4.9 acres of low ground between the Palatine and Capitoline hills, Forum boasts temples, marketplaces, civic buildings, statues, arches, and basilicas. It was essentially the heart of the Roman Empire where public events and gatherings took place, from elections to public speeches to criminal trials to religious ceremonies. Even gladiator matches were hosted here at one point – well, before the Colosseum was built.
Like the Colosseum, it's best if you leave your dog back at the hotel if you want to enter the grounds of the Roman Forum. You should also purchase a ticket online in advance to save time.
Even though I've sniffed out the Forum both during the day and evening, I would have to bark that the evening walks have been the most enjoyable, again with less foot traffic.
WOOF, so are dogs allowed at the Colosseum and Forum in Rome? Technically NO, but they are always welcome to explore and sniff out the exterior grounds right outside. My human's guess is that they can't risk dogs leaving their pee-mail if they want to preserve sites with so much history.
How did you like visiting the Colosseum and Forum with your dog? Feel free to share your experience with me. BARK AT ME!
Sniff out my list of dog-friendly things to do in Rome with your dog HERE!
And, get your furry paws on my guide to traveling to Italy with a dog.
Subscribe to my YouTube Channel: Wet Nose Escapades by Roger Wellington for fun dog videos!
Markin' it up,
Roger Wellington a.k.a. The Doob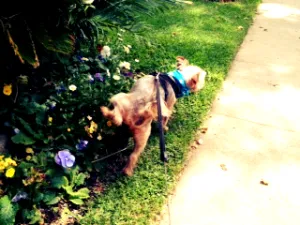 –
Like my post on "Are Dogs Allowed at the Colosseum & Forum in Rome?" CLICK TO PIN!