WOOF, wanna know if dogs are allowed on public transportation in Spain? Keep on sniffing!
*Please note that this post contains affiliate links, and at no obligation or additional cost to you, my humans and I earn a small commission if you make a purchase. If you love the work that we do, you can show your support by making a purchase through an affiliate link. Proceeds will go towards feeding homeless dogs (and cats) along with improving the lives of the neglected and abused.
Besides being a former furry Catalan who called Barcelona home for nearly a year, I've also traveled extensively throughout multicultural Spain. From seaside Barcelona to landlocked Madrid to Flamenco-centric Seville I've left my alpha mark in more places in this country than I can count with all my claws. As the pack leader, I gotta let those furry Spaniards know who conquered their town. GRRR, double back kick! With an upright tail, I'm barking YES (oops I mean, Si), dogs ARE allowed on public transportation in Spain. With that barked – just like any type of traveling, small dogs like me have it easier than big dogs (sucks for my Weimaraner cousin Sonny :(). From high-speed rails to old trams, Spain's public transportation is quite extensive, to bark the least. In fact, Spain built the longest high-speed rail in Europe with the majority of Spaniards commuting by public transportation in urban areas. As Spain is a relatively dog-friendly country, you can only expect to see dogs alongside their humans on practically all modes of transportation. Here's what my Sherlock wet nose reported back regarding dog-friendly public transportation in Spain:
Dogs on Public Transportation in Spain
*Please keep in mind that guide dogs and E.U. recognized assistance dogs are always permitted onboard on all modes of transportation regardless of their size. This post focuses on the accessibility for non-working dogs.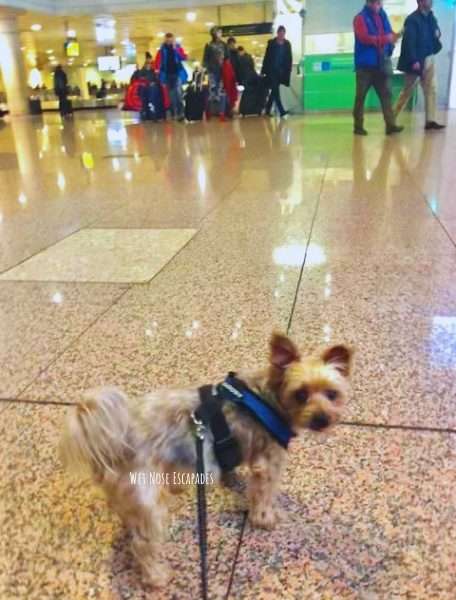 DOG-FRIENDLY METRO
Yippee! Dogs can ride for free on the Metro, Spain's underground railway system. The cities of Barcelona, Madrid, and Bilbao all have their own Metro. Small dogs like myself are easily transported in a carrier (sniff out the one that I've been traveling in since 2016). Larger dogs are also allowed, but they must technically be on a short leash (not exceeding 50 centimeters, but can be extendable) AND muzzled (although I've never seen this enforced). Dogs must NOT travel during rush hours (for instance, in Madrid: M-F 7:30-9:30 am, 2-4 pm, and 6-8 pm and in Barcelona: September 11 to June 24, 7 am-9:30 am, 5-7 pm). During the weekends and public holidays, dogs are allowed anytime without time restrictions. Dogs must be well-behaved and are forbidden to occupy seats. Proper identification with a microchip is also required although this is rarely enforced or checked (I've never been asked to provide). One dog per person.
Put your furry paw here for more information on riding Metro with your dog in Madrid
Put your furry paw here for more information on riding Metro with your dog in Barcelona
DOG-FRIENDLY RENFE
On Spain's national railway, dogs travel for FREE on all Cercanías trains (Spain's commuter rail system). Like Metro rules, only one dog is permitted per passenger. With no limitations on weight, dogs do NOT need to travel in a crate or carrier as long as they're on a leash. Like Metro, although the official rules indicate that all dogs must wear a muzzle, I've never seen that rule being enforced as long as your dog is well-behaved. Non-muzzled dogs are generally the norm.
Keep sniffing here for more information
Renfe-SNCF International routes:
Wanna travel throughout Europe with your dog? ARF, dogs can travel for only €15​ for all the international routes! However, they may NOT exceed 10 kg and must be transported in a crate or carrier that does not exceed 60 cm x 35 cm x 35 cm. Sadly, this means larger dogs are not allowed on board. 🙁 It's also one dog per person.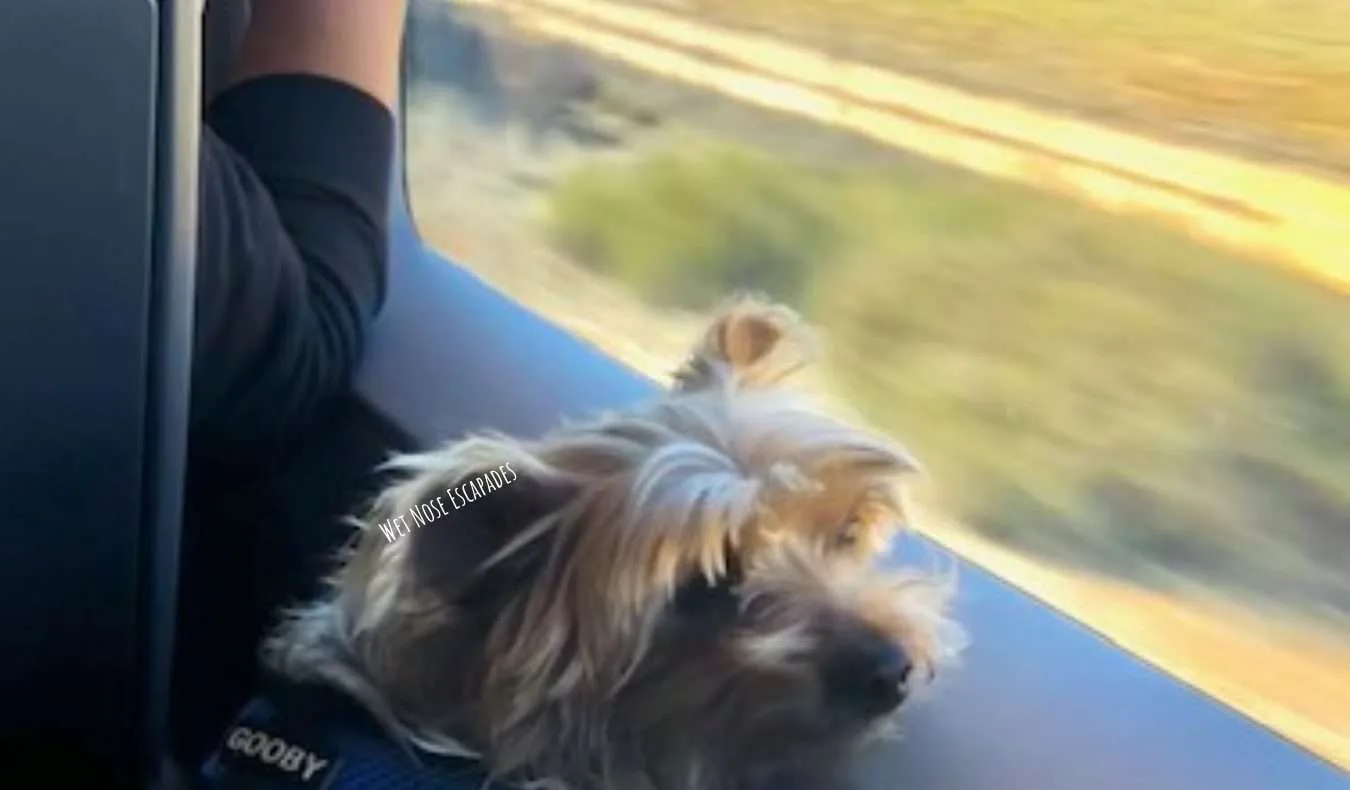 Put your furry paw here for more info on taking your dog on international routes
DOG-FRIENDLY EUSOKOTREN TRENA
Eusokotren Trena, the Basque Country transportation system, allows dogs on all lines as long as they're on a leash, including big dogs. However, dogs considered "potentially dangerous" are banned, including Pit Bull Terrier, Staffordshire Terrier, Akita Inu, Tosa Inu among other breeds. This is a complete shame because no breed is "dangerous" – a dog's "aggression" level is completely based on how the environment the dog was raised in. Abusive dog pawrents will inevitably raise "dangerous" and "aggressive" dogs who are forced to build up a defense mechanism. Ultimately, it's always the human, NOT the dog.
Keep sniffing for more info on traveling with your dog on Eusokotren Trena
DOG-FRIENDLY FERROCARRILS DE LA GENERALITAT DE CATALUNYA
On these local service trains in Catalonia (home to Barcelona), dogs must technically wear a muzzle and be on a leash OR travel in a carrier. They must be on a leash no longer than 2 meters/6.56 feet and can NOT occupy a seat. Dog breeds that are considered "potentially dangerous" may not be handled by children under 16-years-old. *Hear my barks on "aggressive" dogs in the section above. Technically, you must also bring your dog's license and registration paperwork (although you're not generally asked to provide it).
Put your furry paw here for more info on traveling with your dog on Ferrocarrils de la Generalitat de Catalunya
DOG-FRIENDLY TRAMS
Dogs are allowed on all trams in Spain as long as they are on a leash, wear a muzzle, and travel during off-peak times. From September 11 to June 24, dogs are not allowed between 7 am and 9:30 am AND between 5 pm and 7 pm. During the weekends and public holidays, dogs are always welcome on board. You must make sure that your dog does not cause any disturbance for other passengers or obstruct walkways and entry/exit areas. It is your responsibility to ensure that your dog is well-behaved at all times.
DOG-FRIENDLY BUSES
Last but not least, it's time to bark about buses. Here's the catch: Public buses throughout Spain will only transport small dogs inside a carrier. For instance, Bizkaibus, which connects Bilbao to other districts of Bizkaia, only allows dogs under 8 kg in a carrier. Unfortunately, except for working dogs (for the blind, disabled, and security personnel), larger dogs are NOT allowed on public buses in Spain.
If you are traveling locally with a big dog, you will have to resort to getting a taxi or rideshare unless you have a car or private transfer. Call ahead of time or look for a dog-friendly option on the app to make sure the driver will accept your dog along with any requirements. I've seen big dogs being transported in crates in taxis in Catalonia, but I'm not sure if the demand was made by the driver.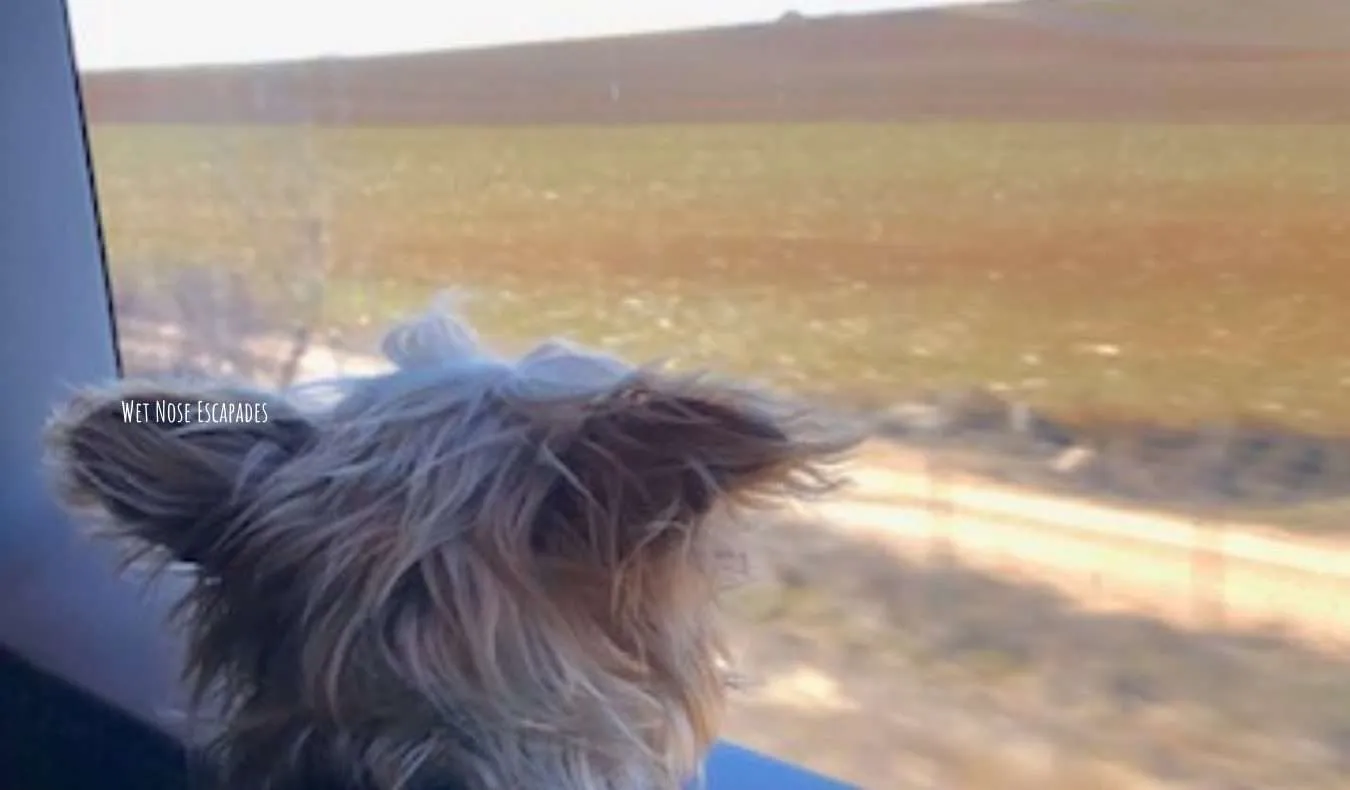 ARF, so are dogs allowed on public transportation in Spain? You betcha, but with some limitations for big dogs. Even though it's paws down easier to travel with a small dog in Spain, you can still travel with a big dog through careful planning and preparation.
Hope you enjoy visiting Spain with your dog! Sniff out my dog-friendly guide to Spain. Feel free to share your dog-friendly experience with me. BARK AT ME!
Don't forget to watch me survive my first 5 days of lockdown in Spain!
Subscribe to my YouTube Channel: Wet Nose Escapades by Roger Wellington for more fun dog travel videos!
Markin' it up,
Roger Wellington a.k.a. The Doob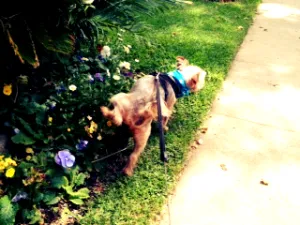 Like my post on "Are Dogs Allowed on Public Transportation in Spain?" CLICK TO PIN!