ARF, ARF! Dogs, do you HATE baths? You've come to the right place – sniff my stinky Yorkie buttocks now to find out how all dogs can hide from a bath!
GRRR, baths suck! Seriously, I do not know a single dog who loves to be bathed. Maybe those groom-loving, prissy dogs are out there, but I sure don't like to get washed and cleaned. Thinking about my next bath already makes me want to poop in the tub! You've tried running and hiding, but it seems like the human somehow prevails every single time. ARGH, so don't let your human know, but I'm going to show YOU how to effectively hide from a bath. Well, there are various strategic ways for dogs to hide from a bath. As the alpha dog and #1 Human Trainer, I will show you EXACTLY how I do it.
Watch "How DOGS hide from a BATH" now by pressing PLAY with that dirty, greasy, smelly (hopefully, unwashed) paw of yours:
WOOF-HOO! Hope you enjoyed watching my pawsome video tutorial. Feel free to bark out what worked and what didn't work for you. If you have a new tip on how dogs can avoid those horrific, yucky baths, please share it with me and all your furry friends. Hope your fur continues to be dirty and greasy!
And, don't forget to watch my #1 Human Training Tutorial and How Dogs Keep Humans Busy INDOORS!
Want more human training videos? Be sure to subscribe to my YouTube Channel: Roger Wellington and follow my life in quarantine.
Markin' it up,
Roger Wellington a.k.a. The Doob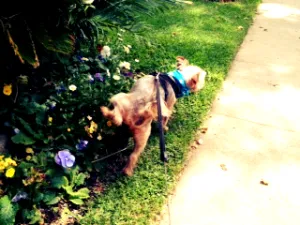 Like my post on "How Dogs Hide From a Bath"? PIN IT NOW!