Kon'nichiwa, escapaders! My tail is wagging as I bark out my latest video showcasing the marvelous dogs in Japan (and some cats), from Kanto to Kansai. Stylishly groomed, exceptionally clean, and usually well-dressed, the dogs here are often treated as REAL family members. With a historic low birthrate in the country, many married couples are opting for furkids over human babies. From fancy dog spas to high-end doggie daycare centers, a myriad of dogs in Japan live a posh life that one can only dream. 
Watch my quick 3-minute video featuring the Dogs in Japan (+some cats) below:
THE UNFORTUNATE OTHER SIDE…
Despite a "zero stray" policy and the fact that numerous dogs and cats enjoy spoiled pampered lives in Japan, a whopping over 80% of the country's shelter animals are gassed to death every day. 🙁 Dogs, cats, and other abandoned pets (in trend, e.g. hedgehogs) die a slow, agonizing death for 15-minutes in gas chambers known as the "dream box." The "dream box" is a living nightmare for animals; in a desperate attempt to escape, dogs howl in fear and cats bang their heads against walls. Shelter adoption rates are significantly low as most Japanese prefer cute, newborn puppies or kittens from pet stores over "second-hand" pets in need of rescue. In Tokyo and Osaka, pet stores are ubiquitous and merely contributing to the death and suffering of more furry lives. Like anywhere else in the world, animal shelters in Japan are overcrowded. Hence, it's more important than ever to urge people to always ADOPT, NEVER SHOP OR BREED and spread awareness on responsible, humane pet ownership worldwide – from our hometown to wherever we set our furry paws.
*Pet store in Tokyo, Japan
Find out how you can help animals while traveling HERE!
Markin' it up,
Roger Wellington a.k.a. The Doob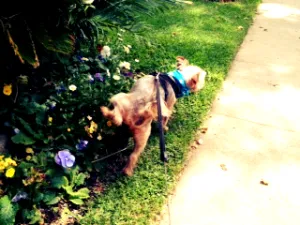 —
Like my post on Dogs in Japan (+ some cats)? PIN IT!