Ni Hao, escapaders! From pampered pooches to neighborhood dogs, watch fidos rock and stroll through the buzzing capital city of Taiwan in my latest video, Part 2 of the Dogs of Taipei! If you missed Part 1, you can always use your wet nose to sniff it out HERE.
Use that furry paw of yours to hit PLAY to watch "Dogs of Taipei, Taiwan: Part 2" below:
Although countless dogs live wonderful lives in loving homes in Taiwan, strays are still found throughout the island (particularly in mountainous regions where dogs are likely dumped so they cannot find their way home). Like anywhere else in the world, animal shelters in Taiwan are overcrowded and lack sufficient funding. After the Taiwanese government banned euthanasia in 2017, the stray and shelter population subsequently increased; the ban was passed after a veterinarian, an animal lover who dedicated her life to helping animals, tragically committed suicide for having to euthanize over 700 animals in 2 years. As people continue to buy dogs and cats from pet stores and breeders in Taiwan (and of course, many parts of the world), we must urge people to always ADOPT, NEVER SHOP and spread awareness on responsible, humane pet ownership.
Wanna sniff out more videos? Check out my fabulous life as a Florentine dog HERE!
Markin' it up,
Roger Wellington a.k.a. The Doob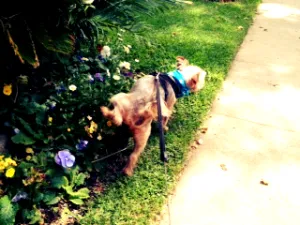 *Please note that this post contains affiliate links, and at no obligation or additional cost to you, my humans and I earn a small commission if you make a purchase. If you love the work that we do, you can show your support by making a purchase through an affiliate link. Proceeds will go towards feeding homeless dogs (and cats) along with improving the lives of the neglected and abused.
—
Like "Dogs of Taipei, Taiwan: Part 2"? PIN IT!