Wanna take your dog on a ferry in NYC? Perk up your ears and keep on sniffing!
Posted 6/18/21
As a world-traveling Yorkie, I'm proud to have lived in New York City and call the Upper East Side one of my beloved home bases. I may be a furry California native, but my little BIG Yorkie heart has made some room to include the Big Apple. Whenever I wasn't taking the West Coast by storm, I am running on four paws throughout Manhattan, uncovering to-beg-for treats and sniff-worthy city parks, and immersing myself with the vibrant New Yorker lifestyle. One of the coolest things about NYC is that you can take the ferry to unique places that will give you a nice change of pace from the hectic city life. From Manhattan to Staten Island and New Jersey, I've set my tiny aloha paws aboard to take in some fresh air and get the wind in my beautiful silky hair. Can dogs go on the ferry in NYC? ARF, the short bark is YES, dogs are allowed on most ferries in NYC at no additional cost. With that barked, there are a few ferry companies that prohibit dogs from coming onboard. GRRR. My stylish rat tail is wagging to give you a breakdown of all the dog-friendly ferries in NYC. Sniff out which ferries (allow and disallow) dogs in NYC NOW:
**Just a bark of caution: Don't forget to always keep an eye out for symptoms of motion sickness in your dog. If your dog is prone to car sickness, it's best to discuss it with a veterinarian before taking your dog on a ferry.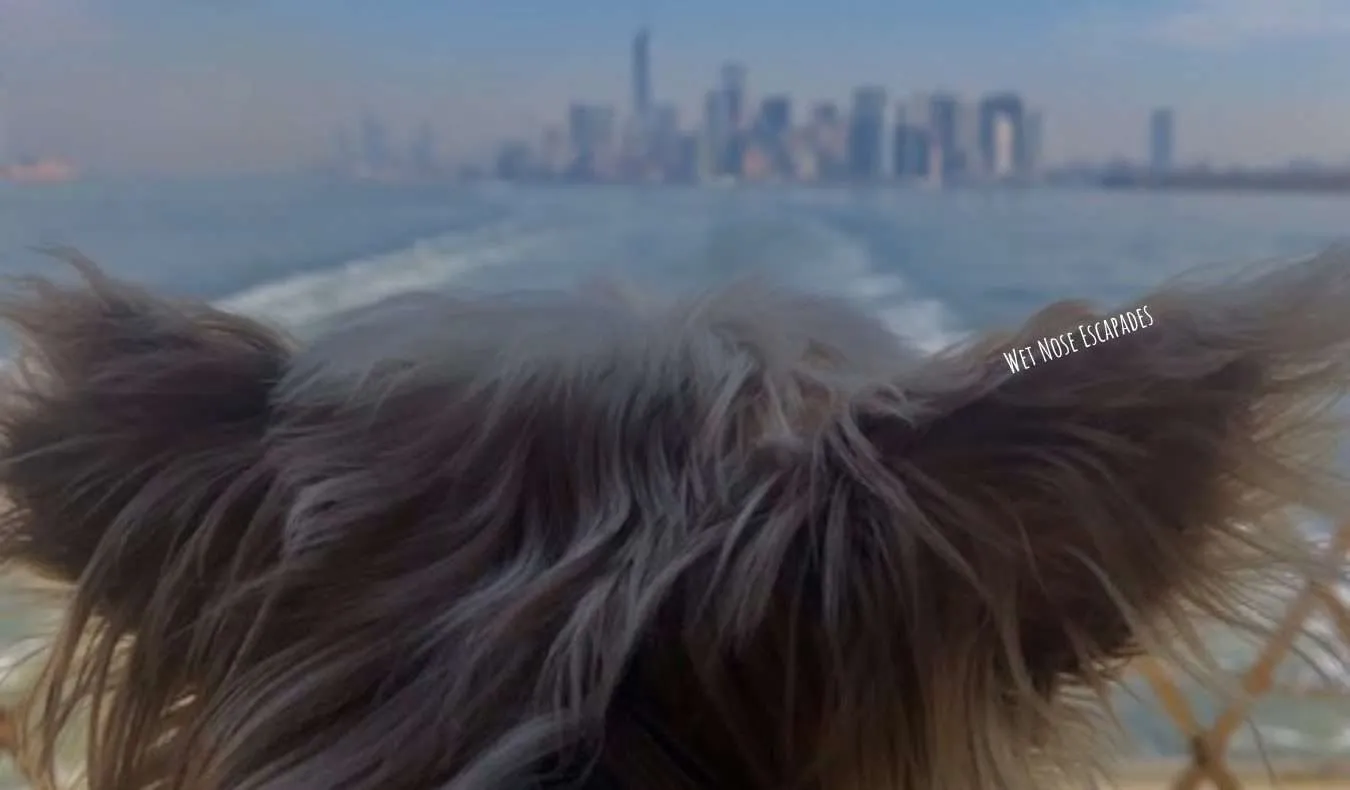 Dogs are ALLOWED!
ARF, hopping on and off the NYC ferry is a pawsome way to see NYC! This public ferry transportation agency operated by Hornblower Cruises currently boasts five routes that connect a whoppin' 21 ferry piers in the Bronx, Brooklyn, Manhattan, and Queens. It's the commuter ferry for all the boroughs except for Staten Island. However, an expansion to Staten Island (the fifth borough) has been in the works since 2019. Fortunately, dogs ARE allowed onboard as long as they're inside a carrier or muzzled. The NYC Ferry policy states, "Dogs, with the exception of trained service animals as defined by the Americans with Disabilities Act, are not permitted on NYC Ferry vessels unless they are in a pet carrier and/or muzzled."
Dogs are ALLOWED!
Running many routes between New Jersey and Manhattan, NY Waterway is a private ferry company that allows small dogs in carriers onboard. Their policy states that "only service animals accompanying customers with disabilities or their trainers, police dogs, and small pets in carry-on travel cages are allowed on-board the ferries."
Nevertheless, it seems as though the carrier policy is quite relaxed or just not strictly enforced. Although my human brought along my carrier, she carried me onboard and had me on her lap during the ferry ride. After five minutes of actively sniffing out the Hudson River, I started feeling a little dizzy and found comfort resting on my human's lap. In less than 10 minutes, I arrived in Hoboken (New Jersey) from Brookfield Place (Manhattan) via NY Waterway. Good thing the ride to Hoboken was quick!
Dogs are ALLOWED!
ARF-my-Dog, I love the Staten Island Ferry! This completely FREE ferry service provided by the City of New York provides TOP DOG views of the Statue of Liberty in the 5-mile, 25-minute ferry ride between St. George on Staten Island and Whitehall Street in Lower Manhattan. And, yep – dogs ARE allowed as long as they're in a carrier or muzzled. Their policy states, "Pets, other than service animals as defined by the Americans with Disabilities Act, are not allowed in the facilities and/or onboard the ferry boats unless they are caged and/or muzzled."
Sniff out my experience on the Staten Island ferry HERE!
Despite their official policy, I did not have to stay inside the carrier (nor was I muzzled) – similar to my experience with NY Waterway. My human and I hung out on the deck for some fresh air and ARF-mazing Statue of Liberty views throughout both journeys. Since the ferry is much larger than the one I took to New Jersey, I didn't feel seasick throughout the 25-minute ride. WOOF-HOO!
Dogs are ALLOWED!
Serving the Western communities of Fire Island, NY, the Fire Island Ferry is a passenger and freight ferry with 8 lines. Although I hardly set my paws in Long Island, I'm smiling to know that dogs are allowed as long as they're leashed. BUT, do keep in mind that certain communities there prohibit dogs on their beaches. The Fire Island Ferry policy clearly states, "Yes, as long as they (dogs) are properly leashed aboard the ferries. PLEASE NOTE: Certain communities do not allow dogs on the beaches."
Dogs are ALLOWED, except on Special Event Trips or the NJ/NYC service to Martha's Vineyard/Nantucket. :/
Ah-Hooooo, SeaStreak Ferry loves dogs! This private ferry company operates service between Monmouth County in New Jersey and New York City, along with seasonal service to Martha's Vineyard and Nantucket in the summer. The only catch is that dogs must be leashed or travel in a carrier. Per their website, "We love our pets and we're glad you do too! We welcome dogs and cats onboard many of our trips, but they must be kept on the outdoor decks with a leash. Dogs (of all sizes) and cats are allowed onboard many routes but must be kept on the outdoor decks with a leash. Small dogs in a carrier can be brought inside the vessel. Pets are not permitted on any Special Event trip or the NJ/NYC service to Martha's Vineyard/Nantucket."
Dogs are ALLOWED!
Operating between the World Financial Center in NYC and Jersey City, NJ, Liberty Landing Ferry makes stops at Liberty Landing Marina in Liberty State Park and Warren Street before returning to the World Financial Center. The Liberty Landing Ferry policy states, "We allow bikes, dogs, and strollers for no additional charge!" ARF, gotta wag my tail at that. 🙂
GRRR, dogs are NOT allowed.
OK – this is when things start to suck for dogs in NYC. If you want to visit iconic Liberty or Ellis Island, you'll have to leave your dog behind with someone you trust. 🙁 Per their official website, "Pets are prohibited from using the ferry system and being on Liberty and Ellis Islands. However, documented service/assist animals are exempt from this policy. Please contact Statue City Cruises." BOOO!
GRRR, dogs are NOT allowed.
Departing from multiple piers throughout the New York Harbor with the main office at Pier 83 in Manhattan, NY Water Taxi is an easy way to get around New York. They have 10 modern vessels that can accommodate up to 149 passengers! Sadly, dogs cannot take advantage of this transportation service. NY Water Taxi does NOT allow dogs as informed by their representative over the phone (last call made in June 2021). BOOO!
GRRR, dogs are NOT allowed.
The sister company of NY Water Taxi, this cruise line operates tours around Manhattan with departures from Pier 83 at West 42nd Street on the Hudson River and Pier 16 at the South Street Seaport on the East River. Unfortunately, dogs are NOT allowed on the cruise. The Circle Line Sightseeing Cruises policy states, "Sorry, animals are not permitted on the Circle Line boats, except for certified service animals." BOOO!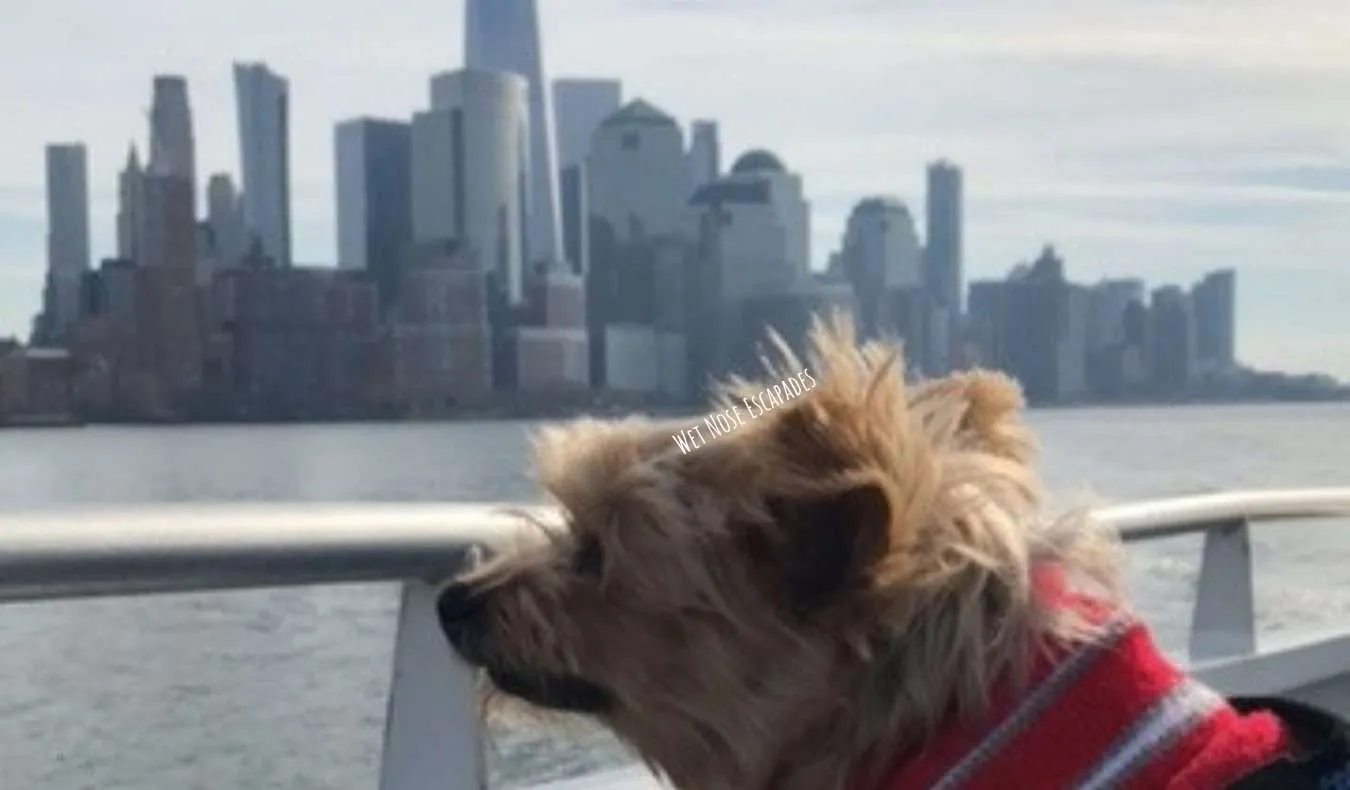 So, can dogs go on the ferry in NYC? YES and NO. But, mostly yes! Despite a few ferries prohibiting dogs onboard, most NYC ferries allow dogs as long as they're leashed, muzzled, or travel in a carrier. WOOF, hope you enjoy exploring NYC by ferry with your dog! Sniff out more dog-friendly NYC posts HERE.
Markin' it up,
Roger Wellington a.k.a. The Doob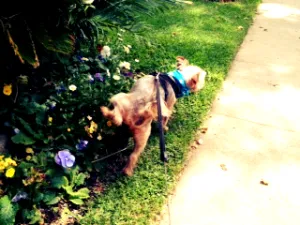 Like my post on "Can Dogs go on the Ferry in NYC?" CLICK TO PIN!