ARRRFFF, wondering if you can take dogs on public transportation in France? I've got you covered!
Posted 3/1/22
So you're traveling to France with your dog and wanna take your dog on the train with you? WOOF, traveling by train is the BEST way to see Europe, especially when your dog comes along. Dog travel on trains is generally less stressful than on planes as you don't need to go through the check-in process. Just grab a ticket, hop on, and snooze until you get there (just don't miss your stop)!
As a former Parisian dog, I'll be the first to bark that France lives up to its reputation of being one of the most dog-friendly countries in the world. From Rottweilers to Yorkies like me, dogs of all sizes dominate the romantic streets and bustling cafés of Paris – posing in front of the iconic Notre Dame and the Eiffel Tower, looking over the Seine, and getting a bite of artisan cheese or a lick of the chops-lickin' beef bourguignon. For dog lovers, the wonderful dog-friendly culture in France is well-known to the rest of the world, especially in the world of international dog travel. Without any online research, most dog-lovin' travelers would automatically expect to take dogs on public transportation in France. Heck, my humans did too before they took me along their escapades.
And, Oui, Oui – it's true. My short bark is – YES, dogs can ride trains in France. Well, all trains EXCEPT for Eurostar, which takes passengers between the United Kingdom and France. Sadly, Eurostar is notorious for banning pets onboard. Here's the deal – if you have to take your dog to the U.K. from Paris, your best bet is to take the Eurotunnel.
ARF, back to France. The country's national railway is SNCF, which stands for Société Nationale des Chemins de fer Français (wanna try barking in French, anyone?). Covering 35,000 km of routes with 14,000 daily trains and 2,600 km of the high-speed line, their whole network is no joke – PAWS DOWN, it's a TOP DOG railway in Europe. AWOOOO! Trains are called TGV in France (previously called TurboTrain à Grande Vitesse); they are France's intercity high-speed rail service, operated by SNCF.
In France, small dogs traveling in a closed bag or a basket, muzzled dogs, and guide dogs for the blind are welcome to ride trains alongside their humans. However, there are technically some rules although enforcement may be a hit or miss. For one, your dog is welcome onboard provided that your fellow passengers do not object to your dog being there, which means you'd have to make sure your dog can be well-behaved and quiet in public settings. Yet you know your dog best! As for me, I've never made a peep on any train ride or flight. OK – maybe just a little snort that no one could hear. 🙂 ARF course, it may be challenging if your dog is anxious or yappy. I think as long as you keep your dog under control and from barking up a storm, you should be fine. The French love dogs and will show compassion for dogs – well, generally barking.
Secondly, you are supposed to pay a ticket for your dog regardless of size, which is extremely surprising for a dog-friendly country like France. To give you a quick sniff in comparison, dogs travel for free regardless of size on Spain and Italy's national railways. If your pet weighs less than 6 kg (roughly 13.22 pounds) and travels in a bag or basket no larger than 45X30X25 cm, then the fare is only €7.50. I know it doesn't sound too bad, but it sure doesn't beat FREE. The good news is that the French seem to be fairly laxed on the carrier requirement as I've seen plenty of dogs outside of it. I've even taken a few breathers outside the carrier myself (a.k.a. foodies time :)).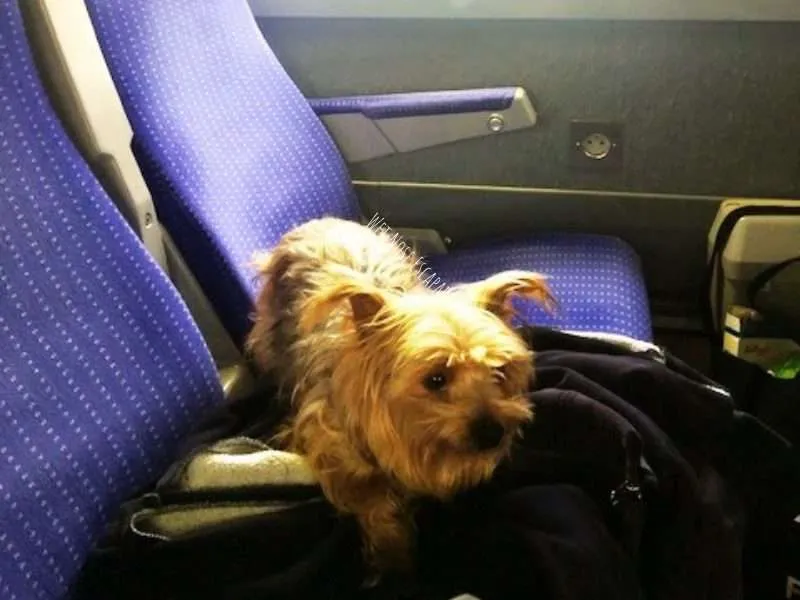 Your dog and carrier must also stay at your knees or your feet. Since small dogs usually remain inside a carrier during boarding, their tickets are, SURPRISE, rarely checked – at least from my experience. I've never been asked to show my ticket on any of my train rides in, out, and around France all these years. Not sure if I've been just a lucky dog (or do they acknowledge my status as the TOP DOG? :)). Regardless, I always have my ticket ready – in case the train staff requests it. As a furry foreigner, I'd figure it's always best to follow the rules! I'm not exactly sure if there's more of an honor system for small dogs or it's because a pet carrier resembles baggage.
As if that news wasn't enough of a bummer, dogs larger than 6 kg or 13.22 pounds have to pay even more. GRRRR. 🙁 If you have a bigger dog, you are obliged to pay 50% of the original fare as calculated using the standard rate per kilometer. Bigger dogs must also be muzzled throughout the entire ride and remain by your feet (although not always enforced). ARF course, guide dogs and E.U.-defined service dogs (not ADA-defined) are always exempt from the muzzle and fare. Since tolerance for bigger dogs is always lower than smaller dogs, be sure that your dog is well-behaved and doesn't cause any disturbance on the train.
Regardless of your dog's size, you must not forget to travel with your dog's paperwork and health documents! Even though the train staff may not ask, it's best to have them handy, especially if you're crossing borders.
Get my Step-by-Step Guide on How to Take Your Dog to Paris + Cost Breakdown NOW.
Oops, I almost forgot to bark that SNCF has specific guidelines for a dog carrier that you must follow. For your dog's overall well-being and safety, the carrier must be well-ventilated and provide enough space for your dog to lay down and turn around. On the exterior, the carrier should also be marked with your pet's name, microchip ID #, your name, contact information, and the address of your final destination. With that barked, no one has ever asked to examine my carrier before or during a ride. But again, rules are rules – adhering to their policy guidelines is always suggested when you're on foreign land.
WOOF, so can you take your dogs on public transportation in France? AWOOOO, you betcha! Hope you enjoy visiting France with your dog! Be sure to share your experience with me. BARK AT ME!
Watch me find food in Paris:
Don't forget to subscribe to my YouTube Channel: Wet Nose Escapades by Roger Wellington for fun dog videos!
Markin' it up,
Roger Wellington a.k.a. The Doob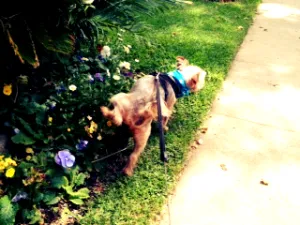 –
Like my post on "Can You Take Dogs on Public Transportation in France?" CLICK TO PIN!