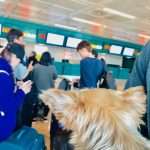 Woof, escapaders! As promised, I'm ready to bark out more essentials to pack for your four-legged explorer. Don't hop on the plane without these additional must-haves for your world traveling dog! Put your furry paw here if you haven't sniffed out PART I of my list of dog travel essentials.
Take a long investigative sniff of PART II of my list of essentials for dog travel:
#1 Essential for Dog Travel: FIRST-AID KIT
(for pets)
ARF, ARF! Be prepared for emergencies by always having a first-aid kit ready! We can never predict accidents so it's yorkie smart to have a first-aid kit (designed specifically for animals) handy and ready to go. This #1 essential for dog travel can be a life saver to mitigate any injuries, especially in an unforeseen instance where a 24-hour emergency veterinarian center isn't nearby. My tail wags for Kurgo Pet First Aid Kit; it comes with a bunch of necessities – from bandages to thermal foil emergency blanket. As the old saying goes, it's better to be safe than sorry.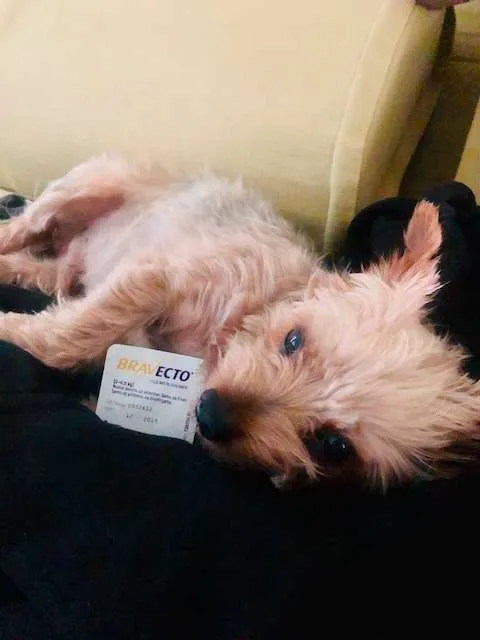 If you and your pooch plan to be away for more than a month, make sure that he is protected year round by keeping up with flea and tick meds. As my vet tells me, never skip flea and tick meds regardless of the season. Since I hate dealing with those gross monthly drops on my body, I make a mental note to pack an ample supply of Bravecto Oral Flea/Tick Meds (usually a 3-9 month supply depending on the length of my trip). These meds not only protect me from bites but also prevent the transfer of tick/flea bites to my beloved humans.
Roaming around big city streets often equates to dirty paws! Hence, I make an effort to stay fresh and clean between baths when I'm on the road. These deodorizing wipes keep me smelling good (or shall I say, simply irresistible) to every beautiful female dog coming my way.
#4 Essential for Dog Travel: BRUSHES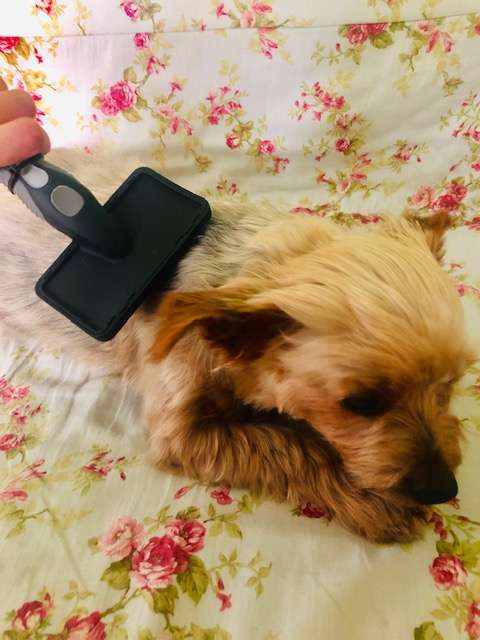 Being matted SUCKS! If you have a long-haired dog like me, you know that routine brushing is imperative to maintaining a healthy coat. Even on a short trip, I pack a few brushes so my human servants can pamper me and comb out my silky shiny hair on a daily basis. Remember to pack a flea comb as well – for a couple of bucks, you'll find that it works miracles in finding and removing those nasty fleas. YUCK!
#5 Essential for Dog Travel: CLOTHES
WOOOF, I may look fantastic naked, but from time to time, I love sporting some stylish wardrobe. Of course, I won't need any clothes when I head to a summer destination or anywhere with a warm climate. However, if weather conditions are unpredictable, I find that it's best to toss a few clothing items into my carry-on as insurance. I love my hoodies, sweaters, and raincoats as my paws make their way throughout Europe in the winter months.
#6 Essential for Dog Travel: SHAMPOO
Don't skip a bath just because your pooch is on the road! Whether your dog is short or long-haired, he needs to bathe on a regular basis. My vet recommends a bath every 3-4 weeks for me, but the time frame can differ from dog to dog. A traveling dog needs routine baths in order to stay clean, fresh, and comfortable throughout the journey. For trips longer than 3 weeks, I pack a small bottle of gentle dog shampoo. For shampoos that aren't available in travel size, I easily split up any large bottle of shampoo in clean 3.4 oz airline-approved bottles (available at supermarkets, Target, and Walmart).
#7 Essential for Dog Travel: SCISSORS FOR TRIMMING (for long-haired dogs)
Yep, gotta have those scissors! For long-haired dogs like me that require extra maintenance in appearance, trimming is crucial in between full haircuts and professional grooming sessions. Every week or two and in between visits to the professional groomer, my human trims my face, legs, and body to keep me looking like an eligible bachelor as I cross countless borders and country-hop around the world. I may not be the most obedient "groomee," but I have to admit that I like feeling lighter and being able to see clearer after each grooming session (once the excess hair around my eyes is trimmed). My human loves this 4-Piece Grooming Scissors Set, made of Japanese stainless steel and comes with 3 different size grooming shears with rounded tips (perfect for trimming around my eyes and paws).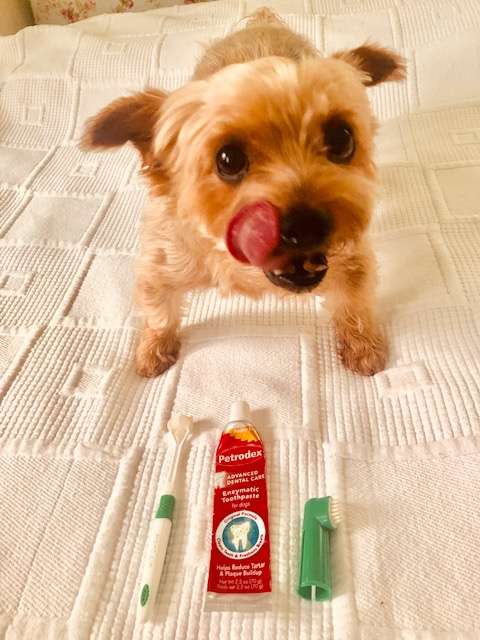 I HATE brushing my teeth, but I will be the first to bark out that fresh breath ROCKS! Much to my chagrin, my humans secretly sneak in a tube of Sentry Petrodex Enzymatic Toothpaste, TropiClean Fresh Breath Oral Care Toothbrush Kit, and OraVet Dental Hygiene Chews when they are packing my bag. Guess I will always be prepared to battle bad breath and tooth decay no matter where my wet nose takes me!
#9 Essential for Dog Travel: POOP BAGS
ARRRRFF, don't be an obnoxious tourist! Be a respectful visitor AND responsible dog owner by always picking up after your dog's poop. This rule applies even if the locals don't necessarily do it themselves; please show respect for their country and community by keeping the streets clean. In impressively clean Japan, some human locals even carry a water bottle around during walks to flush out their dogs' markings from the streets!
#10 Essential for Dog Travel: EAR CLEANER
Even though routine ear cleaning is often overlooked by many dog owners, I suggest packing a small bottle of ear cleaning solution if your furry pal will be on the road for more than a week or two. Please check your dog's ears regularly and apply the solution for cleansing if necessary. If your dog loves roaming the streets and parks like me (whether traveling or not), it is likely that he has some build-up in the ears from wax and dirt over time. Since some dogs need ear cleaning more than others (esp. if they're prone to ear infections), it's important to gauge your dog's ear cleaning needs. Please check with your veterinarian before using any ear cleaning solution on your precious best friend.
That's it for now, escapaders! Hope you grab all my recommended essentials for dog travel. Sniff out PART I if you haven't already done so. Have a wet nose escapade and GO WHEREVER YOUR NOSE TAKES YOU!
So you've already got your furry paws on all the essentials for dog travel? Learn how to travel with your dog HERE!
Markin' it up,
Roger Wellington a.k.a. The Doob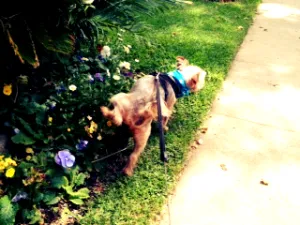 *Please note that this post contains affiliate links, and at no obligation or additional cost to you, we earn a small commission if you make a purchase. If you love the work that we do, you can show your support by making a purchase through an affiliate link. Proceeds will go towards feeding homeless dogs (and cats) along with improving the lives of the neglected and abused.
—
Like this post on essentials for dog travel? PIN IT!