Woof, traveling to Florence, Italy with a dog? Get a deep sniff on the ARF-mazing dog-friendly culture in Florence!
*Please note that this post contains affiliate links, and at no obligation or additional cost to you, my humans and I earn a small commission if you make a purchase. If you love the work that we do, you can show your support by making a purchase through an affiliate link. Proceeds will go towards feeding homeless dogs (and cats) along with improving the lives of the neglected and abused.
As a former Florentine dog, I know exactly what it's like to be a dog in Florence. Not only was Florence my main Italian home base, but it is also one of my favorite European cities (one that I keep leaving my alpha marks in over and over again). What's there not to get those tails wagging in this world-famous Tuscan city known for mesmerizing Renaissance art and architecture?
Arf-ter all, it's a much smaller city compared to TOP DOG Rome, a big city that can be a bit overwhelming for dogs (and humans alike). The Italian culture in Florence is authentic, and their love for dogs is simply pawtastic. Perk up your ears and hear my barks about visiting Florence with a dog now!
Florence is a very walkable city, which makes it fun to explore by the paw. For the most part, Italians are dog lovers, and the dog culture surely shows – thanks to laws that grant dogs access to most public places, including squares, restaurants, bars, pizzerias, and markets.
Not only did I sniff out dogs of all sizes everywhere I set my furry paws in, but I was also frequently greeted by locals who tend to call me "piccolo" or "piccolino." Heck, I was even hand-fed some delicious cold cuts at the legendary All'Antico Vinaio. My masculine Yorkie looks attracted many Americans here as well, most study abroad students who love to get down for a pawty with some zesty wine and homemade pasta. 
It's impawtant to note that even in dog-friendly Italy, dogs are generally not allowed inside museums, cathedrals, or indoor tourist attractions except for guide dogs. This means that taking your dog inside Florence's famous attractions like the Duomo (Cathedral of Santa Maria del Fiore), Uffizi Gallery, Basilica of Santa Croce, and Pitti Palace is PAWS OFF (keep sniffing down for more info)! However, dogs are still allowed to roam around the exterior grounds, public squares, and plazas, and pose for a few pictures – just remember to avoid the crowds for your dog's sake, be respectful of the area, and always clean up after your dog.
ARF yeah, be sure to curb your dog at any storefronts because you don't wanna get chased down or yelled at by some disgruntled Italian. GRR. However, there's no need to lower that tail since there are plenty of things to do with your dog here!
Florence's rich Renaissance culture and history are captivating and can tilt the head of many dogs and humans – from crossing Ponte Vecchio to taking in the panoramic views of the city from Piazza Michelangelo, being here feels like a dream. For most dogs, Florence is a haven.
Dog-Friendly Attractions: Where I like to get my sniff ON
My local hang-out spot is Piazza Santo Spirito. I lived just a few blocks away so this place was my daily go-to to catch up with some furry Florentine news and pee-mail. Heavily frequented by furry Florentines, this pawpular square boasts the 15th-century Basilica di Santo Spirito (which has a strange "unfinished" facade), an octagonal-shaped fountain, a cool palazzo, and a monument dedicated to agronomist Cosimo Ridolfi. With open-air markets and fairs happening here almost daily, my wet nose stumbled upon handcrafts, organic produce, fresh pasta, and clothes for sale. Just a bark to stay away from those fur coats – as dogs and cats are also used in "fake" fur trade, please NEVER support such disgusting acts of animal cruelty!
And, PLEASE skip horse-drawn carriage rides while you're here. Even though dogs are allowed on horse-drawn carriages in Italy, I beg you to skip the ride. Horse-drawn carriages can put horses in danger through overload hauling in extreme temperatures and dodging car traffic. Walking is, PAWS DOWN, the best way to explore Florence! There's a petition going around to end horse-drawn carriage rides in the city. Sign HERE.
Besides Santo Spirito, there are other squares or plazas ("piazzas" or "piazzales") that I like to chill at and do some sniffing around, including the following:
Piazzale Michelangelo – WOOF, this site was originally created as a museum dedicated to the great Michaelangelo, but it's now one of the most romantic, scenic spots in the city. Piazzale Michelangelo may be a bit of an uphill climb, but it's well worth the incredible 180-degree views of the city. Since the round trip trek is only about 2 miles, it's a pawfect hike to take your dog along. However, if you have a small dog like me, be sure to pack a carrier backpack in case his tiny paws need a break. Don't forget a water bottle, collapsible to-go bowls, and treats. While you can expect some ARF-mazing skyline views during sunset, do anticipate a crowd so make sure you keep your dog safe. With the few overpriced restaurants nearby, it's best to pack a doggie bag of chops-lickin' goodies!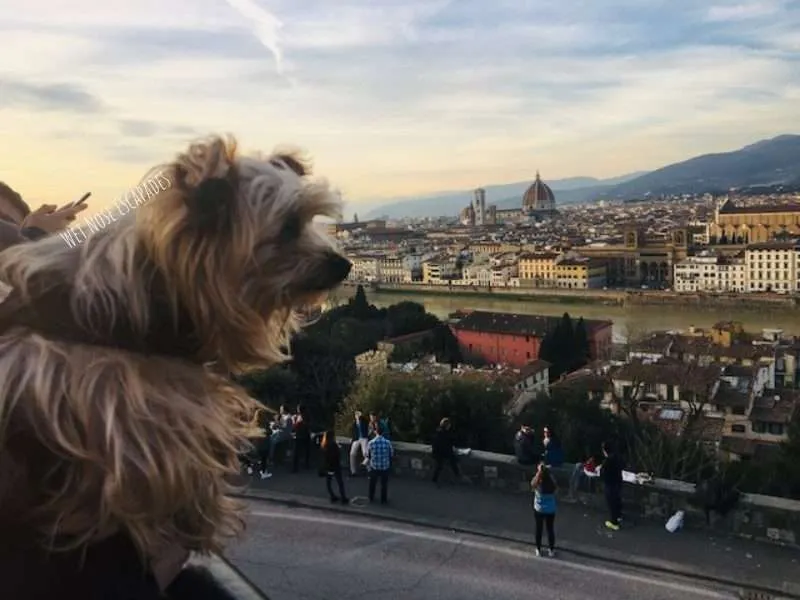 Piazza de' Pitti – With my Tuscan apartment being supaw close to the Pitti Palace, I left my alpha mark here day and night! Even though dogs aren't allowed inside the palace, they can roam around the massive square. Just a bark that dogs (except for guide dogs) are also banned from the Boboli Gardens, which is located behind the palace. Dating back to the 15th century, the palace was commissioned by banker Luca Pitti (friend of Cosimo de' Medici) and later purchased by the ruling Medici family.
Under Napoleon, the palace served as a power base in the 18th century. Finally, King Victor Emmanuel III donated the palace to the people of Italy. Today, it operates as the largest museum complex in the city, with multiple galleries and its block spanning over 30,000 square meters. ARF-my-dog!
Piazza della Signoria – AWOOO, this is, PAWS DOWN, my favorite square in Florence. And, it's also the most well-known. A TOP DOG square, as I would bark. WOOF, let's just bark that I've spent A LOT of time here – resting my furry butt (until I sniff a cute ragazza that I wanna chase down) or striking a pose with the David replica. This W-shaped square in front of the Palazzo Vecchio (the fortress-like "Old Palace," now the town hall of Florence) has long been the focal point of the city. Arf-ter all, it played a vital role in the origin of the Florentine Republic.
Designed by artist Orcagna in the 14th century, this square is the gateway to the internationally renowned Uffizi Gallery and even boasts an open-air and FREE outdoor museum (unfortunately where dogs aren't allowed). GRRR 🙁 But, no need to lower that tail of yours because there's still plenty of dog-friendly space to roam around besides that part of the square. Just a howl that it does get very busy and crowded here, especially over the weekends, so I'd like to keep my paws safe by visiting during the evening when the piazza is quiet and lit up.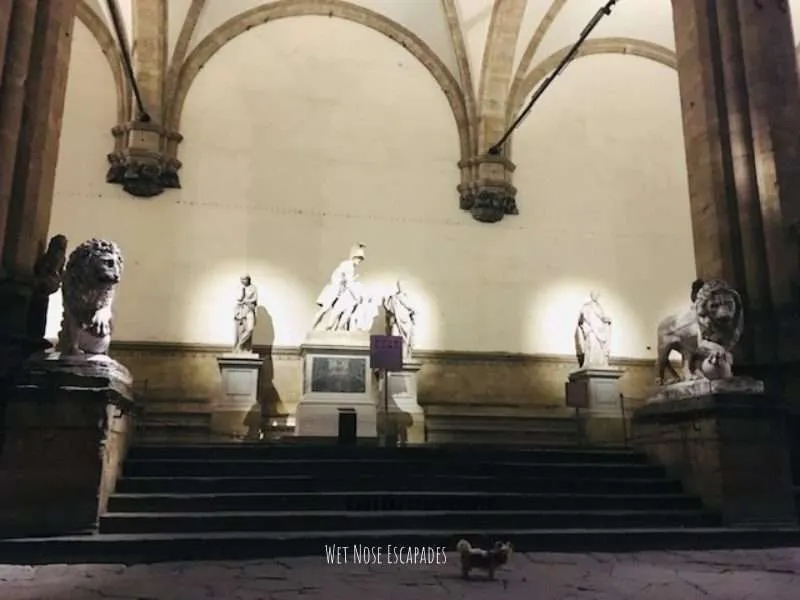 Piazza dell'Indipendenza – Although not exactly a TOP DOG attraction, this piazza is where my robust wet nose takes me for a more "local" Florentine experience. Despite its name, this square is more like a park with grassy fields, trees, and benches. Not to bark, there are also 19th-century sculptures of Italian statesmen. Markets and fairs are also held here over the weekends. It's also conveniently located near the train station.
And, arf-course, a trip to Florence is never complete without walking my four paws near the magnificent Duomo (literally means "dome")! The Piazza del Duomo houses the pawbulous Cathedral of Santa Maria del Fiore a.k.a. Duomo, which was constructed from 1296 to 1436. With exquisite Gothic and Renaissance architecture, the Duomo remains a symbol of the city, showcasing its richness in Renaissance history and culture and inspiring artists all over Europe. Since the Duomo was the first "octagonal" dome built without a temporary wooden frame, it is one phenomenal masterpiece – a barkworthy attraction. As barked earlier, dogs are NOT allowed inside churches, cathedrals, or places of worship, BUT are welcome to sniff out the stunning exterior grounds. As you can see, I'm not the only dog roaming around here!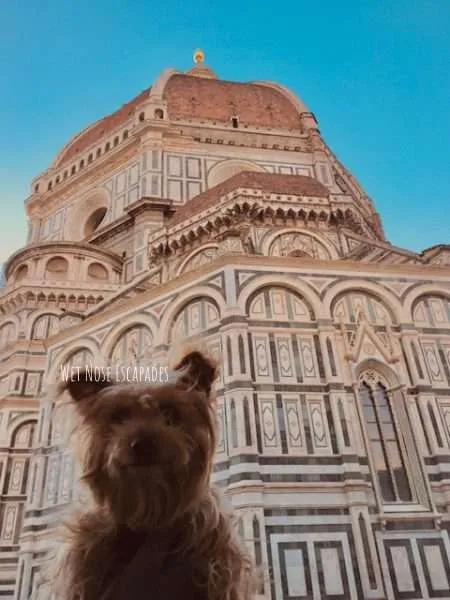 When I'd rather avoid the throngs of tourists at the Duomo, I would walk my furry paws to the grounds of the Basilica of Santa Croce, the Franciscan church residing at the Piazza di Santa Croce – just 800 meters southeast of the Duomo. Constructed in Gothic, Renaissance, and Gothic Revival styles, this "minor" basilica may not be as recognized, but it is the burial place of some very impawtant Italians like Michelangelo, Galileo, and Machiavelli! Hence, it's still worth a quick photo or two.
Dog-Friendly Restaurants in Florence: Where I like to devour like a real Italian
It's true – in Italy, dogs ARE allowed inside restaurants (well, most of the time) but smoking is banned! WOOF-HOO! Since I arf-solutely despise second-hand smoke, these rules are a dream come true!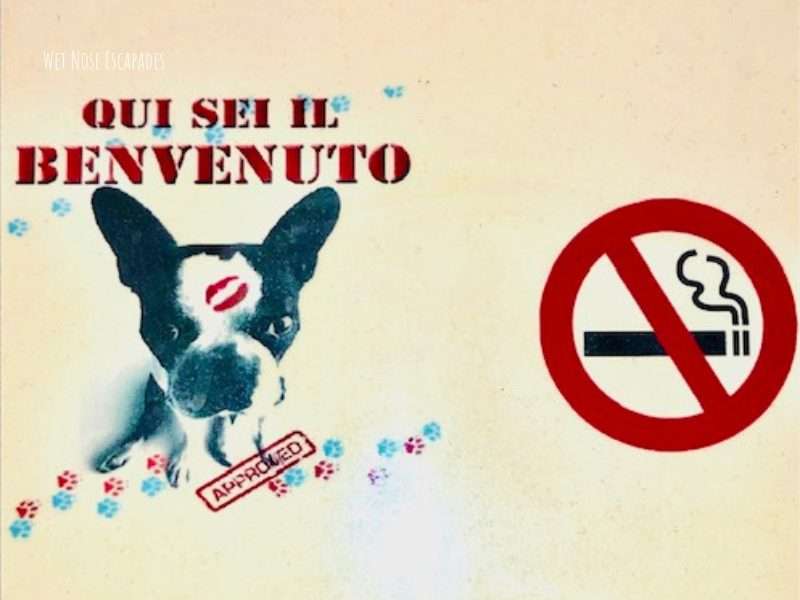 My humans' all-time favorite restaurant in the city rests at the corner of the square – Osteria Santo Spirito, a dimmed, rustic spot with red decor serving up authentic homestyle Italian food. Pawpular with tourists, students, and locals, the tables at Osteria Santo Spirito (Piazza Santo Spirito, 16/R, 50125) fill up quickly on Friday nights and over the weekend. From tagliatelle with fresh mussels and yellow marinated peppers to gnocchi topped with soft cheese and truffle oil to spaghetti with garlic, oil, and chili pepper, their pasta dishes always taste freshly made and utterly delicious.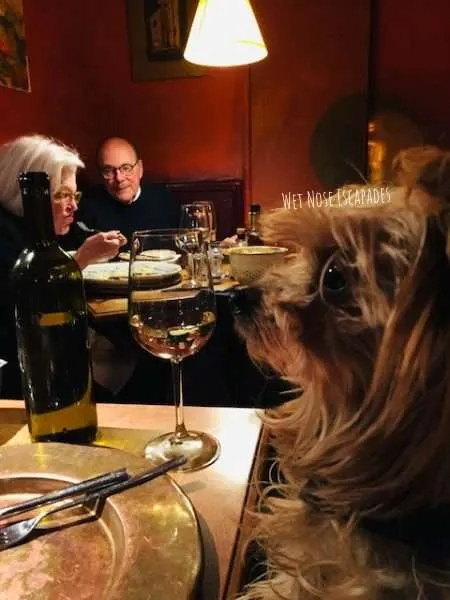 Unlike in the States where pasta dishes seem to be overbearing with cheese, sauces, and oil, pasta here is simpler and tastes so ARF-so-much better. Like almost every restaurant in the country, I can sit my furry butt indoors or outdoors – whichever I decide. AWOOO!
Another TOP DOG spot to get your chops lickin' is the nearby Gusta Pizza (Via Maggio, 46r, 50125). This casual pizzeria serving wood-fired, soft dough, pie crust pizzas often gets lines out the door (but I'd like to combat the lines by walking my paws there past dinner time around 10 pm when it's less busy). Like most (if not, all) restaurants in the city, Gusta pizza welcomes furry pizza-goers – even without an outdoor patio. Be sure to order a bottle of Gusta wine to go along with those smokey slices of fresh-out-of-the-oven pizzas. While it's easy to stick with the classics like marinara and margherita, I usually like to get my paws on a slice of their signature Gusta Pizza, which is a couple of euros more but well worth the price as it comes with cherry tomatoes, arugula, and parmesan.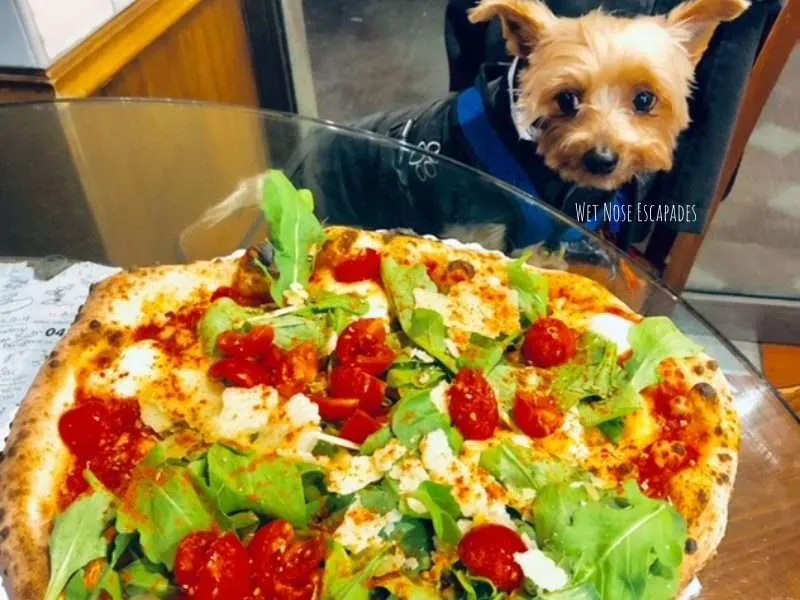 If you like to play tourist, then be sure to take your dog to All'Antico Vinaio, the world-famous sandwich shop located just paws away from Piazza della Signoria. WOOF, it IS the city's most pawpular sandwich joint. With a history dating back to the 60s, Antico Vinaio was purchased by the Mazzanti family in the 80s and has transformed into an iconic foodie stop in Florence with several shops on the same street (and even in NYC and LA nowadays), attracting hundreds of tourists from all over the world who yearn for a chomp of the traditional Tuscan flatbread "schiacciata" and a variety of mouthwatering cold cuts, creamy cheese, and fresh veggies (this is great for my humans who eat very little meat). And, yes – that's myself included as I was kindly hand-fed a slice of roast beef by the staff! YUM!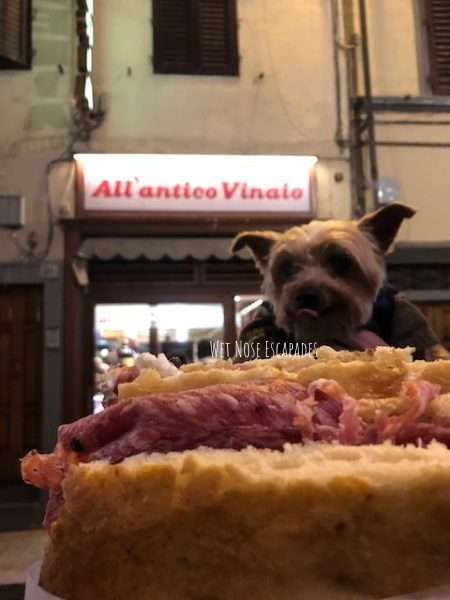 If you're looking for another landmark sandwich shop to experience with your dog, be sure to head to I Fratellini (Via dei Cimatori, 38/r, 50122). Visited by celebrities (including the cast of Jersey Shore), this hole-in-the-wall sandwich bar serves up a variety of paw-lickin' fillings (like prosciutto, peppers, soft cheese, and artichoke – veggie options available!) wrapped around by panini bread.
For another quick grab-and-go bite (ARF, I mean "take away"), I like to get my paws greasy at Gino's Bakery (Via de' Guicciardini) where their potato pizzas are beg-worthy and worth some long staredowns. Since I lived less than a few minute's walk from here, I made this bakery one of my most frequented stops during my furry residency – up to the point that the whole staff knew me by name! Made with thin slices of potatoes baked with alfredo-like sauce onto an ultra-soft, thick bread crust, every bite of the pizza de patata melts in my tiny Yorkie mouth like a pawfect match. Who knew that carb-on-carb would taste so ARF-mazing?
Not to bark, this spot is only a minute walk from the famous Ponte Vecchio a.k.a. "Old Bridge." Connecting via Por Santa Maria to via de Guicciardini, this centuries-old medieval stone arch bridge gets supaw crowded during the day with throngs of tourists wandering through and passing by jewelry stores, art galleries, and souvenir shops. For my safety, my human tends to pick me up during a walk-through unless it's earlier in the morning or later in the evening when it's less crowded.
Dog-Friendly Accommodations in Florence
Finding a place to rest my furry paws at night in Florence is generally pretty easy. In fact, my humans never had to pay a "pet fee" for me! Many accommodations in the city are dog-friendly and will welcome your furry traveler for free (or a nominal fee), especially if you plan on staying longer. As much as Florence is rich in culture, it still relies heavily on tourism.
When sniffing out a place to stay, I've found that most accommodations are run by individuals or families versus big hotel chains, which means that there is always more room for negotiation. ARF-ter all, they want your business! Again, the longer you plan on staying, the more negotiating power you have. If you plan on staying during peak season, then don't even think about bargaining – it's going to be RUFF! With that barked, non-peak season offers lots of great deals and flexibility.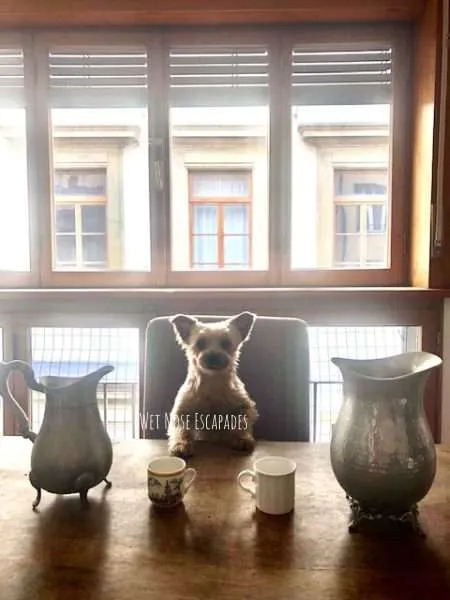 I've stayed in a variety of places here, including a 3-bedroom Tuscan apartment near the Pitti Palace. Adorned with antique furnishings, a large kitchen with Italian cookbooks, and a lovely patio, my home away from home set off a rustic, yet elegant vibe. Although my rent was on the higher end for Florence, I still felt like I had it made – considering the crazy high rent I was accustomed to in San Francisco.
Just a few blocks away, I also rested my paws at a cute bed and breakfast with four different rooms (each room with a bright interior) on the bustling Via Maggio that's run by a nice Italian family who lives right next door. I ended up returning several times because the sweet landlady was always willing to work out a deal for me.
Wherever you plan on staying, try to get those pet fees waived! Sniff out HOW here.
Dog-Friendly Public Transportation in Florence
Can dogs ride trains? Sniff out everything you need to know about taking your dog on public transportation in Italy HERE.
Plus, day trips from Florence with your dog are easy peasy! Sniff out my furry buttocks for a dog-friendly day trip to Pisa and Siena.
Dog-Friendly Markets in Florence
WOOF, as barked earlier, dogs are welcome to roam around open-air markets and street fairs. But, what about grocery stores and markets? The shortest bark is YES, dogs are allowed to shop alongside their humans. Unlike other parts of the world where they may overlook your dog's entrance, markets in Florence often even provide DOG-DESIGNATED shopping carts. ARF, that's right – I rest my furry behind inside these specially-designed carts while my human shops for fresh ravioli and Italian wine. As a dog with FOMO, I'll be the first to jump into the cart. My humans will never "park" me outside of any establishment in the world regardless of how safe the neighborhood is. Hence, it's always a tail-waggin' outing whenever either one of my humans needs to stock up on some groceries.
That's it, escapaders! Hope you enjoy visiting Florence, Italy with your dog! Try finding my pal here near the Pitti Palace and snap a picture with him. 🙂
Don't forget to subscribe to my YouTube Channel for more fun dog videos!
Markin' it up,
Roger Wellington a.k.a. The Doob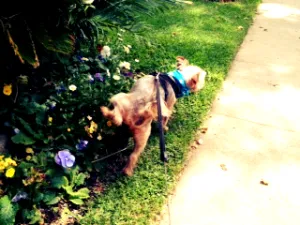 —
Like my post on "Florence, Italy with Your Dog: What to Know Before You Go"? CLICK TO PIN!