Ciao, escapaders! Earlier this year, my humans and I made a temporary yet memorable move to the mesmerizing city of Florence in Italy. As the capital of Tuscany, Florence is culturally rich with world-renowned artwork and architecture from the Renaissance era. It felt so surreal to set my furry little paws on such pawsome historical streets! Besides its cultural lure, Florence is also one of the most dog-friendly cities in the world. Sniff out what my amazing dog-friendly experience in Florence HERE!
https://wetnoseescapades.com/best-food-rome-10-greatest-eats/
Watch me live like a real Florentine dog below! In this short 2-min video, you'll see me sniffing out the unique streets and landmarks (from the Duomo to Ponte Vecchio) of the Renaissance city, riding the train, meeting local doggies, experiencing my first Florentine kiss, tasting fine Tuscan wine, licking my chops to the best Italian food, shopping for groceries, and lounging around in a classic Florentine apartment. Life couldn't get any better than this! I just LOVE my time as a Florentine dog. 🙂
Dog Travel in Florence, Italy: The Life as a Florentine dog
Wanna travel to Florence, Italy with your dog? 
Markin' it up,
Roger Wellington a.k.a. The Doob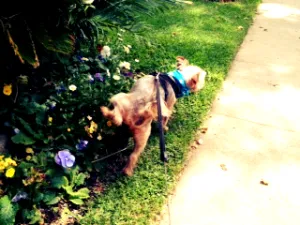 *Please note that this post contains affiliate links, and at no obligation or additional cost to you, we earn a small commission if you make a purchase. If you love the work that we do, you can show your support by making a purchase through an affiliate link. Proceeds will go towards feeding homeless dogs (and cats) along with improving the lives of the neglected and abused. 
—
Like my post on "Dog Travel in Florence, Italy: The Life as a Florentine dog"? PIN IT!