WOOF, wanna fly with your anxious dog? Get all the tricks and tips to get your anxious dog through any flight with this comprehensive guide from my anxious lil' sidekick turned world traveler Penny Rose a.k.a. Penny Gurl.
Markin' it up,
Roger Wellington a.k.a. The Doob
—
Posted 6/20/23
ARF, it's me again – Penny Gurl! It has been a while since you heard my crazy sexy barks, and I've got some good news – I'm officially a furry world traveler! From barking at Chihuahuas in Mexico to dancing to samba beats in Brazil, I'm proud to bark that I've racked up some miles in the last eight months! If you've been following me for a while, you know I was one anxious dog rescued off the streets of San Francisco.
Months ARF-ter my adoption, I would still hide under the seat in the shortest car rides, panicked at the sound of windshield wipers and bridge crossing, and have my hairy tail between my skinny legs at the sight of too many humans. Due to my abusive past, I was reactive and would bark at random strangers and dogs for reasons that my humans couldn't comprehend.
WOOF, how did an anxious dog like me become a world traveler? Unlike Roger W. the born traveler (who can be found asleep on any flight with four legs in the air), I had a little more work to do before I could hop on my first flight.
MY REAL BARKS: Flying an anxious dog is not usually recommended. If your dog is very anxious, it's best you avoid flying to save her from misery and yourself from worry. Like an anxious human, an anxious dog will always be a little anxious. However, the good news is that there are ways to get a dog to be less anxious while traveling.
#1 PATIENCE & TIME ARE KEY
First, you need patience and time to prepare your anxious dog for a flight. An anxious dog like me takes a little more time to feel comfortable and confident traveling, especially when it comes to air travel. Recognize this before transforming your lil' anxious furry family member into a jet setter or world traveler. Don't rush it! Start slow with local outings and short road trips. Train trips are also good ways to prep your dog for air travel. My world traveler transformation took over a year to accomplish – that's right, OVER A YEAR. During that year, I took countless road trips in California and to Nevada.
Despite exhibiting signs of anxiety and fear in car rides, my confidence level slowly climbed as my exposure to new environments increased. Luckily, I am always wagging my furry tail ready to go as soon as the car comes to a stop. Therefore, if your dog exhibits signs of anxiety and you plan on traveling with her cross-country or internationally, the best thing you can do is to start investing time into training NOW.
#2 SLOWLY EASE YOUR ANXIOUS DOG INTO AIR TRAVEL
Once my human saw that I felt more and more comfortable going out and about, visiting family, and going on road trips, she advanced me to the next level – practice flights. Make them short and sweet (1-2 hours one-way), and see how your dog fares. Regardless of the anxiety level, your dog's first flight should NEVER be an international flight. For an anxious dog, everything must be done 5-10X slower. You must be suPAW careful with the transition; if you introduce air travel too quickly to an anxious dog (and it ends up traumatizing her), you're going to have a tough time reversing the consequences. GRRR.
#3 FIGURE OUT WHAT MAKES YOUR DOG ANXIOUS
From windshield wipers to thunder to hand gestures, my tail would fall between my skinny crab legs because of different triggers. Once my human identified things that triggered my anxiety, she did her best to decrease my exposure as much as PAWsible so I could have a better quality of life (on a day-to-day basis).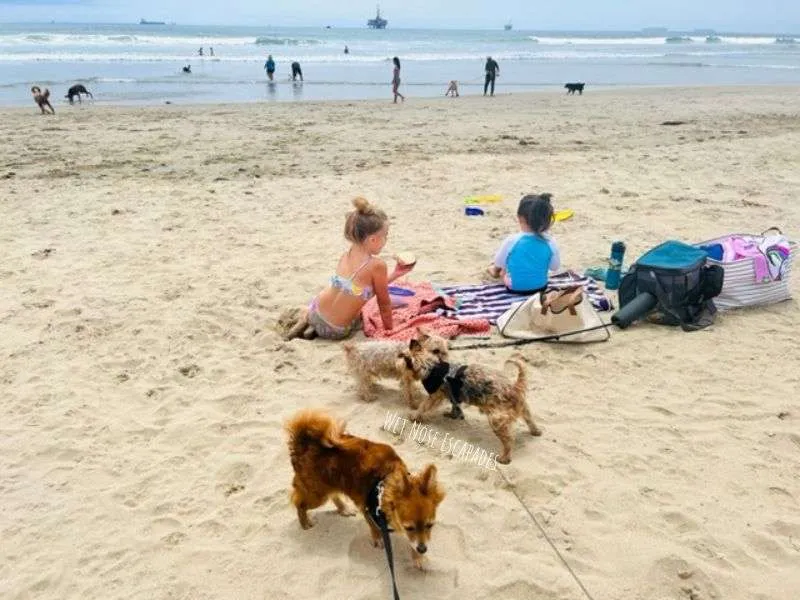 However, I was ARF-solutely terrified of car rides and motion. And yet, being on the road is a crucial component of preparing your dog for air travel. Hence, my human couldn't avoid it completely if she wanted to prepare me for a flight. For the longest time, she thought she could never travel with me on a plane. ARF, this goes back to taking it SLOW. She started with very quick 5 to 10-minute car rides to the park in the city and worked up to 90-minute long car rides to visit family and friends before going on 6-hour road trips to LA. As I took more road trips, I became familiar with the process. Even though I'm still a bit anxious every time the car starts moving, I know I'll be OK with the human by my side.
#4 FIND WAYS TO REDUCE ANXIETY
The truth is flying CAN be stressful for dogs. From shaking to lip licking (when no food is in sight) to having their ears pinned back, dogs communicate their anxiety to humans in various ways. There was a time when I couldn't stop shaking on a car ride until we finally made a stop. My human thought there was no way I could hop on a flight if I were terrified of a short car ride. Luckily, the good news is that there are plenty of ways to make a dog less anxious, BUT you have to invest time into making your dog feel more comfortable in the environments that tend to stress out your dog.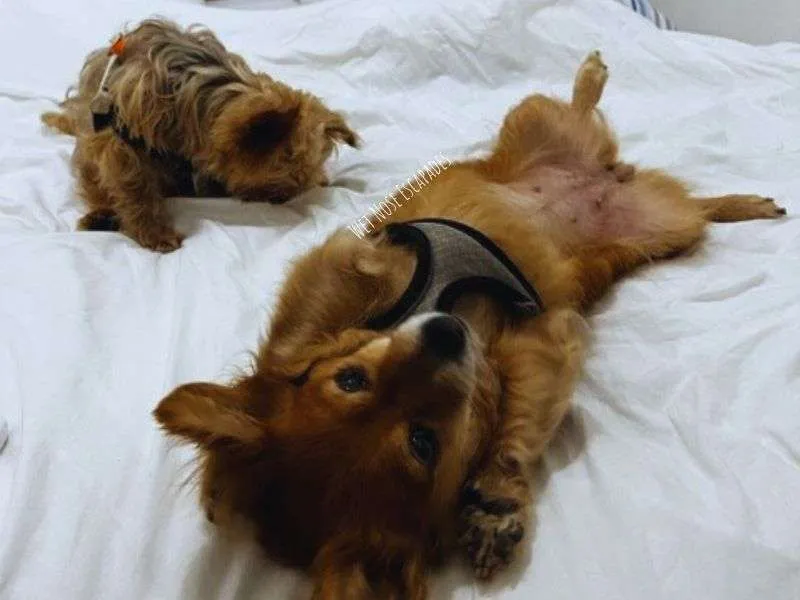 From to-beg-for treats to lasting chews and toys to furry playdates, anxious dogs can still find enjoyment in many things. If you want to fly your anxious dog successfully, you must find out what can make your dog less anxious. Keep exposing her to these rewards as much as PAWsible to lower her anxiety overall. The same goes with humans – there are many activities that humans can partake in to decrease their anxiety level, from yoga to meditation to talking to a friend. Sniff out what works for your dog, and keep showing her the good life! As for me, nothing makes me more excited than juicy chicken strips and walkies (even though I may still be a bit anxious on walks if I hear scary sounds).
#5 USE POSITIVE REINFORCEMENT THROUGH THE PROCESS
Again, make your dog less anxious by giving her what she loves! Because every dog loves verbal praise and treats, such PAWsitive rewards must be given repeatedly throughout the training (and ARF course, on travel day). Anyone can try to force their dog into a carrier or kennel and hop on a flight without any preparation or training. But can you imagine what that can do to a dog? GRRR, any dog (anxious or not) would be terrified! And yet, for anxious dogs, the anxiety level will only skyrocket.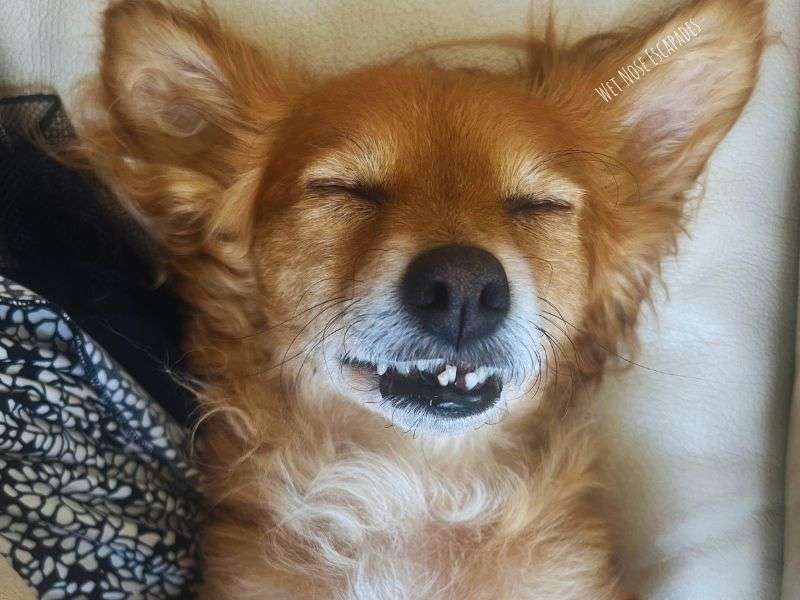 Instead, use positive (I mean, PAWsitive) reinforcement and PAWsitive reinforcement to train your dog to become less anxious. For instance, whenever she stops barking at a passerby (for now apparent reason), praise her by saying "Good job!" and follow it with delicious treats and pets.
#6 HAVE REALISTIC EXPECTATIONS
Travel tips that usually work for dogs may or may not yield the same results for your anxious dog. For instance, tips like keeping your dog busy on the plane with tasty chews and toys may not work. Why? Because if your dog is extremely scared or anxious on the flight, she can care less about toys, bones, and sometimes even treats. And, that was pretty much me on my first flight – besides the gentle strokes from my human, not even the juiciest chicken strip could remotely calm my nerves down.
#7 START CARRIER (OR KENNEL) TRAINING AT LEAST 6 MONTHS IN ADVANCE
In our PAWpular E-Book How to Travel with Your Dog, Roger W. recommends starting carrier training at least a few months before your dog's first flight – the earlier, the better. However, you should expect to tack on another month or two for an anxious dog to feel comfortable inside her carrier. If you can get your anxious dog to feel comfortable inside the carrier or kennel that she will be traveling in, half of the job is done!
Sniff out these dog carrier guides below:
How to Choose the BEST Small Dog Carrier
How to Make Your Dog Feel Comfortable inside a Carrier
#8 KEEP YOUR ANXIOUS DOG INSIDE THE CARRIER AT THE AIRPORT
To lower your dog's anxiety on travel day, be sure to keep your dog inside the carrier when walking through the airport. Heavy foot traffic during busy hours may easily overwhelm your anxious dog, especially if you know she tends to stress out or becomes reactive in crowds or unfamiliar places. Once you get to a quiet area, you can let her out for a breather.
*Just a BARK OF CAUTION that you will need to take her out of the carrier for the TSA screening.
Get a carrier with ample mesh windows for easy breathing, like my 5-in-1 backpack & rolling carrier that has been with me since my first flight to Paris, OR my second carrier, a 2-in-1 backpack carrier that I've been lending to Penny.
#9 RECOGNIZE SIGNS OF STRESS AND ANXIETY
Pacing, shaking, whining, barking, yawning, drooling, licking (without food in sight), hiding, panting, and even shedding are all signs of a stressed and anxious dog.
#10 MINIMIZE MISTAKES
When flying an anxious dog, the last thing you want is to become anxious yourself, which will make your anxious dog even more anxious. Yes, dogs can sense when humans are scared, stressed, or anxious. Therefore, minimize mistakes by getting your act together and having all your paperwork in line!
#11 RUB YOUR DOG'S EARS BEFORE TAKEOFF & LANDING
YES, you can relax your dog by rubbing her ears! My human does it for me, and I LOVE it. So does Roger W. As a matter of bark, I don't know any dog who doesn't love a good ear massage from their humans (not strangers, that is). The correct way to give your dog a relaxing ear massage is to gently (and slowly) rub your dog's ears in a circular motion. Make sure the base of the ears is moving with your hands.
#12 EXHAUST YOUR DOG'S ENERGY BEFORE THE FLIGHT
Just like non-anxious dogs, exercising your dog before the flight works miracles! Adding extra 15 minutes to a walk or playtime before heading to the airport can help your dog relax and sleep through the flight. However, if your dog is VERY anxious, she may not sleep on the plane regardless of how tired she is. Again, another general tip that may not work for anxious dog travelers. I mean, think about the times when you're uber-stressed – were you able to sleep anywhere? My guess is NO. Or if you did, your sleep must not have been great.
During my first few practice flights, my eyes remained wide open throughout the journey – from airport check-in to takeoff to landing! Dog, I was finally knocked out for hours once I got to the hotel room! While you should still exhaust your dog's energy, you should have realistic expectations as to the result, which is dependent on your dog's anxiety level.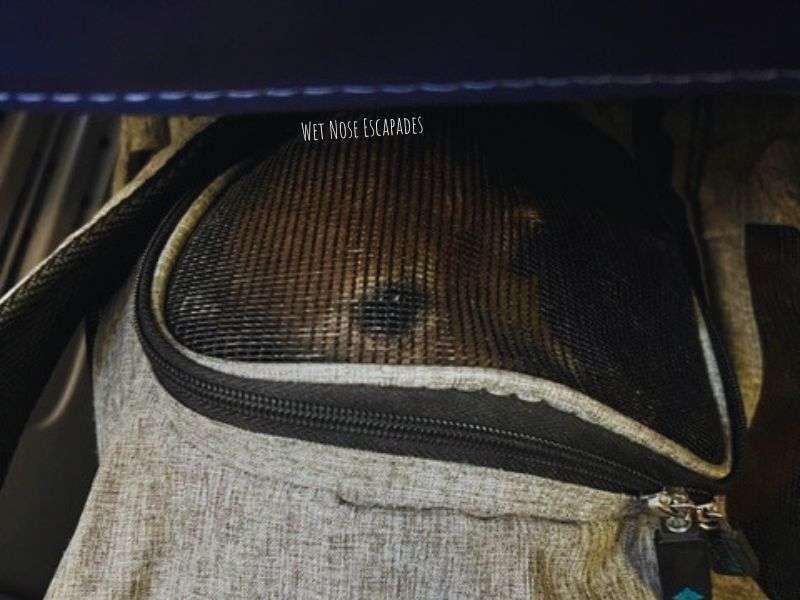 But, the flip side is that even if your dog doesn't fall asleep on the flight, taking her out will give her a much-needed potty break before the journey (making it one less thing to make your dog anxious).
#13 AN ANXIOUS DOG MAY ALWAYS BE A LITTLE ANXIOUS, BUT FAMILIARITY HELPS
MY REAL BARKS: Despite my transformation, I'm still an anxious dog today (thanks to my abusive past prior to adoption), and there's only so much my human can do to change it. I can fly to as many countries as my PAWtner Roger Wellington and still won't feel at ease as he will ever be. That's a fact. However, I'm not as anxious as before and can handle flights and road trips without any major PAWblems. I may still be a little afraid, but being familiar with the process helps, especially getting into my carrier (my safe haven) when I travel. ARF-ter going on so many flights and familiarizing myself with the airport smells and sounds, I get a little more comfortable each time. The most imPAWtant part is that my human keeps me safe.
AWOOO, that's why carrier training is so imPAWtant in the world of dog travel. If your dog hates her carrier, sniff out these tips & tricks NOW.
#14 BARK AT THE VET
Like Roger Wellington, I NEVER recommend sedatives for your anxious dog's flight, BUT there may be other pharmaceutical options to calm down your dog, depending on your dog's health and condition. Since there are a lot of non-prescriptive calming aids and essential oils that claim promising results online, it's best to discuss your concerns with a vet.
#15 SOMETIMES IT'S BEST NOT TO FLY YOUR ANXIOUS DOG
GRR, I'd hate to bark this, but the truth is that some anxious dogs shouldn't fly. While some dogs can successfully reduce their anxiety level for travel, others may not. Despite my success story, I recognize that my success won't necessarily apply to ALL anxious dogs. As every dog is an individual (just like humans), there is no one-size-fits-all policy. Anxious dogs have suffered from different degrees of abuse and cruelty or early separation from their mothers. Some are inherently anxious simply because their anxious mothers were bred in a fearful environment (e.g. puppy mills or an abusive household), and their FUR-ever humans may never comprehend all of it.
Therefore, there's only so much you can do to prepare your anxious dog for air travel. If you feel like you've exhausted your energy in preparation and still don't feel confident in your anxious dog's upcoming flight, I suggest going with your gut feeling. Unless this is for a permanent or long-term move where flying your anxious dog is NOT an option, you should try to figure out some alternatives where your dog can avoid flying. Find someone you trust to take good care of her while you're away temporarily.
#16 WHAT ABOUT LARGE DOGS WHO CANNOT FLY IN CABIN?
If you have an anxious dog too large to fly in the cabin with you, it's best you do NOT fly her unless she is a legitimate service dog. Transporting your dog via cargo can be a very stressful and traumatizing experience for your dog, especially if she is anxious to begin with. From attempting escape through chewing to inflicting self-injury, it can be difficult to predict your anxious dog's behavior when left unattended for hours inside a kennel in the cargo hold. Rule of CLAW: If you can't fly in-cabin with your anxious dog, it's PAWbably not a good idea to fly her.
ARF, ARF! Hope you enjoy my guide on How to Fly an Anxious Dog: 16 Things You MUST Know! Got a tip? Wanna share your experience with me? My hairy ears are perking up, so bark at me!
Sniff out Penny's Corner HERE.
Rollin' it out,
Penny Rose a.k.a. Penny Gurl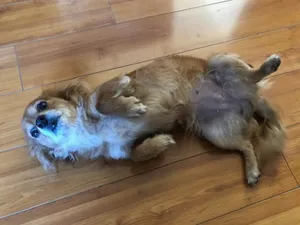 –
Like my post on "How to Fly an Anxious Dog: 16 Things You MUST Know"? CLICK TO PIN!