Are you thinking of flying Delta with a dog? Sniff out everything you need to know before you go!
Posted 4/18/23
WOOF! One of the most dog-friendly U.S. airlines is, PAWS DOWN, Delta Airlines. When I bark dog-friendly airlines, I really just mean airlines that allow dogs onboard for a fee. As the world traveling Yorkie, I've flown Delta in-cabin on numerous flights, from domestic to international. Unlike in Europe where dog air travel fees are much more affordable, U.S. airlines tend to charge anywhere from $95 to $125 to fly your dog in-cabin domestically and $200 internationally. Delta is no exception. The tail-waggin' news is that they've actually decreased their in-cabin pet fee in 2022 from $125 to $95, which barks volumes in terms of dog-friendliness (especially in the post-pandemic era where inflation is taking over).
Let's take a deep sniff at the Delta Pet Travel Policy:
Upon the first sniff, it seems to be pretty standard. No red flags or anything that will make me lower my stylish undocked tail. Besides dogs, cats and household birds can also travel with Delta Airlines. But for the sake of this post, let's just focus on dogs – ARF, because that's what I know (and who I am :)).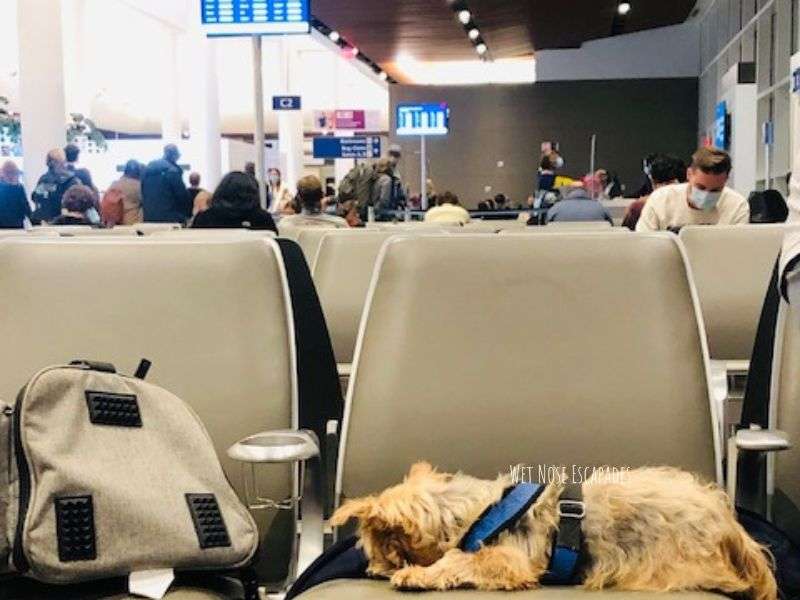 Like Southwest and United, there is technically no weight or size limit for dogs to fly in-cabin. This can be a real PAWsitive if you have a dog weighing slightly over 16 pounds, which is often the cap for dogs in-cabin at other airlines. Hence, you CAN try to fly your slightly bigger dog on Delta if you can find a carrier big enough to maintain your dog's comfort AND fits under the seat in front of you.
Flying Your Dog In-Cabin on Delta
Except for trained service dogs, only small dogs can travel in-cabin with Delta. Your dog must fit in a well-ventilated carrier small enough to fit under the seat in front of you. You can choose between a soft or hard carrier (I always prefer soft for extra wiggle room). Since the maximum carrier dimensions depend on the aircraft of your flight, you can call ahead of time to find out. This is particularly beneficial for your dog, who will appreciate a more spacious carrier (if allowed). To be on the safe side, Delta recommends a carrier with maximum dimensions of 18"X11"X11." Unfortunately, your dog and his carrier count as ONE carry-on item, meaning you lose your usual carry-on and may need to pay to check your baggage. Yet, this is on top of the $95 pet fee collected at check-in.
Besides getting the right carrier to fly your dog, you must also ensure that your dog meets the following requirements/guidelines for air travel:
-at least 10 weeks old for domestic travel
*you really shouldn't be flying with puppies anyway
-at least 16 weeks old for international travel or 15 weeks old for travel to the European Union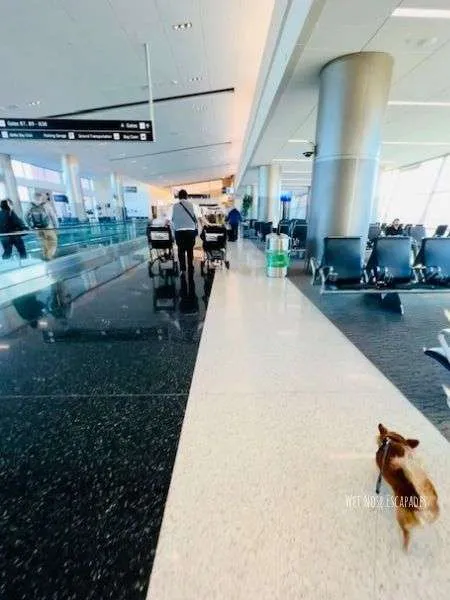 -one dog is permitted per kennel UNLESS one female dog is traveling with her unweaned litter (if litter is between 10 weeks to 6 months). No limit on the number of dogs in the litter, which sounds a bit outrageous to me, but ARF, I don't make the rules.
*Again, I don't recommend flying puppies unless you absolutely must.
-Two puppies of the same breed and size (between the age of 10 weeks and 6 months) may travel in the same kennel as long as they are small enough to fit into a single kennel and are "compatible." In such a situation, only one pet fee will be charged.
*Just a BARK that Southwest allows two dogs (regardless of breed) in the same carrier. That is, if they fit.
Delta's Carrier Dimensions & Guidelines
-Whether hard or soft, the carrier or kennel must fit under the seat in front of you. Your dog must also fit COMFORTABLY inside the carrier without touching the sides, which means you shouldn't attempt to stuff your oversized dog inside. Besides not adhering to Delta's carrier policy, it's utterly dangerous and unsafe for your dog.
Even though Delta doesn't have a weight limit for dogs, they have strict restrictions on the carrier, which means you can only fly a dog small enough to fit comfortably inside a carrier. Again, it must also fit under the seat in front. Therefore, it's like passing TWO tests.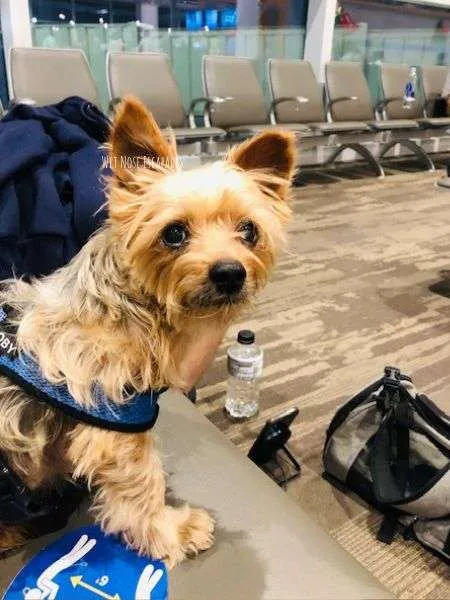 *From my experience, no Delta counter agent has ever checked my carrier to ensure compliance. The agents have never inspected or asked me to stand up and turn around inside the carrier. To be fair, I've rarely been inspected by any airline for compliance. Come to think of it, only ONE airline (in Europe when I flew from Amsterdam to Stockholm) gave me a hard time about my carrier. Perhaps it's because I'm on the smaller side, so they may not have felt the need to scrutinize, but I heard from other dog travelers that they had similar experiences. However, this doesn't mean you shouldn't abide by the rules by attempting to transport your larger dog in a carrier that fits under the seat in front, but is not necessarily big enough for your dog.
-The carrier or kennel must be leak-proof.
-The carrier or kennel must have ventilation openings on THREE sides for domestic flights and FOUR sides for international travel.
*Again, not strictly enforced from my experience, but the more ventilation openings, the better for your dog's comfort. Most airline-compliant dog carriers should have THREE openings, which I've sniffed as being the standard.
My Sherpa 2-in-1 Travel Backpack (which I've been lending to my sidekick Penny Gurl) has FOUR openings and offers a Guaranteed On Board program. Get yours HERE.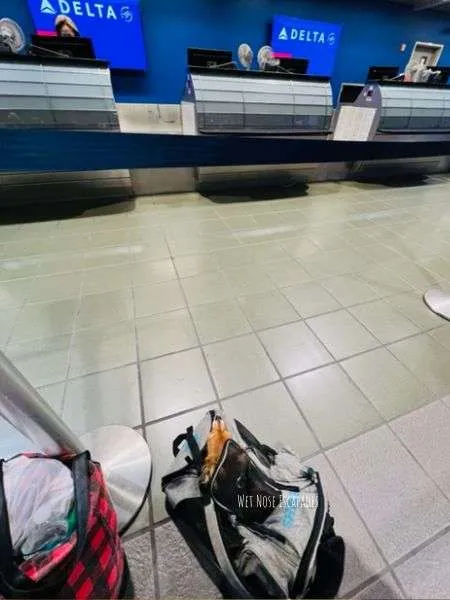 -Again, the maximum carry-on carrier dimensions are based on the aircraft of your flight, BUT the standard 18"X11"X11" is recommended to be on the safe side (if you don't want to run into any problems – I mean, PAWblems). If you have a slightly larger carrier, you can call Delta ahead of time for the aircraft dimensions. Chances are your carrier or kennel should fit, but again, it's better to play it safe.
Get my favorite carrier – the 5-in-1 PetGear rolling backpack here!
*Although the dimensions of my PetGear carrier are 14" long X 9" wide X 19" high (which differ from Delta's maximum carrier dimensions), I've personally never had any issues, but it can depend on your dog's size and the plane. I've even flown in it on Transavia Airlines, which has stricter maximum dimensions of 40 cm x width 30 cm x height 24 cm (15.74" long X 11.81 wide X 9.44 high). I've also flown in it on Alaska Airlines, which has maximum dimensions of 17″ x 11″ x 9.5″ (compared to the typical 18" x 11" x 11" for Delta). The good thing about the PetGear carrier is that it can collapse on the sides and can even be slightly squeezed at the top so there are ways to maneuver (e.g. sliding the top first vs. bottom), but it may not work as well if your dog is on the bigger side. Since I'm only 7-8 pounds, that leaves a lot of space inside the carrier.
Learn how to find the PAWFECT carrier for your dog HERE.
Delta's Service Animal Policy
Like all U.S. airlines, trained service animals (as defined by the ADA) are welcome in-cabin regardless of size for no additional charge. If you're a passenger with a disability traveling with a trained service dog, you must complete the DOT form: U.S. DOT Service Animal Air Travel Form. If the flight exceeds 8 hours, you must complete the U.S. DOT Service Animal Relief Attestation Form, avowing that your dog will not relieve himself on the plane.
A BARK OF CAUTION: You cannot travel with a trained service animal AND dog in-cabin.
Delta's Carrier Rules
-Technically, your dog must remain inside the kennel or carrier (secured or zipped) while boarding and deplaning, at a Delta boarding area, Delta airport lounge, AND on the plane.
*Enforcement can be hit or miss, depending on the Delta staff of the hour. I've spent ample time outside my carrier for a breather, whether at the airport or 35,000 feet up in the air.
Delta's Dog Seating Rules
GRRR. Unfortunately, flying with a dog means you can't just sit anywhere you'd like – even if you are willing to pay to choose your seat. If you're flying with your dog in-cabin, you are prohibited from sitting in the following:
-Bulkhead seats
-Emergency exit rows
-"No stowage" seats
-Flat-bed seats
-Rows 30-35 on the A330-200 aircraft
-Rows 30-43 on the A330-300 aircraft
-Center seats on the B757-200 aircraft
-Delta One seats (which offer spacious lie-flat seats – sounds like a dream!)
Making Reservations with Delta to Fly Your Dog In-Cabin
Due to Delta's first-come, first-serve policy for in-cabin pet travel, you must make a reservation for your dog ASAP! You should have your carrier dimensions handy. Main Cabin allows up to 4 "pets" while Domestic First Class, Domestic Business Class, and International First Class only allow up to 2. Don't let other dog travelers beat you to it! Since I usually fly in the Main Cabin, I'm relieved there are more "pet" spaces than First Class (which is pawbably the only time when getting a cheaper flight reaps some benefits).
Dogs are NOT allowed on International Business Class, International Delta One, and Delta Premium Select.
*BARKWORTHY TIP: Regardless of their refund policy, all airlines operating in the U.S. (including international carriers) are required by the U.S. Department of Transportation to honor a FULL refund if you cancel within 24 hours of booking. As soon as you book, call Delta at 800-221-1212 to secure your dog's flight. If no space is available for your dog, you can cancel your flight within 24 hours and get ALL your money back – not a voucher or credit, but in the original form of payment. WOOF-HOO!
Alternatively, you can make a flight reservation by phone with Delta and ask for it to be held for 24 hours (because you plan to pay in cash or check). Be sure to provide your SkyMiles number (you can create one for FREE) to tie in your reservation. However, don't provide your credit card information.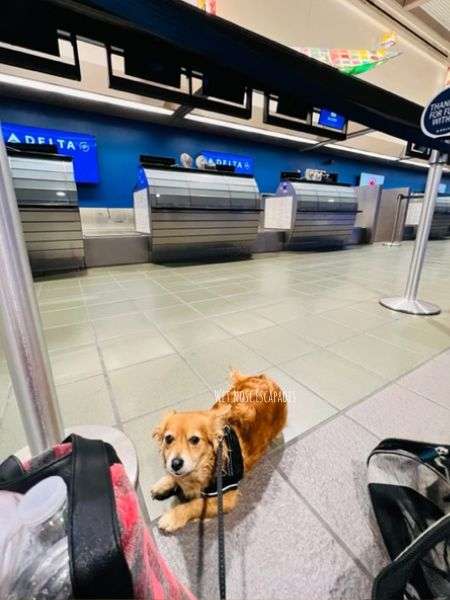 A BARK of CAUTION: The ticket is likely to cost an extra $25 if you do purchase over the phone due to the Direct Ticketing Charge.
If you don't want to speak to a live human, you can make a reservation for your dog by messaging through the Delta app where a Delta agent will respond pretty quickly – within 24 hours, at least from my experience.
Pet Reservation Costs:
$95 USD (tickets issued on/after February 28, 2022) for flights to/from U.S., Canada, Puerto Rico, U.S. Virgin Islands
$125 USD for tickets issued before February 28, 2022
$200 USD/CAD/EUR for a one-way international flight.
$75 USD for flights to/from Brazil, which is surprisingly cheap!
Except for service dogs, dogs (of any size) are NOT allowed to fly in-cabin to Australia, Barbados, Brazil, Colombia, Dubai, Hong Kong, Iceland, Jamaica, New Zealand, Republic of Ireland, South Africa, United Kingdom, and United Arab Emirates.
*Please note that Delta adheres to CDC guidelines regarding dog import from high-risk rabies countries, including Brazil.
On July 14, 2021, the U.S. started temporarily suspending dog import from high-rabies countries. The suspension has been extended until July 31, 2023, for dogs coming from high-risk rabies countries (e.g. Brazil, Cuba, China, Russia, etc.). If you are trying to return to the U.S. from a country classified as "high-risk" for rabies, then your dog must apply for a CDC Dog Import Permit OR have a current, valid US-issued rabies vaccination certificate, proof of an ISO-compatible microchip, is at least 6 months old, is healthy upon arrival, and arrives at one of the 18 designated airports with a CDC quarantine station. (Last Updated April 18, 2023)
How to Check in with Your Carry-On Dog or "Pet"
Head to the "Special Service Counter" to check in with your dog. Don't go to the regular counters as they will likely send you to the Special Service Counter anyway, and you may waste your time standing in line for no reason.
For domestic flights, arrive at least 2 hours before departure. For international flights, arrive at least 3 hours before departure.
Although it may or may not happen, the airline counter agent supposedly checks your dog and carrier to ensure the requirements are met. Regardless, the pet fee is always collected, which you can pay by credit card. The agent will then place a cabin pet tag on the carrier, which is the GREEN light for the rest of the Delta staff that all is clear.
*Ultimately, your experience depends on the agent at the counter. I've never been asked to have my carrier measured or examined. Technically, dogs must remain inside the carrier at the airport except for the TSA checkpoint. But the truth is that not everyone follows the rules (myself included, at times. SHHHH).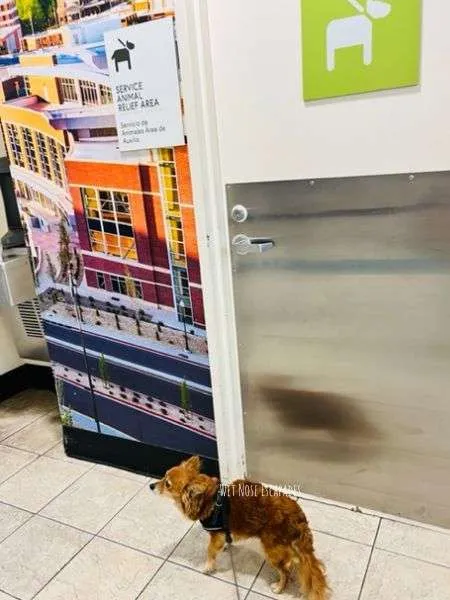 Luckily, service animal/dog relief areas are found at most Delta terminals. Make sure to locate one to provide your dog with a last potty break before boarding. Although Penny Gurl and I aren't fans (I prefer to mark it up outside), it's still nice to know dog travelers are being accommodated.
Delta Sky Club Pets
The rules state that dogs must stay inside the carrier, as if they're on the plane. Although I've never accessed the Sky Club (GRRR), I can imagine the rules being laxed or not consistently enforced based on the employee of the hour. Just my guess.
Other BARKS:
Delta has 9 hubs, with Atlanta being the largest. If you and your dog are traveling to or through one of these 9 hubs, expect to see lots of furry travelers! If your dog gets excited easily (and tends to chase furry butts), it may be best to keep him inside the carrier (or partially inside) when passing through.
Atlanta (largest hub), Boston, Detroit, Los Angeles, Minneapolis/St. Paul, New York-JFK, New York-LaGuardia, Salt Lake City, and Seattle/Tacoma.
I've stopped at Delta's Salt Lake City hub many times, and I must bark it's dogs GALORE each time – without fail!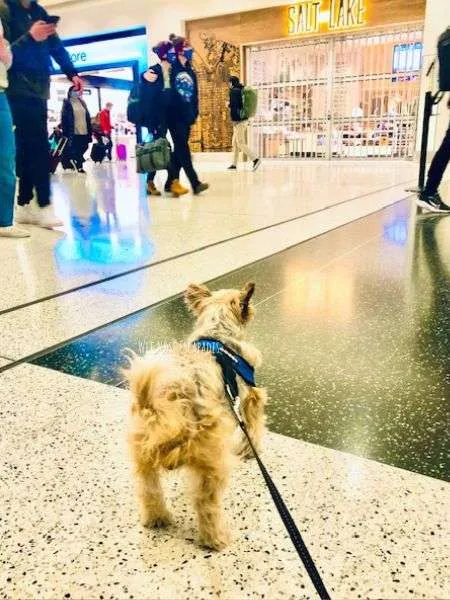 Overall Experience Flying with Delta
I can bark with an upright tail that Delta is a solid dog-friendly airline. Their Customer Service line is easy to reach and efficient, on the phone and online. The staff at the airport and on the plane has always been pleasant and professional, which is KEY to making the journey smooth for dog travelers and their pawrents. No pawblems to date! Their decision to decrease their domestic in-cabin pet fee from $125 to $95 shows commitment to the dog travelers community, and I am excited to book more flights with them!
Delta's Cargo Shipping
Here's the deal: I've never personally flown cargo nor will I ever! But here are the BARKS on shipping your dog as cargo on Delta Airlines:
For dogs who are too big to be transported in-cabin, they must be shipped via Delta Cargo and need a separate booking from their flight itinerary. Domestic shipping via Delta cargo cannot be booked until 14 days before the travel day. Dogs shipped as cargo may or may not be on the same flight as their humans. Drop-off is at least 3 hours before departure time. I can't find anything definite about Delta's cargo shipping costs, but I can only imagine EXPENSIVE.
Cargo Risks
Risks depend on your dog's health and breed. Although there is no maximum age, dogs with health issues like "impaired vision or hearing," heart, liver or kidney disease, cancer, arthritis, diabetes, senility, and weakness" can be affected. Therefore, you must consult a veterinarian before proceeding. Due to increased risks, brachycephalic (snub-nosed) dogs like Boxers and Frenchies and their mixes are prohibited.
Cargo Requirements
A health certificate is required for all dogs shipped via cargo. Feeding must be done within 4 hours of check-in. Sedation is not allowed unless you have a veterinarian's written consent from the veterinarian.
Weather Requirements
Delta doesn't ship animals during extreme temperatures (exceeding 80 degrees Fahrenheit or dropping below 20 degrees Fahrenheit).
That's it, escapaders! Hope you enjoy sniffing out my review on Delta's dog policy. Are you flying Delta with a dog? Feel free to share your experience with me. BARK AT ME!
Watch me fly around the world:
Markin' it up,
Roger Wellington a.k.a. The Doob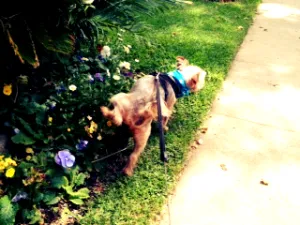 –
Like my post on "Flying Delta with a DOG: Everything You MUST Know Before You Go"? CLICK TO PIN!