Thinking of flying JetBlue with a dog? Sniff out everything you MUST know before you go!
AWOOO, ARF-ter setting my tiny alpha paws on over 60 flights, I can bark with an upright tail that JetBlue is, PAWS DOWN, one of my favorite dog-friendly airlines. However, since it mainly operates in North America (with some flights expanded to Europe, Caribbean, and Latin America in recent years), I haven't flown on it as often as I'd like. However, the pawful experiences I've had with JetBlue so far have been mostly PAWsitive. Sniff out my honest review of flying JetBlue with a dog below!
**Please note that this website contains affiliate links, and at no obligation or additional cost to you, my humans and I earn a small commission if you make a purchase. If you love the work that we do, you can show your support by making a purchase through an affiliate link. Proceeds will go towards helping homeless dogs (and cats) along with improving the lives of the neglected and abused.
Unlike other major U.S. dog-friendly airlines (like Delta, United, and Southwest), the New York-based JetBlue does have a weight limit for dogs flying in the cabin – capped at 20 pounds max for the dog and carrier combined. If your dog and carrier exceed 20 pounds, you're out of luck because JetBlue does NOT fly large dogs – whether in the cabin or in the cargo hold. ARF course, service dogs trained to assist with a disability are exempt from the rules and can fly in-cabin regardless of their size.
*Since I've only had experiences flying in-cabin, you can sniff out more information on flying your service dog on JetBlue here.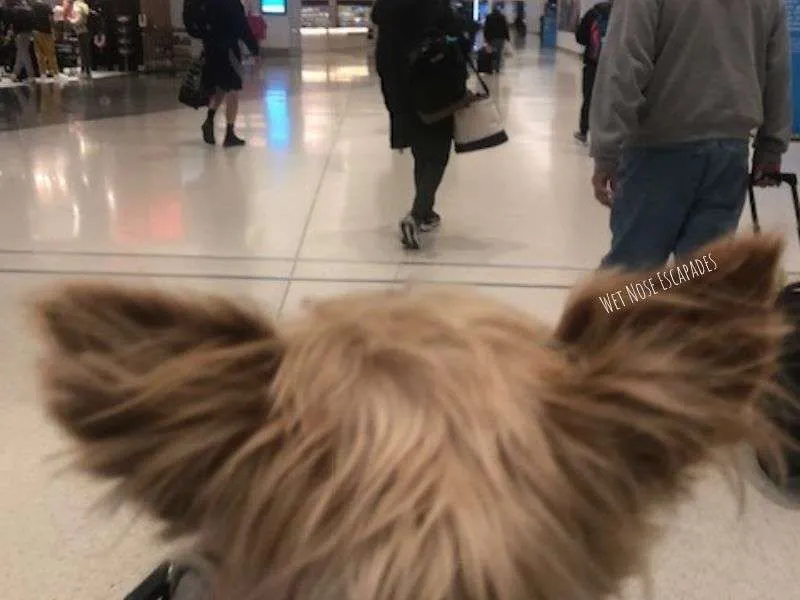 Like other airlines, your dog (with carrier) takes the place of your personal item, which means you lose some baggage allowance – depending on the ticket fare you've purchased. Compared to other airlines that consider your dog + carrier as a carry-on, JetBlue does give traveling dog pawrents a bit of a breather by taking away the personal item instead of the carry-on. WOOF-HOO!
Regardless, I think it's completely unfair how airlines require traveling dog pawrents to pay a dog or "pet" fee in addition to taking away their baggage allowance, which often means checked baggage fees must be paid. At JetBlue, checking one bag in starts at $35 unless included in your fare. GRRR, it's like double-dipping!
The tail-waggin' news is that if you're traveling on a Blue Basic fare (which prohibits any carry-on bag), you can still bring a personal item in addition to your dog + carrier.
In terms of baggage allowance, all JetBlue fares include 1 personal item that fits under the seat in front of you. Their personal item's maximum dimensions of 17″ L x 13″ W x 8″ H are very similar to the maximum carrier dimensions (keep sniffing below). If you have purchased a Blue, Blue Plus, Blue Extra, and Mint ticket, you are allowed a carry-on bag that fits in the overhead bin as long as it doesn't exceed 22″ L x 14″ W x 9″ H.
How much does it cost to fly your dog on JetBlue?
To fly your dog in-cabin on JetBlue, you must pay $125 one-way, which is standard like other U.S.-based airlines such as American, United, Spirit, and Southwest (GRR, that's right – Southwest's dog fee unfortunately increased from $95 to $125 in 2023). On the other paw, Delta Airlines actually decreased their dog fee from $125 to $95 in February 2022. I dropped my tiny jaw open into a smiley face when I perked up my ears for such ARF-mazing news.
Adding your dog to a JetBlue reservation
ARF, adding your dog to your flight itinerary is easy peasy – without having to bark at anyone! You can simply add your dog online at the time of booking (under the Extras section) or on the JetBlue mobile app. You can also add your dog through the JetBlue chat options on your iPhone, Android, or WhatsApp.
If you don't have a smartphone, don't fret because you can use your desktop browser to launch a live chat by clicking the lower right corner. If all fails or you prefer to speak to a live JetBlue representative, you can bark at someone by calling their Customer Service line at (800) 538-2583.
Whichever option you choose, add your dog immediately because JetBlue only allows six pets per flight.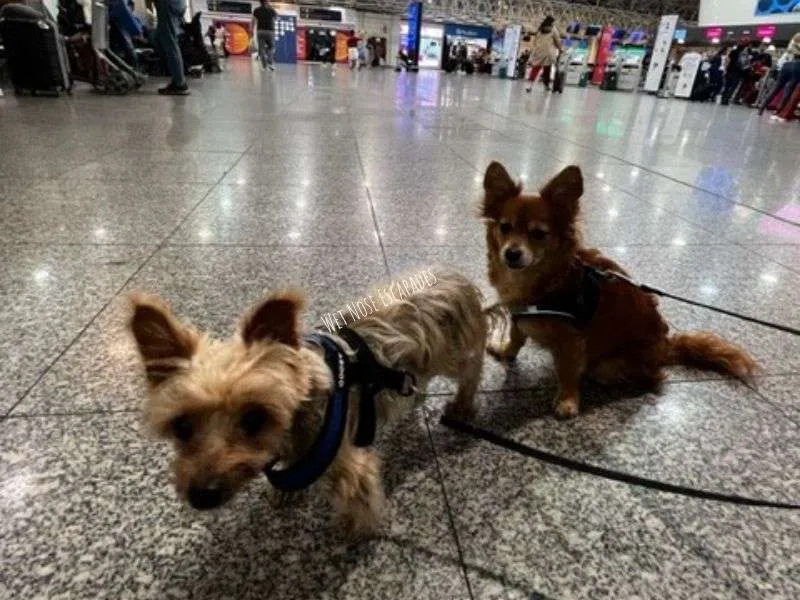 How many dogs does JetBlue allow onboard?
AWOOO, I'll bark the truth – the answer to this question was a bit confusing (downright conflicting!) and took some digging. Since adding Penny Gurl to my pack in 2021, traveling with two dogs became the norm for my humans.
On one page, JetBlue states that only one pet per customer is allowed.
On another page, JetBlue states that a maximum of two pets per traveler is allowed, each in their own carrier.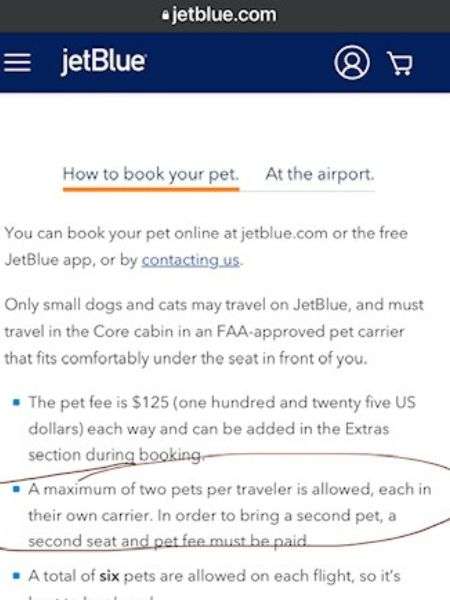 Grrr, which one is their "real" dog or pet policy? ARF-ter speaking to a live human on JetBlue's Customer Service phone line AND texting with a live agent on JetBlue's chat feature, my humans and I confirmed that "only one pet per customer is allowed per seat." However, you are able to purchase an extra seat (given that there is a vacancy) and allow for another dog or pet, which means you can travel with a maximum of two! WOOF-HOO!
However, you must be willing to pay for a second ticket AND second pet fee, which really adds up.
Yet, that wasn't just the only confusion on JetBlue's website regarding their "pet" pawlicy. I tilted my head trying to sniff out where you can put second carrier. One page states the second carrier can be placed on the additional seat during the flight: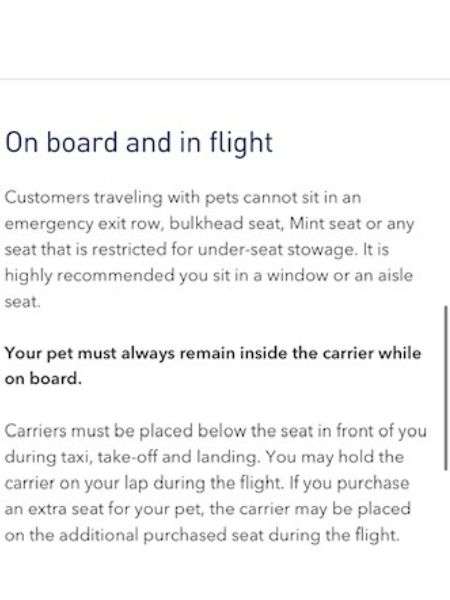 BUT another page states that the dog or "pet" must be placed in the floor space of the extra seat.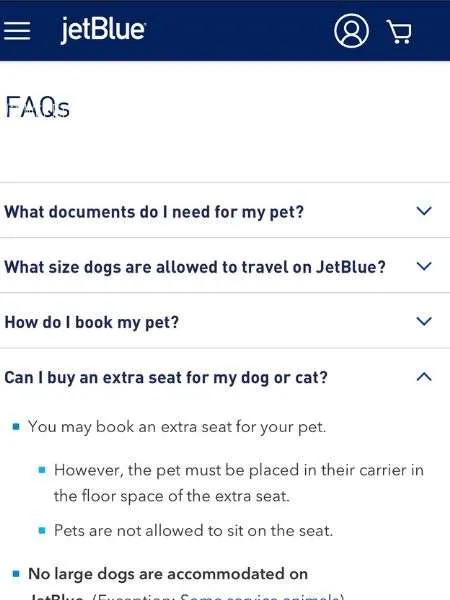 SuPAW confusing, right?
Luckily, the chat agent clarified the following:
"Although you are allowed to hold the carrier on your lap during the flight, the carrier must be placed under the seat for taxi, take off, and landing. If you purchase an additional seat, the carrier may be placed on the empty seat. However, the second carrier must also be placed under the seat for taxi, takeoff, and landing."
Hence, this confirms that you could put your dog + carrier on the extra seat throughout most of the flight! To purchase an extra seat for your dog, you will need to call JetBlue to add the extra seat. Even though the agent advised that the extra seat could be added online, I wasn't able to select more than one seat at the time of booking. It also did not give me an option to add a second dog or "pet."
Any-HOWL, let's sniff out JetBlue's carrier policy (I mean, PAWlicy):
Your dog's carrier must fit comfortably in the seat in front of you and NOT exceed 17″ L x 12.5″ W x 8.5″ H (43.18 cm L x 31.75 cm W x 21.59 cm H). Your dog must also be able to turn around inside the carrier. Again, your dog and the carrier must not exceed 20 pounds. Whether you opt for a soft-sided or hard-sided carrier, your dog's carrier must also have leak-proof bottoms, be well-ventilated, and secure (without any PAWsibility for escape).
Even though the carrier dimensions differ slightly from other U.S. airlines, I have not found the need to buy a new carrier – this is because the "maximum" dimensions listed are not actually the "maximum" dimensions of the space of the seat in front.
BUT, it ultimately depends on how strict the counter staff is when it comes to scrutiny. The barkworthy, tail-waggin' news is that I have yet to experience much scrutiny of my carrier with the JetBlue staff at the counter, prior to boarding, or during the flight. WOOF-HOO!
Luckily, even if the counter staff rejects your dog's carrier, there is an option to purchase a JetBlue carrier at the counter for $55 (UDS) although supplies are limited. At JFK, you can purchase the carrier at the T5 ticket counter.
If you don't already know, carrier training is the single most imPAWtant step in the world of air travel for dogs. The more comfortable your dog is in his carrier, the better he will fare throughout the journey. In my PAWpular E-Book How to Travel with Your Dog, I recommend starting carrier training at least a few months before your dog's first flight – the earlier, the better.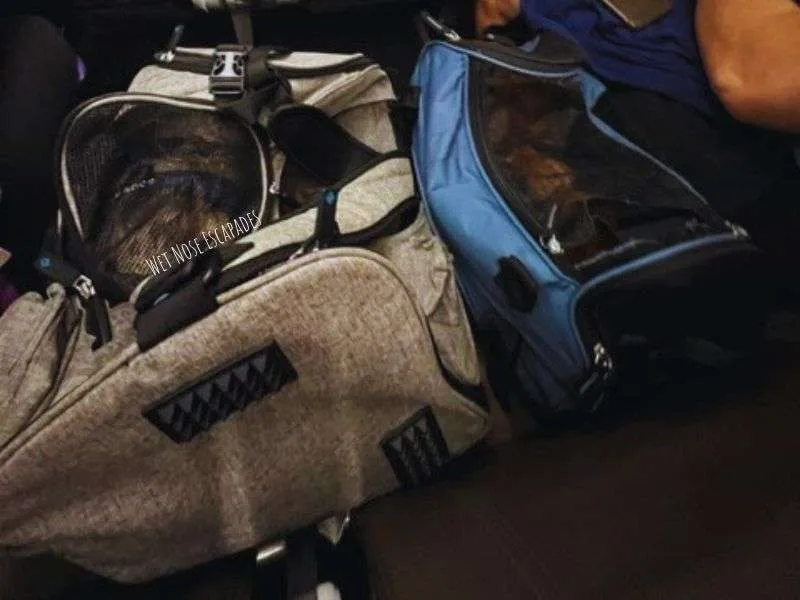 Sniff out my carrier guides NOW:
How to Choose the BEST Small Dog Carrier
How to Make Your Dog Feel Comfortable inside a Carrier
Grab my 2-in-1 Sherpa carrier, which meets United's carrier dimensions. This is my 2nd favorite carrier, which I've been lending to my sidekick Penny. It's a sturdy carrier/backpack with a Guaranteed On Board program.
Where can you fly your dog on JetBlue?
REAL BARKS: JetBlue is a PAWbulous option if you're flying domestically with your dog – that's because dogs are allowed on all domestic flights! Although I've never had to present any vaccination records when flying domestically, it's imPAWtant to note that some vaccination requirements may vary depending on the state so it's best to double-sniff. Just a bark that JetBlue destinations of U.S. territories Puerto Rico and the U.S. Virgin Islands do require up-to-date vaccination records.
JetBlue Route Restrictions for Dog Travel
As for international routes, dogs (or pets) are NOT allowed on flights to and from Trinidad and Tobago and to and from U.K./Europe. However, the open-face smiley news is that dogs are allowed on flights to Barbados, Grand Cayman, Jamaica, and St. Lucia.
Additionally, due to the high risk of rabies, JetBlue does not fly dogs (or pets) on flights to and from Colombia (MDE), Ecuador (UIO), and Peru (LIM).
Dogs originating from the following airports abroad MUST enter the U.S. through JFK, where there is a CDC-classified Point of Entry for vaccinated pets:
Colombia (BOG, CTG), Cuba (HAV), Dominican Republic (SDQ, STI, PUJ, POP), Ecuador (GYE), Guatemala (GUA), Guayana (GEO), Haiti (PAP), and Honduras (SAP).
The tail-waggin' news is that this policy (I mean, pawlicy) is merely for entry to the States, which means you can depart from any JetBlue city to the airports barked above.
If you're entering the U.S. from a high-risk rabies country (such as one above), your dog must have a valid U.S.-issued rabies vaccine certificate or CDC Dog Import permit, proof of microchip, be at least 6 months old, and appear healthy upon arrival.
Regardless of the airline, it's your responsibility (or resPAWsibility) to make sure that you have the proper paperwork (e.g. health certificate) for your dog to travel internationally and return to the U.S.
Other restrictions when flying JetBlue with your dog
*Grr, dogs are not allowed in Mint, JetBlue's first or business class. Mint cabin includes fully lie-flat comfy beds, priority check-in and boarding, and premium in-flight food and drinks – all of the dreamy goodies that my humans and I have not experienced due to prohibition of dogs in that cabin. Double GRRRR.
*Dogs are not accepted on interline/codeshare bookings
How to Pay for the JetBlue Dog Fee
Paying for the nonrefundable dog or pet fee is easy – you can do it online at jetblue.com at the time of booking, through the JetBlue app, or at the counter upon arrival at the airport. Even though you can check in your flight 24 hours before the flight (given that you've paid the dog fee), you would still have to go to the full-service counter or find a crewmember at the self-service lobby for the circular orange JetPaws® bag tag, which is to attach to your dog's carrier.
Flying Your Dog on JetBlue: The RULES
While you can choose your seat, you are NOT allowed to sit in an emergency exit row, bulkhead seat, Mint seat, or any seat restricted for under-seat stowage when flying with your dog. Even though JetBlue requires dogs to remain inside their carriers while onboard (which is standard for all airlines), they do allow you to hold the carrier on your lap during the flight versus leaving it on the floor under the seat in front. ARF-my-DOG! This is a huge PLUS for dogs who are anxious travelers like my sidekick Penny Gurl.
However, during taxi, take-off, and landing, your dog + carrier must remain below the seat in front of you. Again, there's that sweet (though expensive) option to purchase a seat for your dog during the flight, which allows your dog + carrier to be placed on the seat instead of below.
Additionally, JetBlue requires that your dog must stay inside in a closed/zipped carrier while at the airport (although not largely enforced, based on my experience).
Be sure to be on the sniff out for a pet relief area at the airport so your dog gets an opportunity to potty before hopping on the flight. Even though Penny Gurl and I aren't fans of relieving ourselves inside on artificial lawn, I can only wag my stylish undocked tail to know that dog travelers are being accommodated.
Traveling with Puppies on JetBlue
GRRR, I don't recommend traveling with your puppy unless this is for a permanent or long-term move. Generally barking, your dog should be at least a year old before hopping on a domestic flight. However, if you must fly with your puppy, you'll have to follow some strict rules when entering the U.S.
For instance, your puppy must be at least 16 weeks old for entry and have been vaccinated against rabies at least 1 month before the flight. The rabies vaccination must be valid for the duration of your stay, and include your name and contact along with your dog's microchip info, vaccine information, and administering vet info. 
WOOF, what's it like flying JetBlue with a dog?
Let the BARKDOWN begin!
PROS
First bark first, the interior of a JetBlue plane is TOP DOG cool! If you've ever been on a JetBlue flight, you know what I mean. Unlike United Airlines, boarding a JetBlue plane doesn't seem stale or lackluster. Besides entertainment screens at every seat (even on domestic flights), you also get high-speed wifi for free on every flight. For an economy flight, the seats are suPAW comfy with extra legroom – so there's no complaint from my humans.
Now, in regards to flying with a dog, I love JetBlue's two-by-three seat configuration, which means there are fewer middle seats and less potential dog haters to deal with (yes, they're out there). With the extra legroom in coach, you won't need to give up as much foot space to put your dog + carrier under the seat in front of you. JetBlue's newest jets boast even wider coach seats – at 18.6 inches across, which provides more knee space. WOOF-HOO!
*Low-budget airline with good perks & comfy seats – it doesn't feel so RUFF like other budget airlines!
*Better seat configuration, allowing more space between you and potential dog haters.
*Extra leg room, allowing more space for you to relax even after placing your dog in the seat in front. If you want more space, you can upgrade to an Even More® Space seat for up to 7" more legroom. It also comes with early boarding and expedited security lanes (at some airports). Some aircrafts will even allow you to choose a seat from the first few rows. And, if you've purchased a Blue Basic fare, upgrading to an Even More Space seat will give you a carry-on bag (which means you'll get a personal item and carry-on in addition to your dog + carrier).
*Option to travel with two dogs per passenger (if open seats are available), if you purchase another seat and pay for the second dog fee. Despite being a pricey option, it's nice to HAVE an option when traveling with a second dog by yourself.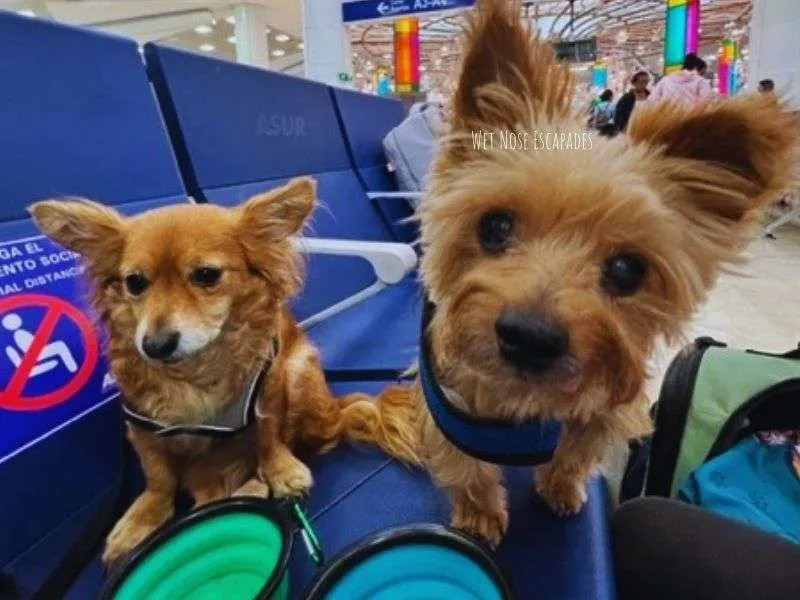 *Option to hold the carrier (with your dog inside) on your lap during the flight (except for takeoff and landing), which is a HUGE accommodation for dog travelers and can work miracles for anxious dogs.
*You lose a personal item when flying your dog in-cabin vs. a carry-on like at other major airlines. However, you do get to keep your personal item if you're on the Blue Basic fare (which doesn't allow for a carry-on).
*Minimal carrier scrutiny – at least from my experience. However, I've heard from other dog travelers that they will scrutinize if your dog appears too big for the carrier or is on the heavier side.
*Laid-back flight attendants – at least from my experience. ARF, I haven't had any issues getting out of my carrier for a quick breather or two. The flight attendants seem to not pay me any mind, which is all my humans can ask for. My carrier was also unzipped (so I could have more air) throughout most of the flight – no PAWblem.
*Option to check in a pet stroller FOR FREE (unlike American Airlines and other airlines that charge to check in a pet stroller for a checked bag fee). Because JetBlue considers pet strollers as assistive devices, you can also gate-check the pet stroller if you prefer to keep it through the terminal. Although I don't travel with a stroller, my stylish undocked tail is wagging to know how accommodating JetBlue is to dog travelers!
*Opportunity to earn a whoppin' 300 TrueBlue points on each flight segment when traveling with your dog (in addition to the points earned for the flight). This is a huge PLUS as other airlines do not give you points for dog fees! Be sure to enroll in TrueBlue for free here.
*Easy to reach Customer Service – either by phone or chat.
*Easy to add your dog to your reservation and pay for the dog fee, which can be done online at the time of booking.
CONS
*Dogs are not allowed in the Mint cabin, JetBlue's Business or First Class. A bummer for all you fancy dog travelers!
*There IS a weight limit for your dog + carrier, which must not exceed 20 pounds. Only small dogs can fly with JetBlue. If you're looking to fly your large dog via cargo, JetBlue is NOT the right airline. Due to affiliated risks, I do NOT recommend putting your dog in cargo unless this is a long-term or permanent move.
*Dog or pet fee is nonrefundable.
*Dogs are NOT allowed on flights to and from Europe, which lowers my Yorkie tail considering how much I love traveling throughout Europe. Despite expanding their routes internationally, dogs are not welcome onboard on many routes – so don't assume!
*Conflicting information found online regarding their dog policy (as barked above), but I got it straightened out after contacting Customer Service via phone and chat. Hopefully, they'll remove the conflicting information about the number of dogs allowed per passenger.
Overall, I'm happy to bark that JetBlue makes a solid domestic dog-friendly airline. I just wished I could fly them more often – can't wait for them to allow dogs on more international flights!
WOOF, hope you like hearing my barks on flying JetBlue with a dog! Feel free to share your experience with me. BARK AT ME!
Need some paw holding? Sniff out my expert guide on how to travel with your dog!
Watch me fly around the world:
Markin' it up,
Roger Wellington a.k.a. The Doob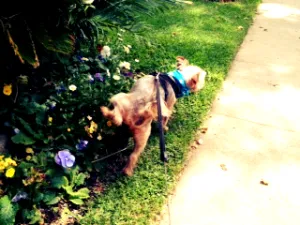 –
Like my post "Flying JetBlue with a Dog: What You MUST Know"? CLICK TO PIN!