WOOF, are you flying Southwest with a dog for the first time? What's the Southwest Airlines Pet Policy or Dog Policy? Sniff out everything you need to know before you go!
*Please note that this post contains affiliate links, and at no obligation or additional cost to you, my humans and I earn a small commission if you make a purchase. If you love the work that we do, you can show your support by making a purchase through an affiliate link. Proceeds will go towards feeding homeless dogs (and cats) along with improving the lives of the neglected and abused.
As the world traveling Yorkie, I'm proud to bark that I had my very first flight ever on Southwest Airlines back in 2016. As a matter of bark, I flew Southwest on my first few "test" flights before hopping on my first 10+ hour international flight to Paris. Southwest is pawtastic! First, they're a budget airline that offers low fares with no change or cancellation fees. Second, they allow passengers to check in two bags FOR FREE – woof, what a breather compared to other airlines that charge another $30 or more to check in baggage. Recently, the airline even announced that flight credits no longer expire. ARF-my-dog! To top it off – third, they're dog-friendly!
Here's the BARK on flying Southwest with a dog:
Southwest Airlines Pet Policy
*Only small vaccinated domestic cats and dogs are allowed, but the airline doesn't actually verify vaccination or require documentation.
*Pets are only allowed to fly in-cabin, NOT cargo.
*August 2023 Update: Pet fare has been increased to $125 one-way per pet carrier, which must be paid by credit card at the check-in counter. Pet fares are fully refundable if you cancel your reservation or if your flight is canceled. For passengers traveling between the Hawaiian Islands from September 6 through December 31, the pet fare is reduced to $35 one-way per pet carrier.
*ARF-ter booking your flight, you must call 1-800-I-FLY-SWA to reserve space for your dog. Getting your dog on a flight is on a first-come, first-served basis with a general limit of 6 pets onboard. On certain flights, Southwest may allow more or fewer than 6 pets in total. Therefore, it's impawtant to reserve a spot for your dog ASAP.
*Even though you're paying the pet fare, your pet + the carrier will be considered a personal or carryon item. Therefore, you may only board the aircraft with a pet carrier and a personal item OR a pet carrier and a regular-size carryon bag.
*The tail-waggin' news is that you may check in a pet stroller or crate FOR FREE, in addition to the two baggage allowance.
*Your pet must travel inside a carrier, which must be stowed under the seat in front of you.
*Your pet must remain inside the carrier during boarding/deplaning, and for the entire flight.
*You still board in your assigned group. Flying with your dog or cat doesn't permit you to preboard.
*As on all Southwest flights, it's open seating for everyone. If traveling with a pet, you may not sit in an exit row or on a seat with no under-seat-stowage in front.
*Pet Relief Areas are available in all airports that Southwest serves so there are opportunities for potty breaks.
*Unaccompanied minors may not travel with a pet.
*Your pet may be denied boarding if they show disruptive behavior like scratching, excessive whining, barking, growling, biting, lunging, urinating, or defecating in the cabin or gate area.
*Pets are not allowed to travel on international routes on Southwest flights AND flights to and from Hawaii.
*Only one pet carrier is allowed per passenger. However, you can put two dogs or two cats in one carrier (provided that they both fit comfortably inside, which means they must be VERY small). Both pets must be of the same species.
*Your pet carrier MUST be able to fit under the seat in front of you. If you want to be on the safe side, you can purchase the Southwest Airlines Pet Carrier, which costs $58.00 and its dimensions are: 17" (L) X 10" (W) X 9.5" (H). The maximum dimensions for other pet carriers are 18.5" (L) X 13.5" (W) X 9.5" (H).
*Your pet must be completely inside the carrier and be able to stand up and move around with ease.
*Pet carriers can be soft or hard. Regardless, they must be leak-proof and well-ventilated.
*Unfortunately, your furry traveler does not earn SW Rapid Rewards. 🙁
Find the best soft carrier for your dog HERE!
MY REAL BARKS: A Review of Flying Southwest with a DOG
ARRRF, I'm wagging my tail as I bark out that I've never had any real pawblems on a Southwest flight, whether checking in at the counter or traveling in-cabin on the plane. Gotta wag my undocked tail to that!
OK, there may have been a few unpleasant moments (now that I keep thinking). There was a time when a Southwest staff member gave my human some nasty looks during boarding as she glared at the carrier, where I kept quiet (unlike those obnoxious children). ARF yeah, a passenger immediately sighed, got out of her seat, and left to find a new seat when my human and I motioned to sit next to her. But, what can you do? GRRR, not everyone likes dogs. At least there was no verbal altercation, which is never worth it with dog haters. When traveling with a dog, encountering dog-hatin' humans is almost always expected. But, for the most part, I think the Southwest staff is either dog-lovin' or dog-indifferent.
Bad News! August 2023 Update: Again, Southwest is no longer offering the low price in-cabin pet fee of $95 one-way. They now join other airlines like JetBlue, American, Spirit, and United, which all charge $125 one-way per carry on/in-cabin pet on domestic flights. However, if you're ever flown your dog around Europe, anything over $100 is certainly on the high end. GRRR, this is just another reason why dog travel is so much more fun in Europe. Luckily, Delta is charging $95 one-way for in-cabin pet fees on domestic flights. Alaska charges just $5 more at $100. 
Like other airlines, Southwest counts your pet carrier as a personal or carryon item, which I sniff to be completely unfair. Come on, if you are already paying the pet fare, you should have the same baggage allowance. However, their saving grace is that they will let you check in a pet stroller or crate IN ADDITION to two free checked bags. Although I have yet to take advantage of these perks, it's definitely nice to know. PAWS DOWN. What a way to get my tail back to the upright position!
Open seating on Southwest flights is a hit or miss when traveling with a dog. Obviously, it's a hit if you qualify for preboarding or are in Group A, where you are the first to choose your seats with little commotion. ARF course, it's a total miss if you're the last to board with your dog on a full flight. Since there are always potential dog-hatin' passengers on the flight, the most strategic thing you can do is secure your seat before the rest of the crowd gets onboard. My human loves choosing the window seat because she can hide out with me without unnecessarily dealing with more people. For instance, the middle seat will sandwich you between two people. And, the aisle seat typically puts you in the front row of more commotion, which can be distracting for your dog (or even make him anxious).
On the flip side, the middle seat is pawbably your best bet if you are traveling with a slightly larger carrier and/or concerned with the carrier dimensions. The space under the middle seat in front offers the most room. Hence, the middle seat is my go-to seat when I fly in my #1 carrier – PetGear IGO2 Escort Carrier, which fits most comfortably under the middle seat of a Southwest plane.
How strict is Southwest with the pet carrier size? WOOF, from my experience flying with Southwest since 2016, they're really not strict where they're measuring your pet carrier at check-in or when you board with your dog. During check-in, the counter staff will tag your pet carrier, which must stay on during the entire journey. The boarding staff will look for the tag when you board so don't take it off (the back of the tag also has rules listed as a reminder). As long as the carrier doesn't look humongous or larger than the norm, they'll likely to let you onboard. However, the carrier MUST fit under the seat in front of you. There's no way around that! If this is your first time flying with Southwest and you've never played around with different carriers for your dog, then it's best to adhere to the airline guidelines for maximum dimensions and get an airline-approved, "Guaranteed On-Board" carrier.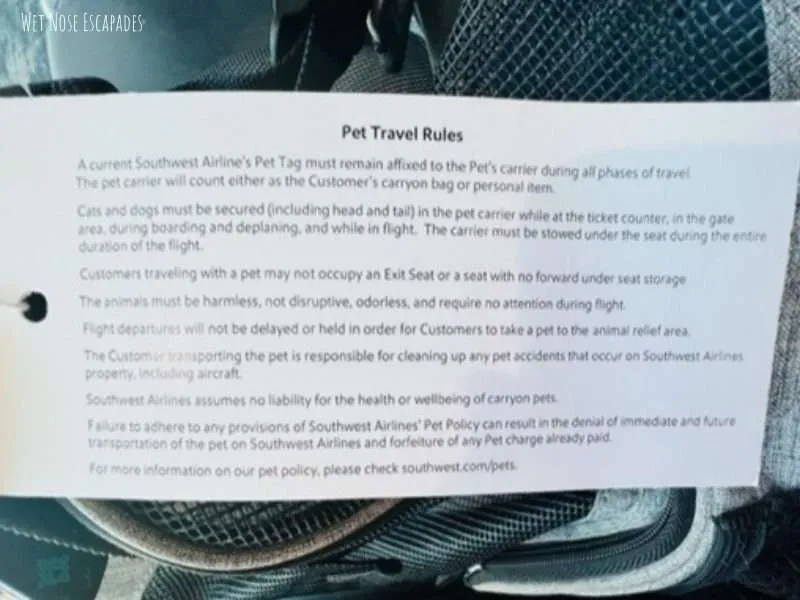 While my human always zips up my carrier while boarding, she does try to give me a carrier break here and there, especially on flights longer than 2 hours. OK, it is technically against the "rules" so it's best to gauge your surroundings before attempting to partially unzip the carrier or take your dog outside the carrier. The barkworthy news is that we've found many Southwest flight attendants to be lenient about your dog being out (or partially out) of the carrier. Well, as long as your dog is NOT disturbing any passengers.
If your dog is entirely out of the carrier, keep the break short to a few minutes each time. Nonetheless, it certainly pays if you can keep your dog calm and under control. The same goes for taking your dog out of the carrier when deplaning. However, for safety reasons, I do recommend keeping your dog inside the carrier as you deplane; arf-ter all, there's A LOT of moving around – both humans and baggage.
Again, you're already losing a personal item or carryon allowance when you pay an additional $125 to fly your dog as a "pet." With the carrier going under the seat in front of you, you may struggle to find space in the overhead bin. If you aren't A-List, A-List Preferred, or Companion Pass status (where you're guaranteed priority-boarding), your best bet is to check in as soon as pawssible and get into Group A (or the first half of Group B is fine too). Don't forget to set the alarm 24 hours before the flight and download the Southwest app!
Overall, I do enjoy flying Southwest whenever I mark up domestic destinations. My experience has been pawsitive overall! I like how they aren't supaw strict on the carrier size as long as it fits under the seat in front. For my humans, the fares are budget-friendly with two free checked bags, which is a total steal. Plus, you can cancel your flight up to 10 minutes before the flight time and still get the full credit to apply towards a future flight. And yet, these credits no longer have an expiration date! WOOF-HOO!
For me, their previous pet fare at $95 was the cheapest I'll ever get my paws on in the U.S. (at least) and now it's gone up to $125. Grrr, but I still love SW.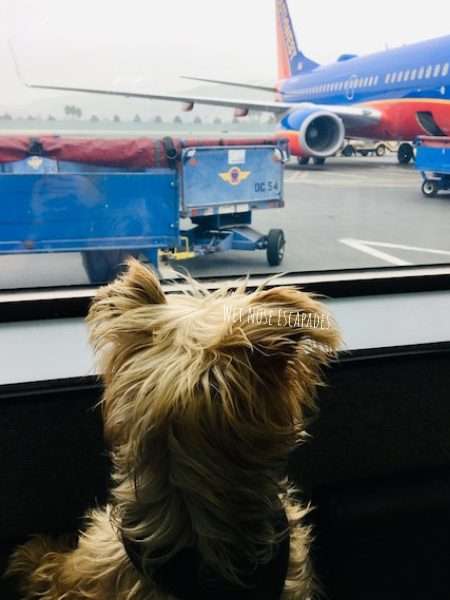 One of the best parts about flying Southwest's dog policy is that they don't have a weight limit on the dog OR dog + carrier combined. Since I'm a small 7-lb dog (but still a strong alpha male, no questions about that!), meeting the weight limit is rarely an issue, BUT this loophole can help bigger dogs get onboard (who would have been denied at other airlines right off the bat).
Here's the real bark: As long as you can find a carrier that fits under the seat in front AND where your slightly larger dog feels comfortable enough inside (and can stand up), you're good to go. Heck, I even know a 20-lb dog who flew roundtrip from San Francisco to San Diego on my recommended PetGear IGO2 Escort Carrier! Since this carrier fits dogs up to 16 lbs comfortably, it was a tighter fit but he reportedly did just fine on both flights (with the carrier partially unzipped at times).
Sniff out my post on how to choose the BEST carrier for your dog.
Dog hates carrier? Sniff out my expert tips!
ARF yeah, if you have a legitimate service dog required for a disability, then the rules are different. Perk up your ears and sniff them out below:
Southwest Service Animal Policy
*ADA-defined Service Dogs are allowed to fly for free on all Southwest flights.
*Dogs are the only trained service animal accepted onboard.
*Service dogs are individually trained to perform tasks or work for a person with a physical and/or mental disability.
*When booking your flight, you can add your trained service dog on the Special Assistance link on the Passenger & Payment Info page. If you've already made your reservation, you can add your trained service animal under Flight, Manage Reservations, and Special Assistance link.
*On the day of travel, you must present a completed Department of Transportation Service Animal Air Transportation form, signed and dated on or after the date of ticket purchase.
*A service dog vest, harness, ID card, or registration will not be accepted as the sole indication that your dog is a trained service animal.
*If your dog does not meet the qualifications to travel as a trained service dog, then he/she can still travel if you simply pay the pet fee of $125.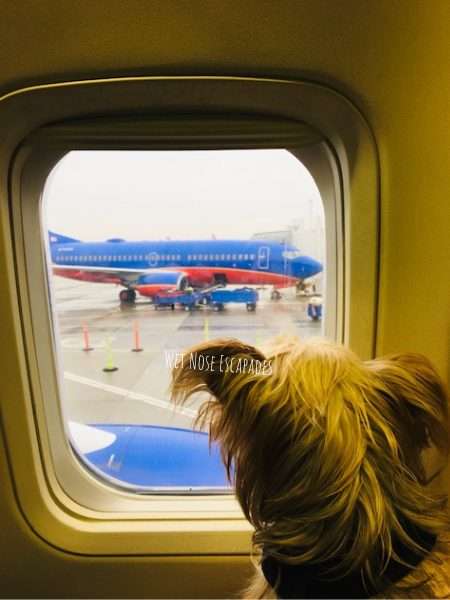 *Through asking "fact-finding" questions, Southwest must determine that you are an individual with a disability and that your dog is trained to perform a task or work related to your disability. Examples: Is your dog required to accompany you due to a disability? What work or task has your dog been trained to perform?
*Your service dog must be harnessed, leashed, or tethered to you at all times.
*Your service dog must be well-groomed, free from odors, etc., trained to behave, and must stay under your control.
*Your service dog may be denied boarding if he/she poses a direct threat to the health or safety of others, disrupts cabin service, or engages in disruptive behavior like excessive whining, barking, growling, biting, lunging, scratching, urinating, or defecating in the cabin or gate area.
*You may not sit in an emergency exit seat with your service dog.
*A carrier is not required for your service dog. If using a carrier, you must stow the carrier under the seat in front of you for taxi, takeoff, and landing.
*If your service dog is larger than a 2-year-old child, then he/she may NOT sit on your lap. In that case, your service dog must remain on the floor at all times.
*Your service dog is not allowed to block any exits or exit paths, extend into the aircraft aisle, occupy an aircraft seat, occupy a tray table, or encroach upon a neighboring seat.
*Relief areas for service dogs are available at all airports that Southwest serves.
*Besides service dogs, fully trained law enforcement dogs and search-and-rescue dogs are also allowed onboard for free.
Watch me fly around the world:
Subscribe to my YouTube Channel: Wet Nose Escapades by Roger Wellington for fun dog videos!
WOOF, that's all I got on everything you need to know about flying Southwest with a dog! Feel free to share your experience with me – BARK AT ME!
Markin' it up,
Roger Wellington a.k.a. The Doob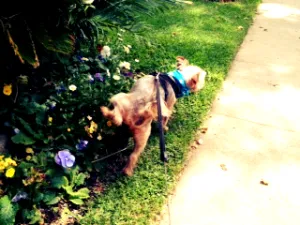 –
Like my post "Flying Southwest with a Dog: Everything You Need to Know"? CLICK TO PIN!