WOOF, thinking of flying your dog to Mexico? Sniff out everything you need to know about traveling to Mexico by plane and getting through customs with your dog!
Updated 11/4/22
*Please note that this post contains affiliate links, and at no obligation or additional cost to you, my humans and I earn a small commission if you make a purchase. If you love the work that we do, you can show your support by making a purchase through an affiliate link. Proceeds will go towards feeding homeless dogs (and cats) along with improving the lives of the neglected and abused.
While trying to make my way down to South America, Mexico was my first stop in Latin America. Since there were no direct flights to Brazil or Argentina from my hometown California, my humans decided that it was a pawsome idea to break up a long travel day by spending some time in Mexico. To a furry world traveler from the U.S., Mexico has always been a country that didn't appeal much to me – not because it wasn't cool (I mean, who doesn't like tacos and margaritas???), but because it was so accessible and nearby that I took it for granted. Kinda like the Golden Gate Bridge when I lived in San Francisco. In other barks, a trip to Mexico felt like "non-travel" travel even though it's technically "international" travel. Now that I'm well into my senior doggie years, a long travel day with layover(s) can be extra taxing to my Yorkie body. Hence, why not spend some time beach bummin' in Mexico? ARF-ter all, traveling with your dog is best done through slow travel. From Los Angeles, it was a quick flight under 5 hours to pawty city Cancún (4.5 hours to bark exactly), where I would spend a few weeks before settling south in the more livable Playa Del Carmen.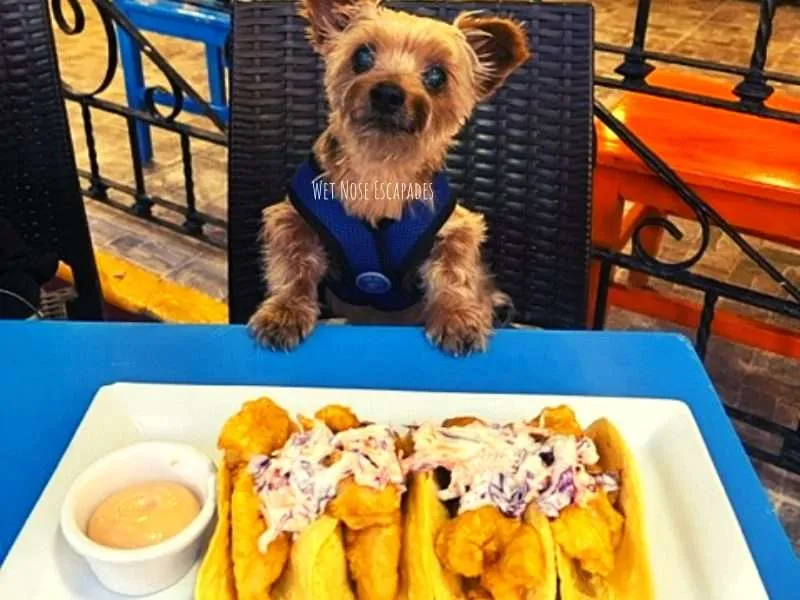 Many Americans who travel to Mexico with their dogs opt to drive (or even walk) across the border due to convenience and anecdotally less scrutiny (well, compared to flying). Since my humans had spent time on the west coast of Mexico in the past (pre-ME), they wanted to venture out to eastern side, which would have been a crazy long drive southeast from California. Although I've set my furry paws on countless road trips, my MO has always been to fly. Plus, with our intended destination being South America, it just made sense to hop on a plane to Cancún, located in the coastal state of Quintana Roo on the Yucatán Peninsula. Separating the Gulf of Mexico from the Caribbean Sea, the Yucatán Peninsula is home to tropical rain forests and jungles, luxurious high rise hotels, vibrant nightlife, and most notably, the ancient Mayans (remember the world was supposed to come to an end in 2012??? ARF-my-Dog!).
The RULES to Enter Mexico with a DOG
Regardless of where in Mexico you decide to fly your dog to, it is a simple process – if you're coming from the U.S. or Canada.
If you are NOT flying from the U.S. or Canada with your dog, you must present an original "Good Health Certificate" (along with a non-certified copy) valid for at least 15 days after issuance. The health certificate is essentially a veterinary health certificate, which is ssued by an accredited veterinarian with their professional license number and printed letterhead. Therefore, you must visit the veterinarian with your dog to obtain one.
The health certificate must indicate the following:
#1 Your dog is vaccinated against rabies (with validity through your travel dates)
#2 Your dog is found clinically healthy by the veterinarian before the trip
#3 Your dog is dewormed/deloused within the past six months, AND free of ectoparasites
If the health certificate is found to be non-compliant by the officials, then you must contact a veterinarian of your choice in Mexico to complete the requirements at your own expense. The same goes if ectoparasites are found on your dog during the physical inspection. If ticks are detected, the inspector will take a sample to send to the official laboratory for diagnosis, and OISA agency will keep your dog in custody until the laboratory results are clear (that the specimens removed are not exotic to Mexico).
*If you plan on flying to Mexico frequently with your dog, then it's best to enroll in the Frequent Flyer Pet Program, which is free to join and helps expedite the process of those traveling back and forth with their dogs (and cats). The application process requires official identification, a picture of your dog, vaccination records, recent internal and external deworming, and a recent health certificate (no more than 5 days of having been issued). A microchip is recommended, but not required.
It is supposed to be an even EASIER process if you're coming from the U.S. or Canada. When I bark "supposed to be," I do mean it because it's not necessarily easy in practice (at least from my experience – keep on sniffing below). Effective 12/16/19, a health certificate for dogs and cats is no longer needed to enter Mexico (if coming from the U.S. or Canada), which means that dogs (and cats) may be taken to the border without health certificate documentation. Upon arrival, your dog will be inspected by SENASICA (National Service of Health, Food Safety, and Food Quality) before getting the green light to leave the airport.
The SENASICA officer will examine your dog to make sure there are:
#1 No signs of infectious or contagious diseases
#2 No fresh or scarring lesions
#3 No sign of ectoparasites
Per Mexico's official government website, here are the additional requirements and guidelines for all dogs entering Mexico (regardless of what country you come from):
Your dog must be carried in a clean crate or container (without a bed, implements, or accessories). The crate or container will undergo a preventive treatment through spraying carried out by a SENASICA officer. Your dog can enter with his collar and leash.
You can carry a daily ration of dog food in bulk. The Mexican government basically wants you to purchase dog food upon arrival instead of importing it because their dog food is "registered and authorized by SENASICA."
If you document your dog as cargo, you must verify the requirements with your airline and consider using the services of a customs agent for processing and release of your dog from Customs.
Now that I've barked out what is technically needed to enter Mexico with your dog (or "in theory"), let me bark out exactly what I experienced!
BAD NEWS Before the Flight
First, my humans added me to the flight online for 125 USD and called immediately afterwards to confirm. We did it as soon as possible since most airline have a limit on pets allowed in-cabin. The airline phone rep (an American company) confirmed that a dog is, indeed, added to the flight. WOOF-HOO! We double-checked the maximum carrier dimensions and guidelines – I must travel in a hard-sided or soft-sided carrier that fits under the seat in front of my human. ARF yeah, there can only be one dog per carrier, and I must be able to stand up and turn around while inside. Luckily, it looks like my two soft carriers meet the dimensions – I am all set!
However, even though Americans (and Canadians) are technically exempt from the health certificate (and this information is all over the official websites), my humans and I had trouble confirming it with the airline. We made three separate calls (and were placed on long holds) to clear up the confusion. The first two phone representatives asserted that a health certificate is needed for dogs to enter Mexico even when we advised that the rules on dog import have changed since December 2019. While the first rep responded with some doubt in her voice, the second rep persisted in rudely cutting us off as she was adamant that we would NOT be able to leave Los Angeles without a health certificate.
Upon further research, my humans discovered that both reps were merely referring to the first page of the requirements, and not reading the second page where it clearly states, "If you travel from the United States or Canada, it is NOT necessary to submit a health certificate for your pet." We did find a website claiming that an airline can demand a veterinary health certificate EVEN IF the country doesn't require one!!! GRRR. This is some crazy, head-tiltin' news to us! Fortunately, on the third try, we spoke with a supervisor who confirmed that we were correct (that a health certificate was, indeed, NOT needed), and proceeded to input notes into the system in case the airline counter rep gives us a hard time during check-in.
What Exactly Happened
The days leading up to the flight were a bit nerve-wracking, knowing that my fate ultimately landed in the hands of the airline counter rep. Luckily, when travel day finally came, it was smooth sailing with the lady at the counter. However, she did ask if we had the "paperwork for the dog," but didn't actually ask to see it. We found it strange that she even asked since, again, no "paperwork" is supposedly required to enter Mexico with a dog, if traveling from the U.S.
Upon arrival at Cancún International Airport, the immigration officer told us that we no longer needed a tourist card even though the flight attendants passed them out to us on the plane (another shortcoming of that airline). ARF-ter getting our luggage from baggage claim, we passed through Customs on our way out of the airport. Despite remaining inside my carrier, the customs officer pointed at my carrier and directed us to the SENASICA table. We followed the inspector into a small room nearby, where the first officer asked for my human #1's passport and "paperwork for the dog." My human was confused since, again, we did not need any paperwork because we were coming from the U.S. Without trying to argue with the officer, she handed over my Rabies Vaccination Certificate (thankfully, my human travels with all my impawtant documents, including health records). The officer glanced at it for a few seconds, nodded in approval, and proceeded to enter some notes onto her computer. Whatever "paperwork" she was looking for, the certificate sufficed! Whew!
Get your paws on my tips on how to choose the BEST carrier for your dog!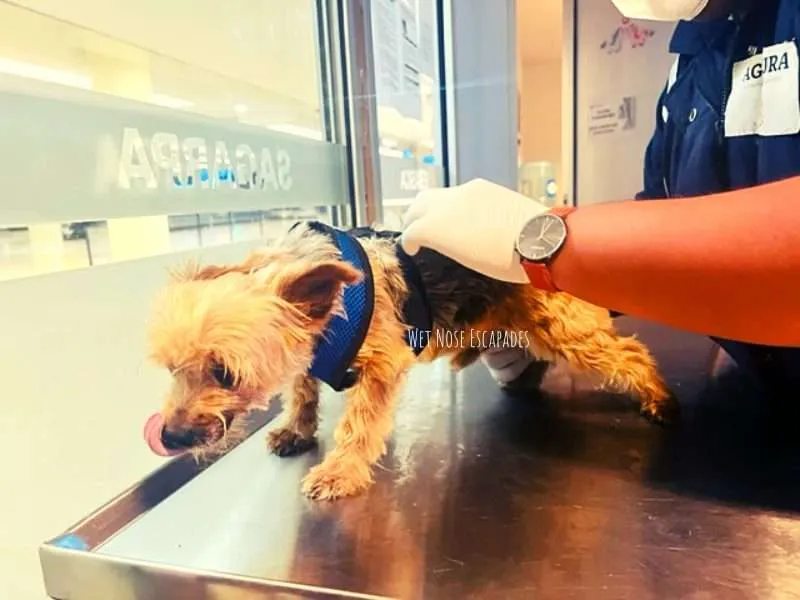 Immediately arf-terwards, another officer examined me on a table. Although I was "handled" by the inspector for less than 60 seconds, I was terrified, licking my chops in fear and lowering my stylish undocked rat tail. He was gentle for the most part, but I thought I was back at the vet! He briefly opened my mouth (GRRR – hated it), felt parts of my body, and combed my silky fur with his gloved fingers. Then he calmly announced, "He's OK." Next, he asked to see the dog food; my human showed him a small plastic to-go container of my kibble, and he asked if she had any "raw" food. She said no. He was content with her answer and didn't ask to check her carry-on or checked baggage. That was it, and we hurried out of the airport to locate our private transfer to the hotel. My little Yorkie self is now free to sniff out some hot Chihuahua chicas and devour fish tacos like it's Taco Tuesday every day!
Get my flight travel tips HERE!
My Takeaways
*The health certificate may not be technically required to enter Mexico with your dog from the U.S., but it ultimately depends on who's working at the airline counter and airport customs. ARF course, it's easy to blame it on the Mexican government staff and say that they pawbably didn't know what they were doing. However, in my case, the reps from an American airline were even worse, providing conflicting information. Be sure to call the airline ahead of time to confirm, and have notes added in the system for the counter rep.
So, should you get a health certificate for your dog before flying to Mexico? My honest bark is pawbably NO, but you must be ready to show printouts from the official government websites that clearly state health certificates are NOT needed if coming from the U.S. or Canada. If you're not ready for a potential battle, you should spend the extra time and money to get that health certificate from the veterinarian. I've also heard from other American pawrents who had to present a health certificate to the SENASICA officer (ARF-ter the rules were changed), and they luckily had it prepared as a backup. Do you want a potential mishap because the staff (whether the airline or the Mexican government) doesn't know the rules? Pawbably NOT, so it's not a bad idea to over-prepare vs. putting up a fight later.
*Leave "raw" food for your dog at home! Pack only processed food, whether it's kibble or canned food. Even though the rules indicate that you can only bring a day's worth of dog food, it may be OK if you pack a bag of kibble inside your checked baggage and show them a sample of it from your carry-on. But, if you are traveling to the pawpular tourist spots like Cancún, Playa del Carmen, Puerto Vallarta, and Cabo, chances are they will have the same or similar type of dog food available for purchase back home. I would only recommend packing more inside your checked baggage if your dog is on a prescription diet as such food may be difficult to find in Mexico.
Mexico – What You Need to Know Before You Go
*No one actually inspected my carrier! Hence, I'm not sure if I was just "lucky" or perhaps they are more lenient with that matter. Or is it because I didn't travel inside a "crate or container." Again, I feel that it ultimately depends on the inspector of the hour. ARF course, keep your dog's carrier clean as you normally would, but I wouldn't stress too much over it otherwise.  
11/4/22 UPDATE: My sidekick Penny Gurl flew into Cancun, and the inspector DID ask to see the carrier and even sprayed the inside with some biodegradable liquid. Not sure what it was exactly, but the inspector said it was safe for dogs. ARF course, Penny did NOT go back inside the carrier arf-ter that. To be on the safe side, my human #1 washed her carrier as soon as she could.
*It's a good idea to pack flea/tick meds with complete packaging, in the unlikely event that you need to give a dose to your dog in front of the inspector.
*Bring all your dog's health records, even though they're technically NOT required. If you want to be on the safer side, have your veterinarian compose a letter indicating that your dog is healthy, free from ectoparasites, and has been administered flea/tick meds (with the date provided). Keep an original on hand along with two copies – one for the inspectors should they wish to keep a copy, and another for yourself. And, arf course, be sure to have the rabies certificate handy as well!
Returning to the U.S. from Mexico with a DOG
Since Mexico is not considered high-risk for rabies, the only requirement you need to return to the U.S. with your dog is a rabies certificate. There may be additional requirements based on the state you're flying to – sniff it out here.
WOOF, hope you find my guide to Flying to Mexico with a DOG useful! Feel free to share your experience with me. BARK AT ME!
Be sure to subscribe to my YouTube Channel: Wet Nose Escapades by Roger Wellington for fun dog videos!
Markin' it up,
Roger Wellington a.k.a. The Doob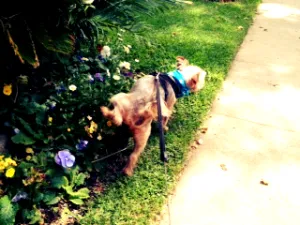 —
Like my post "A Yorkie's Guide to Flying to Mexico with a DOG"? CLICK TO PIN!